The Cliffs of Moher and More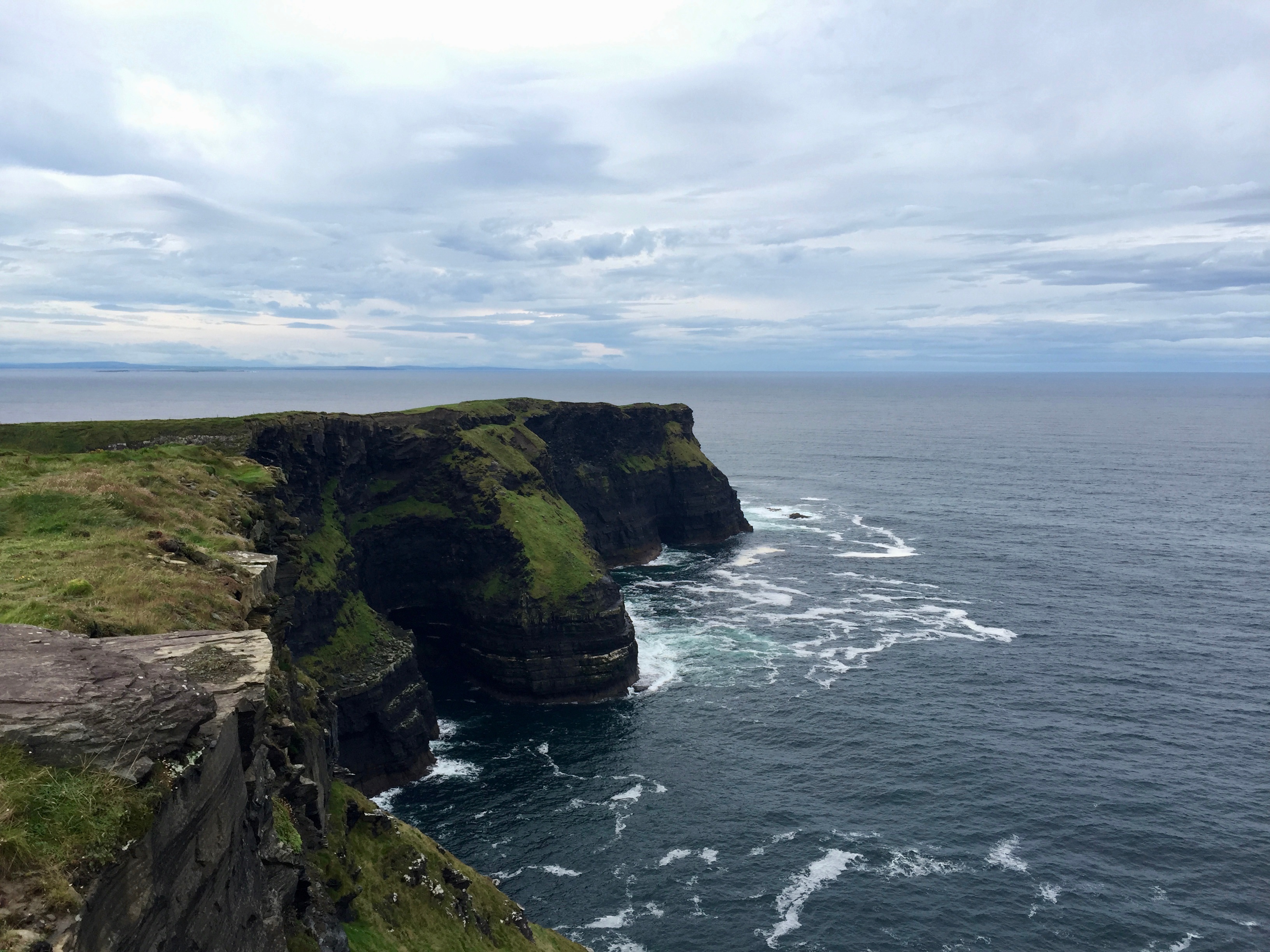 My mom and I awoke early from our fun evening in Doolin, per recommendations of our lovely B&B host, Margaret, so we could be sure we were the first visitors to the Cliffs of Moher. With a cup of coffee and warm homemade scones in our bellies, we set off just a short 5-minute drive to one of Ireland's most famous sites.
The Cliffs of Moher
We bypassed the tour bus lot and drove a bit further south on the R478 after we learned it would be best to follow the signs to the "Cliffs of Moher Coastal Cliff Park." A few turns and twists later, we pulled into a small lot by a yellow brick home. There was a box near the lot asking for 2 euros, so we dropped our coins in and headed up the dirt path toward the cliffs, making friends with the smiley cows along the way.
Despite having to hop a few fences, we braved the brisk winds to the edge of the cliffs. And man, were they breathtaking. Currents crashed below, seagulls drifted in the wind above, clouds broke in the distance, allowing a bit of sun to shine through. We felt like we were the only ones at the edge of the Earth. And in a way, we were.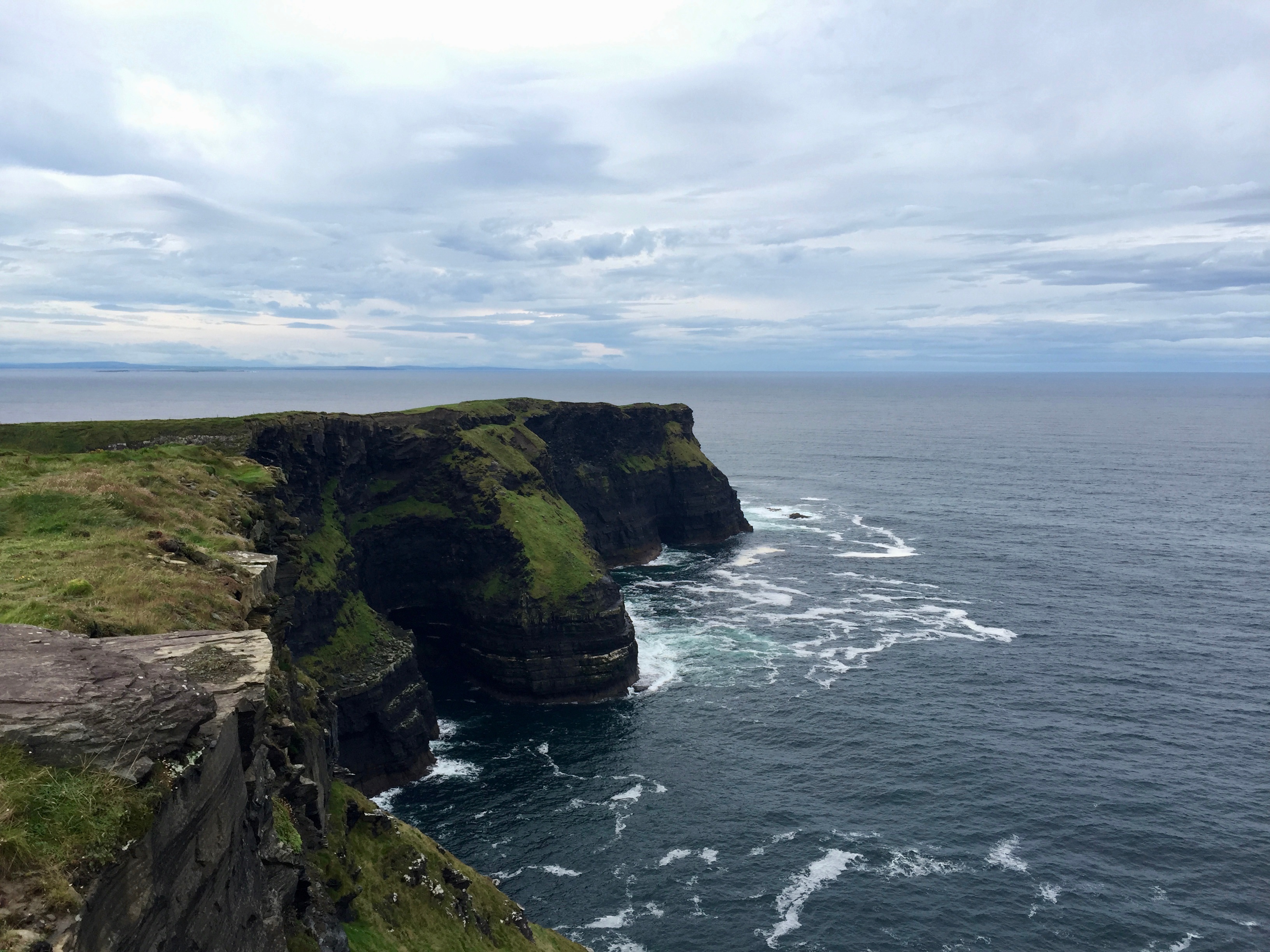 We spent a good portion of the morning walking along the cliffs, taking in the views and trying to take as many photos as we could (even though our phone cameras could never truly capture the beauty of this natural wonder). As we were heading back to the parking lot, we passed a solitary French gentleman, but aside from that, we had the Cliffs of Moher to ourselves. We both agreed waking up early and finding the lesser-known car park beat battling the groups of tourists with their pushing and shoving and high-def cameras.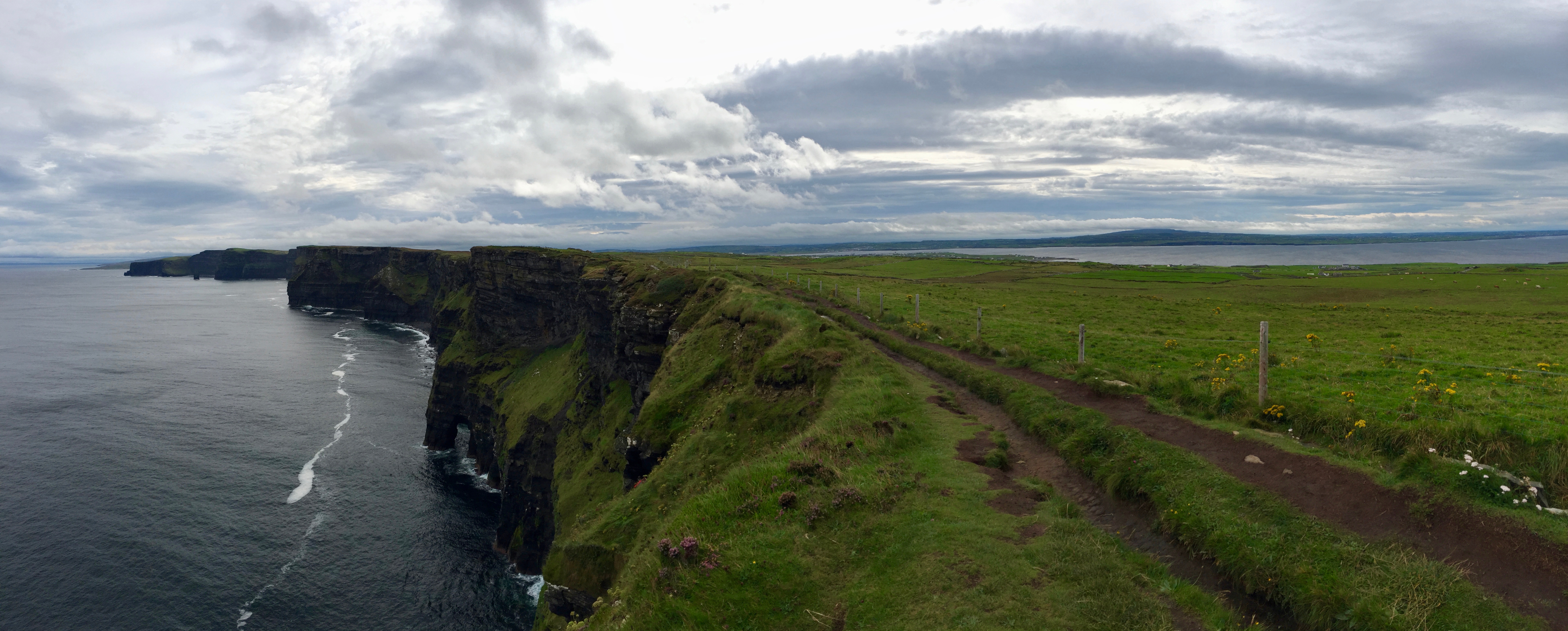 We ventured back to our B&B to freshen up and warm up with another hearty Irish breakfast, enjoying the food equally as much as Margaret's company while she chatted with us into the late morning. We wanted to see a few more sites in Doolin before making the drive up the coast to Galway, so we said our goodbyes to our favorite B&B host, promising Margaret we'd be sure to book with her again on our next trip to Ireland.
Downtown Doolin
Every trip calls for a bit of shopping, right? If you're like my mom and I, you know how important it is to find the perfect keepsake from a place you've visited... While making sure it's a good bargain, of course.
We popped in out of the tiny shops along the main road in downtown Doolin, right near Gus O'Connor's pub. Doolin is considered the hub of traditional Irish music, so there was no shortage of instruments, sheet music, and CD's for sale.
We were both in search for a nice wool sweater (when in Ireland, it's a must), so we spent quite a bit of time in the wool shops downtown. We ended up chatting with one of the shop's employees, who just-so-happened to be from Portland, Maine (our hometown). Turns out, she moved to Ireland several years ago when she found out she could settle in the Emerald Isle if she had family roots there. I swear, the more you travel, the more you realize how small the world is.
All in all, we made out well. My mom ended up buying a beautiful turquoise necklace and earring set, handmade in Doolin. She also found a beautiful dark green sweater in the wool shop. We both bought some beautiful silver jewelry pieces as well.
Traversing The Burren
With our limited time, Margaret recommended we do a bit of driving around the Burren and, of course, stop by the Burren Perfumery. The Burren spans hundreds and hundreds of acres throughout County Clare, where Doolin is located. It's essentially a massive limestone area, full of many different types of flora and fauna. In fact, we learned that 75% of Ireland's flowers grow in the Burren. Crazy!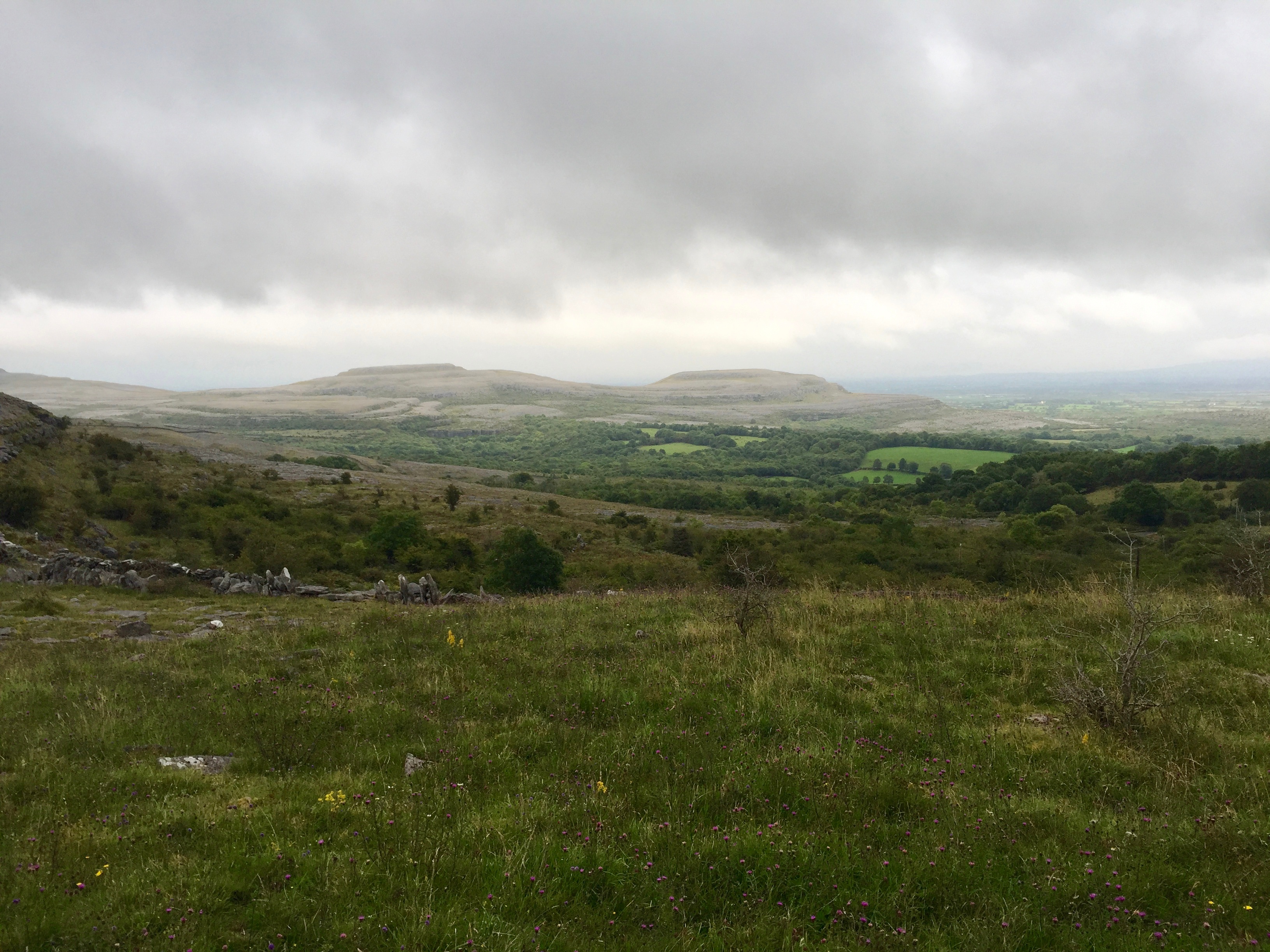 We got a bit turned around making our way to the Burren— our trusty Google Maps let us down a few times, but still brought us where we needed to go. After weaving along even more narrow dirt roads, we were relieved to pull into the Burren Perfumery, nestled in the center of the Burren.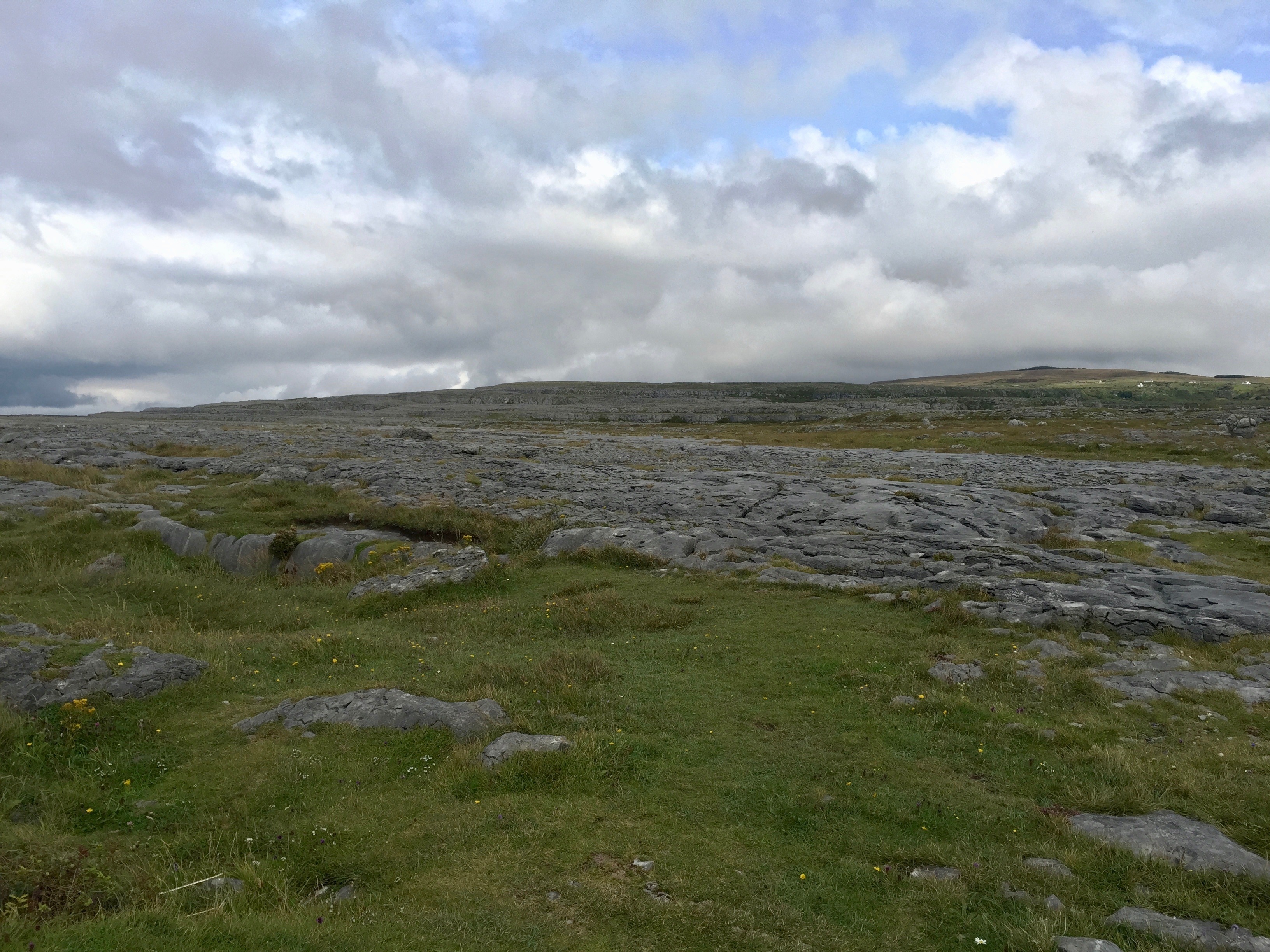 We were immediately in herb heaven sampling all of the lotions, perfumes, soaps, and creams made from all the organic plants and flowers grown in the Burren. At first, visiting the Burren Perfumery sounded kind of lame... Like, why go to Ireland to sample perfume? But if you're at all into natural, organic, and sustainably-sourced products, this place is totally worth checking out. You could spend a lovely afternoon here, exploring the shop, walking through the serene gardens, and having a cup of tea and homemade goodie at the cafe next door.
Onward to Galway
With a few balms and creams now packed in our bags, we left the Burren Perfumery smelling and feeling good. We were headed to our last stop: Galway! Cue Ed Sheeran's Galway Girl.
The drive was just as lovely as any in Ireland, until we got closer to Galway. The traffic was horrendous— we found ourselves being set back well over an hour! Thankfully, it was really the only heavy traffic we hit along our entire roadtrip. As our first impression of Galway, though? Eh. Despite the heavy traffic, our impressions of Galway soon changed for the better as we experienced the lively music and beautiful art throughout the city.
Our B&B was located in the Upper Salthill area of Galway— not directly in the hustle and bustle of downtown, but still plenty to walk around and explore. We were quite hungry from our busy day in Doolin, so we knew finding a good spot for dinner was top on our list. Second? A pub for some live music. It was one of our last full evening in Ireland, after all. We had to soak up all we could.
A Night Out in Salthill
We walked around downtown a bit, checking out the menus of the places that were open. Immediately, the brightly blue painted building on the way to the ocean caught our eye— Oslo Bar: Gastro Bar and Microbrewery. We hated to admit it, but we were getting a little sick of the heavy pints of Guinness. We missed our bitter IPA's terribly. This place seemed like it would meet our beer (and food) expectations.
And it totally did. The bar was getting full by the time we got there around 7 in the evening. Families, friends, couples... everyone seemed to be filtering in for a bite to eat. My mom and I both decided to try their Full Sail IPA— hoppy, crisp, and extra delicious. I opted for the classic 100% Irish beef burger, topped with the works and served with a homemade burger sauce. I treated myself with a side of sweet potato fries, too, along with a side of their homemade garlic aioli for dipping. My mom went with the healthier option: a fully decked out portobello mushroom burger with veggies galore.
We enjoyed our meals happily and even took a lovely walk by the ocean afterward. We didn't want the evening to end though, so we walked around to the few pubs in the area, asking anyone who might have been standing outside if the pub was featuring any live music that evening.
O'Connor's Famous Pub came through for the win. Since the 40's, the O'Connor family has been providing Galway with libations and live music. If the endless beer and whiskey menu isn't enough to lure you inside, the decor surely will. When I say there isn't a single wall or ceiling of this place that isn't covered with some sort of object, I mean it. Every. Single. Inch. Wagon wheels, typewriters, old clocks, dusty picture frames, pots, pans, kerosene lanterns... You name it, and it's probably in this place. We especially loved the crackling peat moss fire in the corner, complete with men's undergarments drying atop the mantle.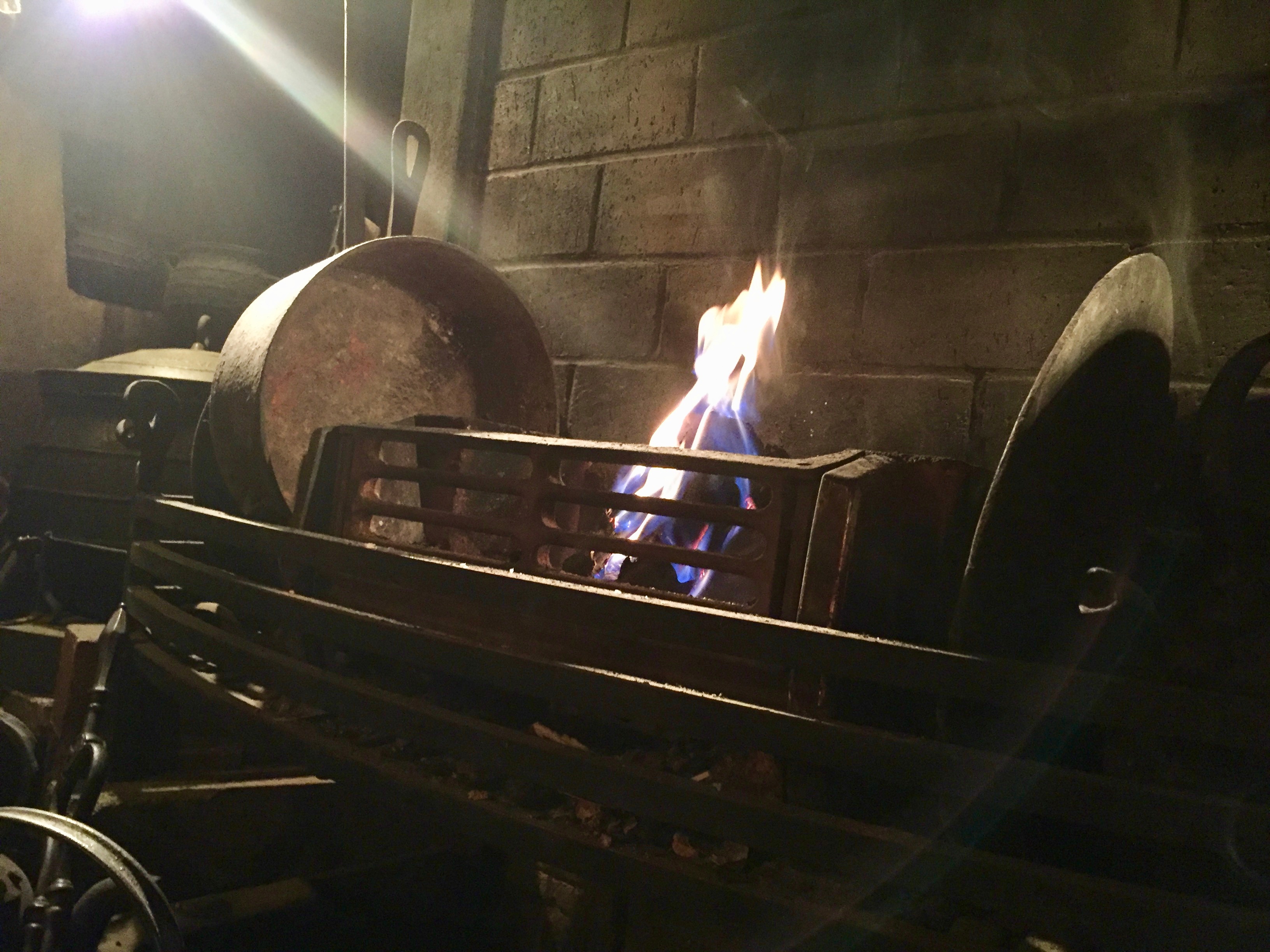 O'Connor's gave us a wonderfully warm welcome to Galway. We stayed for quite awhile, enjoying a few local beers and singing along to the band's familiar tunes. We left feeling happy, light, exhausted, but mostly sad our time in Ireland was coming to such a quick end.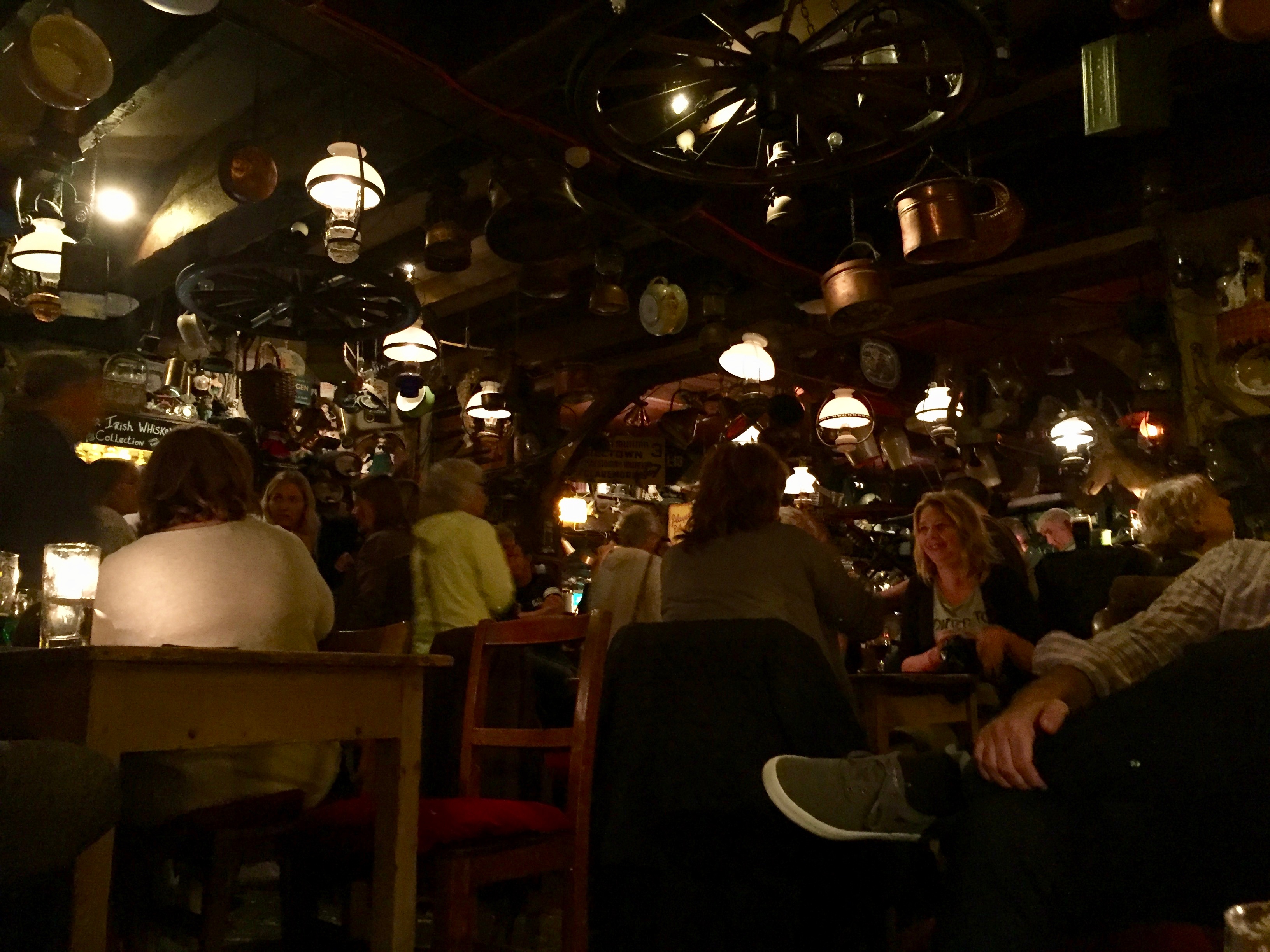 When we tip-toed back to our B&B late into the evening, we were surprised with an Irish Catholic nightcap. We could hear the faint voices of the husband and wife who owned the B&B chanting some sort of "Hail Mary" prayer. It felt like a seance to me, and that's all I'm going to say about that.
Check back soon to read about our last day in Ireland! Cheers!