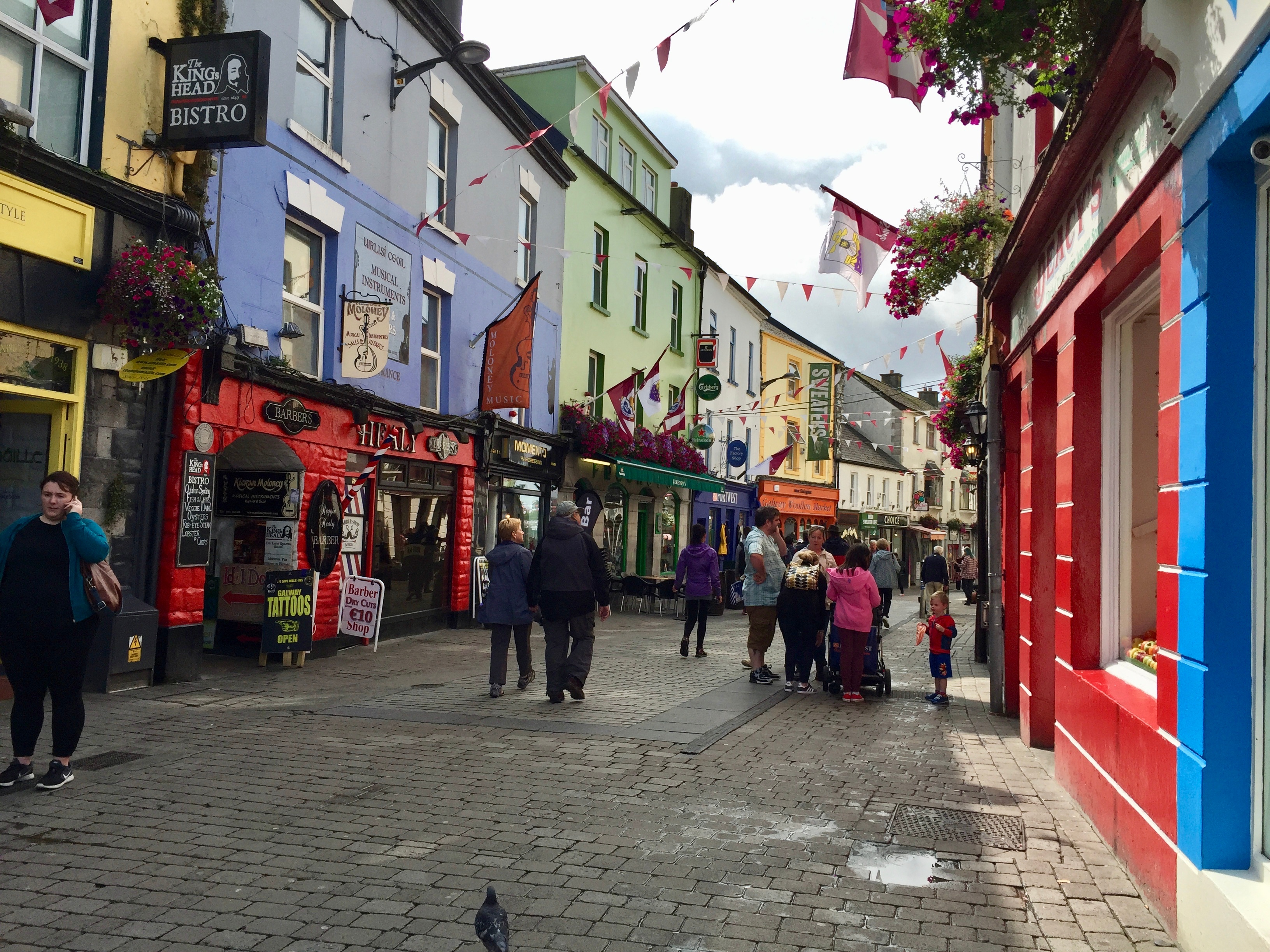 Alas, our final day in Ireland. *Sad face.* We made the most of our last 24 hours in the Emerald Isle by exploring downtown Galway, horseback riding in the Thonabrocky countryside, and feasting on a decadent dinner in the quaint town of Maynooth.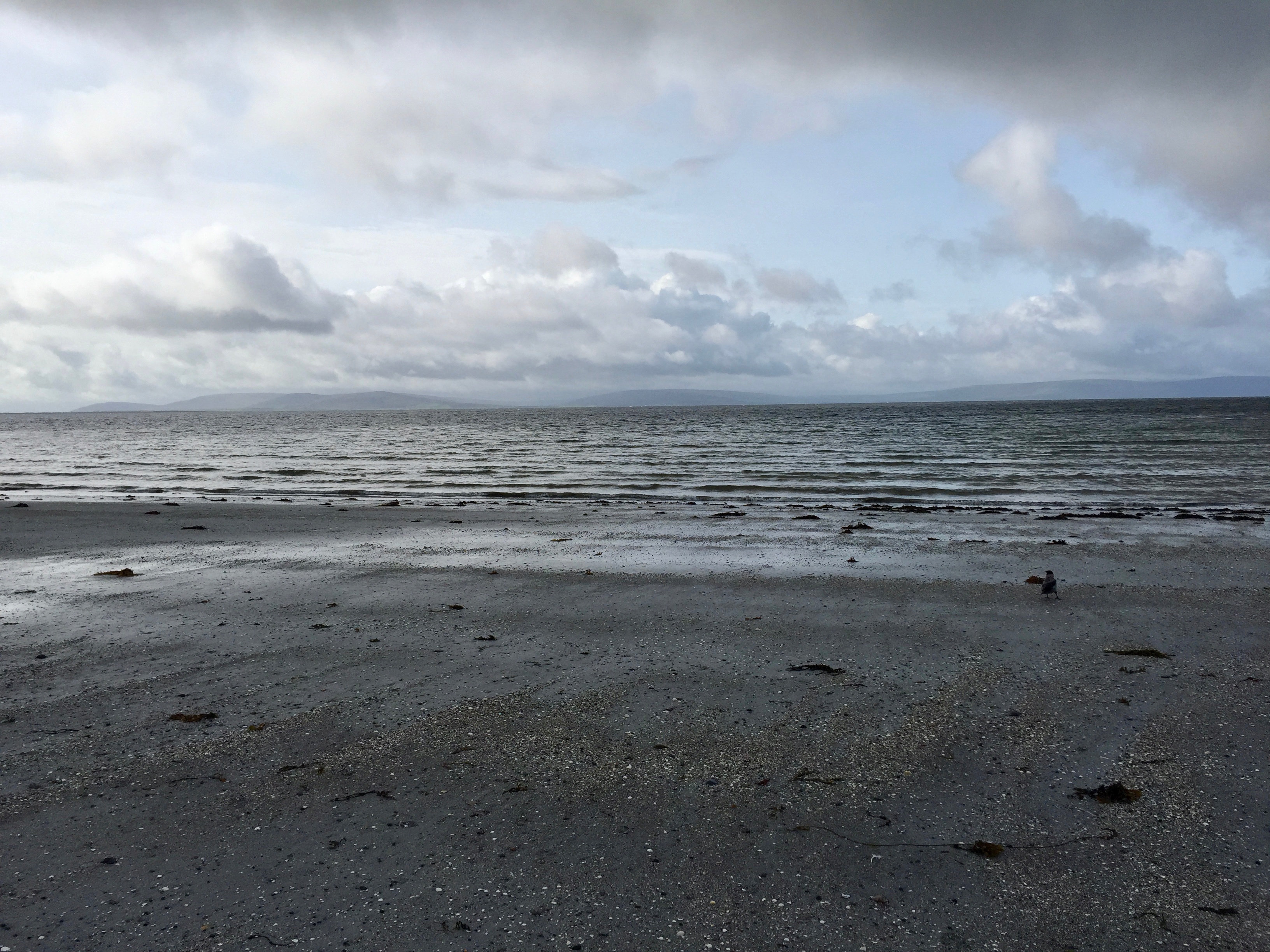 Following a short rest in Salthill (and a full Irish breakfast) we took a wonderful early morning stroll down to the Salthill beach. It was quite windy that morning, but we bundled up and braved the winds, and felt even cozier because of it. We walked along the boardwalk, admiring the morning sun's reflection off the Atlantic and allowing the sounds of crashing waves sooth our sleepy heads. We even stuck our toes in the pebbly Irish sand and took a few beach treasures home with us.
Downtown Galway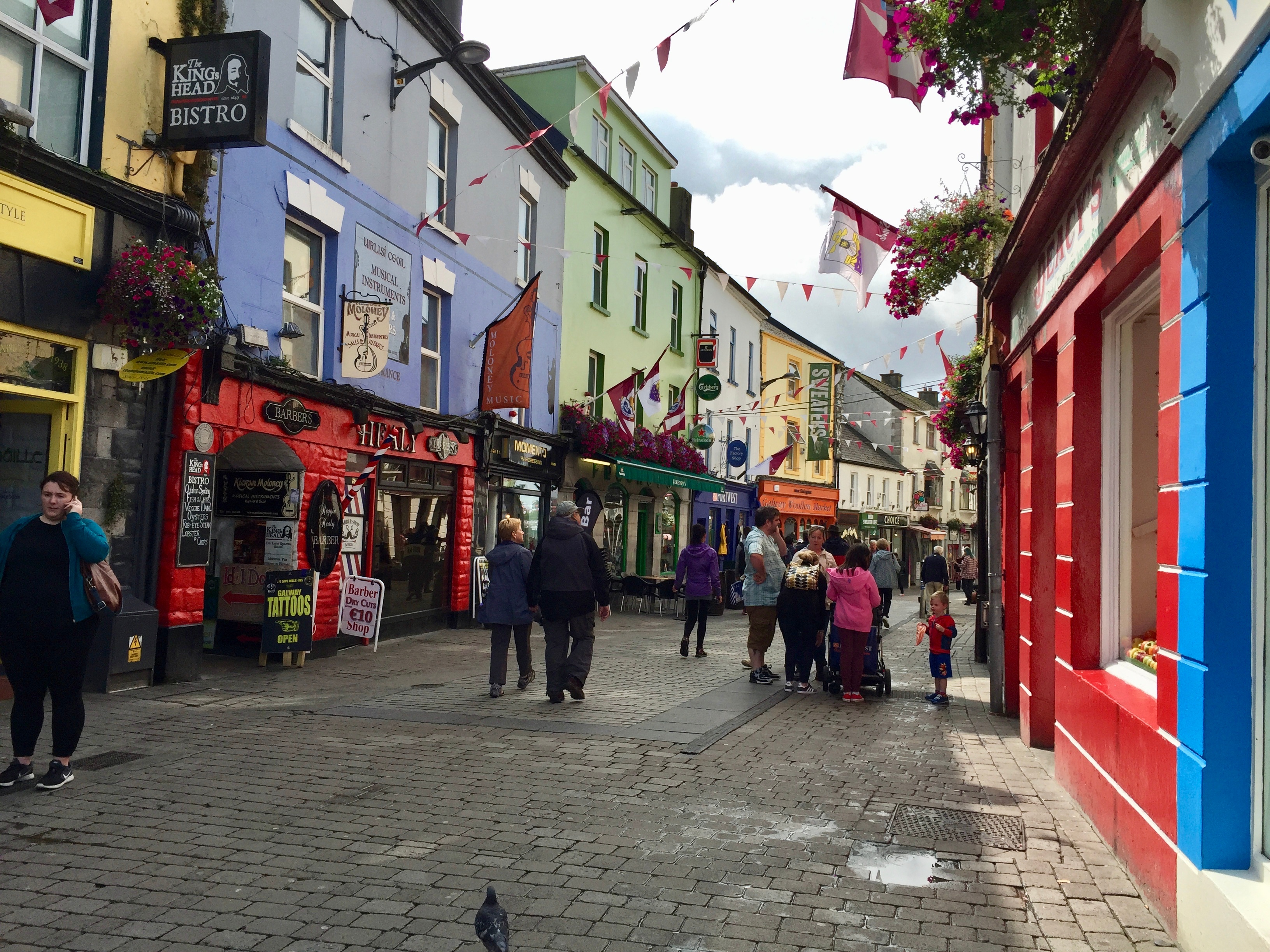 We knew we didn't have much time to explore Galway before horseback riding, so we cut our morning ocean stroll a bit short to leave time to hop in the car and find a parking spot downtown. We ended up parking in the lot next to the Galway Cathedral to avoid the craziness in the city center. Plus, exploring a city on foot is the best way to do it, in my opinion.
Once we made it downtown, I immediately knew this would be one of my favorite spots in Ireland. On almost every corner, groups of musicians played Irish music and pop covers to crowds of spectators. Artists sat quietly in the street with a coffee and a paintbrush in hand, recreating the colorful shop windows. Tourists and locals sat outside cafés (and even bars), sipping cups of coffee (or pints of Guinness... this is Ireland, after all). Even at 10 in the morning, the streets of Galway came alive with music and art— a wonderful, lively start to the day.
Determined to find a discounted Irish wool sweater, I stopped in one of the first stores I saw that was having a major sale. After a few try-ons, I ended up with a beautiful wine-colored sweater, detailed with large Earthy-brown buttons. For around 30 euros, it was a great bargain.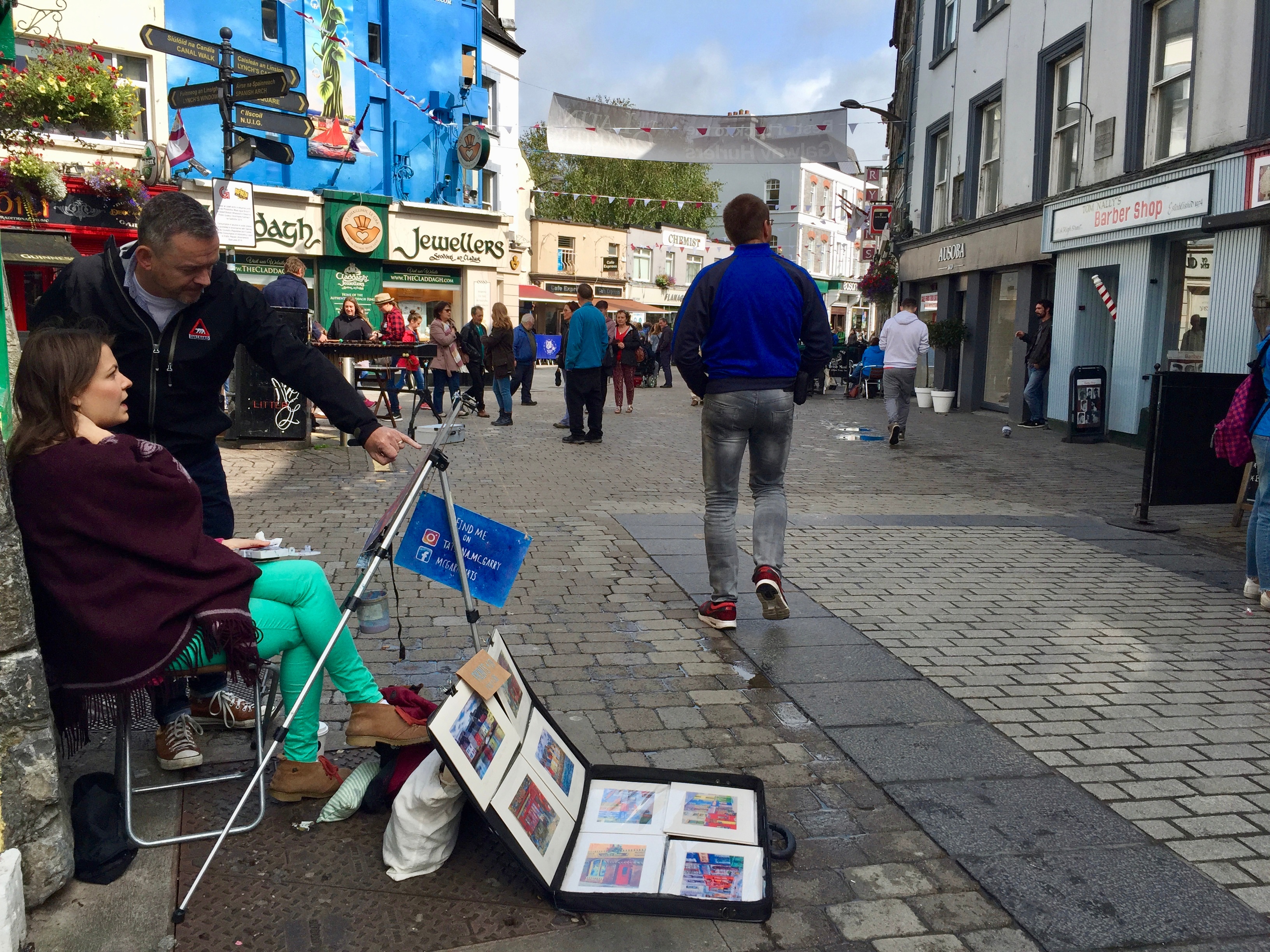 The rest of the morning was spent wandering the streets of Galway, admiring the variety of shops, singing along to some Irish tunes, and popping into a few stores for some last-minute souvenirs. We were fortunate to come across a group of incredible Irish steppers being filmed with professional cameras. I wasn't sure if it was for a commercial or a movie of some sorts, but it was still a treat to watch. Maybe we even made a debut on local TV...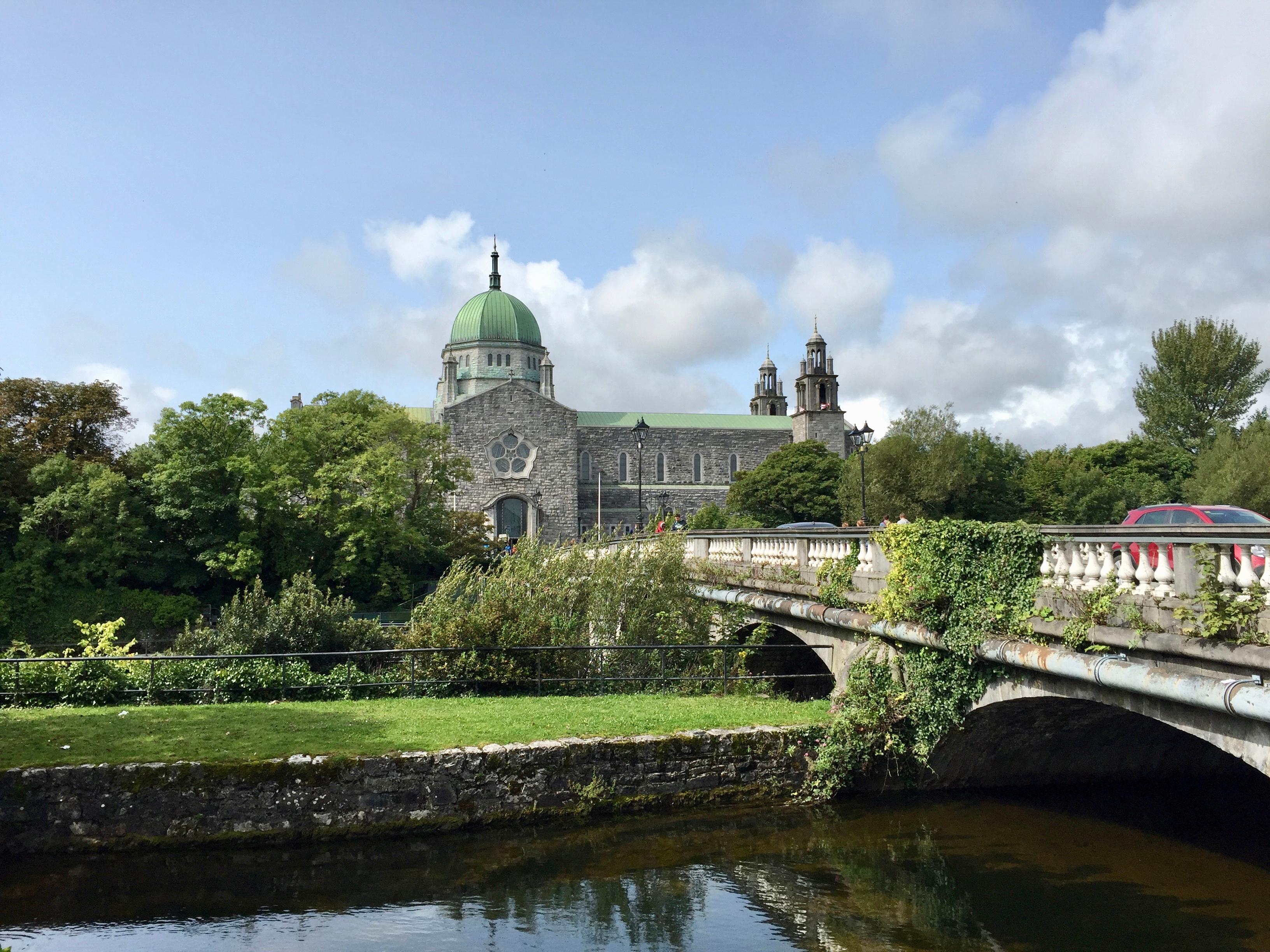 After a few hours exploring downtown, we headed back to the car park... not without peaking inside the Galway Cathedral, of course. Having seen a few cathedrals already, I wasn't completely thrilled about seeing this one, but once I stepped inside, I was blown away. What the cathedral lacks in age (it's actually the most recently built of Europe's stone cathedrals), it makes up for in beauty. Colorful stained glass windows, stunning archways, marble floors, high ceilings... the Galway Cathedral is surely worth the visit, even if only for a few minutes.
Gather Your Horses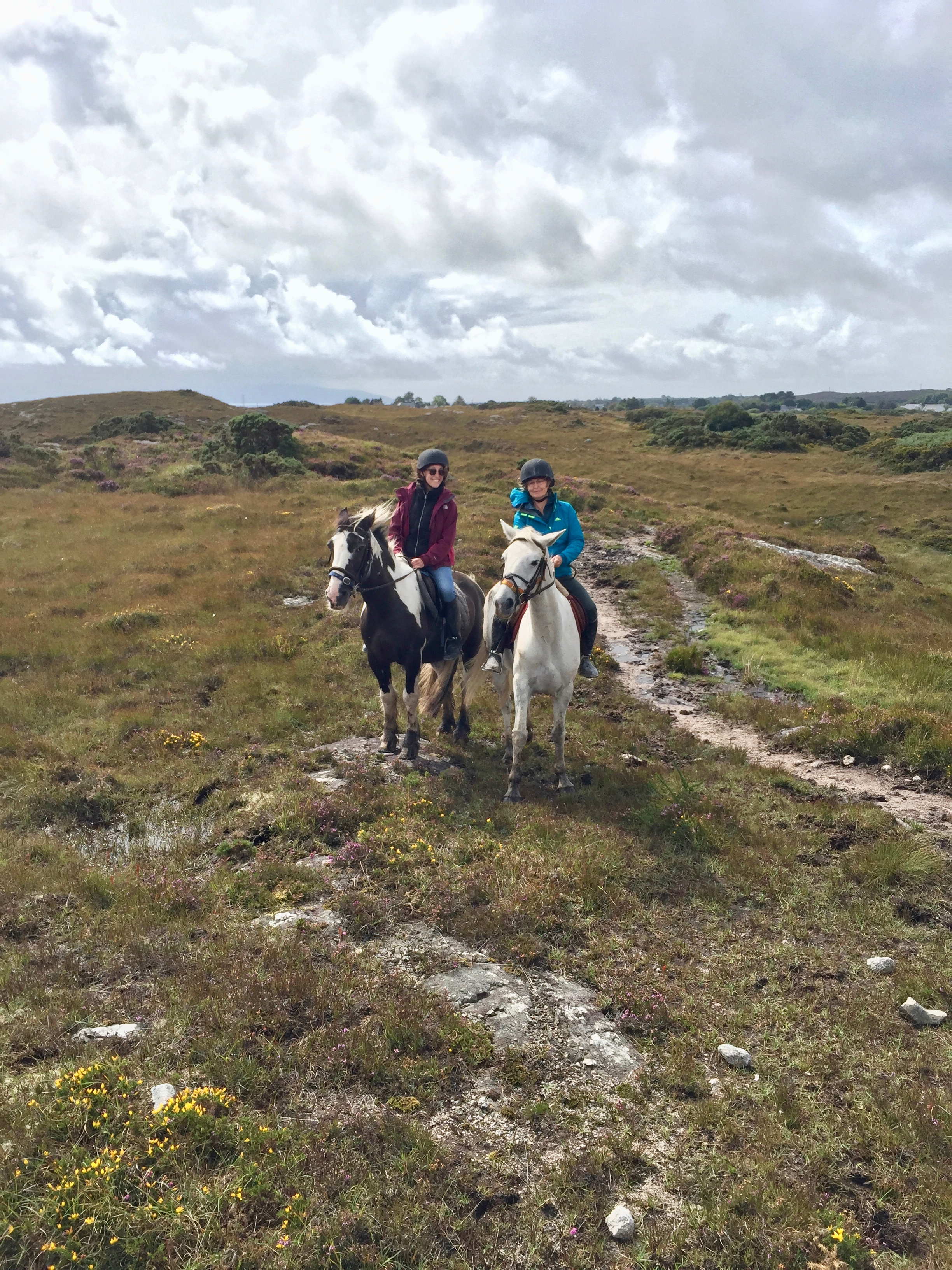 If you don't go horseback riding in Ireland, did you really go at all?
My mom and I both agreed that our trip to Ireland needed to involve some good 'ol fashioned horseback riding, and Galway seemed like the perfect place to make it happen. We were disappointed we couldn't gallop across the beach on horseback— you needed to be an advanced rider to do that, and we didn't want to stretch our abilities. We opted for the hour-long trail ride just outside Galway city instead, and it easily became one of the highlights of our trip.
There are lots of great stables to choose from in and around Galway, but we decided on Feeney's Riding Stables. Located just 6 km from Galway in Thonabrocky, the stable was both easy to find and beautifully set out in the countryside.
We signed our lives away and saddled up with our young "tour guide," a young high school student in the area and a daughter of the stable owners. She took us for a lovely ride out into the fields, which seemed to stretch on for miles. The ride was peaceful— all we could hear were the sounds of our horses hooves clunking against the muddy rocks.
After our wonderful trail ride, we spent a bit of time visiting the horses around the property (100 in total, might I add!) and chatting with the kids who happened to be participating in a horse camp going on at the barn that day. Spending an afternoon outside in the Irish countryside with one another, wonderful locals, and the horses made for an incredible ending to our Ireland roadtrip.
Off to Maynooth We Go
We said our goodbyes, gathered our snacks, and headed east on the M4 highway toward Dublin. We were scheduled to fly out of Dublin the following morning, so we opted to stay closer to the airport in the quaint college town of Maynooth.
The drive was a straight-shot from Galway and took us a little over 2 hours. Our last B&B, Aaronbeg, was easy to find and wonderfully welcoming after our long drive. Our gracious host greeted us and showed us to our spacious room upstairs. It was clean and comfortable, giving us the perfect space to relax and repack before our big day of travel ahead.
We wanted to end our last night in Ireland with a great meal, but we were a bit sick of Irish pub food at that point. We walked up and down the Main Street in downtown Maynooth, browsing different restaurant's menus and trying to decide on a good place to eat.
We came to Bistro 53 and knew it would be just what we needed. Inside, the atmosphere was calm and cool. The restaurant was dimly lit, with sleek black tables and chairs surrounding the bar in the back of the room. My mom and I were seated at a small table by the window and were immediately welcomed by our waiter. We shared an appetizer of steamed mussels to start (one of our favorites), while I sipped on a delicious glass of red wine and my mom enjoyed a glass of crisp white. For our entrees, we both opted for pasta dishes. Both pastas were homemade, fresh, and filling, leaving us happy, full, and ready to crash.
We woke up early the next morning, drove the 30-minute commute to Dublin Airport, returned the rental car, and began our journey back home.
Farewell For Now
It's always hard leaving a place you fell in love with, especially when you never know when you'll have the opportunity to go back again. Ireland was, without a doubt, one of those places.
My mom and I crossed many things off of our Ireland bucket lists, but added many more in the process. We had the best time exploring the lush countryside, the breathtaking coastline, and all the culinary (and beverage) treasures Ireland has to offer. Here's to the memories we made, and the many more to come.
Sláinte!