Wandering (Lost) in Wicklow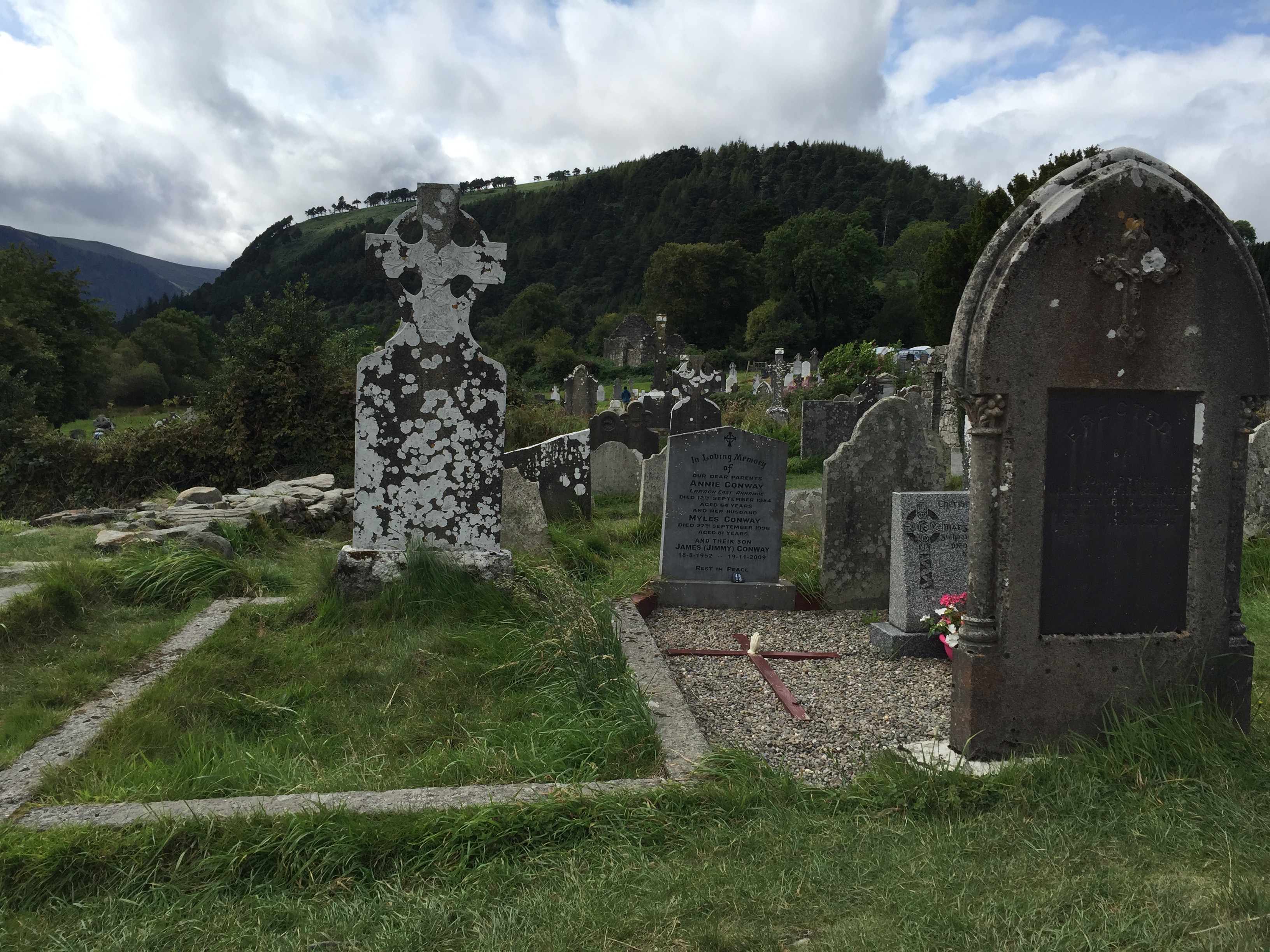 After waking up bright and early on the morning of August 19th, we enjoyed our last breakfast at the Ashling Hotel and packed up our belongings. It was our first day on the road— we were anxious to get out of the city and into the lush countryside of Co. Wicklow.
The woman who checked us out of our room that morning was absolutely lovely (as most Irish are). She asked us what our plans were after Dublin. We told her we were headed to Co. Wicklow and wanted to see the monastic ruins in Glendalough, but didn't really have much planned beside that. She smiled and raved— it turned out she lived in that area. She happily wrote down her recommendations (and wished we could take her with us).
She swore we had to visit the Powerscourt Estates first, if only to walk through the acres of gardens and pretend we were royal guests on Downton Abbey. She said we could grab a tea and scone at the estates, but warned we'd pay way too much for it. "Treat yourself anyways," she said with a giggle.
She wrote down the name of a pub to check out later that evening and asked us to say hello to Danny, who just happened to be her younger brother.
We set out on the road with our hotel's receptionist's scribbled note in hand. We got a bit turned around leaving Dublin (which is all too easy to do), but with the help of our car's GPS we made it to the M-50 and headed south to Wicklow.
Powercourt Waterfall
All was fine and dandy until we came to a roundabout and missed the exit to the Powerhouse Estates. The exit we took led us to a narrow dirt road, and then to another narrower dirt road. We knew we were heading the wrong way, but we decided to stay the course and see where we ended up.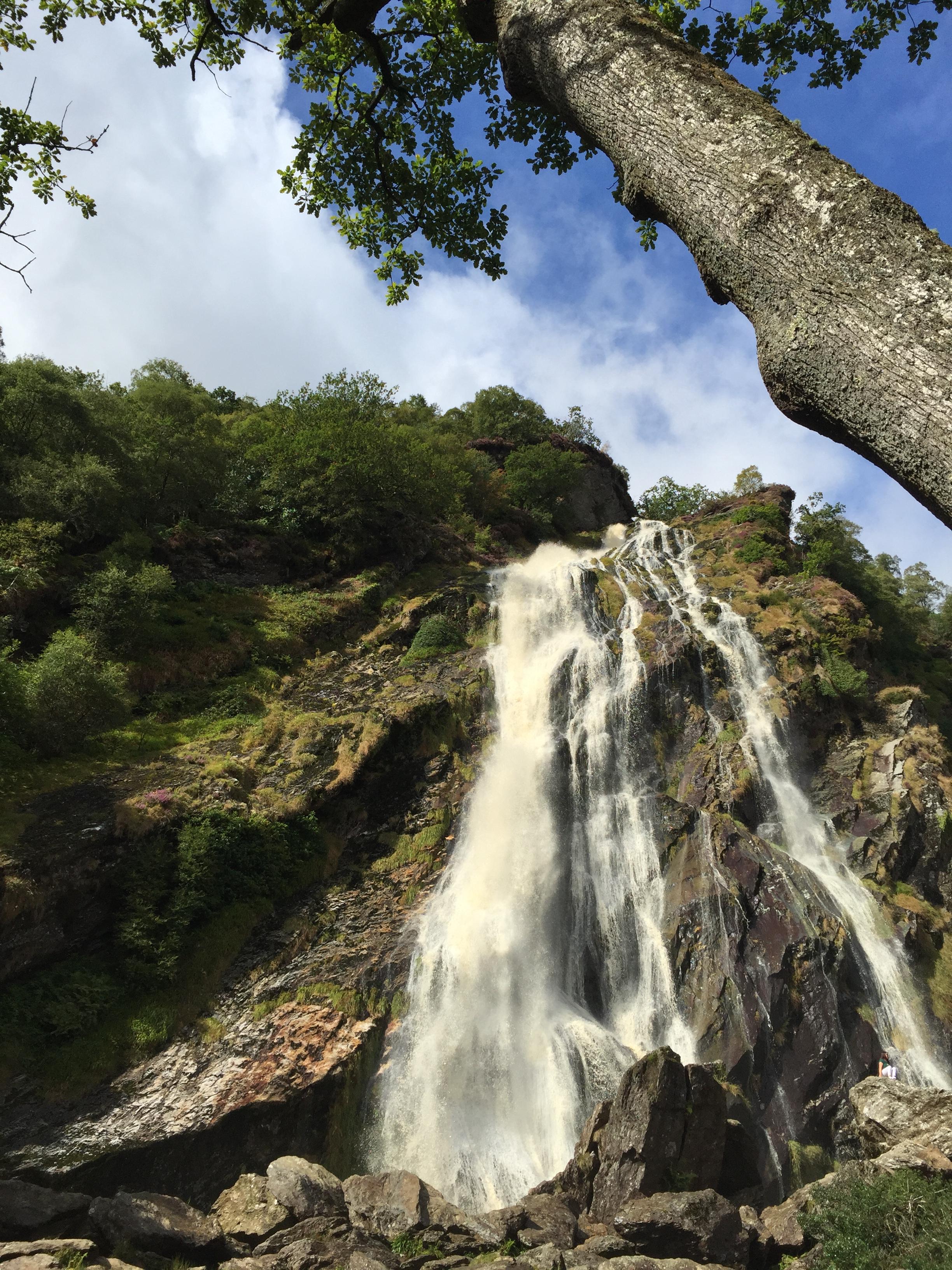 We eventually passed a sign to the Powerscourt Waterfall. We didn't plan on stopping to see it, but since we were a bit turned around anyways, we thought we might as well. We paid 6 euros per person and walked a few minutes to the waterfall. And man, was it worth it. At 121 meters (398 feet) tall, we found out this waterfall is the tallest in Ireland. Rushing water towered above us as we gazed in awe at its size and splendor while enjoying the mist from the cool mountain water on our faces.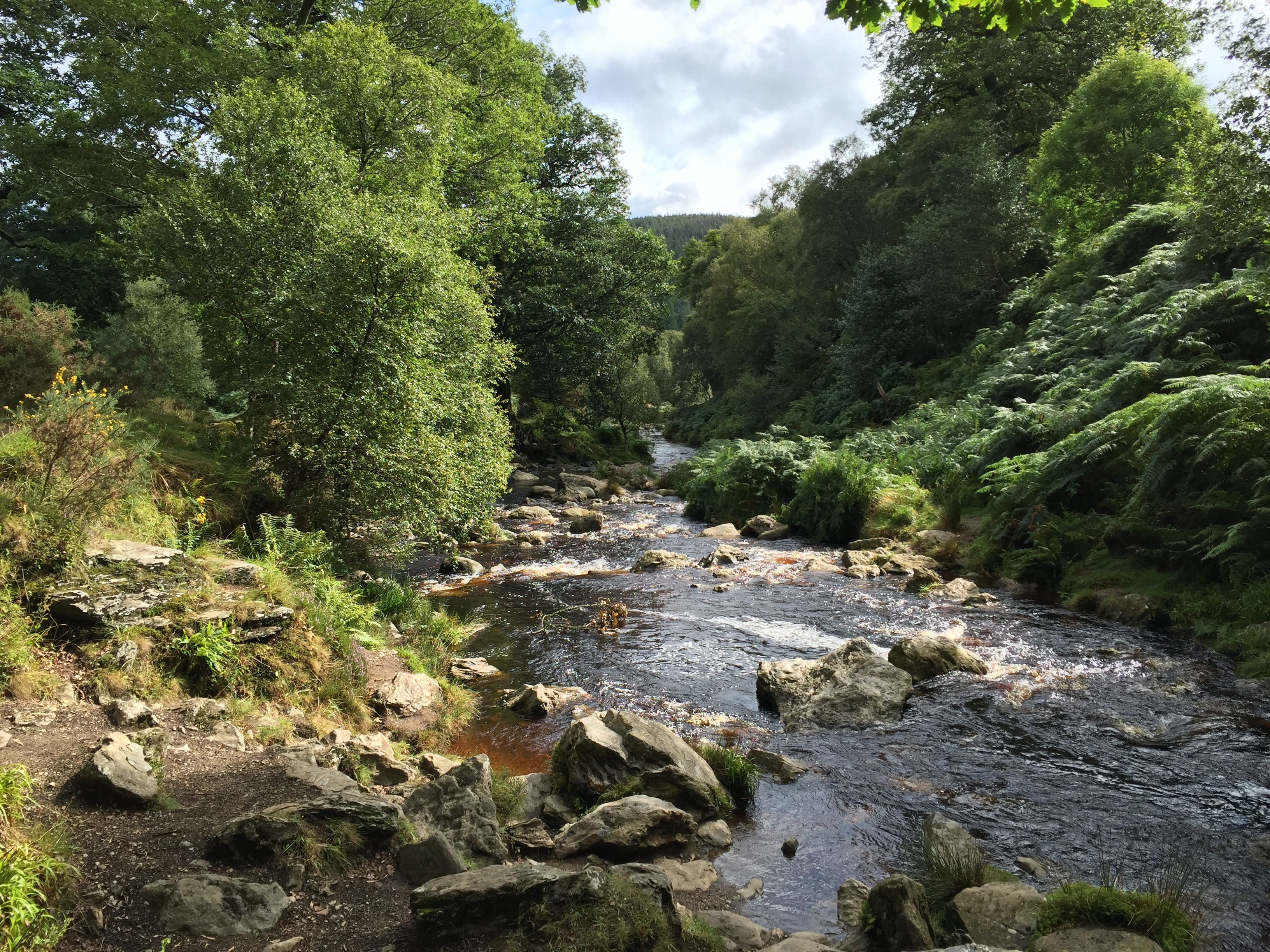 The sky began to darken as we headed for the car. As soon as we got inside, it started to pour (a common occurrence in Ireland, we quickly learned). On our way out, we made a point to ask the man at the entrance to the waterfall the best way to get to the Powerscourt Estate.
Lost in Wicklow Way
We followed his directions as best as we could, but they ultimately brought us to another fenced-in dead-end. At that point, it was nearing mid-morning, so we decided to boycott the Powerscourt Estate mission and head to Glendalough instead.
I plugged our destination into our GPS and pressed "GO!" but the route wasn't direct at all. Our not-so-trusty GPS ended up taking us through Wicklow Way, a walking path through the Wicklow Mountains. And by walking path, I mean walking path… There was barely enough room on the road for one car, let alone two.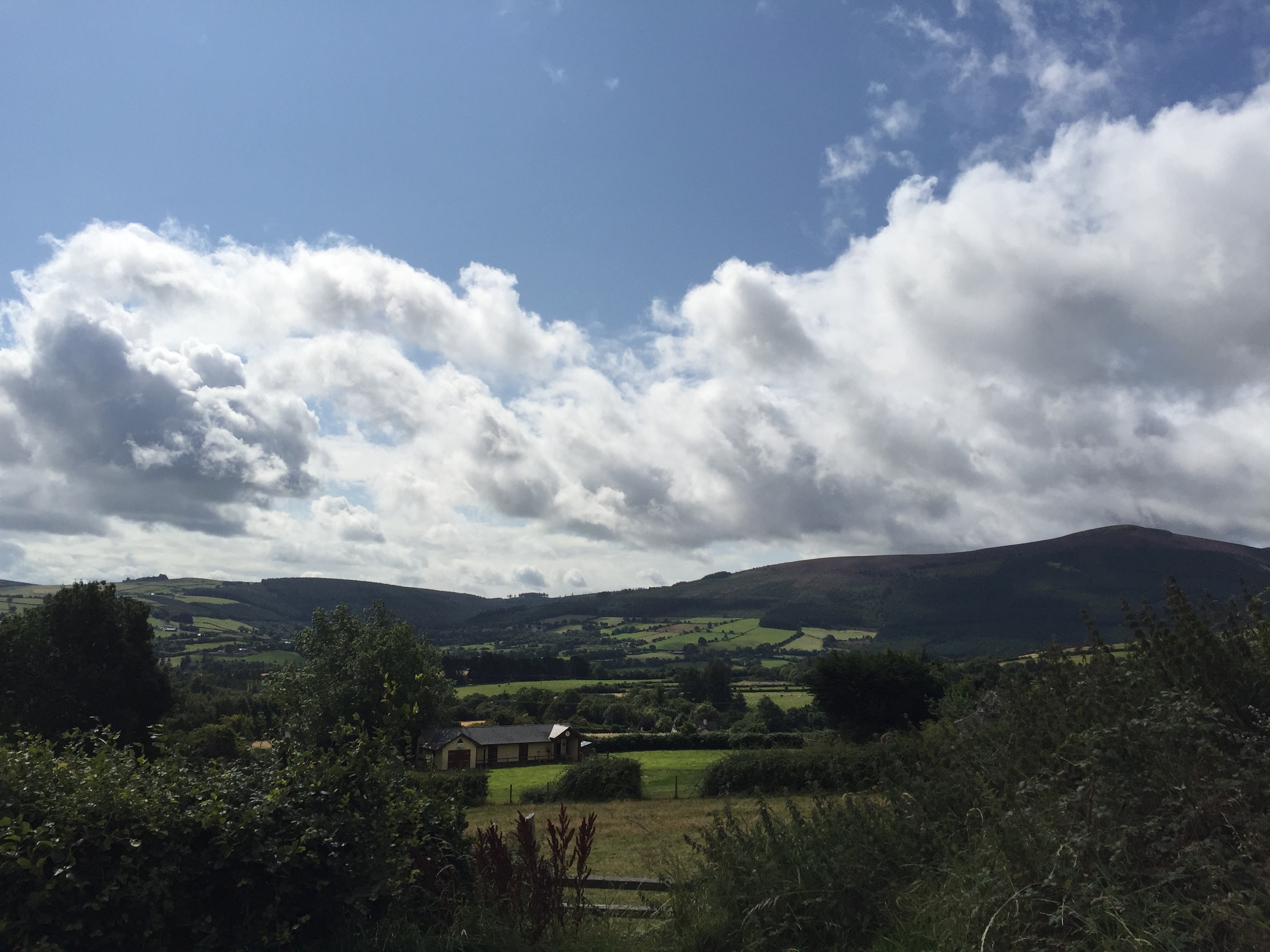 Despite our white knuckles and constant shock at the narrowness of the roads, we relished the views. Bright green farmland contrasted with brilliantly blue skies for miles and miles, all in front of a mountainous backdrop.
When were (finally) back to somewhat of a "main" road, we stopped at the next café we saw. I wish I could remember the name of it now, but wherever it was, it served the best homemade scones with a healthy dollop of cream and a side of berry jam. We enjoyed our early afternoon treat with a cup of lemon ginger tea— the perfect fuel for the rest of our journey.
Glenadalough Monastic Site and Wicklow National Park
After driving in and out of the monastic sites (we didn't know we were driving through them the first time... oops!), we retraced our steps and luckily found a place to park amidst the hundreds of cars and tour buses. This was definitely a tourist hot spot, we thought.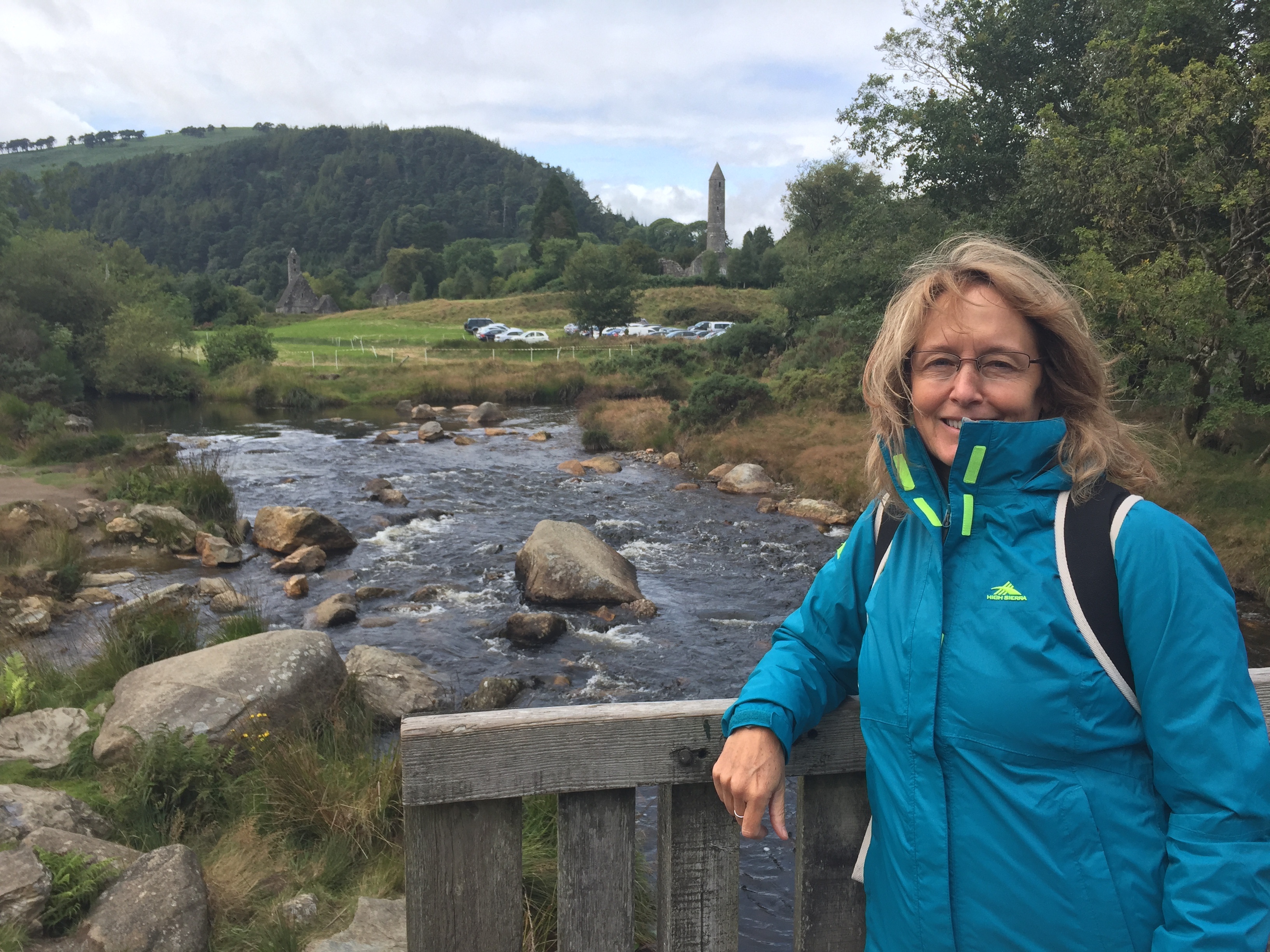 We first checked out the map of the area to see where we would have time to walk. There were so many hiking trails around the monastic sites and through Wicklow National Park— it was hard to choose. We wish we had time for a longer hike, but we ended up on the "Green Trail," a relatively flat loop through the monastic site and around the nearby lake.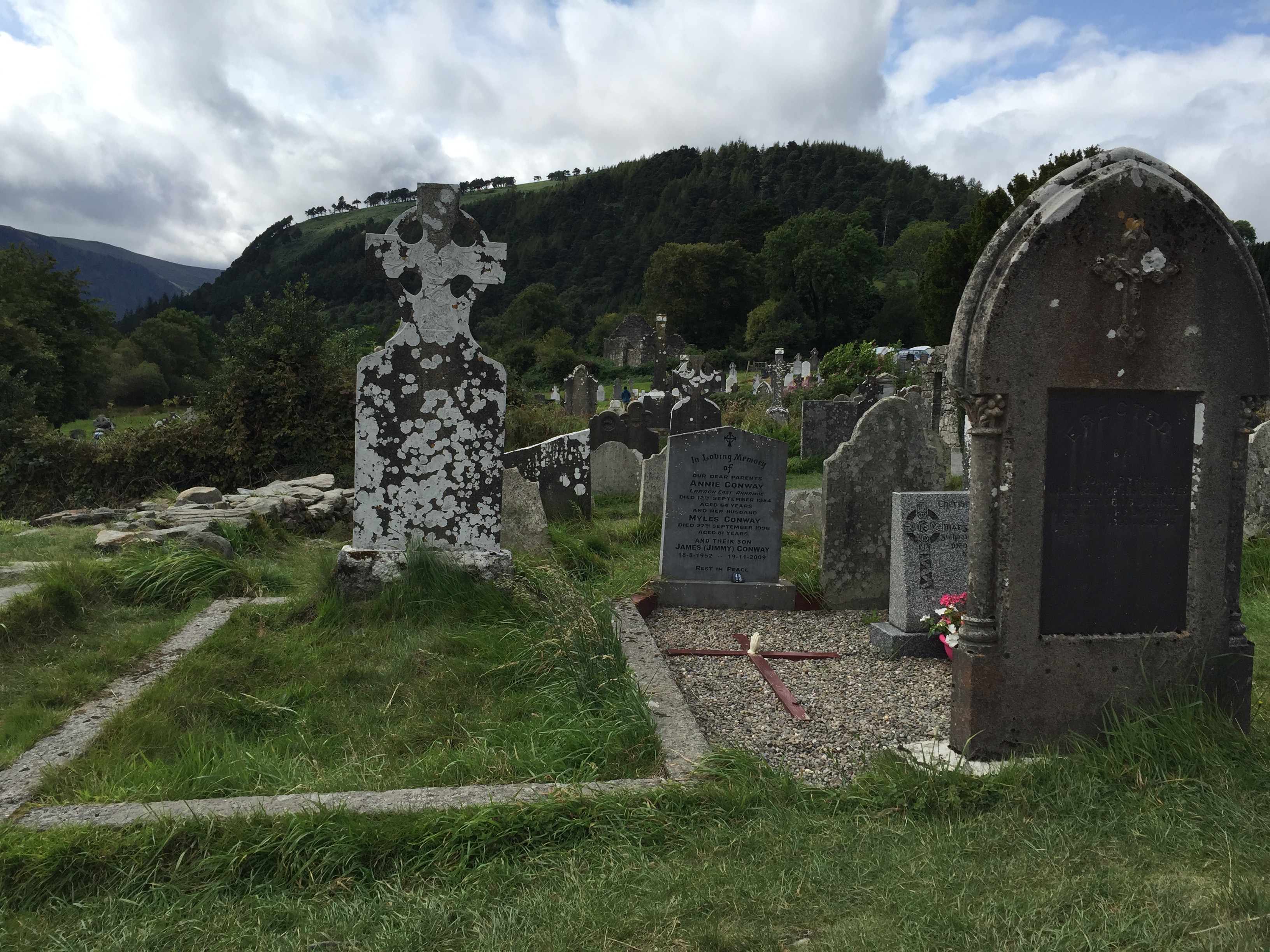 The walk through the monastic site, as well as along the lake was breathtaking. We marveled at the old graves and stone towers, feeling the eery, yet beautiful presence you feel walking through a gravesite.
Our First B&B Experience
We wanted to leave enough time to drive to our B&B, settle, and have dinner, so we left Glendalough in route to Rathdrum, a quaint little town southwest in Co. Wicklow.
Gerry, our wonderful B&B host, greeted us at the door with a warm smile, eager to hear about our travels in Ireland. He led us upstairs to our simple, yet clean bedroom for the evening, complete with two twin beds, a dresser, and a small bathroom. The windows on the right side of the room let in the soft afternoon light and beautiful views of a farm nearby.
Once we settled and regrouped, we headed off to dinner at Lily's Restaurant at "The Meetings," per Gerry's recommendation. Situated on top of where the Avonbeg and Avonmore rivers come together, we sat inside the rustic, cabin restaurant and enjoyed the river view.
The food and drinks were just as great, too. I ordered a Glendalough gin and tonic, garnished with mulberries from the area, and my mom ordered a 3-beer sampler of the area's local craft beer. We enjoyed our refreshing drinks.
For dinner, I opted for a non-Irish fare: house-made falafel with a tzatziki sauce drizzle, saffron rice, and a garden salad. My mom, on the other hand, had to try the restaurant's famous beer battered fish 'n chips with a homemade pea puree and lemon gel, and was equally pleased. Both meals were filling and flavorful— a wonderful ending to our day traversing through the mountains.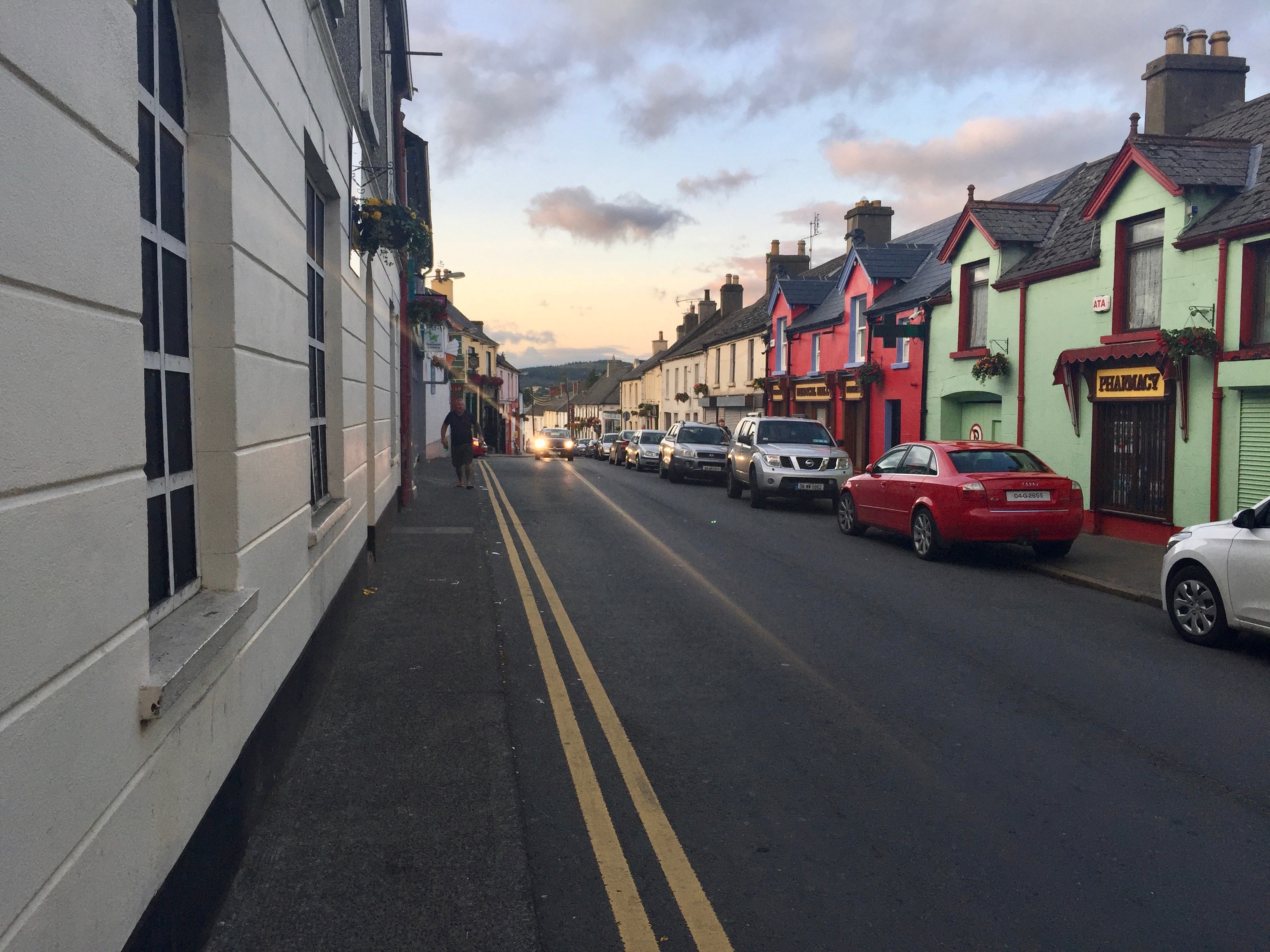 After exploring a bit of the town and realizing nothing was going on (even the pubs were quiet… you know that's rare in Ireland!), we headed to bed early to rest up for our longest drive: even further south to Co. Clare. Our final destination? Kinsale, of course— for some much-needed harbor side views and colorful street exploring.
More on Kinsale to come!