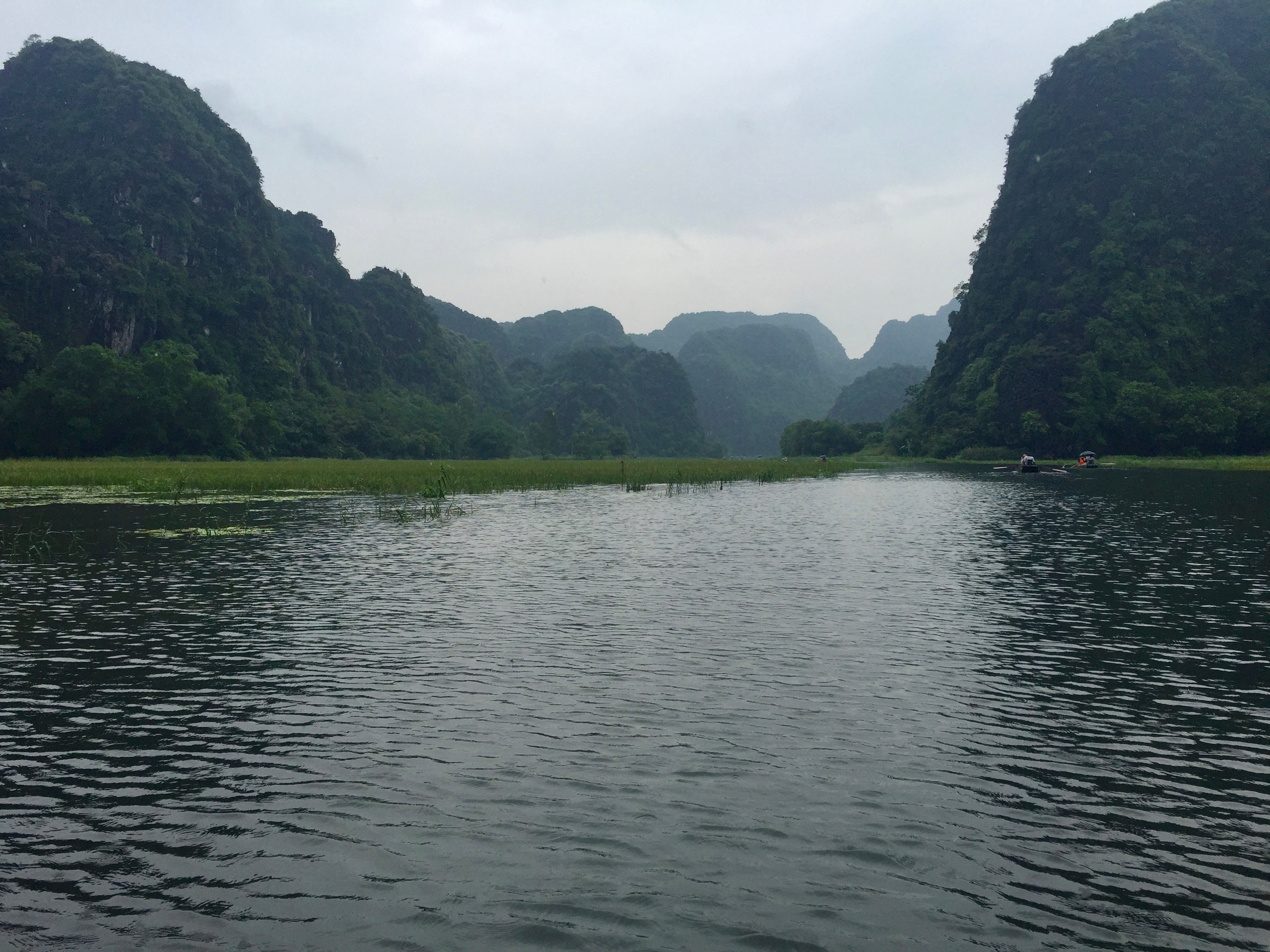 After we spent our first evening in Hanoi stuffing our faces with street food, we woke up early the next morning for a day trip to the Ninh Binh province, about two hours south of Hanoi. Ancient temples, spooky caves, beautiful mountainous scenery, and even a few mountain goats awaited us...
We pre-booked our day trip on Klook, after one of our friends and fellow teachers recommended it to us. For less than $30 per person, we were picked up/dropped off at our hostel in Hanoi, were given an amazing English-speaking guide, toured around two ancient temples, feasted at an authentic Vietnamese buffet, boated along the Hoang Long river river, AND bicycled through the rice paddies of Tam Coc. If you ever find yourself in Hanoi wanting to escape the city, look no further than this day trip to Ninh Binh and Tam Coc. PSA over...
Our first stop on our full-day adventure was to Hoa Lu, the former ancient capital city of Vietnam. The tranquil scenery should be enough for you to visit this city, but the temples aren't half bad either. They were built during the Dinh and Le Dynasty (968 to 1009) to honor the Emperor at the time. All that remains in the temple is the Emperor's golden crown, encased at the top of a shrine within the temple. But, between the towering carst mountains surrounding the temple and the stone lions guarding the gates, his royal presence is still very much felt here.
We spent an hour or so exploring the temples, relishing in the quiet atmosphere and enjoying the scenic views. We had a long itinerary to fit in that day, so our guide soon gathered us back on the bus and brought us to our next stop: lunch.
The buffet lunch was included in the tour price, but they surely didn't skimp on it. We pulled up to a big, open-air building with long, wooden tables packed with other tour groups devouring plates of food. The lunch was buffet-style. We quickly found a seat and made our way to the buffet full of fresh fruit, salads, cooked vegetables, various noodle and rice dishes, different meat dishes, soups, french fries, baguette bread... the list was endless. We spent the time enjoying our meal and chatting with the fellow travelers in our group.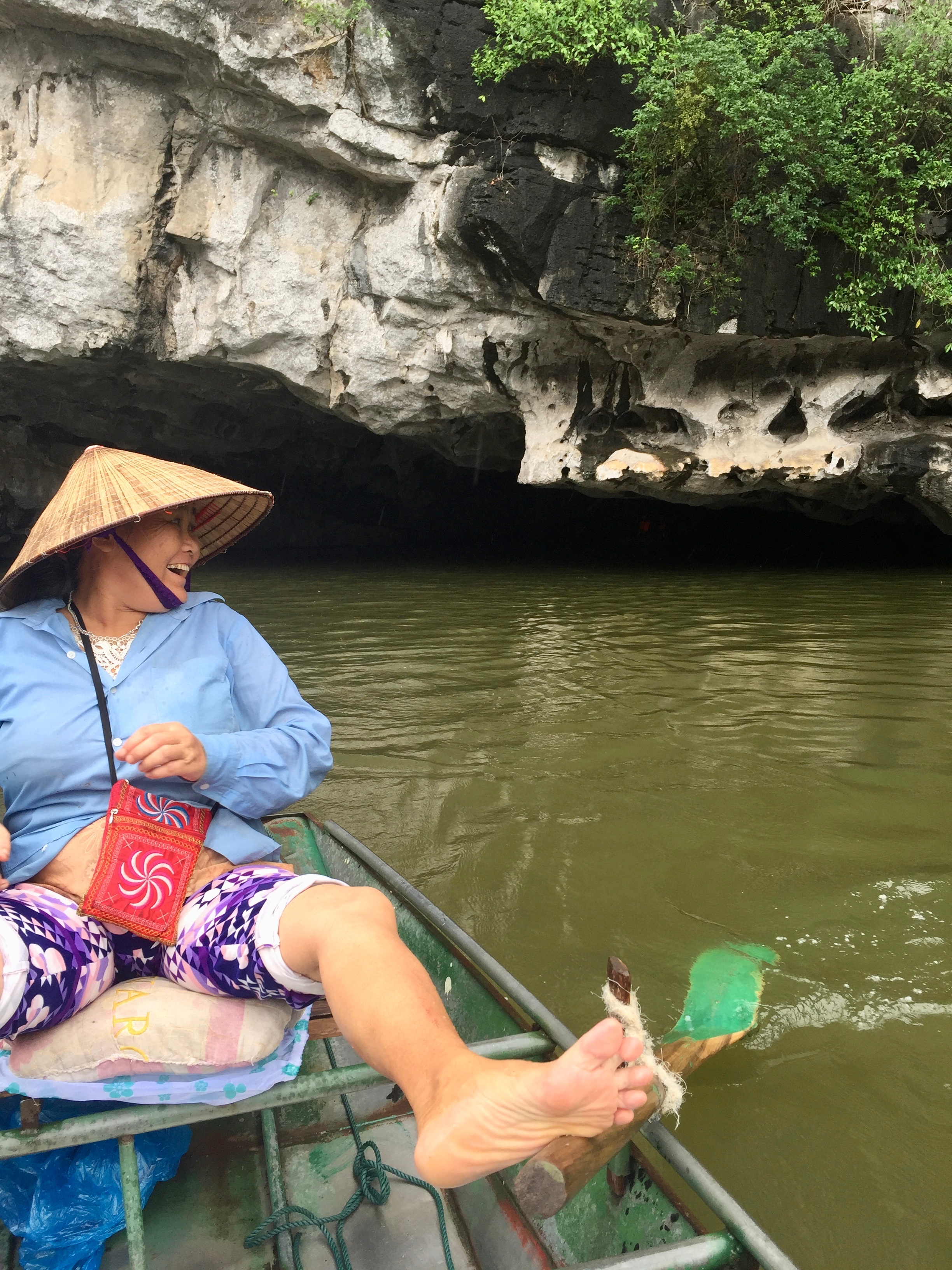 Next stop on our tour? The river cruise, of course! We hopped back on the bus and drove another 20 minutes to Tam Coc, a quaint town nestled in the mountains. There, we zipped up our raincoats and pulled on the neon-orange life vests before sitting in our own private boat. We greeted our rower for the afternoon, a middle-aged Vietnamese woman full of laughs. She was ready to row us down the Hoang Long River. What's even cooler is that she rowed the entire way with her feet... Yes, with her feet! That's some serious talent.
The next two hours on the river were... unbelievable. We passed locals standing in their boats, skimming large nets through the lily pads and hoping to find a fresh catch. We saw stone shrines along the waters edge, filled with fresh flowers and incense. We floated through dark, quiet caves, where all we could hear were the sounds of the rowers' paddles lapping the water and the drips from the caves' ceilings hitting the surface. We watched wild goats munch on fresh grass. All of these beautiful moments took place along the backdrop of Tam Coc's rolling, green mountains. We didn't want to leave...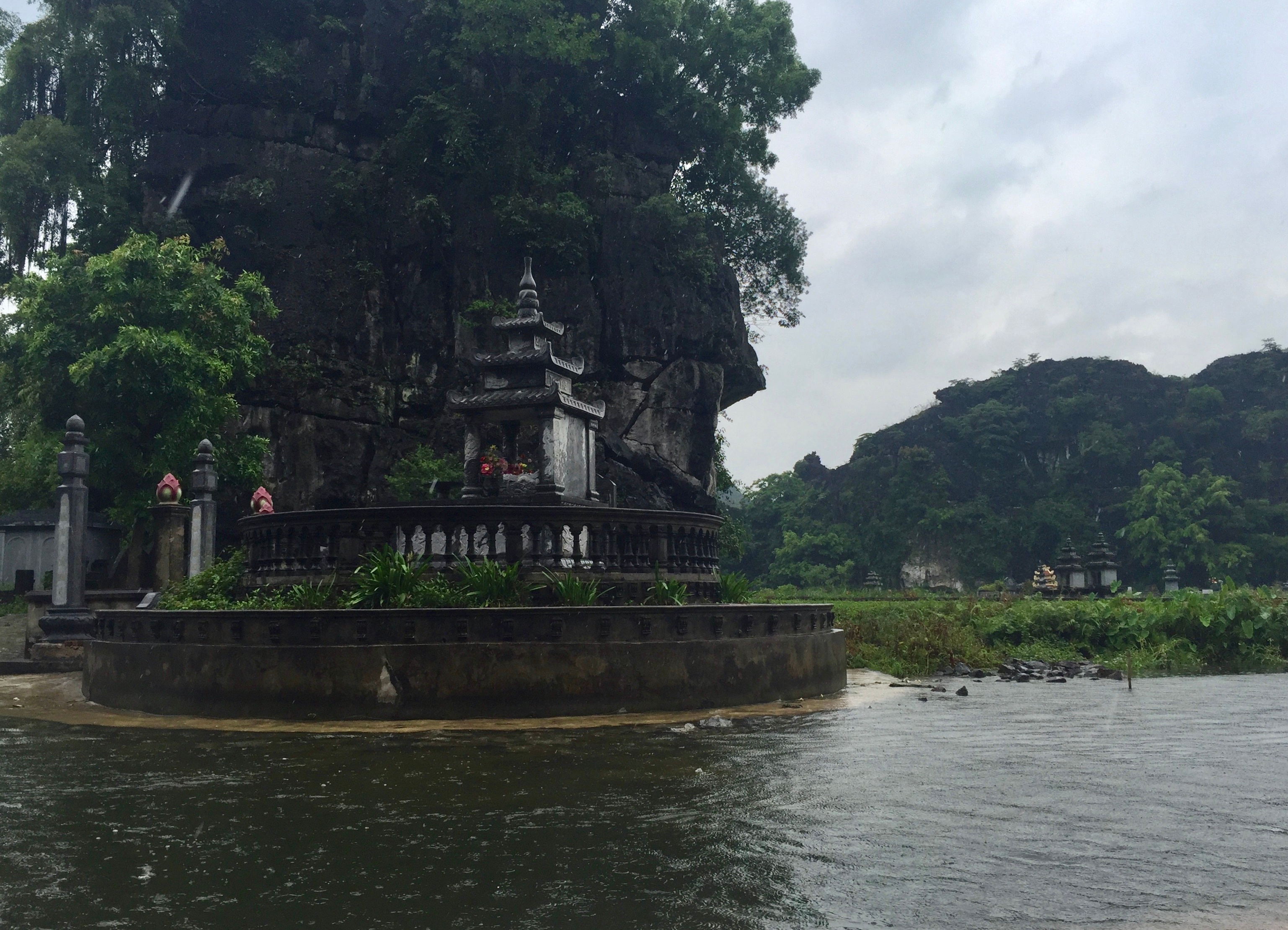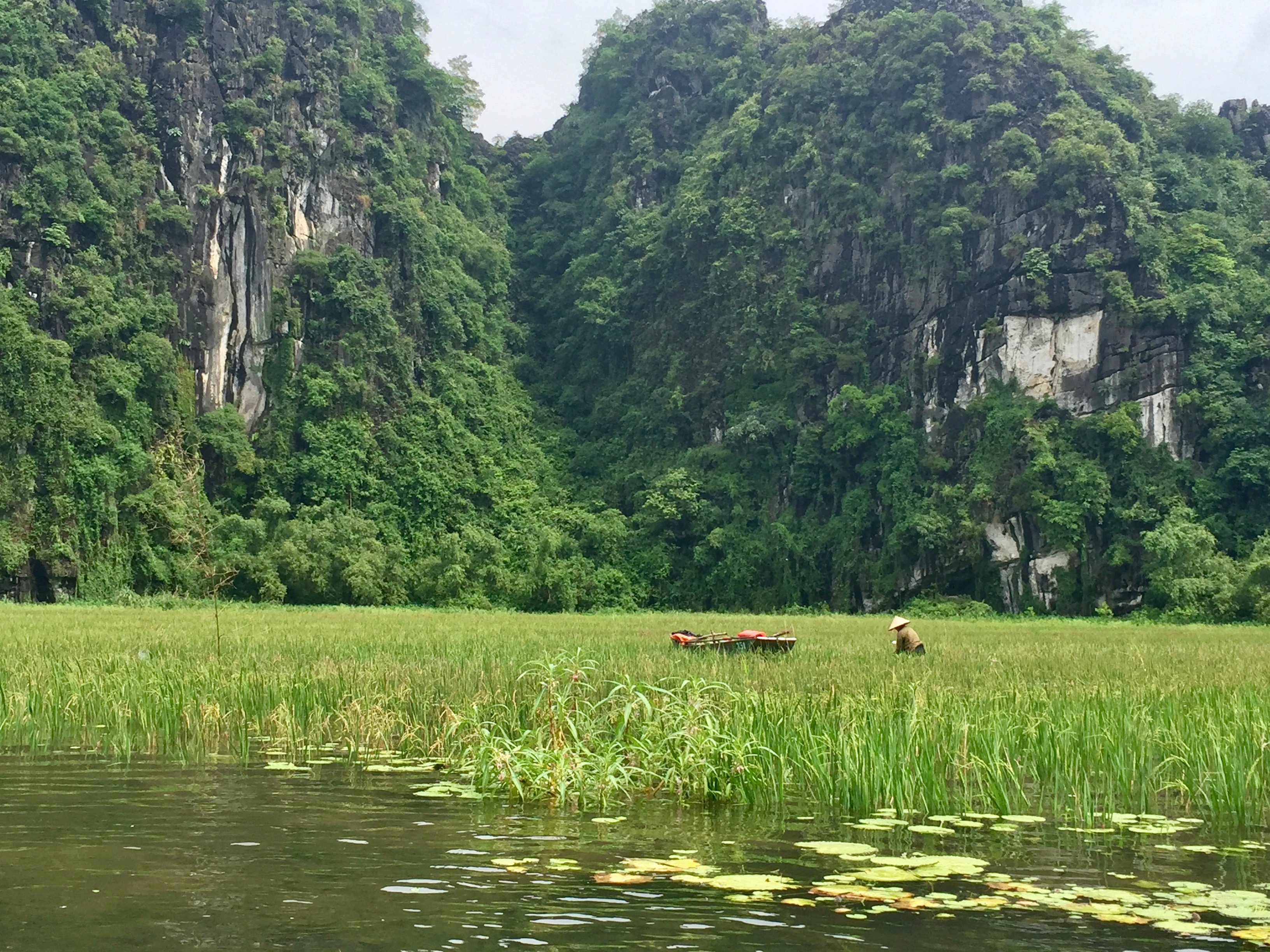 Our river cruise was over all too soon. We thanked our rower (and thanked the weather gods they kept the cloudy, rainy skies out for almost the entire trip) and waited for the rest of our tour group to finish their cruise.
Once we were all gathered together again, we walked across the street from river to a bike storage area. Our guide told us to grab a bike and follow her through Tam Coc. The town was small, but full of tourists and locals cycling, relaxing on their patios, or enjoying a late lunch at one of the few restaurants. It took less than 10 minutes on the bike to get out of the downtown area and out to the fields.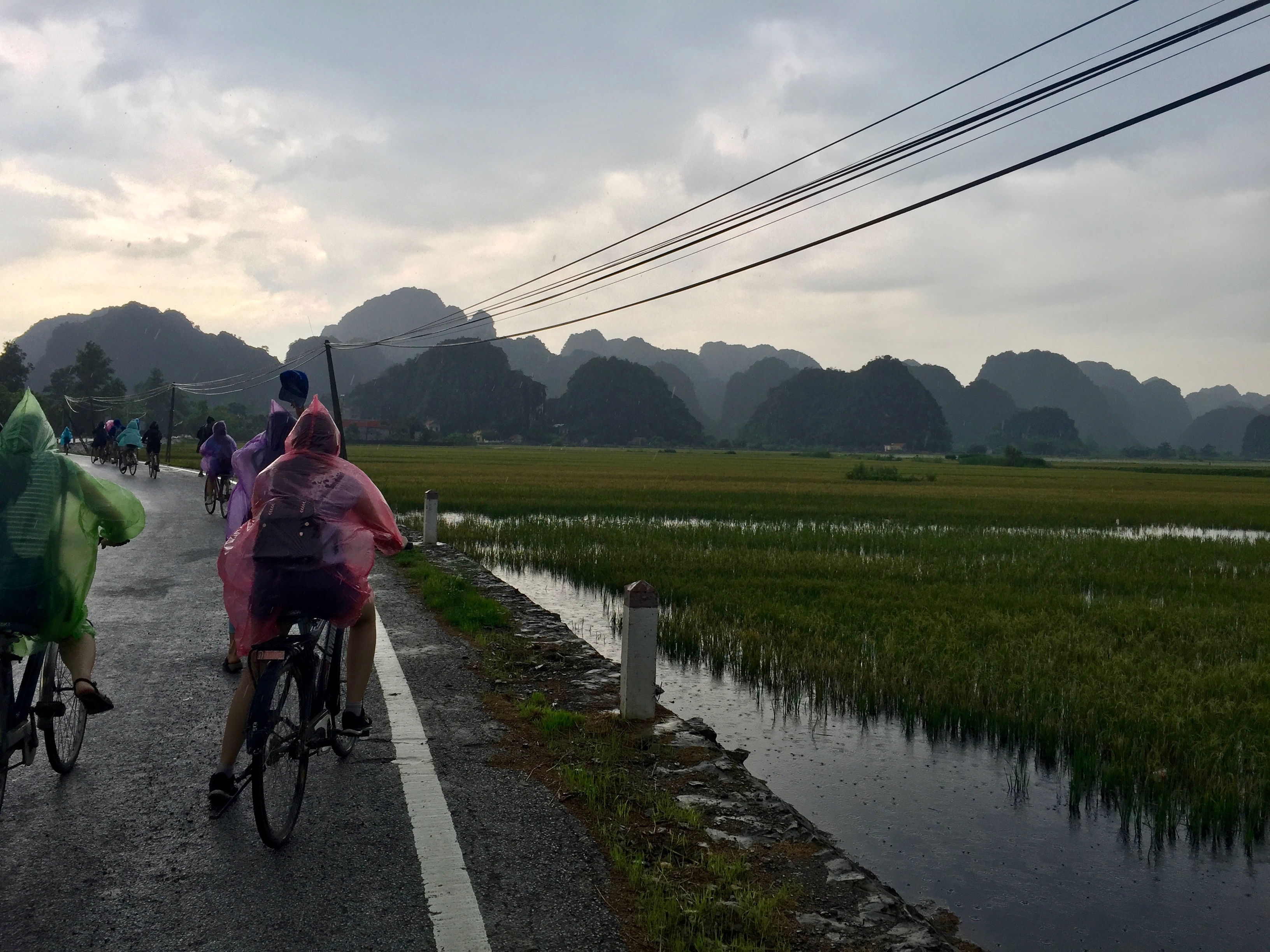 Just as we headed off the main road and down a dirt path through the rice fields, the skies opened up and it began to rain... hard. The dirt path soon turned quite bumpy and slick from the rain. I found myself slowing down to avoid falling, but just as I did, I heard a loud scream ahead.
I picked up a bit of speed to see what had happened. As I came around a bend, I saw a few people in our group huddled together, helping one of the girls out of a flooded rice paddy. Oh no...
Thankfully, she was okay— she left with a couple bruises and an absolutely soaked dress. She stayed together with the group the rest of the way back to town and immediately found a clothing shop to buy a new (dry) outfit. We all laughed and applauded when she got back on the bus with flowing, elephant-patterned pants and a banana button-down shirt. Hey, anything's better than sopping wet clothes...
After a packed day, we were ready to head back to Hanoi. We enjoyed a well-deserved afternoon nap on the bus, exhausted, but relaxed after a jam-packed day of site seeing, river cruising, and biking.