Koh Phi Phi: The One Hit Wonder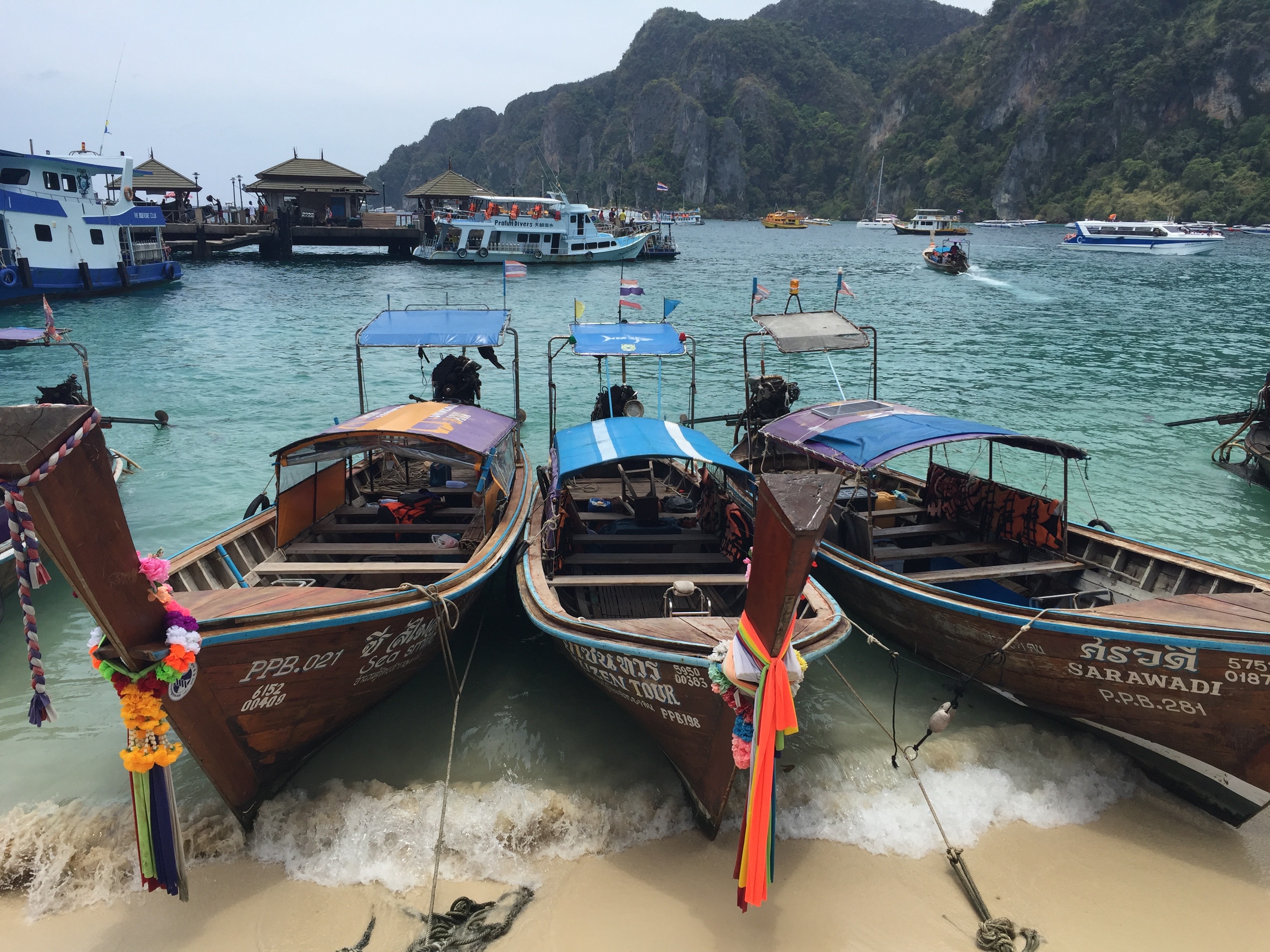 Most foreigners who are familiar with Thailand will likely know of Koh Phi Phi. Nestled in the middle of the Andaman Sea, halfway between the coasts of Phuket and Krabi, lies Koh Phi Phi: a twenty-something backpacker's party paradise.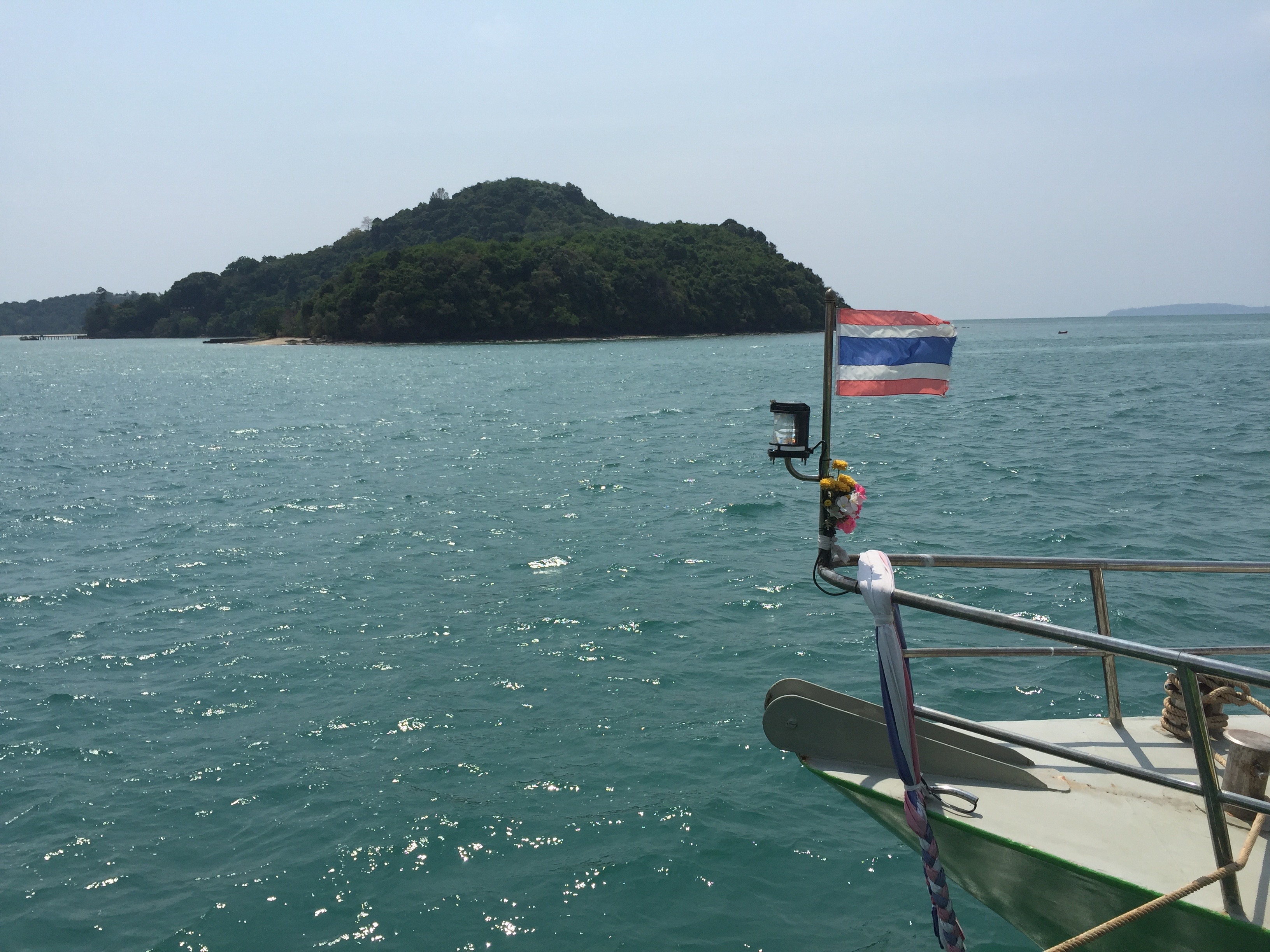 Enjoying the ferry ride from Phuket to Koh Phi Phi
Don't get me wrong— the mountainous landscape and jutting limestone rocks are stunning, but the party vibe this island has developed and the subsequent clientele it's attracted left quite a sour taste in my mouth. After spending three nights on the island, I realized it isn't Thai in any respects— it's been completely destroyed by resorts, booze, and tourists.
Clearly I wasn't the biggest fan of this place, but let's not focus on the negative. Here were some of my trip highlights:
Exploring the Island on Foot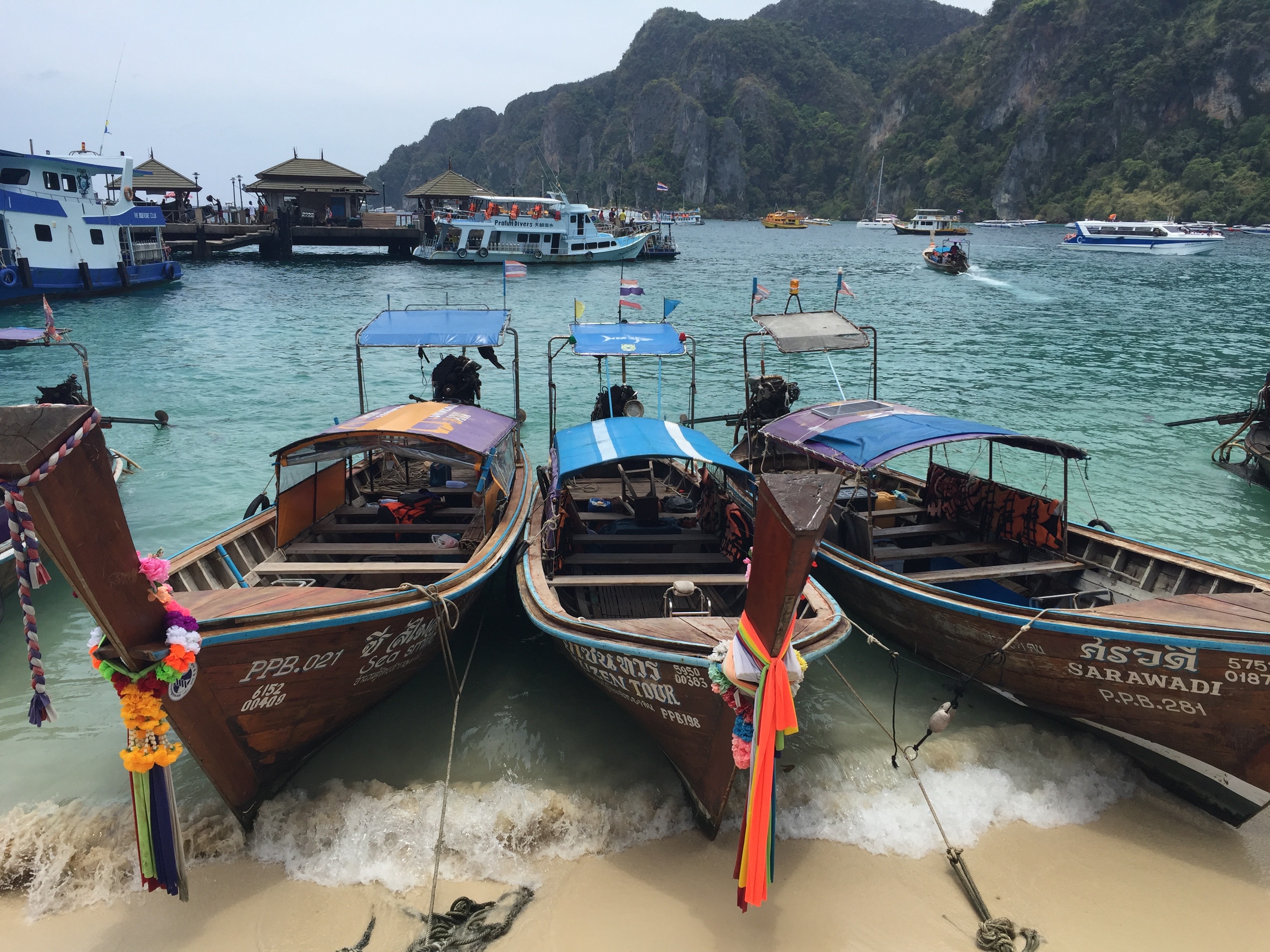 The busy pier of Koh Phi Phi
There aren't any cars on Phi Phi, so, with the exception of a handful of motorbikes, we went everywhere by foot. It was fun walking the twisty, narrow streets, browsing the souvenir shops, and people watching.
Almost everywhere we've been in Thailand, we've had to rely on a motorbike, tuk tuk, or taxi to get places. Simply being able to pop out and walk to where we wanted to go was a refreshing change from the wild Thailand traffic.
Dinner at Papaya
Nestled in a corner of a small side street in downtown Phi Phi is Papaya, a Thai (but mostly) Indian restaurant. It's run by the sweetest Pakistani man who is always curious about where his customers are from so he can show off his impressive accent skills. He whipped up the best meal we had on Phi Phi, in my opinion.
Justin's best friend, Parker, and his lovely girlfriend, Megan, joined us from the States, along with Katy and Connor, a couple we met while we were teaching in China last year (go figure!). We ordered a round of spring rolls and garlic pepper shrimp to all share as a starter— all crispy, fresh and delicious.
Katy and I opted to share an eggplant curry dish. It was mildly spiced, but deliciously flavorful and creamy. The highlight was Justin's dish of chicken vindaloo, an authentic Indian dish with perfectly cooked potatoes and slightly spicy sauce. The garlic naan was also a top contender, and was gone in minutes.
The quality of the food was impeccable, and the price was unbeatable. For six waters, three appetizers, five entrees, and several sides of rice, it totaled to about 1,800 Baht ($53 USD).
Muay Thai Fights at Reggae Bar
This bar was a total tourist trap, but it was worth going to, if only to see a few muay thai fights.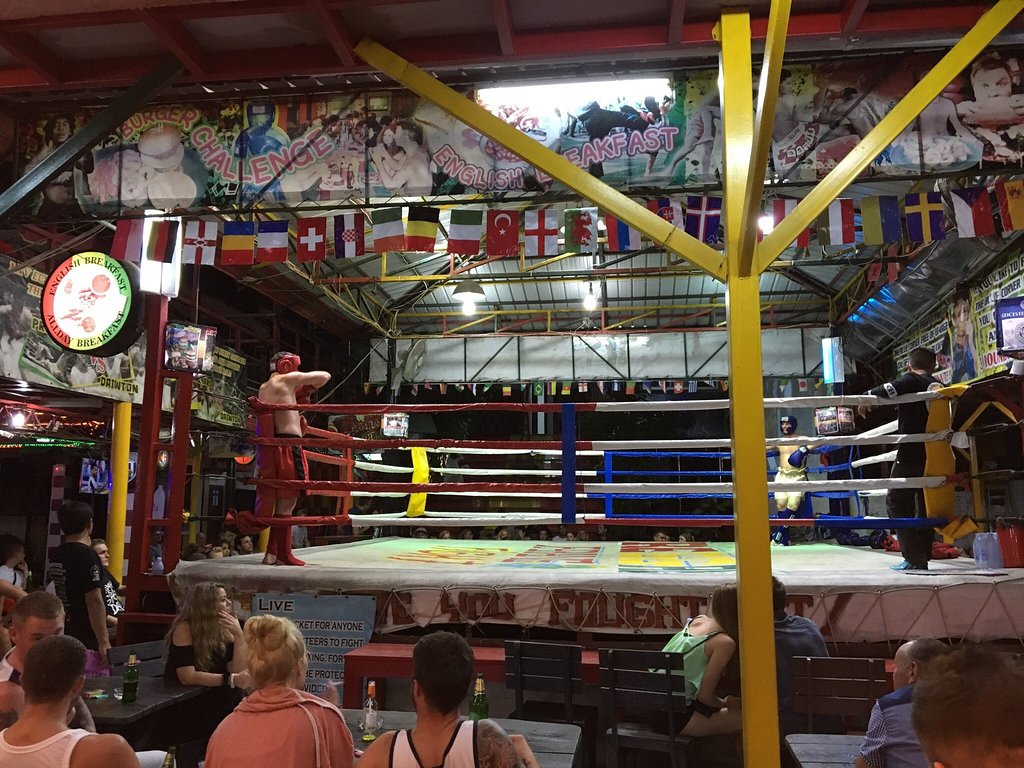 Photo credit: TripAdvisor
Reggae Bar, in the heart of downtown Phi Phi, hosts fights nearly every night of the week. There aren't any famous fighters stepping into the ring, though. The catch is that anyone can fight— just volunteer yourself or a friend and the staff will match you up with a similarly-sized contender from the audience. They'll even lace you up in muay thai boxing shorts, shin protectors, gloves, and helmets (safety first!). Plus, if you win, you get a free "bucket" of choice— the go-to drink on Phi Phi (a small plastic bucket that contains a lot of alcohol, soda, and/or Red Bull). Yum?
We enjoyed watching the brave (and slightly inebriated) young men and women step into the ring for three rounds of chaotic hitting and kicking. At the end of each match, the staff would choose the winner based on the audience's cheering. Whoever got the most applause took home the gold (or, in this case, the booze bucket).
Oh, the joys of tourism...
All-Afternoon Boat Cruise
When visiting Koh Phi Phi, seeing the surrounding islands are top on the list. They are, thankfully, protected by the National Park Service of Thailand, so they're clean, and they haven't been bulldozed down and built up with resorts.
There are many boat cruises to choose from, from cheap to pricey, and boozy to relaxed. We went with a fairly expensive option (after much drama and debate...), but we were fairly happy with the outcome. It wasn't the worst; it wasn't the best... but, we all enjoyed ourselves in the end.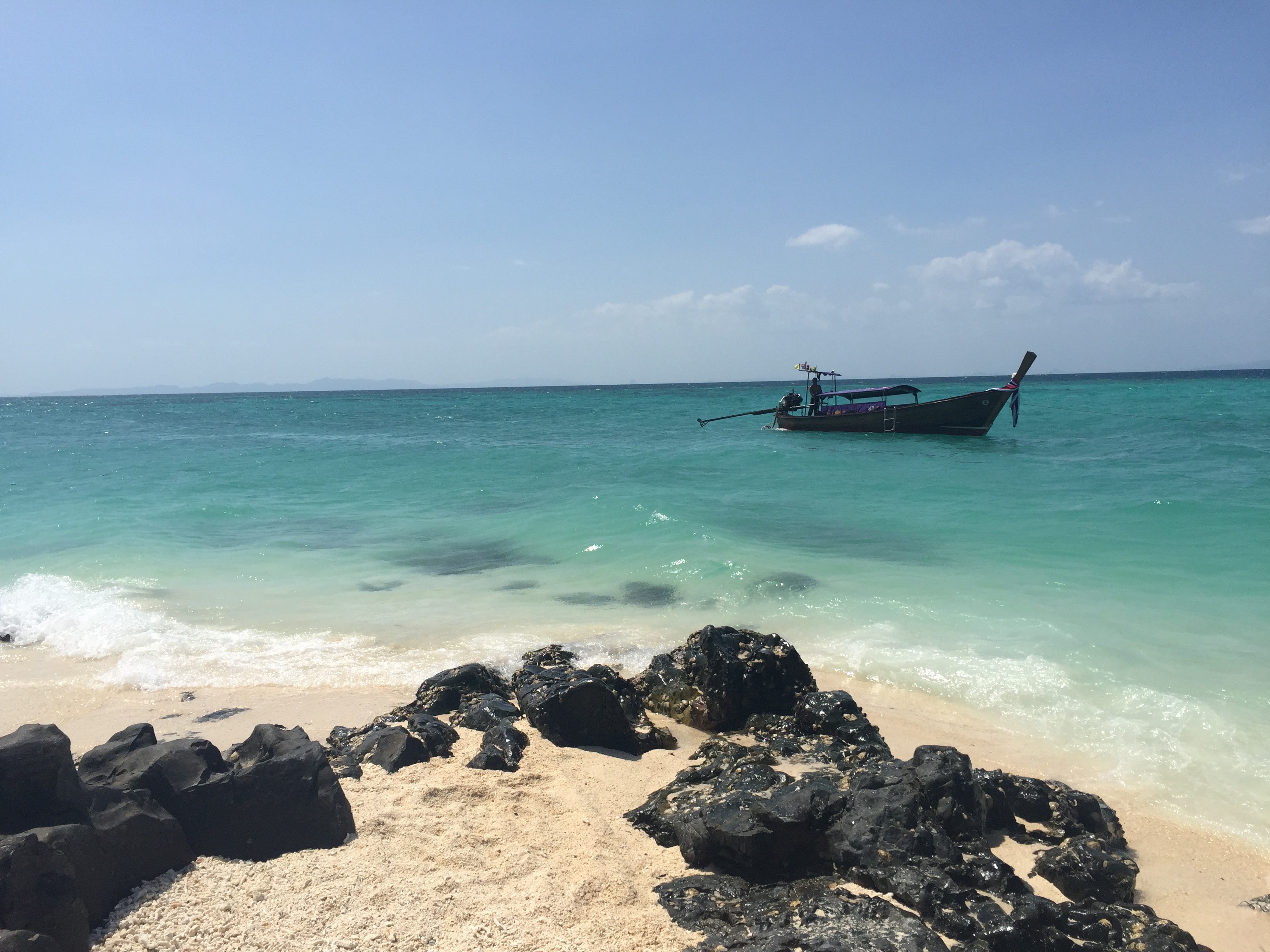 Bamboo Island
We gathered at one of the beach bars around noon to wait for the rest of the cruise go-ers that day. We all made small talk while the crew gathered up the lunches, waters, and booze, and eventually walked us down to the pier around one in the afternoon.
We claimed our spot on the speedboat and headed off. We ended up stopping at several islands and viewpoints throughout the afternoon: Bamboo Island, Monkey Island, Maya Bay, several snorkeling spots, and Viking Cave, just to name a few. We devoured two delicious meals on board, too— one of fried rice and the other of barbecued chicken and pasta salad— and washed it all down with several cocktails.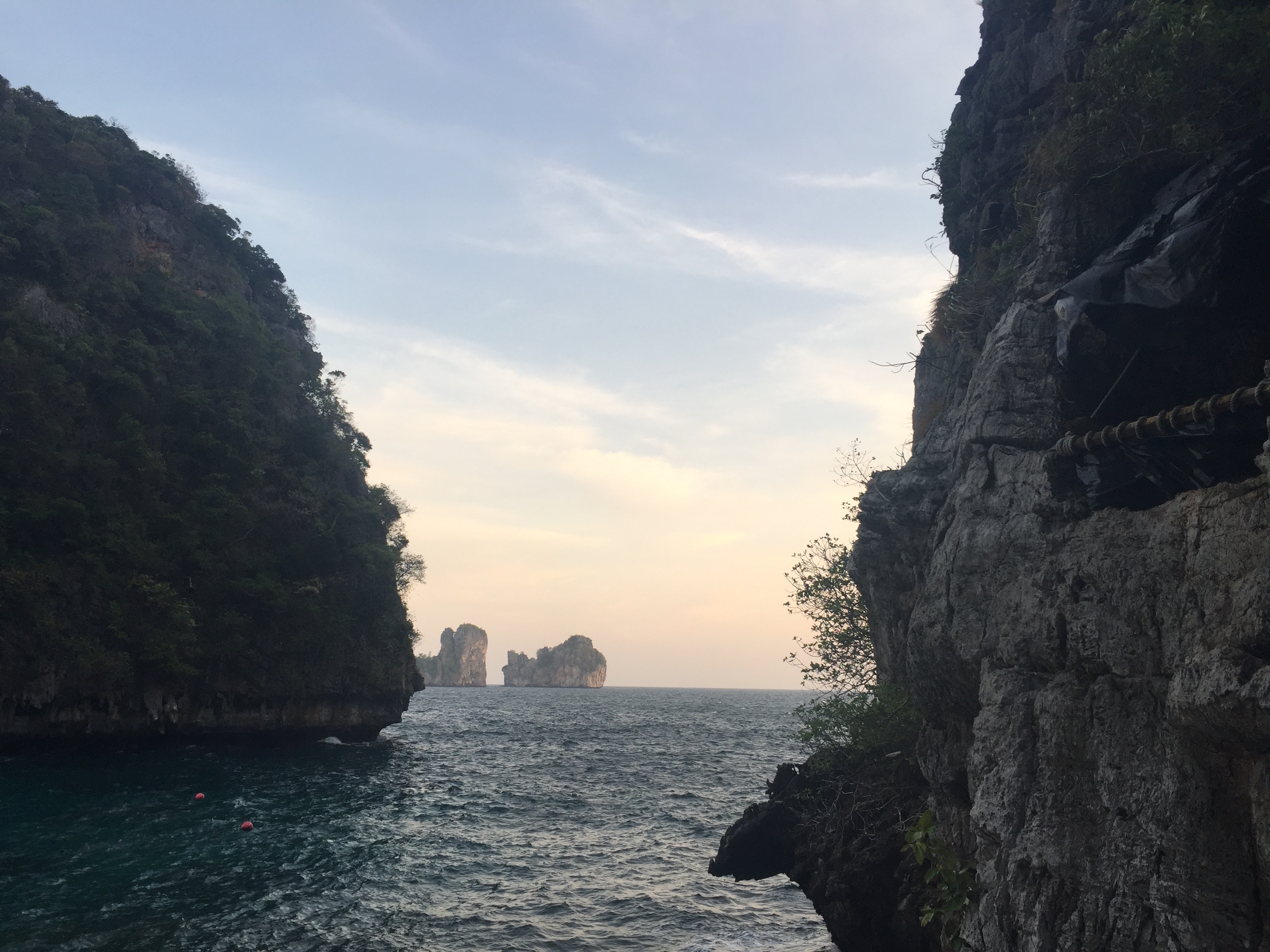 Exploring Maya Bay, where "The Beach" was filmed
We all agreed the highlight of the trip was getting to swim with the bioluminescent plankton. After we finished our second meal and the sun had dipped below the horizon, our guide led us into the water. I probably would have been perfectly content floating in the warm water, gazing up at the magnificent starlit sky, but it got even better.
Once everyone was in the water, the guide asked the crew to shut off the lights on the boat. Everything went black. Whenever we moved our hands or feet underwater, we could see thousands of tiny specks of light— the bioluminescent plankton! Like fireflies of the sea...
At one point, Parker, Justin, Megan and I all swam together and made a small circle. With our feet pointing down into the water, we all began kicking and watched as what seemed like millions of stars circled around us. It was the snapshot perfect moment; a memory that would leave a lasting imprint on our minds, forever.
So Long, See You Never...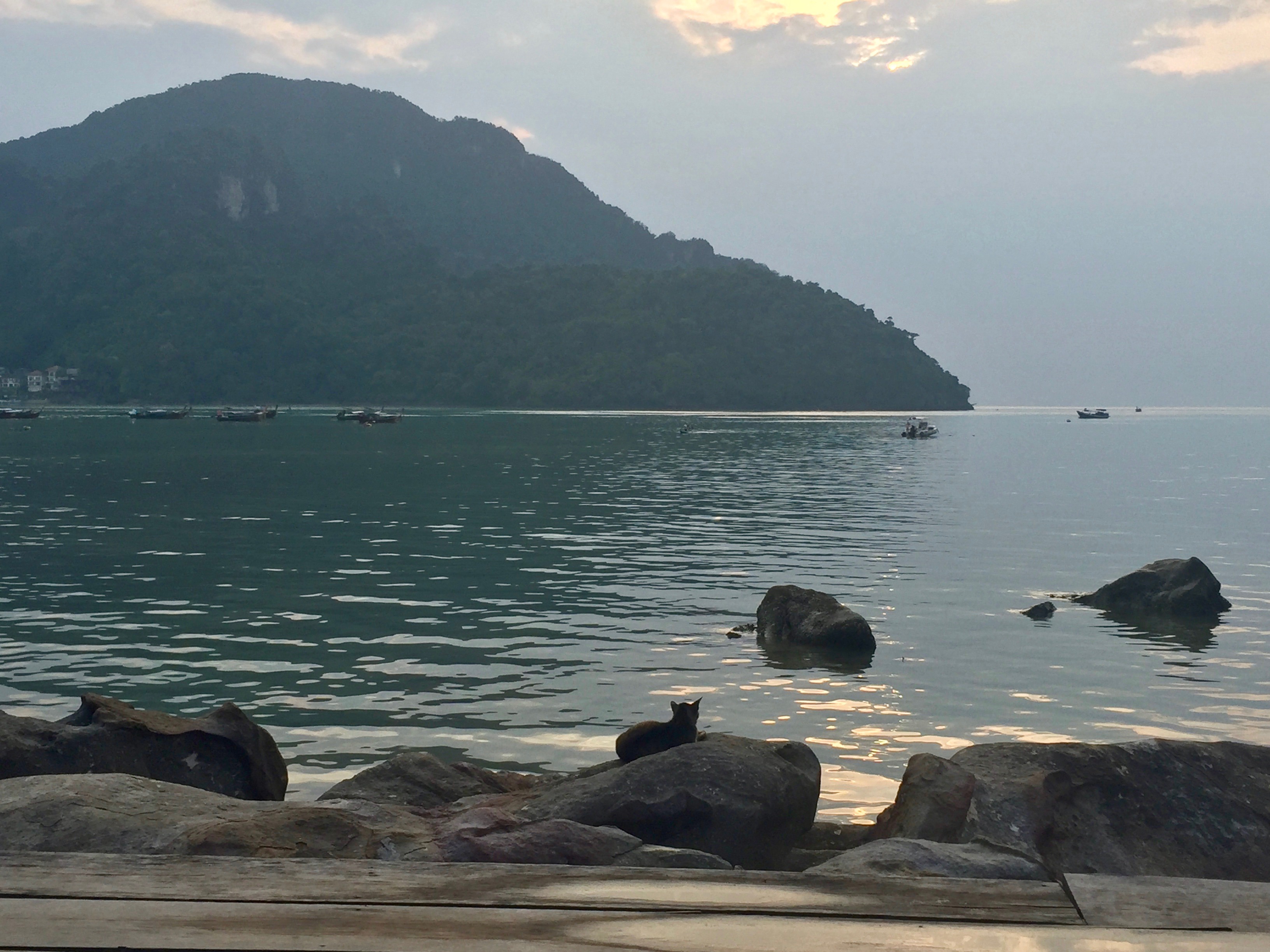 An island cat enjoying the sunset on Koh Phi Phi
Would I go back to Phi Phi? Probably not. Would I recommend anyone else going there? Unless you want to party all day and night, I wouldn't. There are so many other beautiful islands in Thailand to see, and Phi Phi isn't one of them.
Instead, head straight for Koh Lanta, which is where we went next, and we wished we had gone sooner.
Stay tuned for more about Koh Lanta!