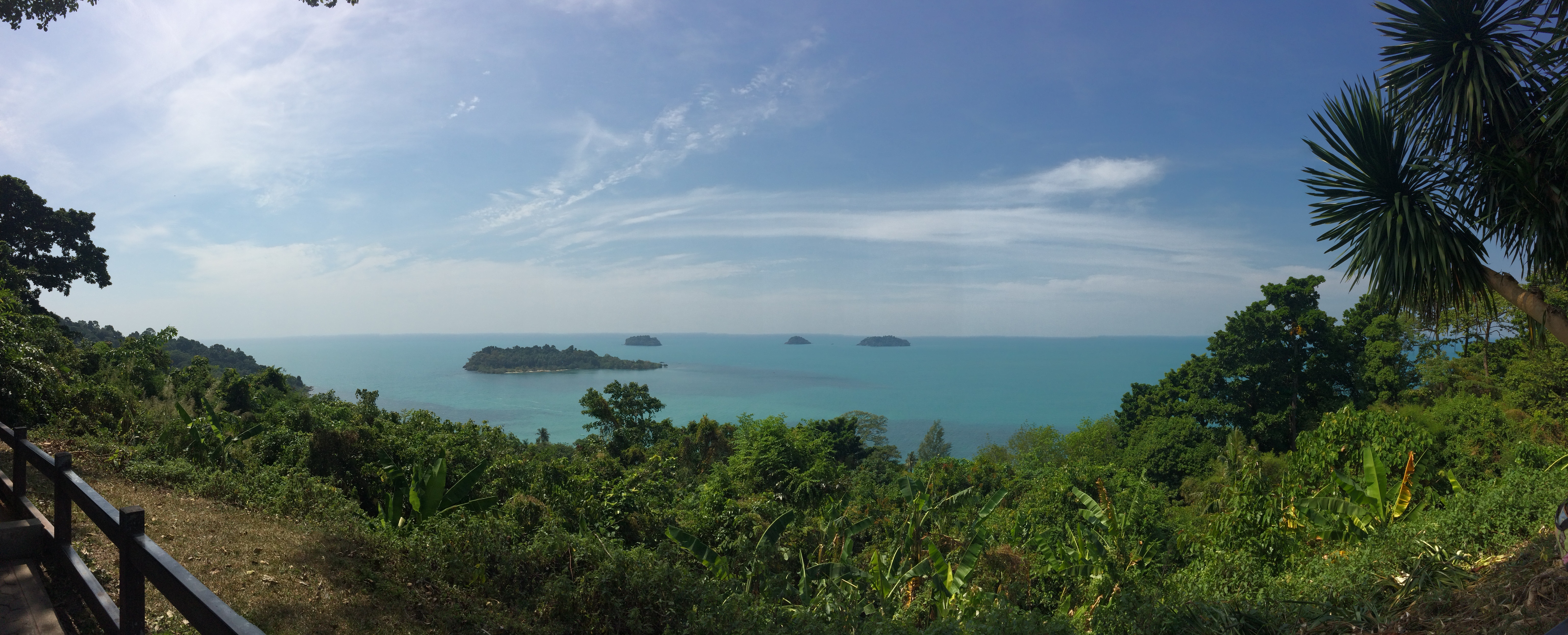 Hello white sand beaches, crystal clear waters, and ocean breeze... After a few wonderful weeks in northern Thailand, it was time to head down south for some much-needed island time.
Because of the unexpected monsoon weather and high floods that were happening in the top tourist spots like Phuket and Krabi, we changed our plans and headed to the Gulf of Thailand where the rains hadn't dampened the beaches. We traveled to Koh Chang ("Elephant Island") and stayed for about a week.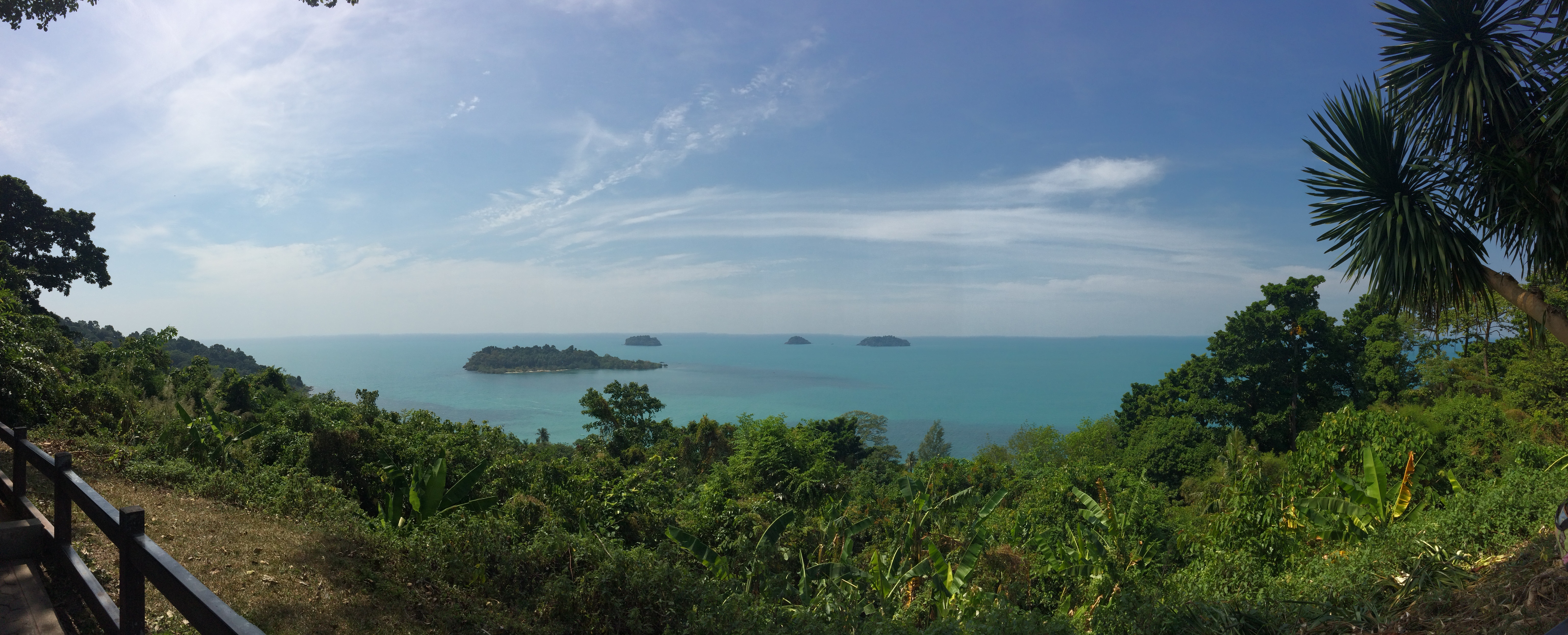 Koh Chang is one of the largest islands in Thailand... It. Is. Massive. It's also not as touristy. Sure, you can still find the classy all-inclusive resorts and late-night beach parties, but there's so much of the island you can explore that's full of small village communities and untouched jungle.
We came to Koh Chang without a plan... Other than to sit on the beach with a good book, of course. It was the last leg of our Thailand journey, and we wanted to enjoy every second of it.
Aside from the relaxing afternoons spent on a beach or in our bungalow's hammock, here were some of my favorite moments:
Boat Cruise
During our first night in Koh Chang, we settled into our bungalow and grabbed some dinner nearby. After stuffing our faces with the most wonderful tapas platter of pita bread, cheese, hummus, olives, dried meats, and mini quesadillas, we took a stroll down the infamous Lonely Beach street. The area is a well-known backpacker haven, full of young travelers, reggae bars, and souvenir shops.
We came across a small bar with a few tables out front full of small groups enjoying a beer and a card game. They smiled and waved to us, so we decided to pop in for a drink ourselves. We sat at the bar and a young Swedish girl took our orders, chatting about her travels, our travels, and what brought us all to Thailand.
A Thai man walked out of the back, asking if we'd like to go on a boat cruise with him the next day. He handed us this mini-flier about it and gave us the low-down: we would pay a flat-rate of 500 baht per person (about $15 USD), we'd be on a boat all day, cruise around to some secluded islands, be provided with a delicious lunch and mini-BBQ, and spend time with some awesome people.
We went back and forth on it. We were pretty tired after a full day of traveling and we were really looking forward to doing basically nothing in Koh Chang. But, then we thought, "When will we have this opportunity again?"
We knew we just had to do it.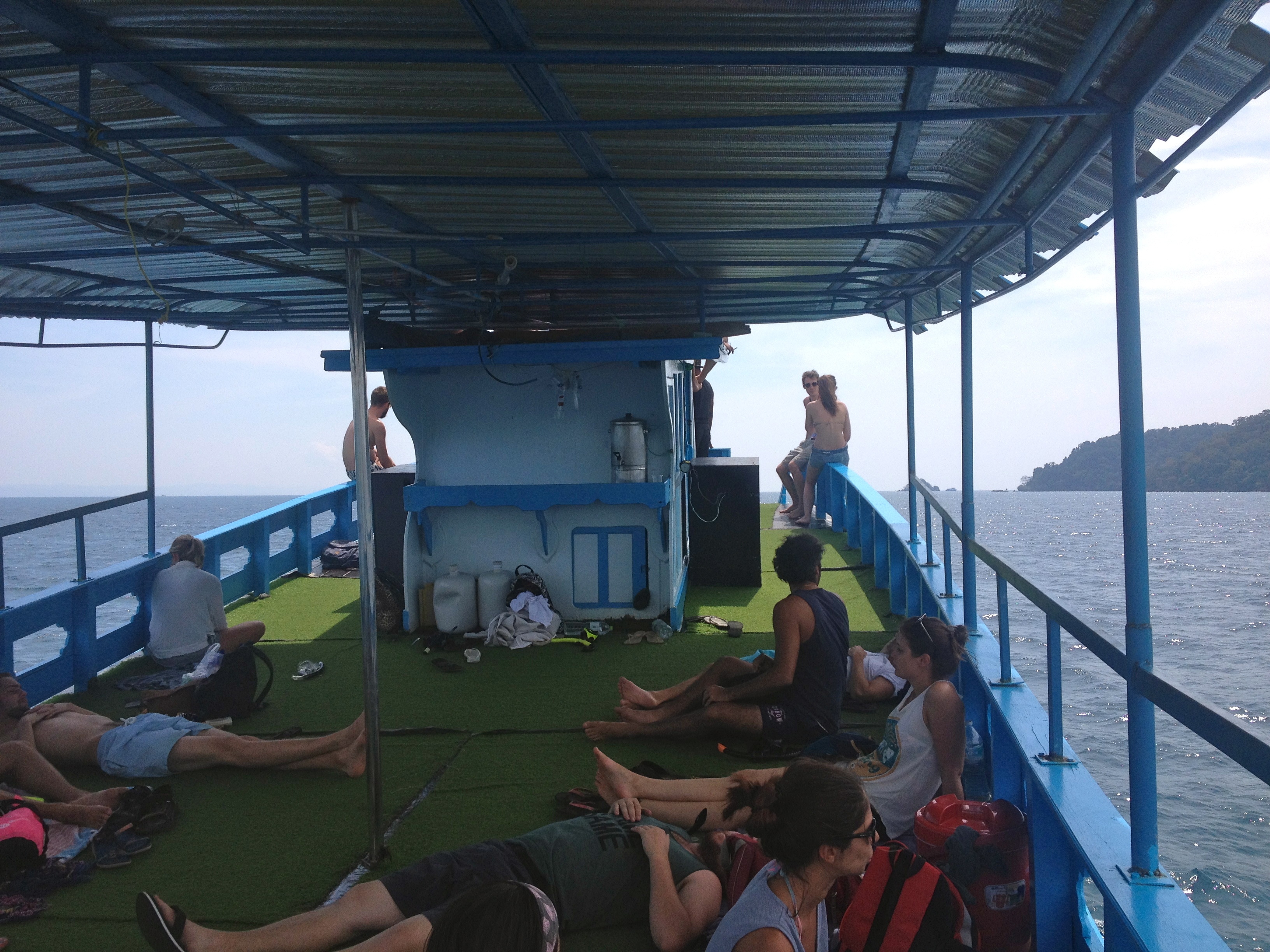 The next morning, we met everyone outside the bar at 9:30 AM sharp. Two trucks were there to pick us up and drive us to the docks. We hopped right in, getting to know our fellow sea mates for the day. We arrived at the docks and walked along the pier to our boat. I'm not sure why I was picturing something smaller, but this boat was huge... Complete with two-stories, many wooden seats, and a flat, carpeted area up top that I was told would turn into a dance party on our way back to the mainland.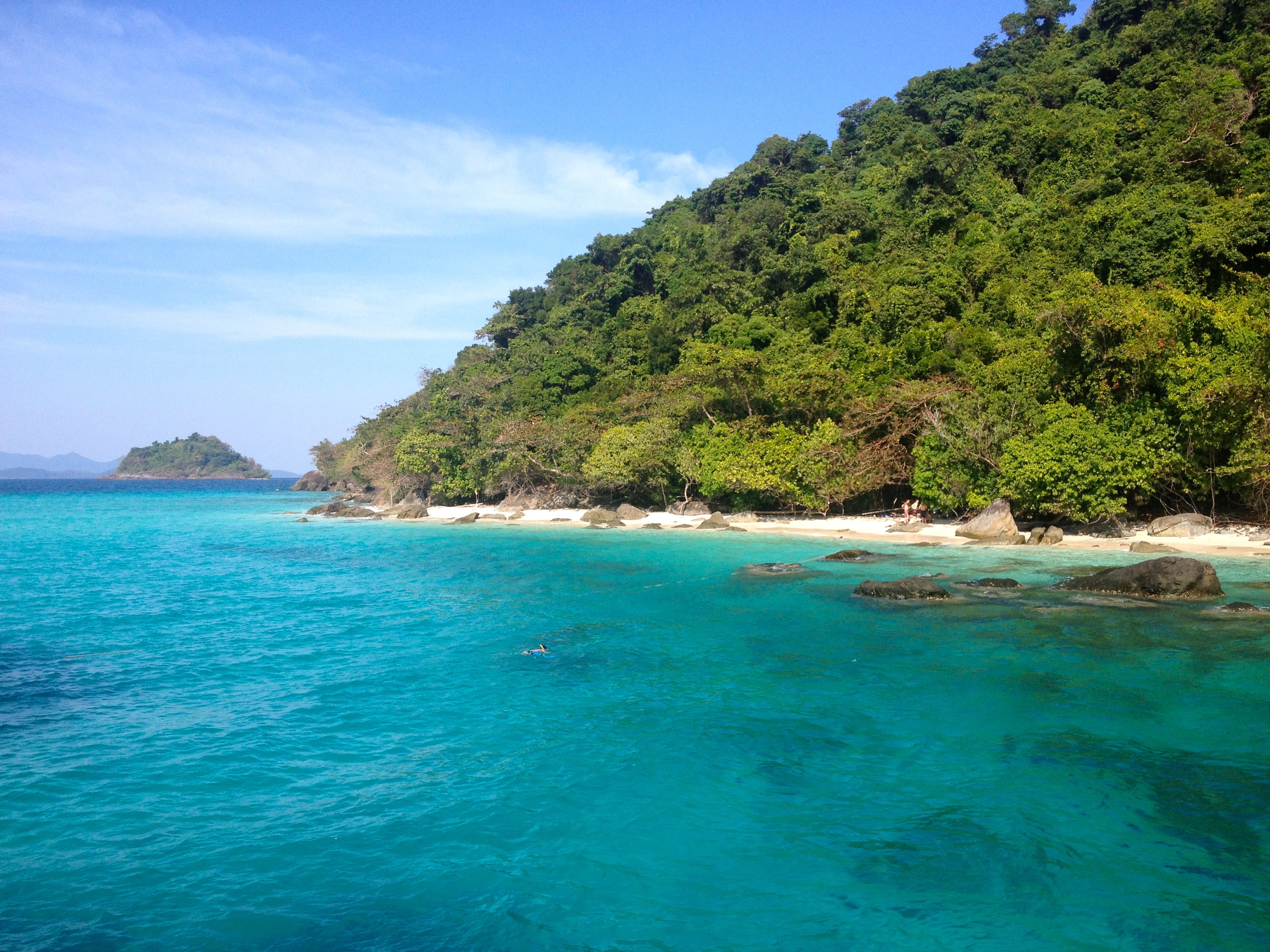 The day was perfect, and truly worth every baht. We stopped along various islands, snorkeled with tiny fish, enjoyed a delicious Thai buffet, relaxed on a perfectly secluded white sand beach, and marveled at the sunset on our ride back to shore. Oh, and we even had a mini dance party.
Motorbike Exploring
Koh Chang is the perfect island to rent a motorbike, pack a backpack full of snacks, and just ride the day away.
We ended up traveling around the entire island... Almost. The way the island is laid out, you can't complete a full circle around it. So, we went as far south as we could one day, and then went as far north as we could another day.
We stumbled upon many wonderful sites: monkeys eating bananas on the side of the road, small houses with women hanging laundry outside, tiny beaches full of palm leaves and fallen coconuts, elephants walking through the forest, street dogs napping in the sun...
There's nothing better than exploring unknown lands on a motorbike.

One of my favorite spots we discovered was a small fishing village on the northern tip of Koh Chang. It was built entirely on piers and was full of bamboo huts, small markets, and fishing boats. We stopped at what looked like the only restaurant in the area one afternoon. It was absolutely beautiful, overlooking the entire village and the ocean at the same time. The food was delicious, too. I ordered a tom yam soup (a traditional Thai seafood soup) and Justin ordered a fried rice. We had a plate of spring rolls on the side. It was the perfect meal and setting to refuel for the remainder of our motorbike ride.
Reggae Concert
What island trip would be complete without a little reggae music? On Koh Chang, it sure isn't hard to find.
Luckily, on one of our motorbike trips, we came across a poster advertising a free reggae concert one evening at Hippy Hut. We decided to check it out.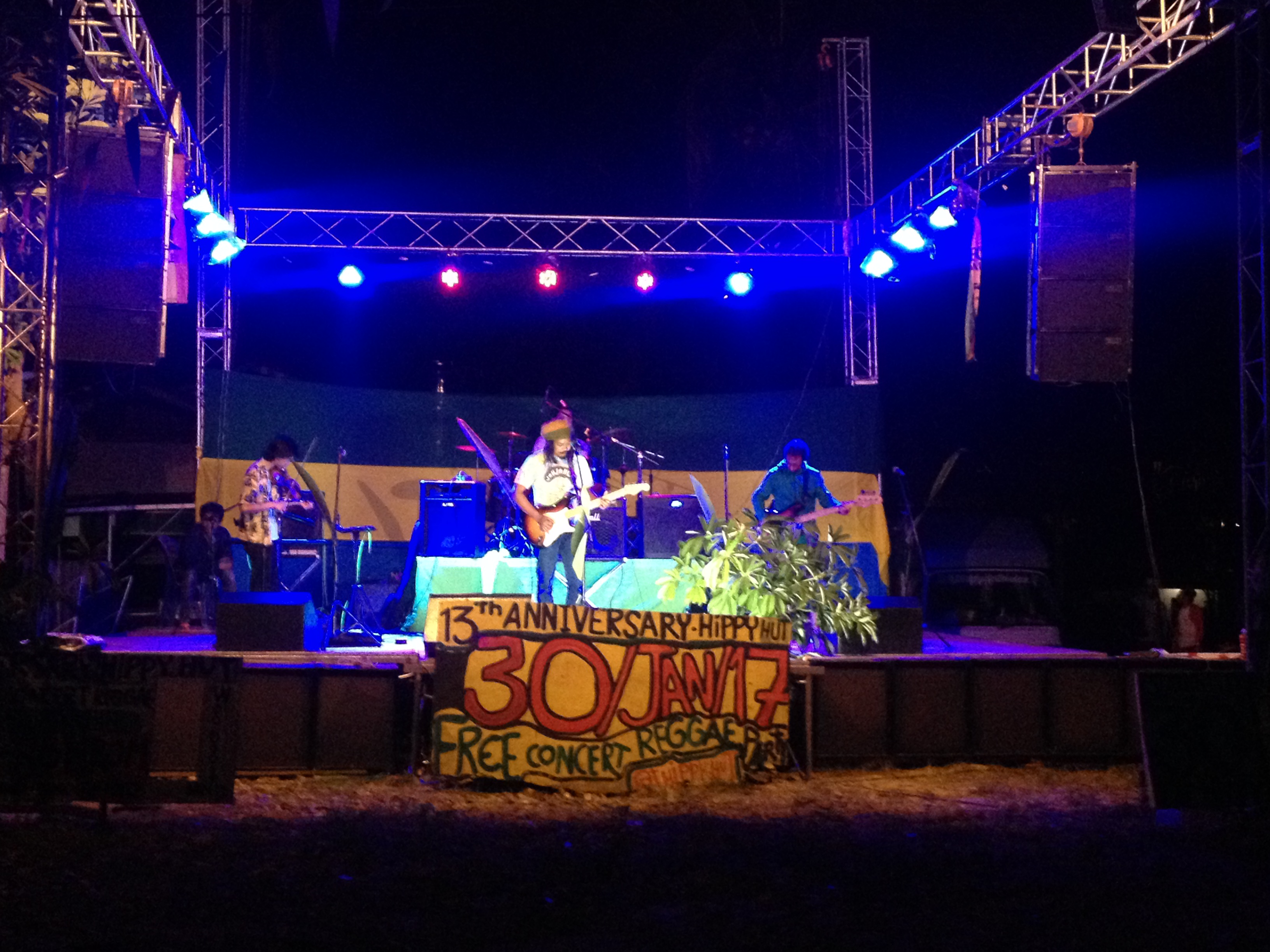 The concert was put on near the Hippy Hut bungalows. There was a huge stage set up with groups of people sitting on blankets and chairs. There was even a small deck and a cool tree house where early birds claimed their spots to watch the show. There were a handful of bands and solo artists scheduled to play that evening, but we only stayed for two. One of the bands, Jah Jah Land, brought the house down.
We surely felt at peace and in our "hippy groove" among a crowd of travelers all enjoying great music together.
Barrio Bonito
After living in China for six months (where Western food is hard to come by), we had a hankering for some Mexican food. Luckily, we discovered the best, most authentic Mexican place I've ever eaten at: Barrio Bonito.
Located near the Kai Bae area of Koh Chang, Barrio Bonito was so good we ate here twice in one week... No shame. The food is local and well-cooked, the margaritas are fresh and well-made, the owners are knowledgeable and friendly, and the restaurant itself is artfully decorated.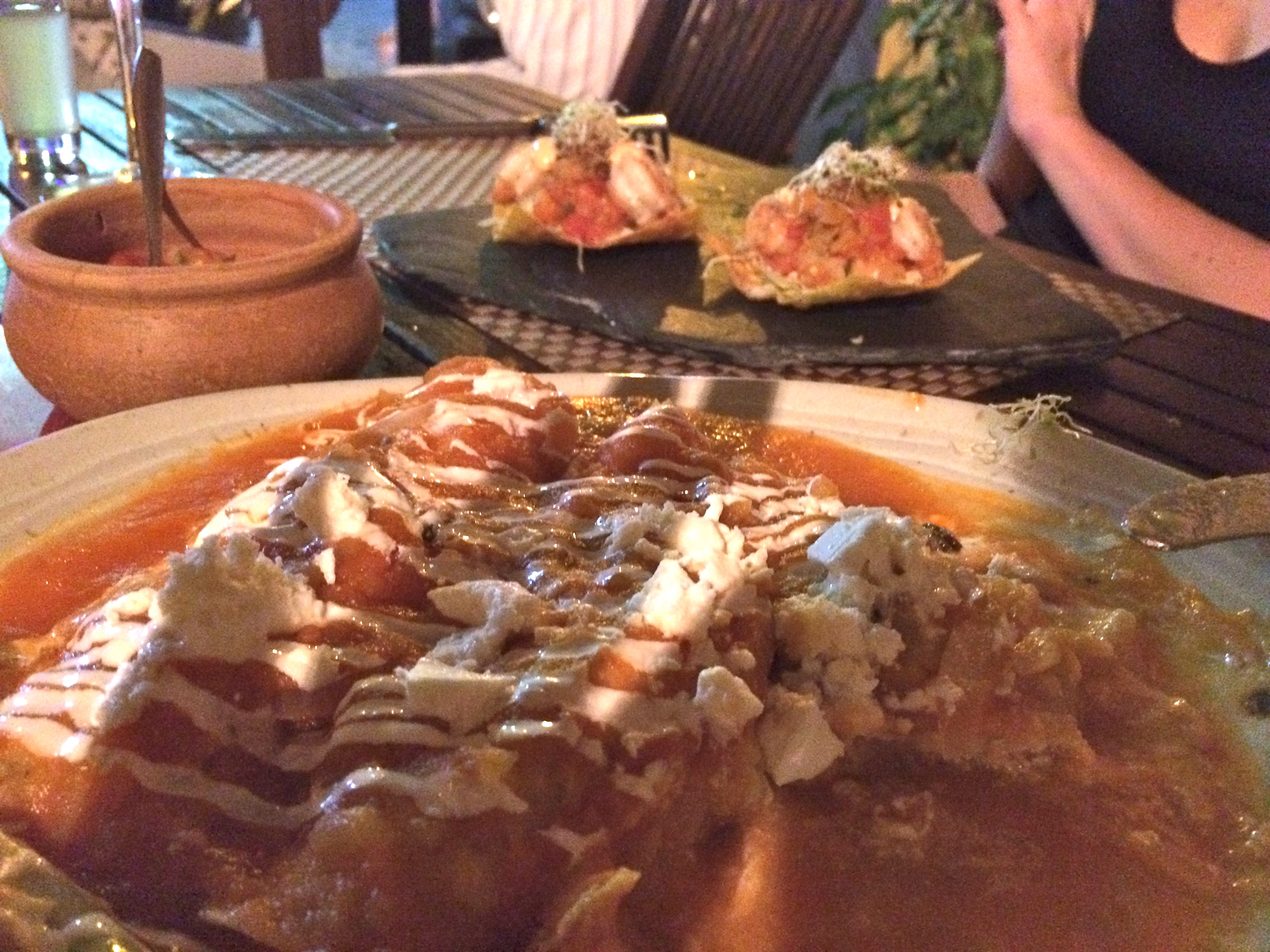 If we had to choose, our two favorite dishes were the shredded beef burrito and the shrimp tacos. The shredded beef burrito wasn't something we'd typically order, but it was the only burrito on the menu. It was, by far, one of the most flavorful, well-portioned, delicious burritos we've ever had. We could have eaten about ten of them. The shrimp tacos were equally as flavorful and unique. There were three homemade taco shells served on a stone platter, stuffed with grilled shrimp, veggie slaw, homemade pico de gallo, fresh guacamole, and the perfect blend of Mexican spices.
The first night we ate at Barrio Bonito, we overheard the couple next to us rave about the restaurant's homemade fruit-infused rum. We asked our server about it, and he gladly brought us two samples (on the house!) of their berry infused rum. The second time, we tried their ginger infused one. So fresh and delicious— an excellent ending to a delicious meal.
Seaside Seafood Dinner
Our last night on the island, we splurged on a seaside dinner at Sea Bar, one of the many restaurants located right on White Sand Beach in Koh Chang. We had been counting down the days until we could enjoy a fresh seafood dinner, so we were beyond excited. We made sure to go early, grabbing the closest table to the ocean and ordering a cocktail before the sunset.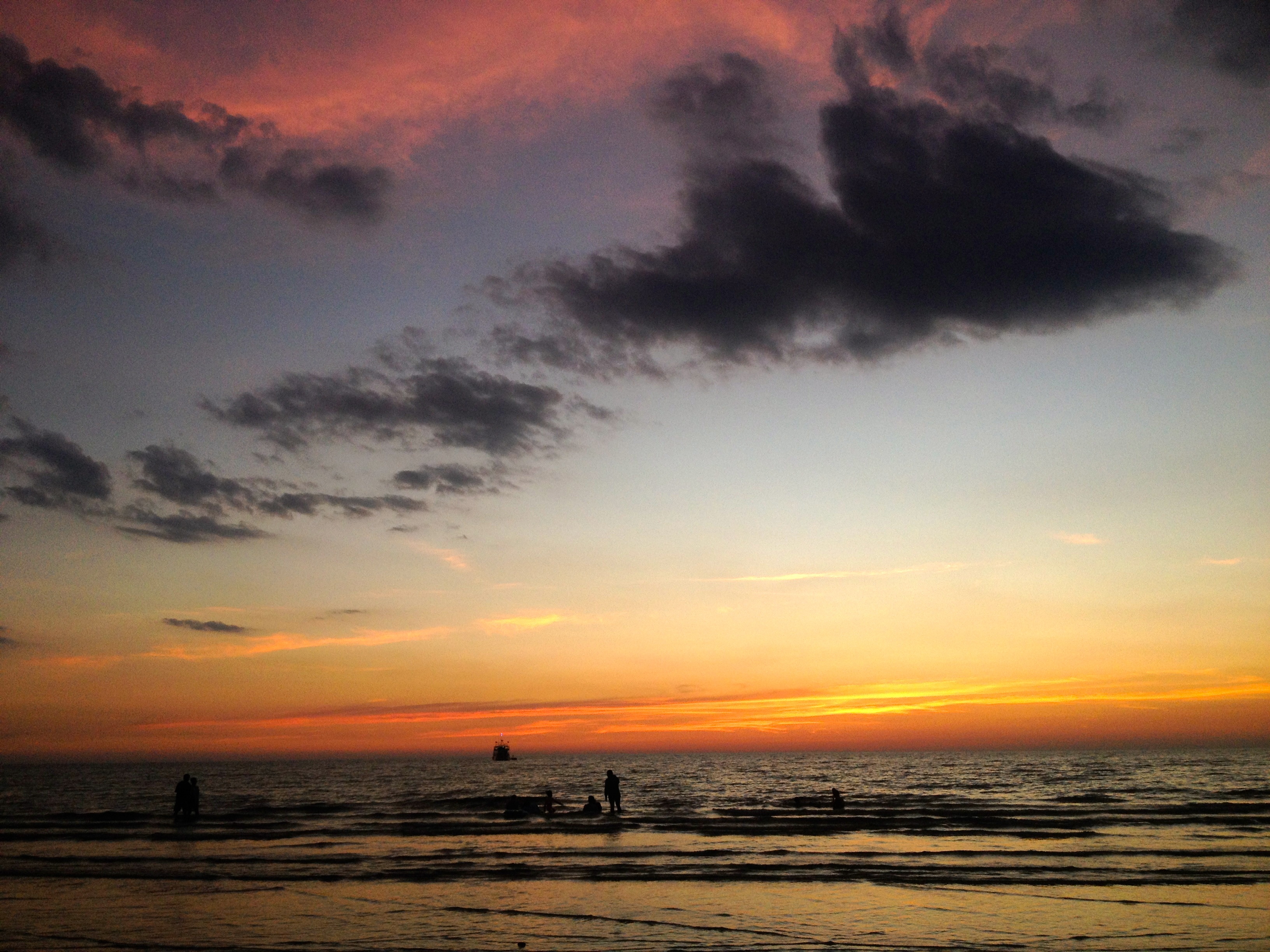 We scoped out all the fresh seafood and meat the restaurant had on display. They had everything you could imagine: prawns, varieties of fish, and even racks of ribs. We decided on a red snapper, cooked on the grill with garlic, spices, and a little butter, of course. We also ordered an appetizer of grilled prawns, with some sauteed vegetables and white rice on the side.
I was too hungry to take a picture of our food, so you'll just have to take my word... It was truly amazing. And that's coming from a New Englander. The prawns and snapper were grilled to perfection. The meat on the fish was particularly tender— it literally melted in our mouths.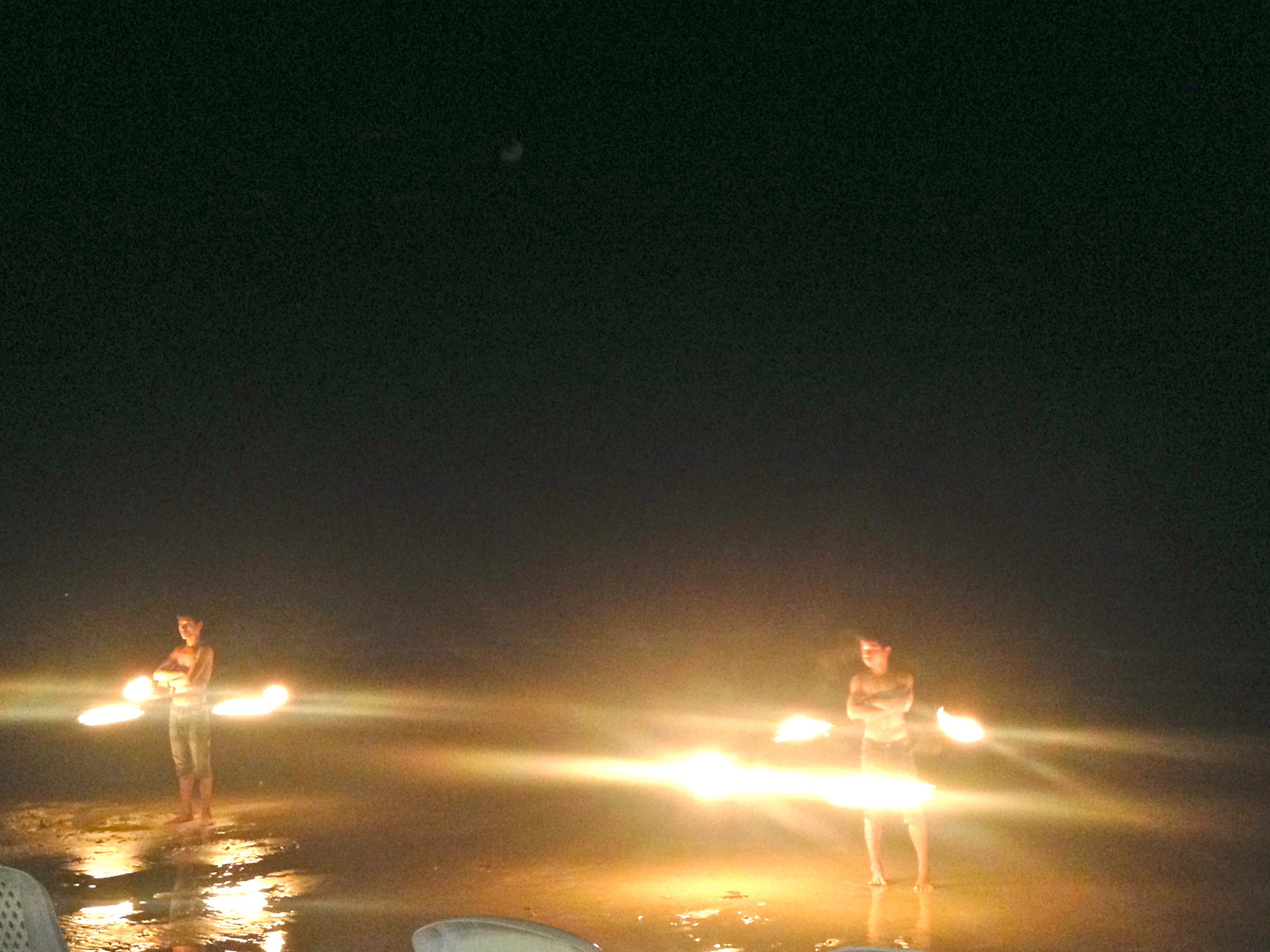 As the sky grew dark, we were surprised with a fire show. Two young Thai boys performed a daring number of tricks: throwing, spinning, and hula-hooping with fire sticks. A little cheasy, yes, but still pretty entertaining.
Until Next Time
It took all of our willpower to pack up our bags and leave the island the next day. After a short ferry ride and a three-hour bus back to the city, we ended the trip how it began: in the capital of Bangkok.
Once we had seen so much of Thailand, we were a bit bummed to be back in the concrete jungle, but we tried to make the most of it. Justin picked up his custom-tailored suit, we walked down the infamous Khao San Road one last time, and I got the chance to meet up with an old high school friend who had been teaching in Bangkok.
Between the relaxed way of life, the friendly Thai people, and the breathtaking landscape, Thailand is one of the best places I've ever visited.
I hope you get the chance to experience it someday, too.