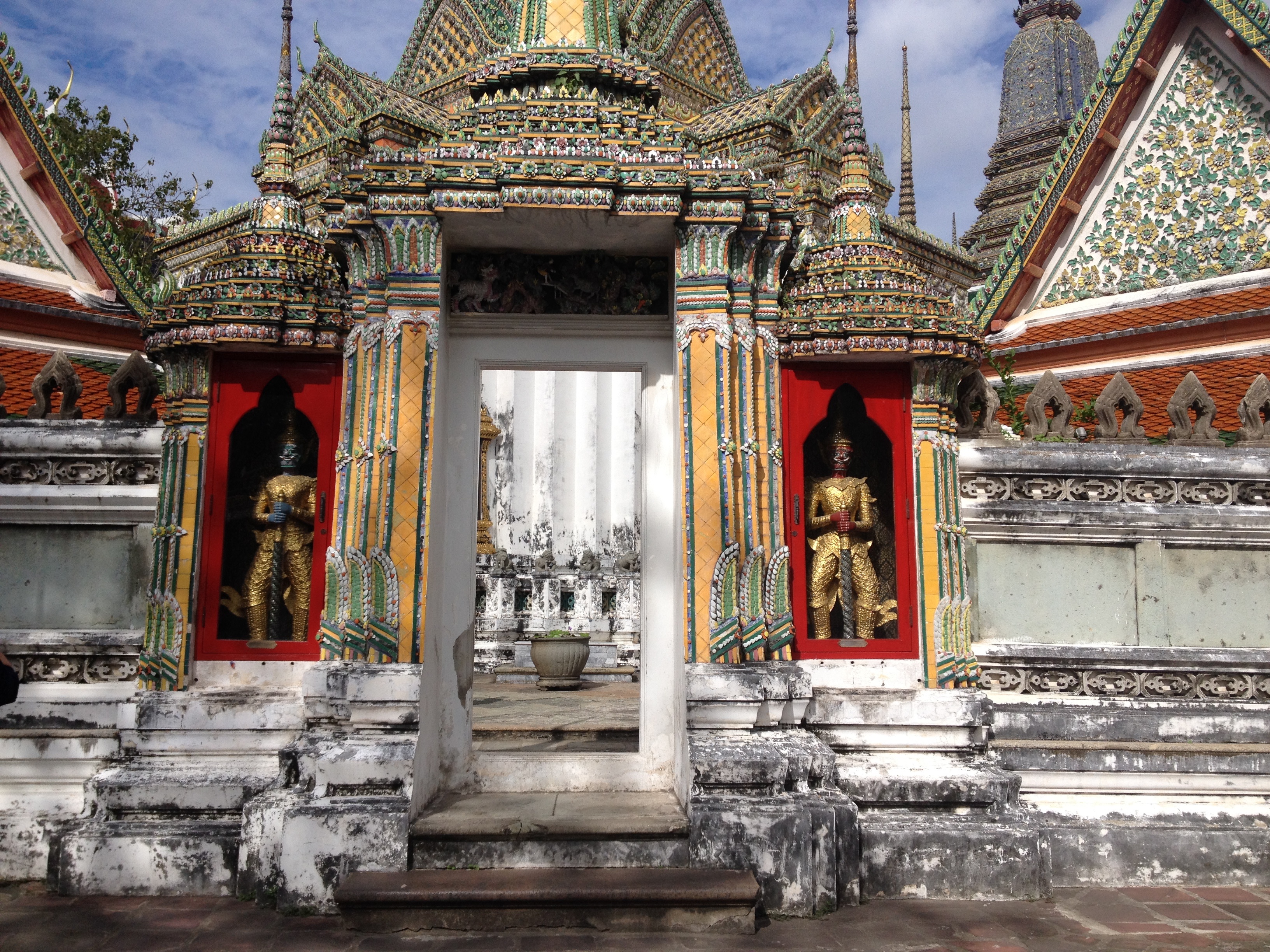 The first leg of our journey began in Thailand's capital, Bangkok. After a relatively easy trek on a couple 2-hour flights from Xi'an, we arrived in Bangkok on the night of January 10th.
Right away, I felt myself comparing the city of Bangkok to the city of Xi'an. The biggest difference was the air quality— there is little to no air pollution in Bangkok (or atleast compared to China). Hallelujah! I can't even begin to explain how wonderful it was seeing blue skies and clouds. I felt like I'd escaped a dense, dark smog cave and was suddenly released into a bubble of clean, fresh air.
Another major difference I noticed when we hopped in a taxi and started heading toward our hostel was how widely English was spoken. I mean, our taxi driver even spoke some English... That just doesn't happen in Xi'an. Thailand has a much bigger tourist market, but it was still refreshing to hear our native tongue while we were out and about.
We only spent two full days in Bangkok (and the majority of the time we unfortunately spent trying to get our Chinese bank cards to work), so we didn't see or do too much.
Here are a few of my highlights:
1. Ethos Vegetarian & Vegan Restaurant
Our first meal in Thailand! The night we arrived, we settled in and walked around the streets near our hostel to find this wonderful spot.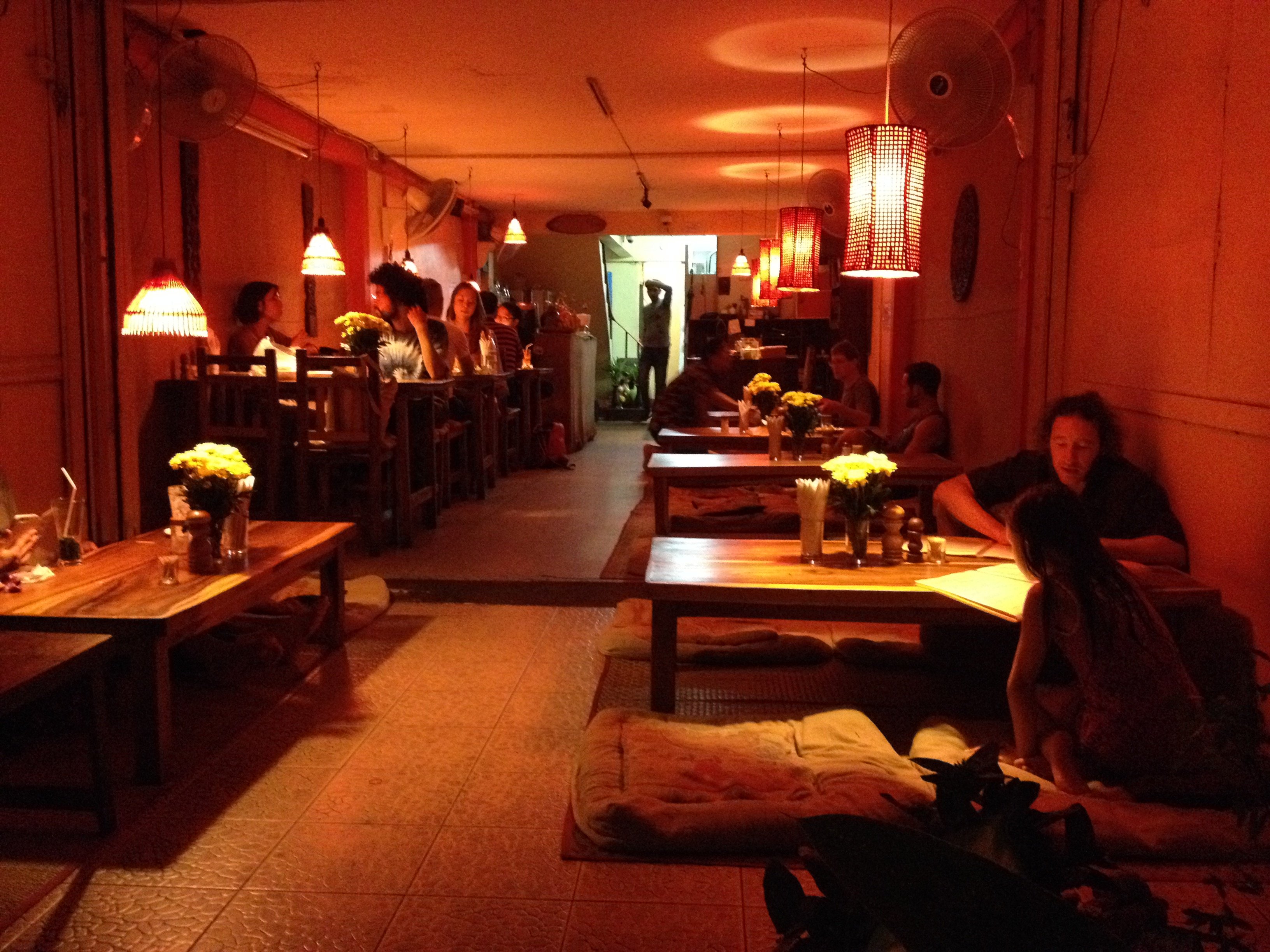 The space was small and dimly lit, with colored lanterns hanging from the ceiling and soft music playing on the stereo. We took our shoes off before walking inside (like most places in Thailand) and found a seat on a pillow placed on the floor. The menu was extensive, and contained so many delicious-sounding dishes (all vegetarian or vegan, of course). They even offered a full kombucha menu, complete with pages and pages of information about all the health benefits it brings.
I was surely in my happy place.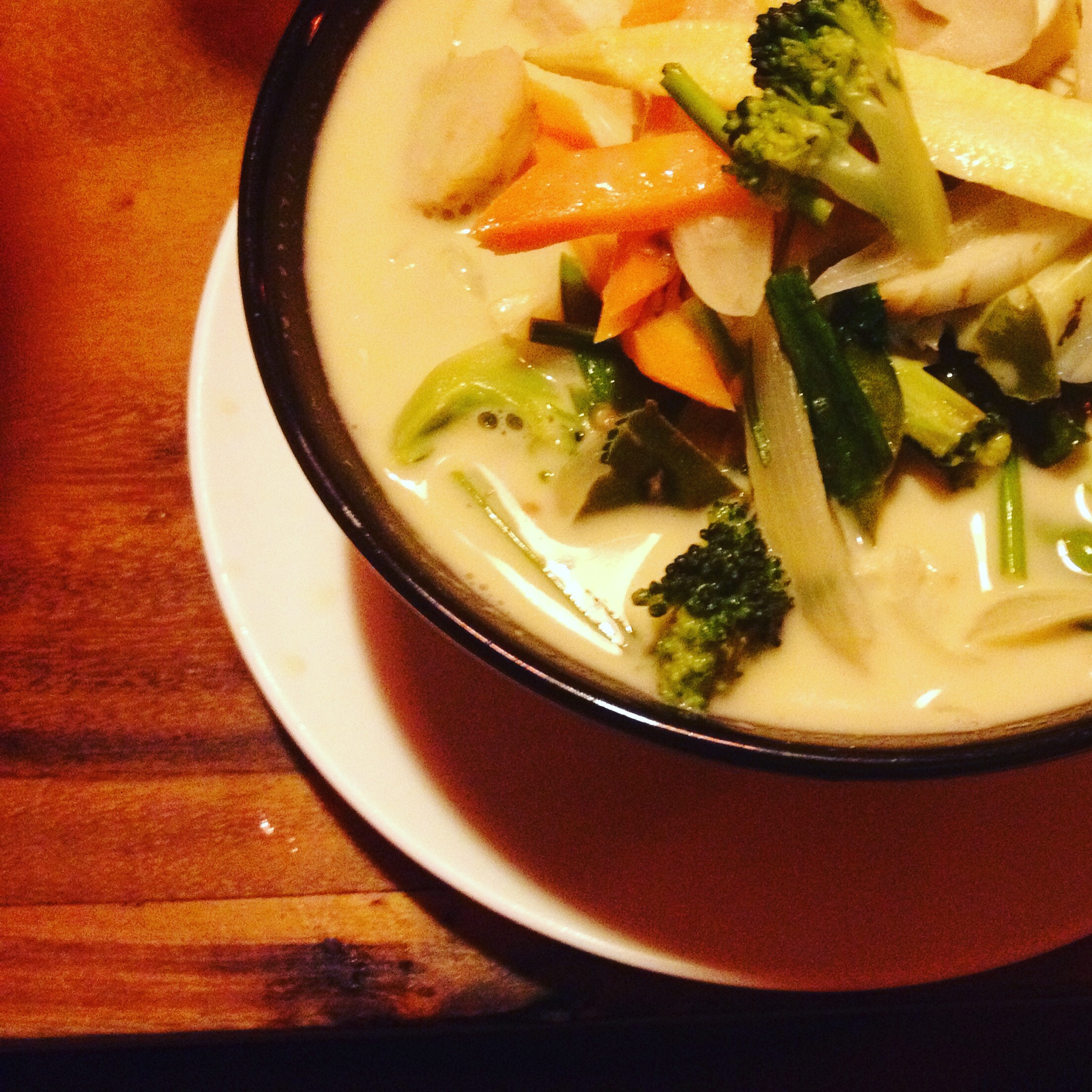 I ordered an iced mint lemon tea and a rice noodle soup with coconut milk, lemongrass, galangal root, lime leaves, broccoli, cauliflower, carrot, lemon juice, mushroom, and tofu. Incredible! We also ordered a small plate of falafel and veggie spring rolls to share. A light, healthy meal in a beautiful setting— a perfect start to the trip!
2. Wat Pho (Temple of the Reclining Buddha)
One of the most famous temples in Bangkok. This place was utterly beautiful, and massive. Aside from the temple that housed the infamous reclining Buddha (which was about 15 meters high and 46 meters long), there were endless smaller rooms, halls, and temples filled with Buddhas, prayer offerings, and art.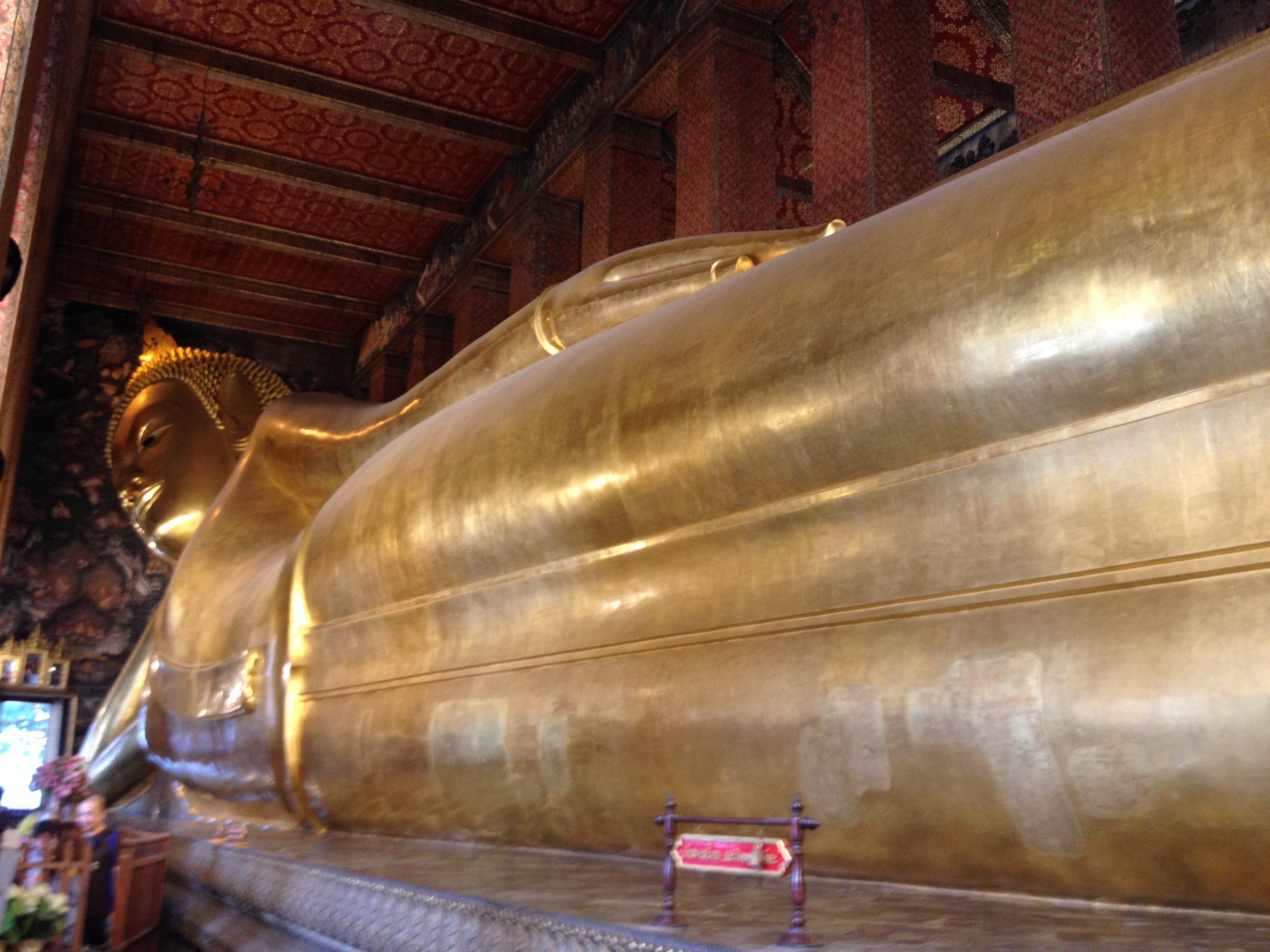 We spent a leisurely afternoon here, constantly in awe at the detailed, colorful architecture.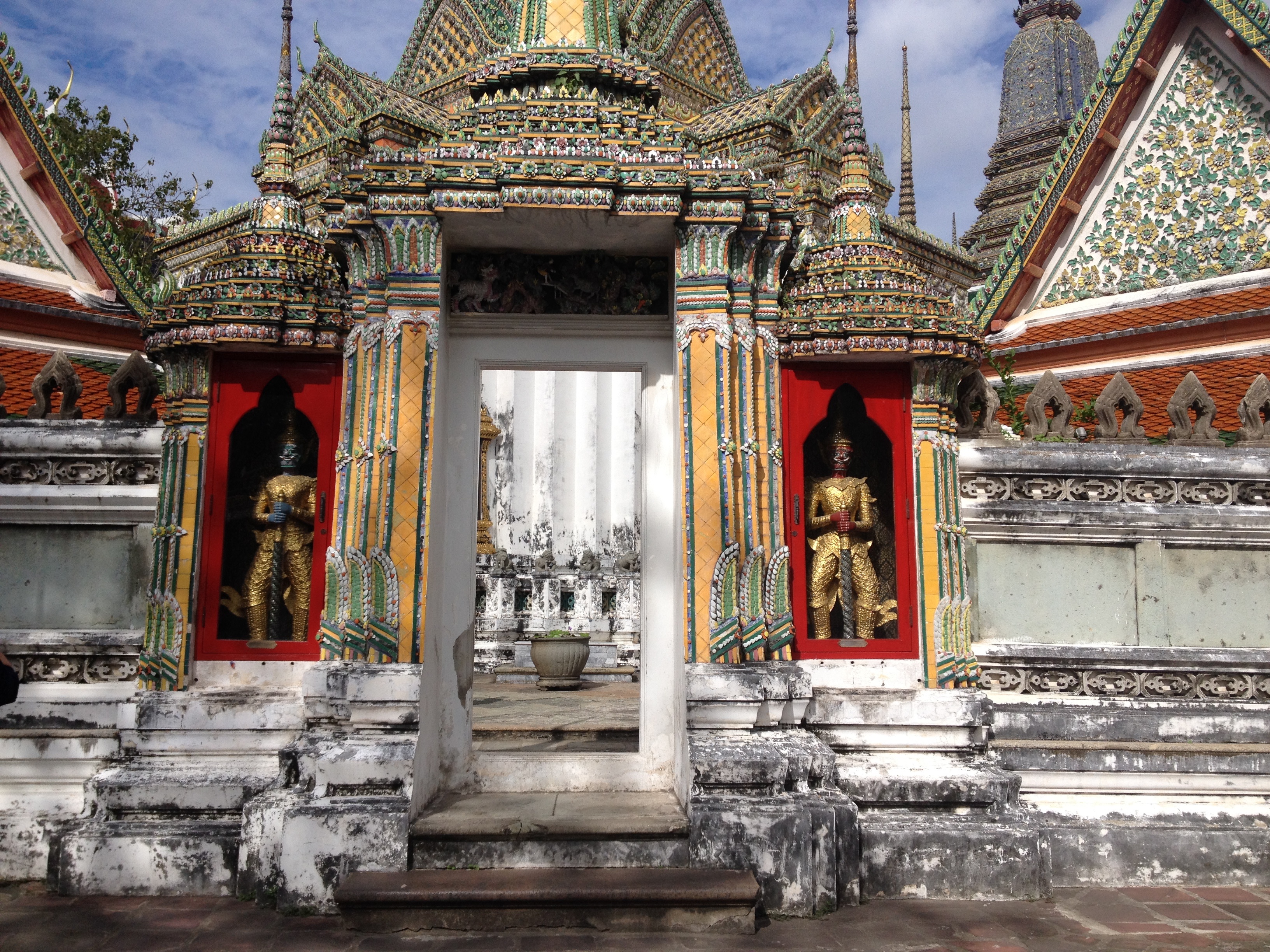 The entry ticket was only 100 Baht ($2.80 USD) and totally worth it. The more well-known Grand Palace located just next door to Wat Pho was 500 Baht ($14 USD) to get in, plus felt like the Disney Land of Bangkok with the crowds, so we opted out of that one. We both decided that visiting Wat Pho over the Grand Palace was a great decision.
3. Khao San Road
Such a tourist hot spot, but a must-see in Bangkok! The street was conveniently located within a one minute walk from our hostel. It's full of shops, street vendors, tattoo parlors, massage places, restaurants, and bars, so it's a great place to wander, grab some cheap street food, and people watch.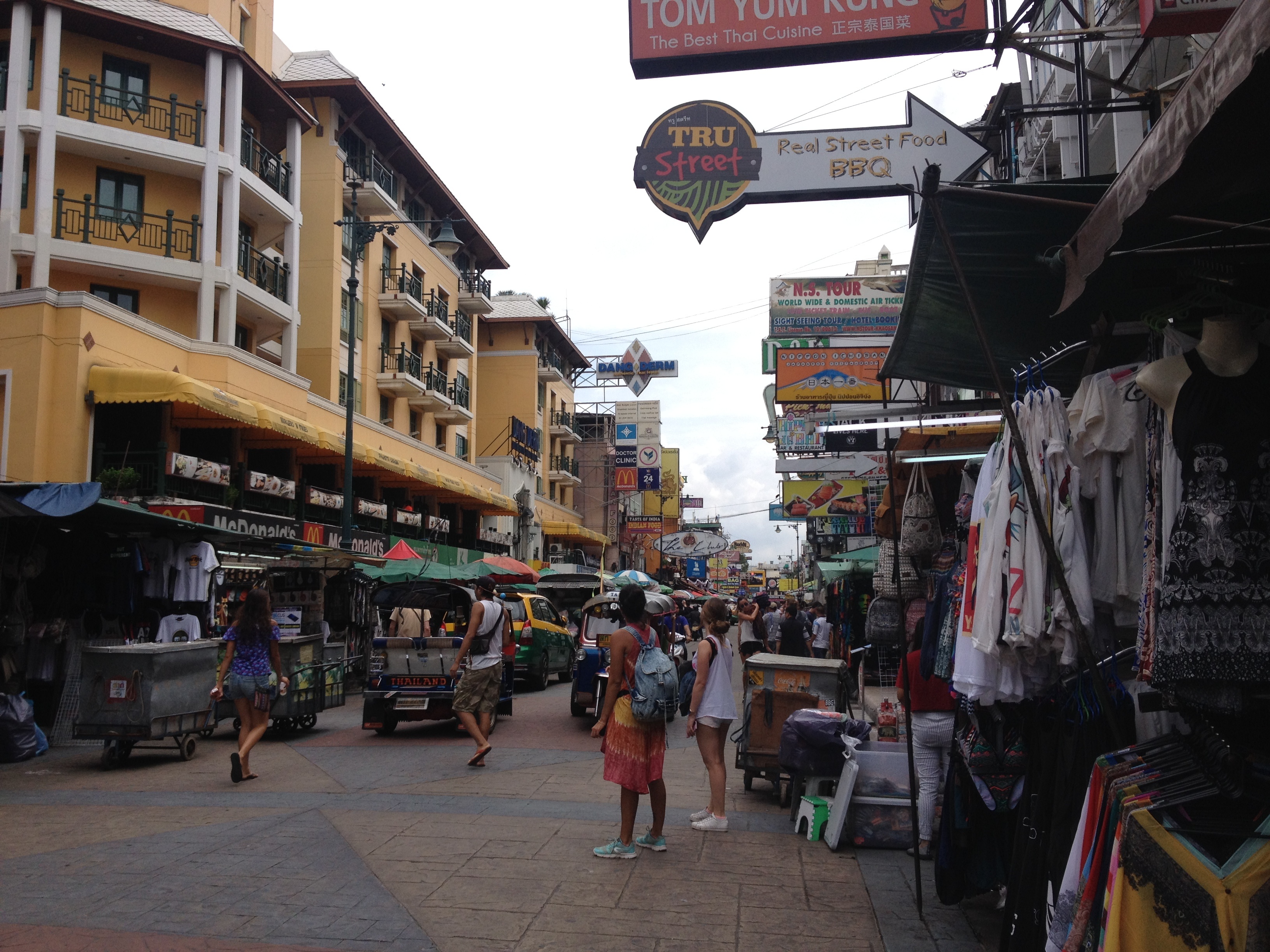 We found a delicious kebab food cart, which we visited at least three times during our time in Bangkok. For 60 Baht ($1.60 USD) we would get a soft grilled tortilla stuffed with slow-roasted chicken, lettuce, tomato, and onion, drizzled with garlic sauce, mayo, ketchup, and chili sauce.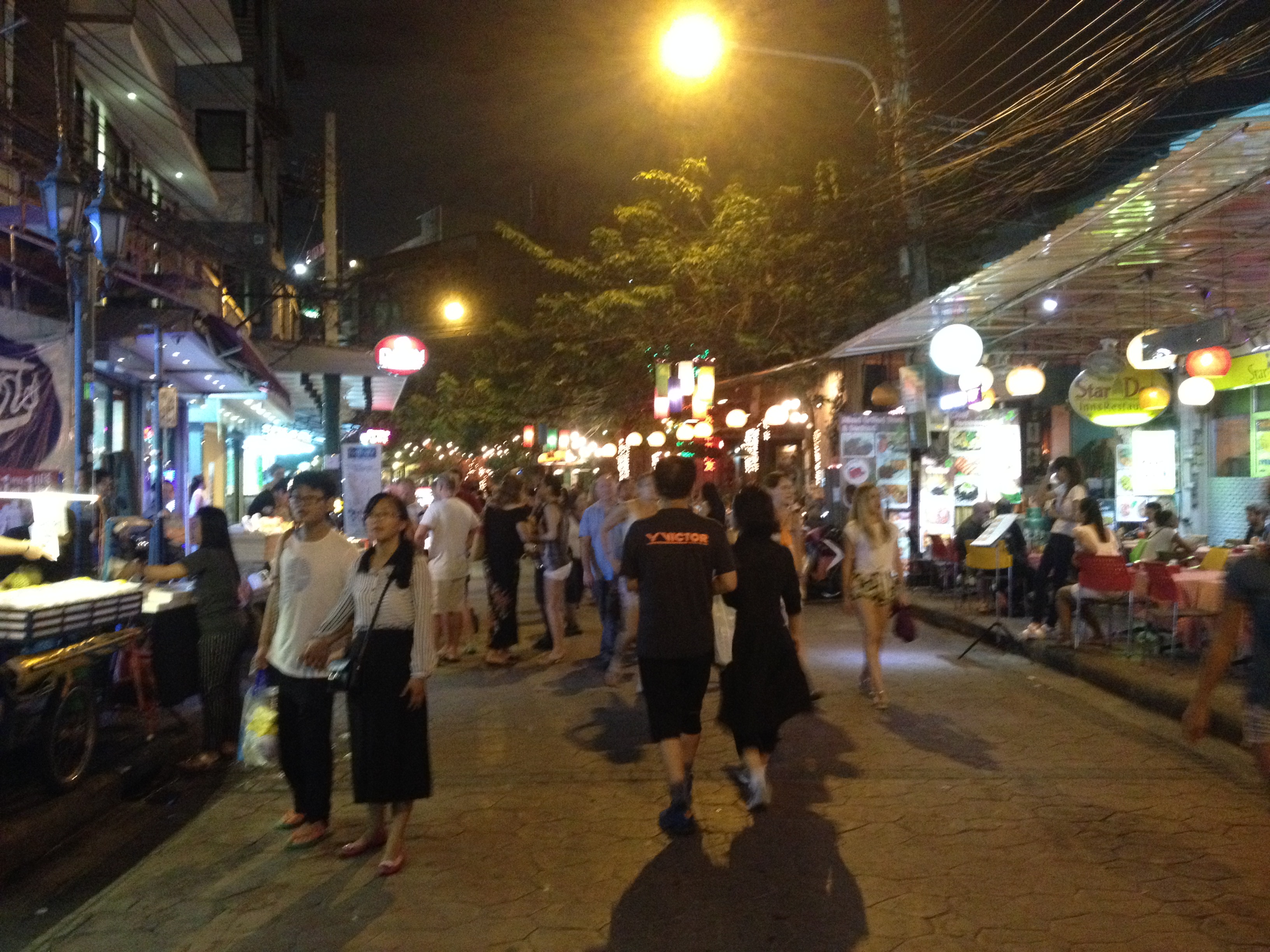 A few of my other favorite finds were pad thai and coconut ice cream. The pad thai is a staple in Thailand and obviously a must-have. I opted for thick noodles, veggies, and egg in mine. A good-sized plate cost around 40 Baht ($1.13 USD), but I saw others that were even cheaper. The coconut ice cream is served in a coconut shell and can be topped with a chocolate drizzle and/or peanuts. For 50 Baht ($1.41 USD), this was the perfect afternoon treat.
Off to a Great Start
Even in the country's capital, the "Land of Smiles" is such a refreshing escape from the hustle and bustle of Xi'an. We left Bangkok on the 13th and made the 12-hour train ride to the northern city of Chiang Mai, where we be stayed for about a week.
More on Chiang Mai to come...