Experiencing Sammy's Organic Thai Cooking School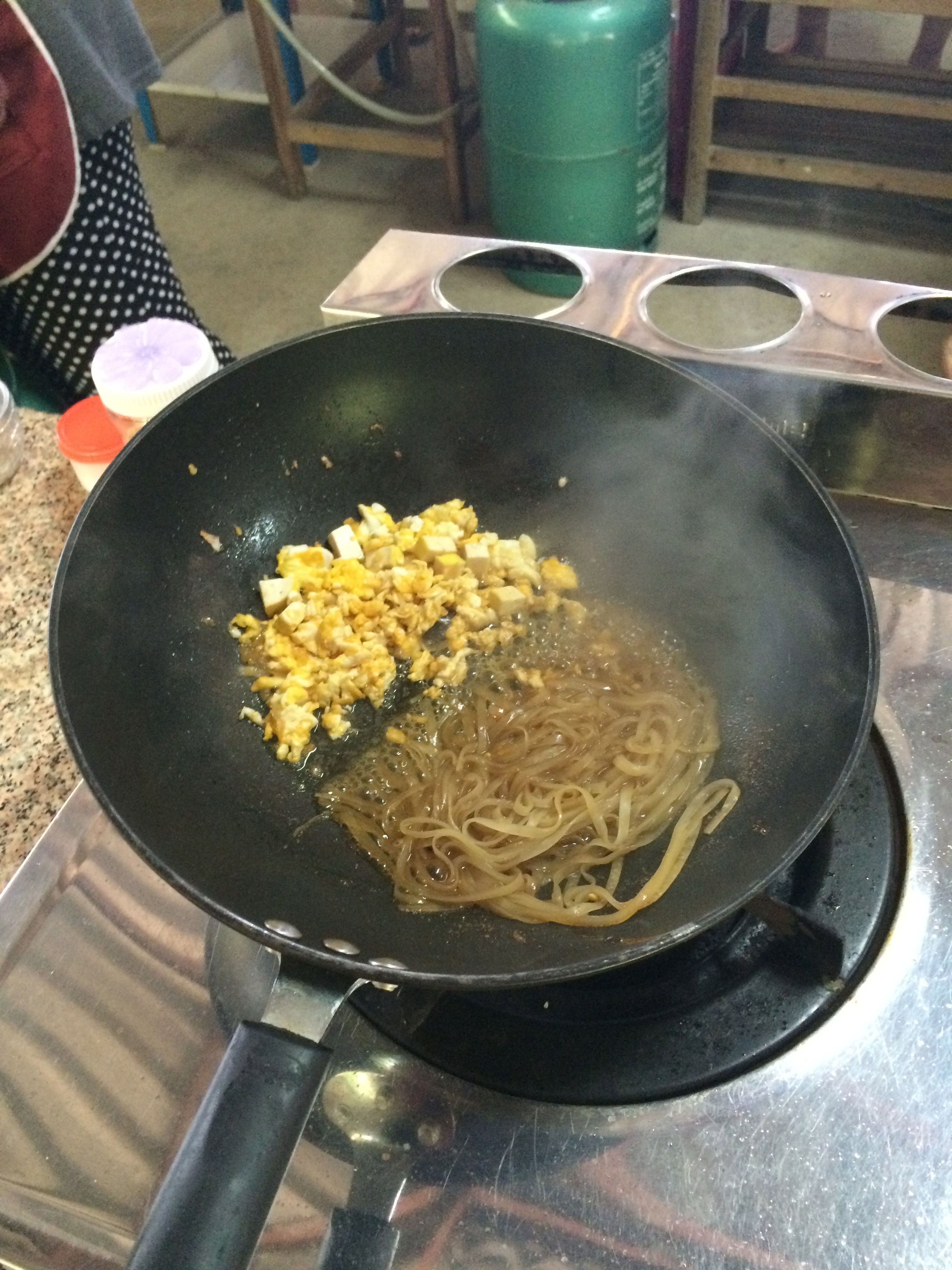 Creamy curries, crisp veggies, sauteed noodles, tropical fruits... The unique fusion of spicy and sweet make Thai food among the best in international cuisine. For this, a trip to Thailand isn't complete without learning the staples. Cooking schools are everywhere in Thailand as they've quickly become a popular tourist pastime.
Thailand offers everything from half-day to full-day courses, in a school or out at a farm. Deciding on a class really depends on the experience you're looking for.
Taking a cooking class was top on our must-do list, so I did a bit of research before our trip. Once we were in Chiang Mai, we ended up talking to our hostel for their input. In response to the class I found online, they said, "Oh, you want the Rolls Royce of cooking courses." We weren't so dead-set on it after all, so we asked, "Well, what do you think?"
They recommended Sammy's Organic Thai Cooking School, the Prius of cooking classes: an environmentally friendly and more intimate experience. And I'm so glad we took their advice.
The day began at 8:30 AM. After waking a bit early to grab a coffee and some fresh fruit, we were picked up right outside our hostel. We hopped in the back of the songthaew (an open air pick-up truck with lightly padded benches) and rode around the city, picking up the rest of our cooking school classmates.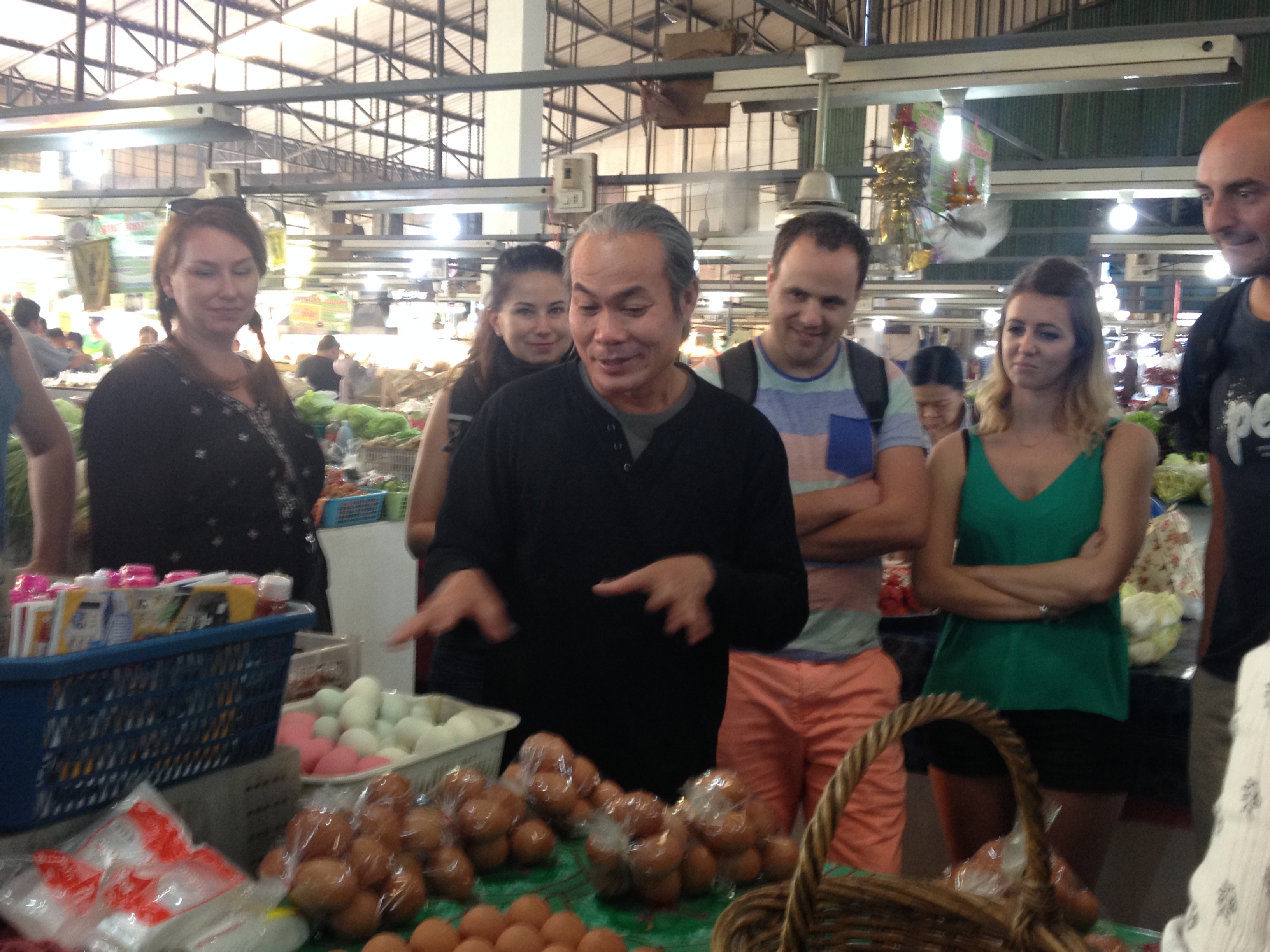 About 20 minutes outside of downtown Chiang Mai, we stopped at a local market. I could instantly tell this wasn't one of the touristy Saturday or Sunday markets because we were the only foreigners there. We soon met the infamous Sammy (pictured), our teacher for the day. Like most Thai people, he was all smiles, cracking jokes and trying to teach us a bit of Thai as he walked us around the market. Sammy explained the herbs, spices, and vegetables that are most commonly used in Thai cooking, and gave us some time to explore the rest of the market on our own.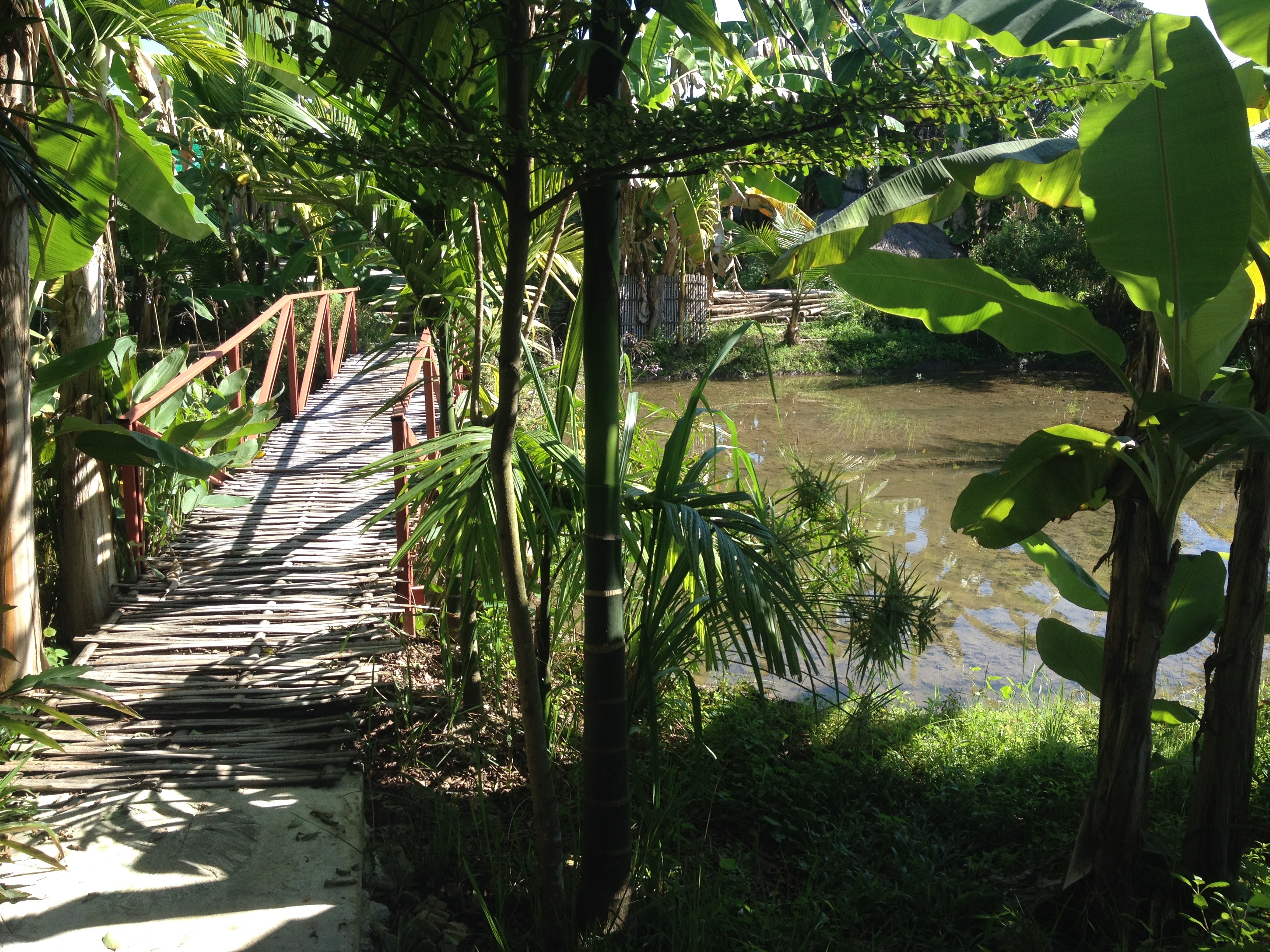 We then hopped back into the songthaews and headed another 30 minutes outside the city to Sammy's farm: a few square kilometers of rice patties, rolling hills, green palms, and mountainous backdrops. Sammy's kitchen sat under bamboo roofs. A long wooden table was set up in the center, along with a knife, a cutting board, a mortar and pestle, and a glass for water at each seat. Behind the table were individual gas stoves, enough for the 15 other people in our class.
To the left of the cooking area was absolutely stunning. Imagine: bamboo roofs above you and bamboo floors below you, letting the sunshine in; cloth hammocks tied along wooden posts, looking out toward the fields; colored cushions resting on the ground, beckoning you to lay down and put your feet up. We felt instantly at peace at Sammy's farm.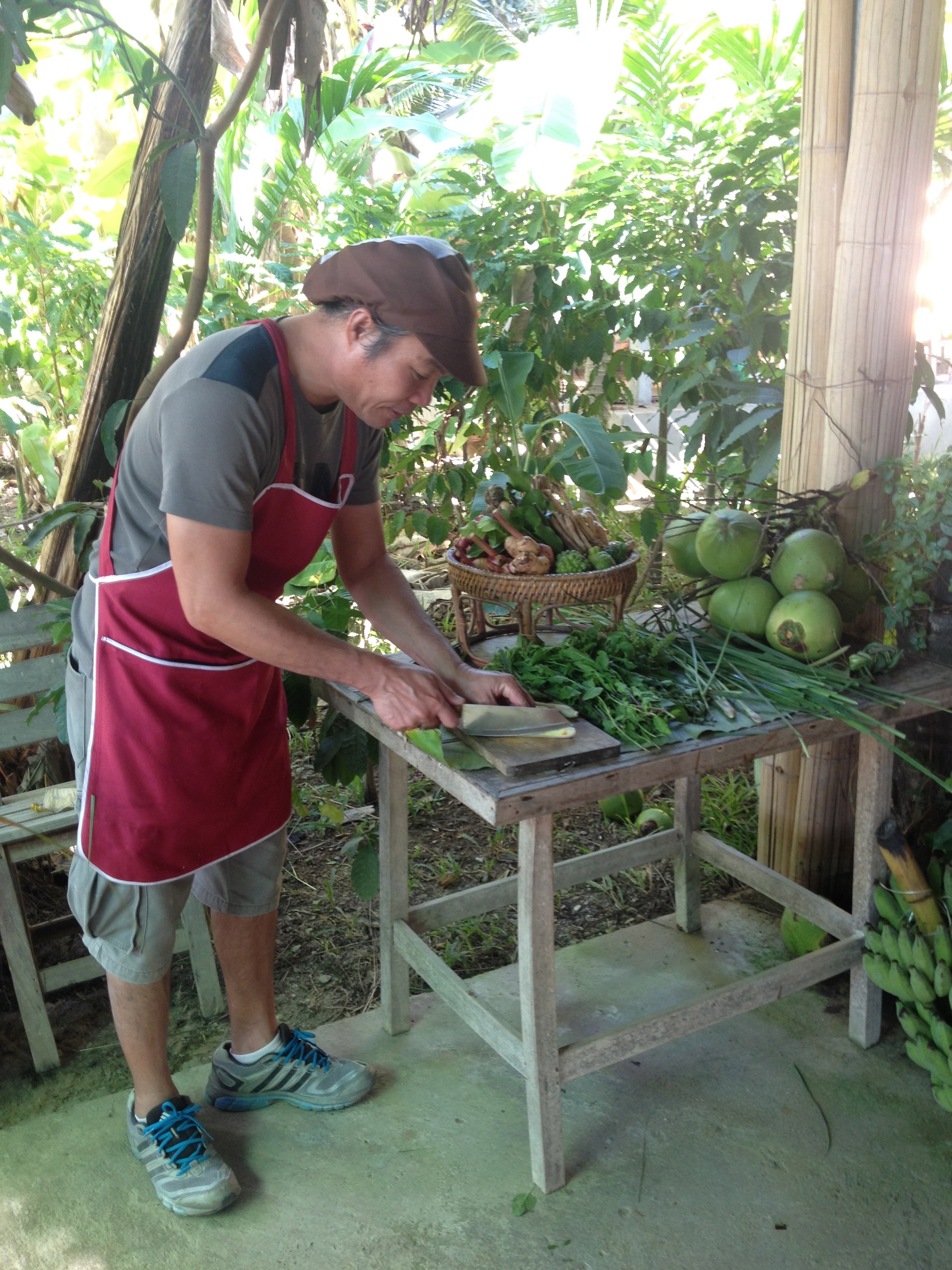 Before we jumped into the class, Sammy showed us more common herbs, all grown on his farm. We got to feel, smell, and even taste them. Fresh ginger, tumeric, lemongrass, and more... Mmmm!
And then, the class began.
Curries Abound
To start, we chose from one of three curries: red, yellow, or green. I opted for my favorite, the less spicier yellow curry (pictured), while Justin made the flavorful red. We had so much fun chopping the peppers, onions, garlic, and spices, and then mashing all the ingredients together with a mortar and pestle.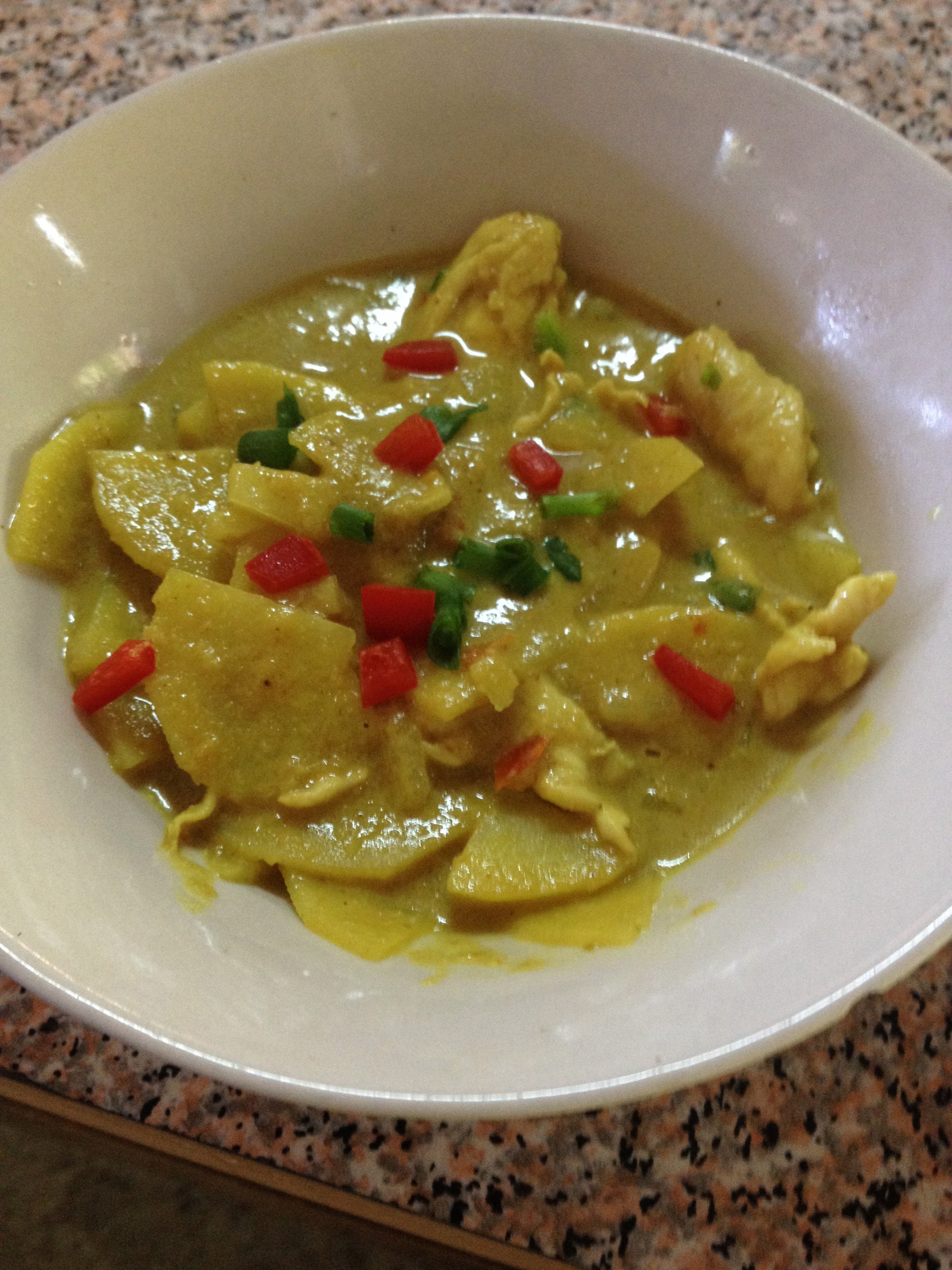 We took the curry paste to the stove, where we cooked our chicken curry dish. My yellow curry simmered with fresh coconut milk and a dash of sugar, giving it the most wonderfully sweet aroma. After adding in the sliced potato and diced chicken, I set the curry dish aside and moved on to our next course: soup.
Soup
I learned to make a chicken coconut lemongrass soup and Justin cooked the infamous Thai tom yam (sweet and sour seafood) soup.
Like most soups, the ingredients were layered and simmered. For my soup, I started with the coconut milk, lemongrass, galangal, and onion; followed by the chicken, tomatoes, and mushrooms; finished up with a dash of fish sauce, sugar, and lime juice. So creamy and delicious!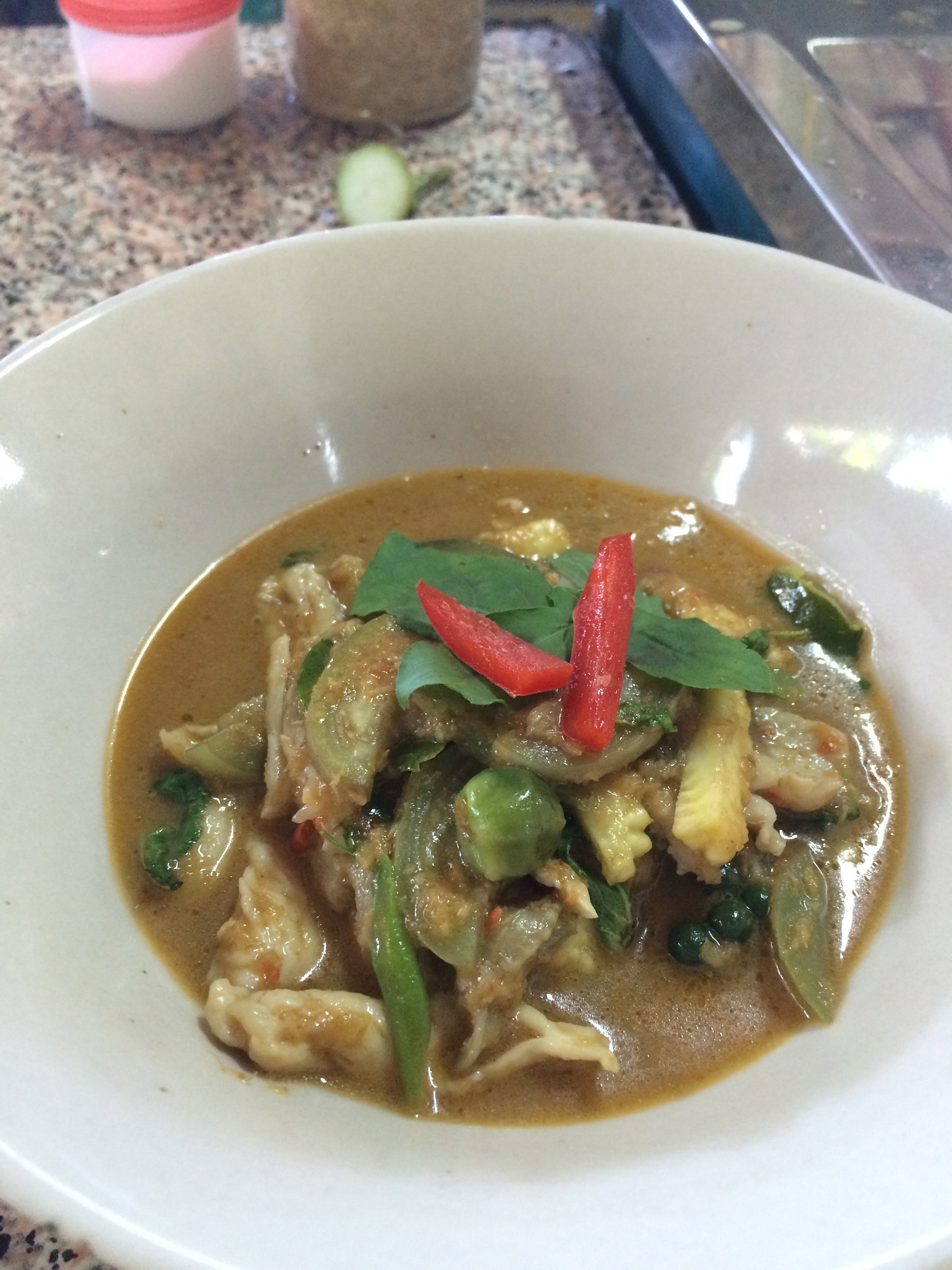 The tom yam soup (pictured) followed a similar process and ingredient list, minus the coconut milk and the chicken. Instead, Justin added fresh prawns and roasted chili paste for a bit of a kick.
Once the soups were complete, we set the burners to a low simmer and cooked our entrees.
Entree
I chose the holy basil chicken stir-fry, while Justin opted for another popular Thai dish: pad thai.
The dish I made was your standard stir-fry, complete with minced chicken, garlic, onion, green beans, and baby corn. The holy basil was fresh from Sammy's farm and added a bit of a unique twist.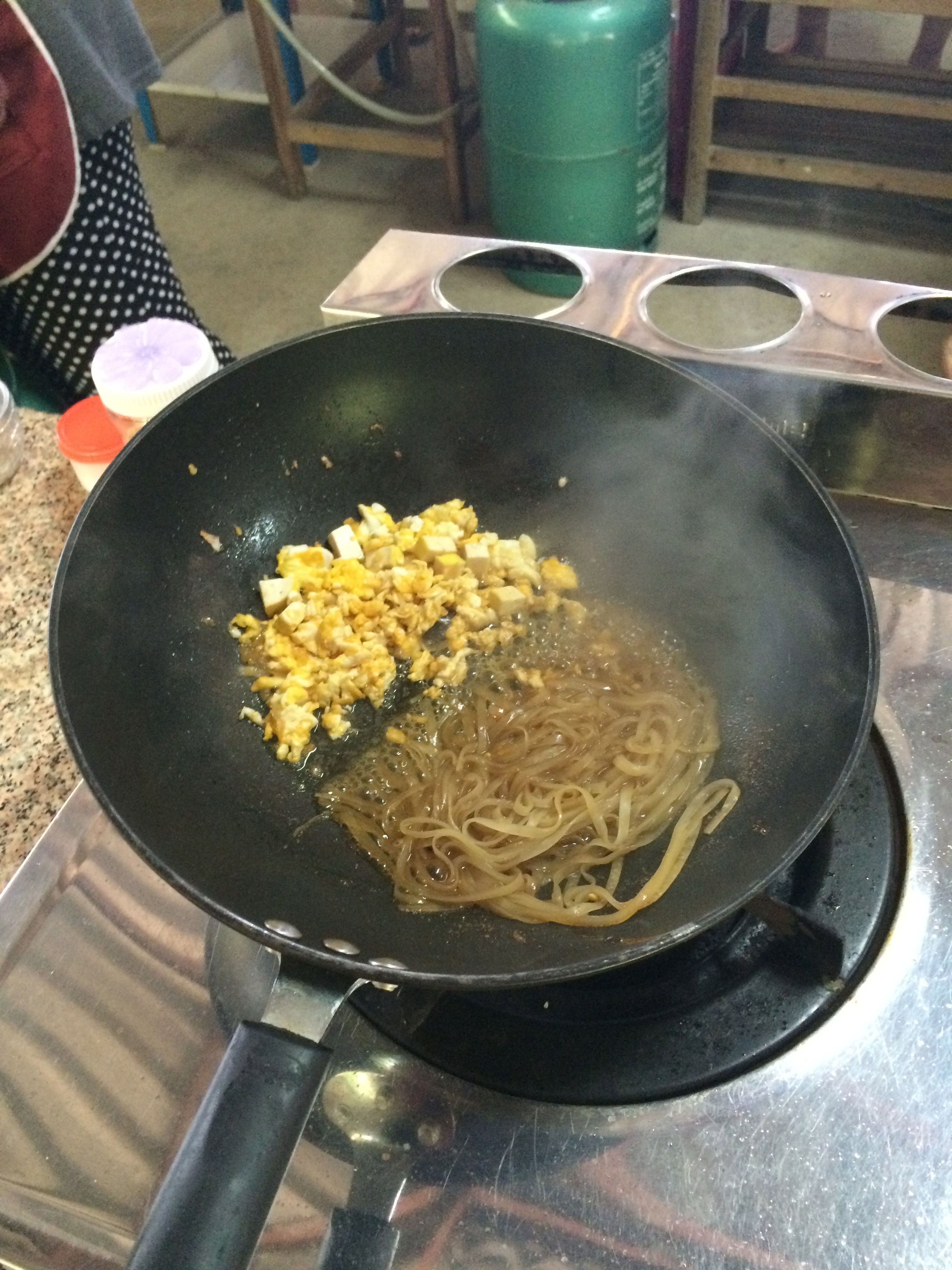 Pad thai is well-known across Thailand— it'd be a shame if we didn't learn how to make it. Cooking pad thai (pictured) involves simmering chicken and shallots, and then scrambling an egg. Thin rice noodles are added to the mix, sauteed with fish sauce, tamarind juice, and sugar. The dish is usually served with fresh bean sprouts, ground roasted peanut, and chili powder to taste. A sweet and salty paradise!
Eat 'n Nap
After everything was made and re-heated, we feasted. Sammy even set out several dishes of wild rice and sticky white rice to go with our dishes. Everything was absolutely incredible! I'm not lying when I say it's one of the best meals I ate in Thailand.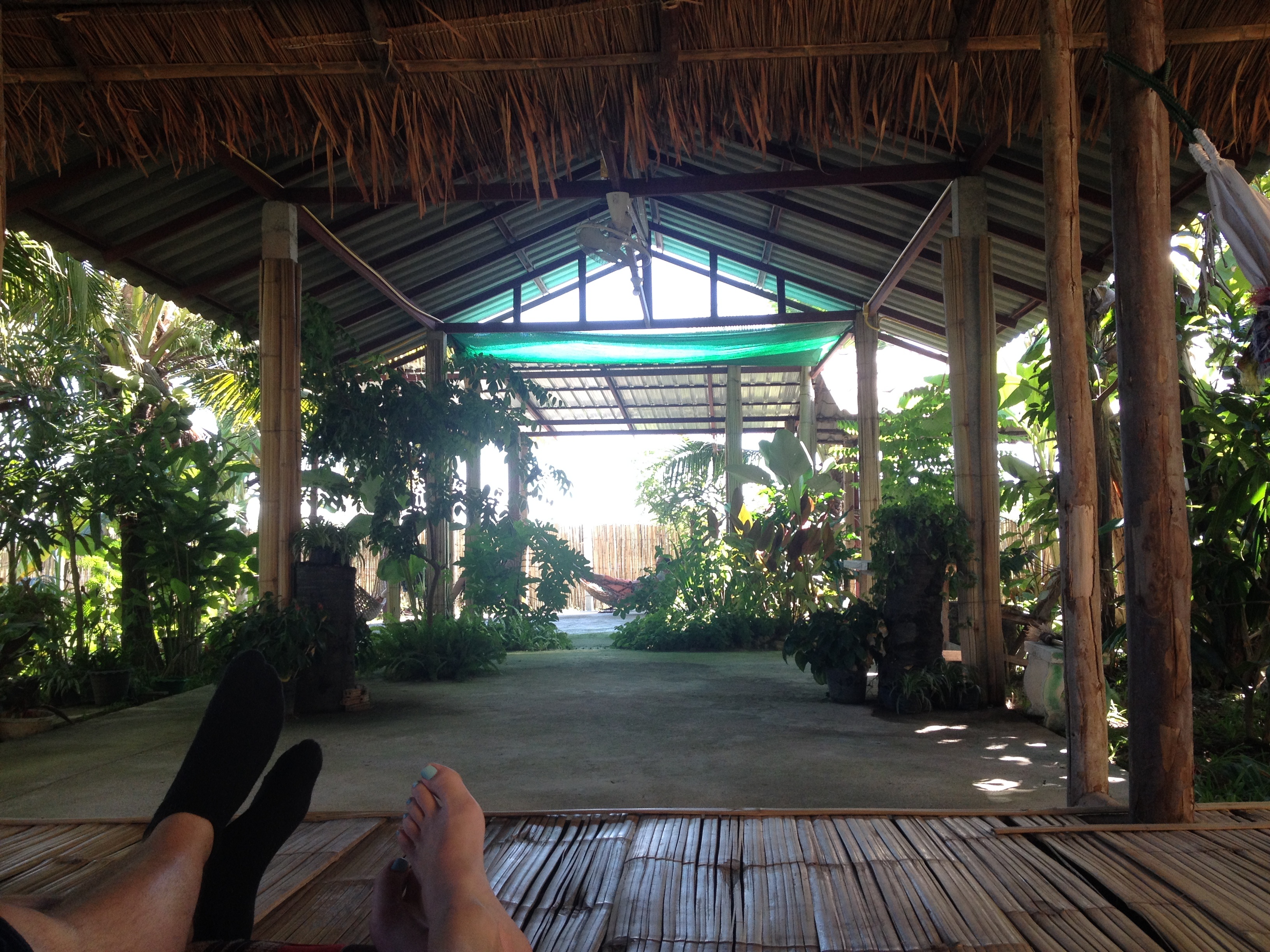 Yet another perk of the class was nap time. Sammy invited us to make a cup of tea or coffee, walk out to his bungalows, and claim a hammock or a cushion for the afternoon. And nap, we did.
Appetizer
Despite our unwillingness to wake up from our two-hour nap, we somehow managed. The thought of more food was on the horizon, after all...
I naturally gravitated toward the fresh papaya salad (pictured), while Justin (along with most of our class) made the fried veggie spring rolls... Because let's be real, spring rolls are everyone's favorite.
The papaya salad is one of my favorite "signature" Thai dishes. It's not sweet, so the papaya is light colored, shredded, and almost potato-like. We whipped out the mortar and pestle again for this dish, and I soon found myself mashing garlic, chili, long green beans, fish sauce, sugar, and lime juice together. I then added the shredded papaya and sliced tomato, and voila— a fresh side to any Thai dish.
Dessert
Ah, last but surely not least.
My obsession with coconut prevailed to the very end as I made the bananas in coconut milk dessert (pictured). This was my kind of dessert, too: minimal cooking. All I did was heat up a bit of coconut milk, add a few dashes of sugar, a couple pandan leaves, and freshly sliced banana.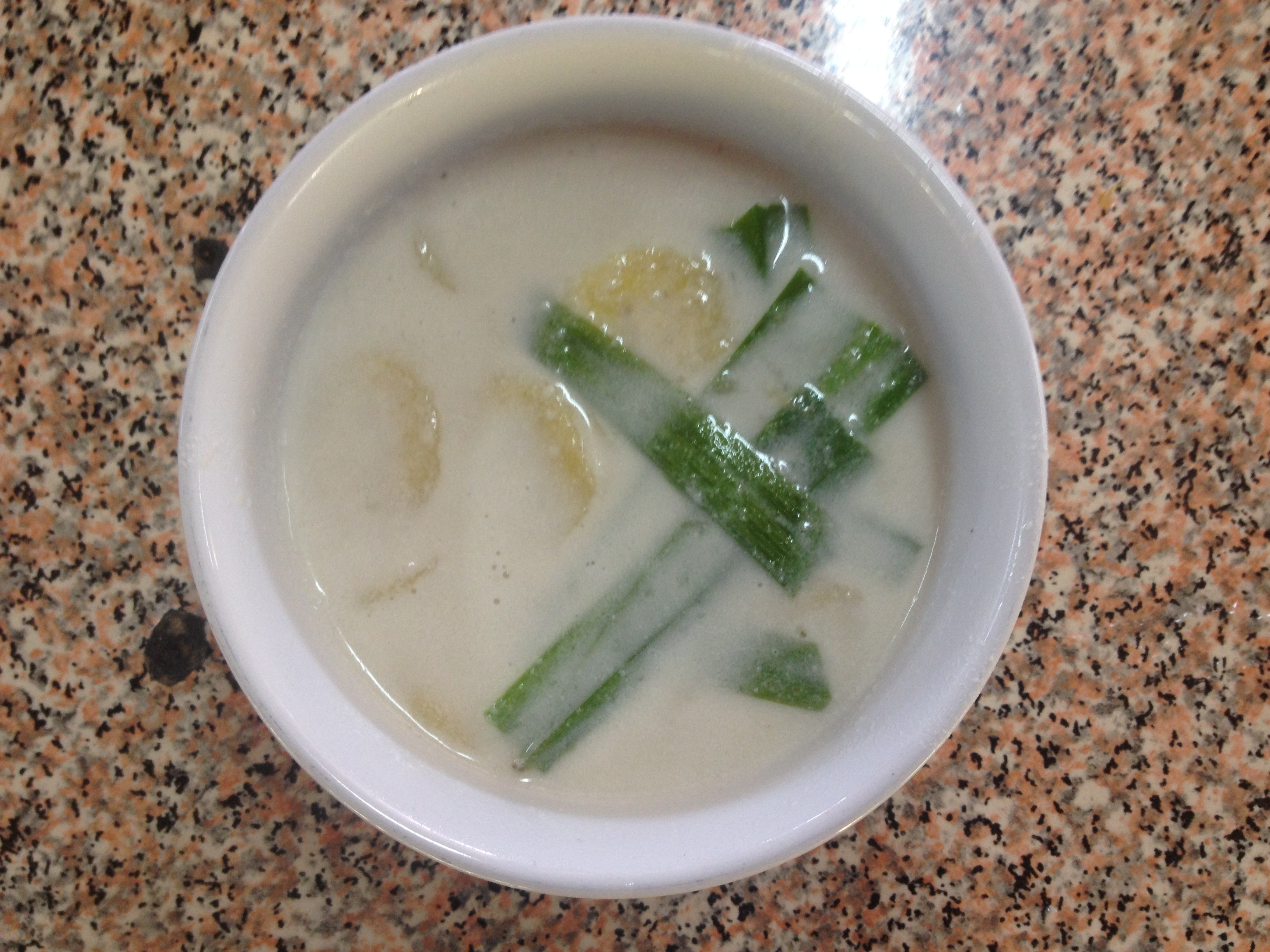 Justin decided on the more traditional mango with sticky rice dessert, which was equally as simple to make. Sammy cooked the sticky rice ahead of time, so all Justin had to do was simmer coconut cream, sugar, and salt in a sauce pan, add the sticky rice in, and serve it with a ripe mango. Yum-o!
Five Stars
Sammy's Organic Thai Cooking School is worth every penny, hands down. And by penny, I mean $35 USD... What a deal!
From the punctual pick-up and drop-off at our hostel, to the in-depth "how to" with five different Thai dishes, to the much-needed nap time and the breathtaking location, Sammy's cooking class was everything we could have hoped for, and more.
Bonus? We got to take home a cookbook, full of detailed recipes of everything we made that day.
Double bonus? Sammy's toilet (pictured). It really is the best toilet anyone has ever experienced.