Chiang Mai's Elephant Jungle Sanctuary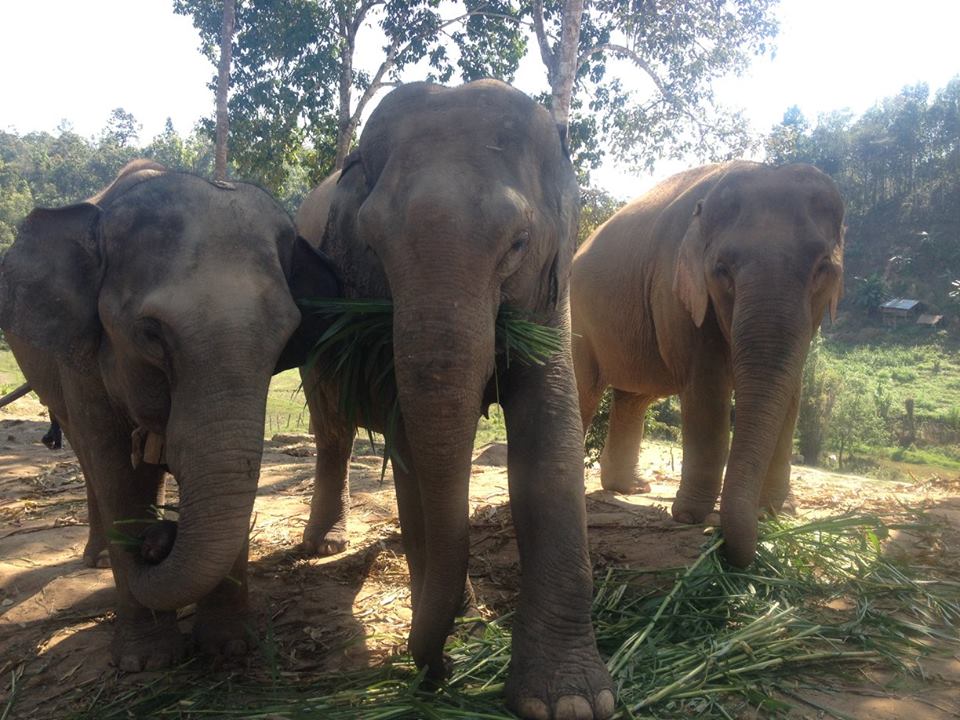 There are few places in the world where you can truly experience the wonder of elephants, and one of those places is Thailand. Like going to a cooking class or riding a motorbike, a trip to Thailand isn't complete without getting your elephant fix.
This is when it becomes really important to do your research. Although more and more travelers are becoming aware of the ecological and ethical implications behind elephant shows and elephant riding, it's still a big problem— especially in Asia.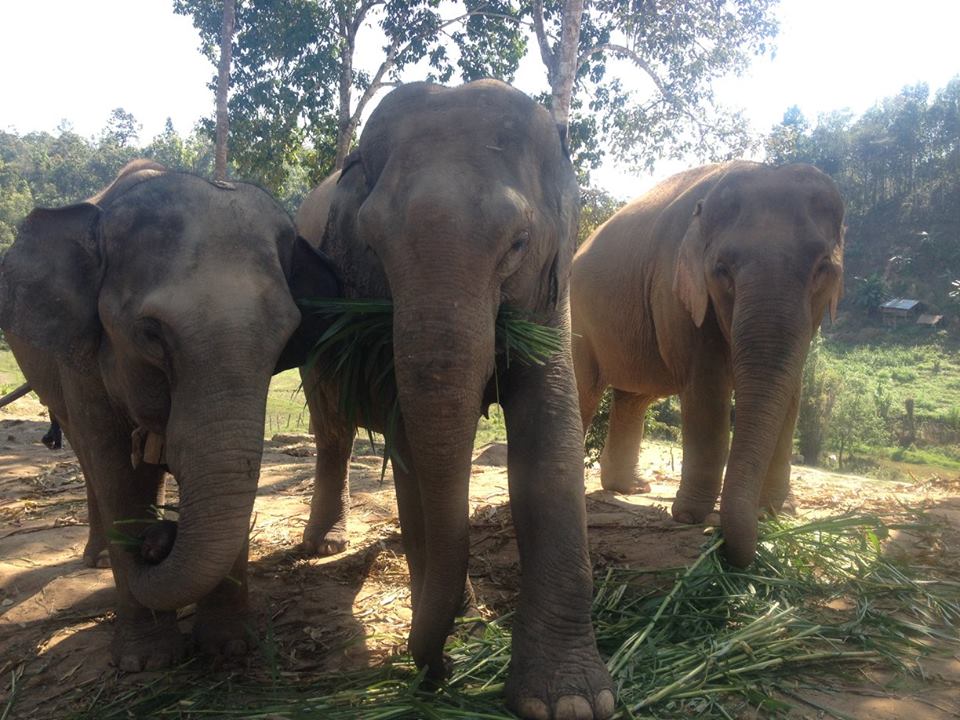 In Thailand, elephants who are used for show and riding undergo a process called phajaan, which literally translates to "crushing." Baby elephants are separated from their mothers, and if that isn't traumatic enough, they are then forced into tight, constraining spaces where they're beaten and starved.
Once they've become submissive, elephants are trained to do the same, monotonous task day in and day out, often spending hours in the sun without food or water. They are still beaten with bullhooks to ensure they cooperate.
There are currently 3,000 to 4,000 elephants held in captivity just in Thailand alone. Obviously we would all be happy if they could live in their natural habitat, but at this point, there isn't enough natural land for them to live on. Luckily, there are many elephant sanctuaries that rehabilitate abused and mistreated elephants, providing a better balance between keeping elephants in their natural habitat while also giving tourists the opportunity to interact and volunteer with them.
One of the most well-known places is Elephant Nature Park. While I read many great reviews about the park, we opted for the less known, but equally as ethical Elephant Jungle Sanctuary. In the Chiang Mai area alone, Elephant Jungle Sanctuary has six different locations throughout the mountains and rice paddies where travelers can volunteer with elephants. You can even choose from half-day, full day, or overnight excursions depending on the experience you're looking for and how much you're willing to spend.
No matter what you decide, you can feel good about it— while some proceeds go to your transportation, food, water, and tea for the day, a good portion goes to the camp so they can continue providing care for the elephants who need it most.
Alright, PSA over...
Here's what a full day looks like at Chiang Mai's Elephant Jungle Sanctuary:
Meet 'n Greet
After the two hour ride to our camp way out into the mountains in the back of a not-so-comfy songthaew (an open air pick-up truck with lightly padded benches), we arrived at our camp, along with 30 or so other people in our group.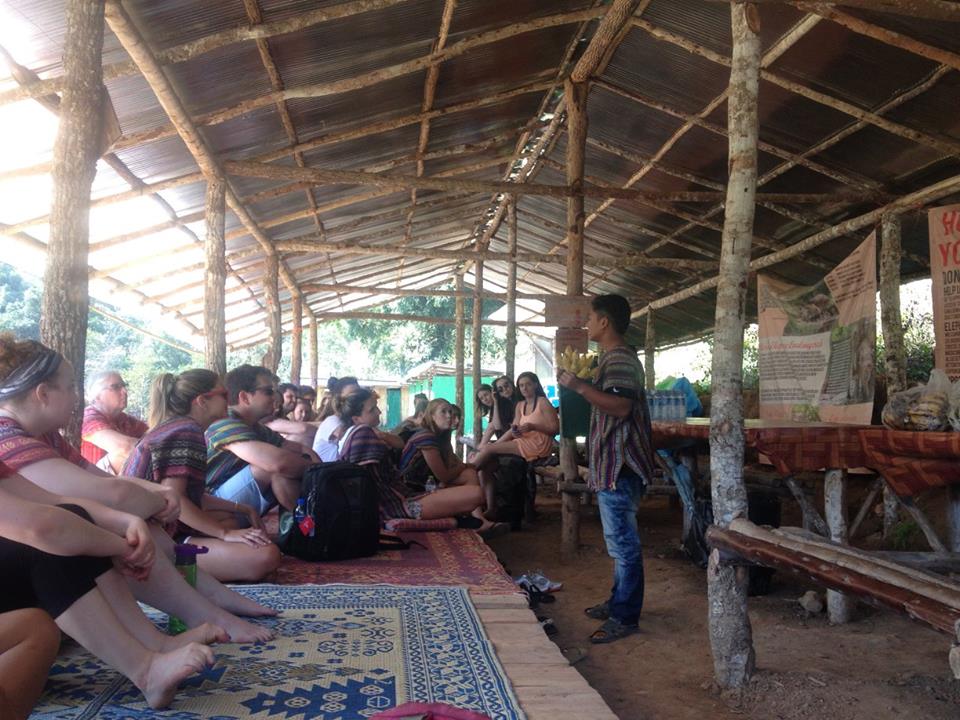 We walked across a beautiful river to an open field that was just so unbelievably lush and green. On the hill overlooking the river housed several bamboo roofed areas: our camp for the day. Once we found a spot on the floor cushions, we listened to one of our guides talk about the elephants in their camp. We learned there were seven that we'd be meeting that day: one female baby (four years-old), one male baby (one year-old), and five adult females (aging between 20 and 65). We were told about how much they ate and drank (about 330-600 pounds of food and 40 gallons of water a day!), and what they enjoyed doing (eating, swimming, and playing with one another).
We then slipped into our traditional Karen village tribal shirts, grabbed a few bags of bananas, and walked up the hill to meet the elephants. For about an hour, we fed them bananas, bamboo leaves, and sugar cane (their favorite); we stroked their soft ears; we laughed as they rolled in the sand; we took obligatory selfies with them; we simply marveled at their beauty.
Lunch Break
The elephant's endless appetites made us hungry, so we were more than ready for an early afternoon lunch. The staff put together a delicious Thai buffet of fried rice, chicken, steamed vegetables, and fresh fruit. They had complimentary water and tea, and sold cheap sodas and Chang beer.
We even had a bit of time to relax, looking out toward the river and watching the elephants roam around freely.
Mash, Mash Banana... And Some Other Stuff
An after-lunch dessert? Nope. More food for the elephants? You betcha.
We were asked to split the group— the men went to chop bamboo bark, while the women stayed behind to mash bananas and rice.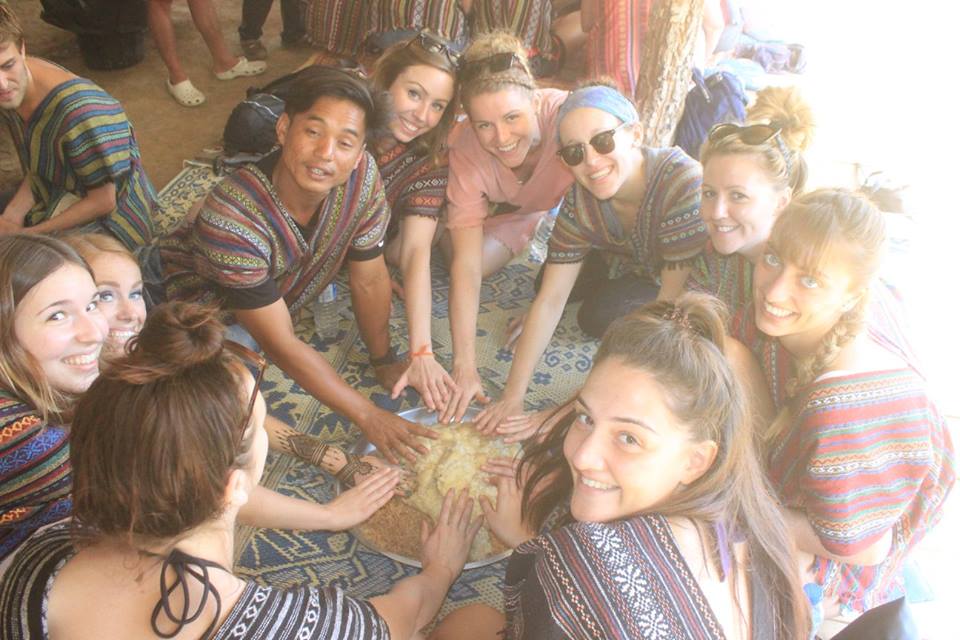 Twice a day, the staff feeds the elephants this concoction, mixed together with vitamins and herbs to keep them strong and healthy. We molded the ingredients into softball-sized balls to feed to them. Elephants normally use their trunks as hands, wrapping their snouts around food and stuffing it into their mouths. Because these banana-rice-bamboo mushes would fall apart if they tried to pick them up with their noses, we were taught to hold our hands up and slip the mush balls right on to their bright pink tongues.
Mud Bath
Once the elephants finished their banana desserts, we walked them down the hill to a giant mud pit.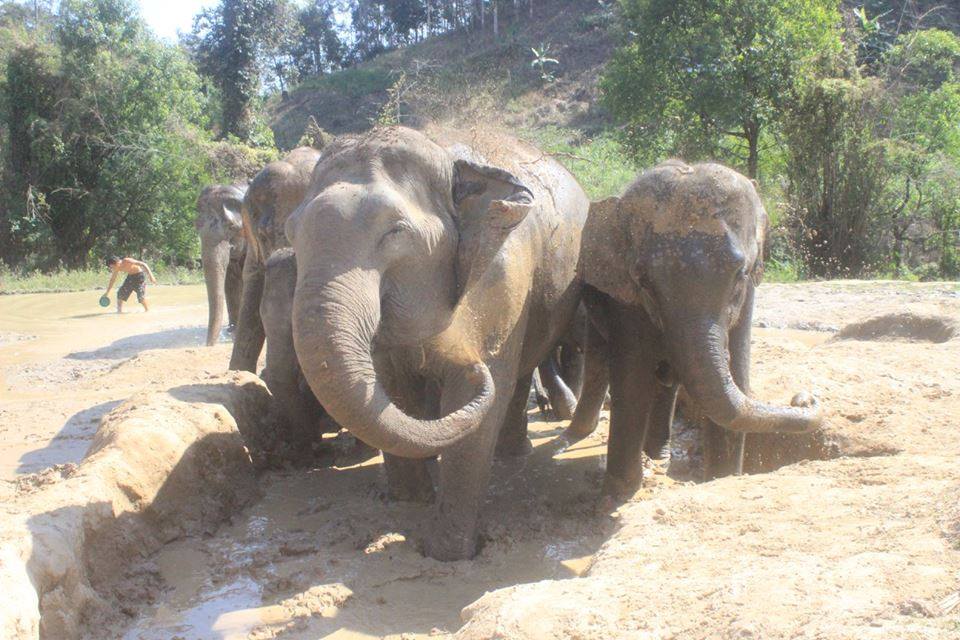 The elephants love mud— it keeps them cool and protects their skin from the sun and insects. So, needless to say, they were in heaven wrapping their trunks around globs of mud and throwing it on their backs. One of the adult females found a mud cliff and began rubbing her bum on it. It was quite the site seeing a 6,000 pound mud-covered elephant roll over and plop herself down right on the side of the mud.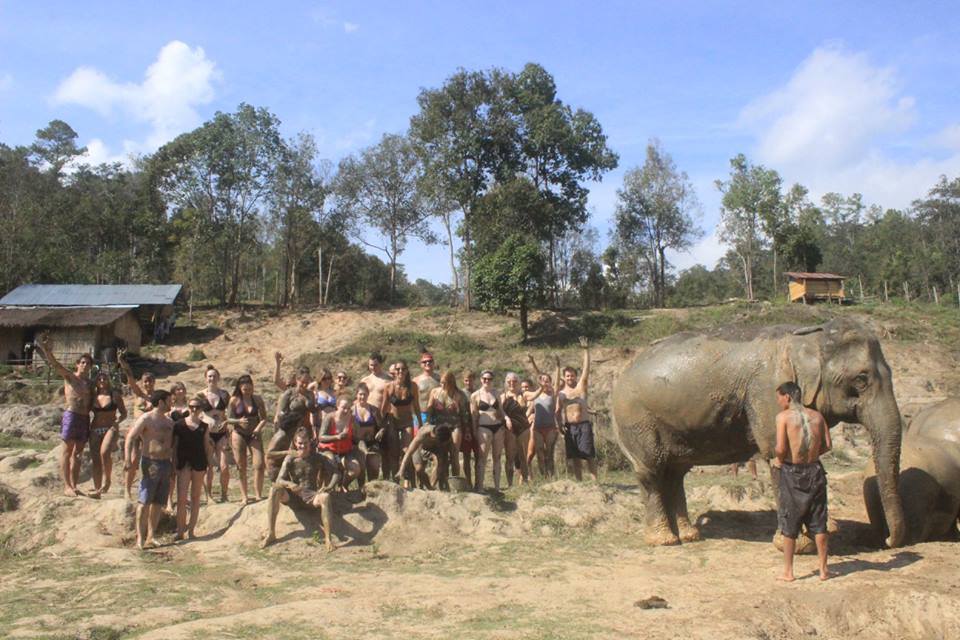 Everyone in our group was a bit hesitant to get down 'n dirty in the mud. But as soon as our guides hit us with handfuls of mud (after claiming they were aiming for the elephants, of course) we were right in there... Throwing cool mud on the elephants (and each other), rubbing it on the elephants' rough, wrinkly skin, and enjoying every moment.
River Swim
The seven elephants were fully covered in thick coats of mud at this point, so we walked them down to the nearby river to wash them (and ourselves) off. After their mud spa treatment, they seemed to feel equally content in the cool river. Most of the elephants stood in the river, while the rest of us filled small plastic buckets and dumped water on their backs.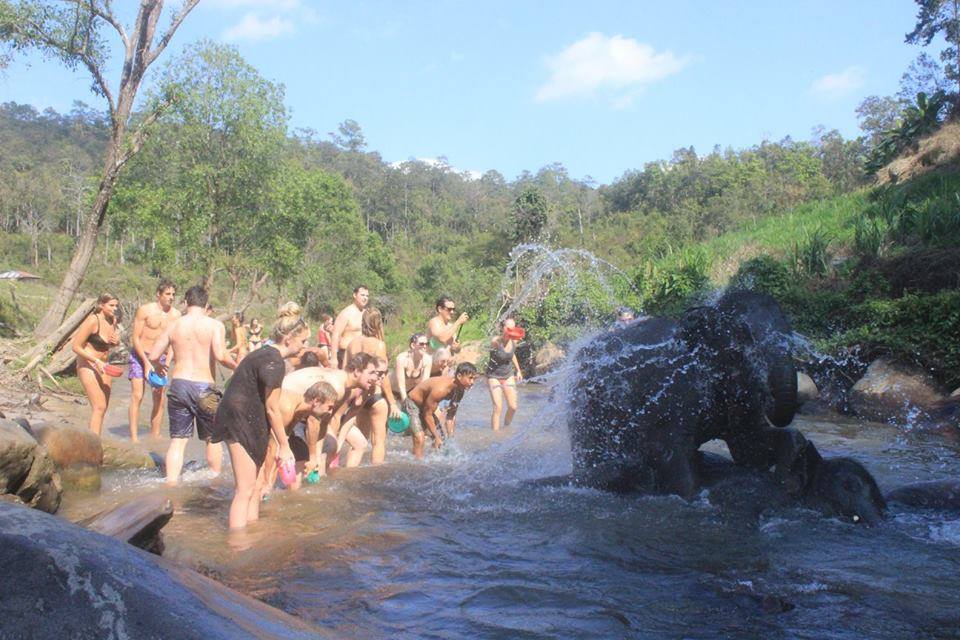 The baby elephants, however, got into a bit of a wrestling match— the male was laying on his side at one point, fully submerged in the water, while the female kicked him with her feet and splashed water on him with her trunk. Once the male was able to get back on his feet, the two of them went at it, banging their heads together, spraying water on each other's bodies, and trying to knock each other over. Nothing beats a good 'ol sibling rivalry.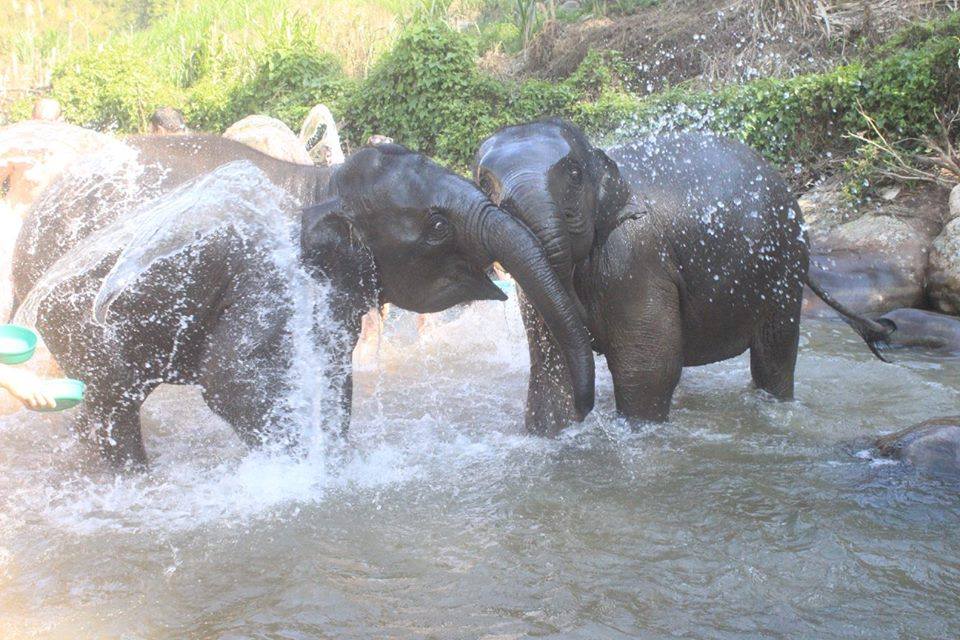 A Memorable Day
Like at the end of every great day, we surely didn't want it to end. Did we want to stay with the elephants forever? Yes. Were we allowed to? Sadly, no. After packing up and saying goodbye to the elephants, we enjoyed a cup of tea and watched our fellow elephant friends relax in the afternoon sun. We then hopped in the back of our songthaews back to downtown Chiang Mai, reminiscing about the day with our group.
If you find yourself in the beautiful northern city of Chiang Mai, skip the elephant riding and head to the Elephant Jungle Sanctuary. You'll play, feed, and swim with elephants. You'll spend time in northern Thailand's magnificent mountains. You'll meet wonderful, like-minded people. You'll make memories you'll remember forever.