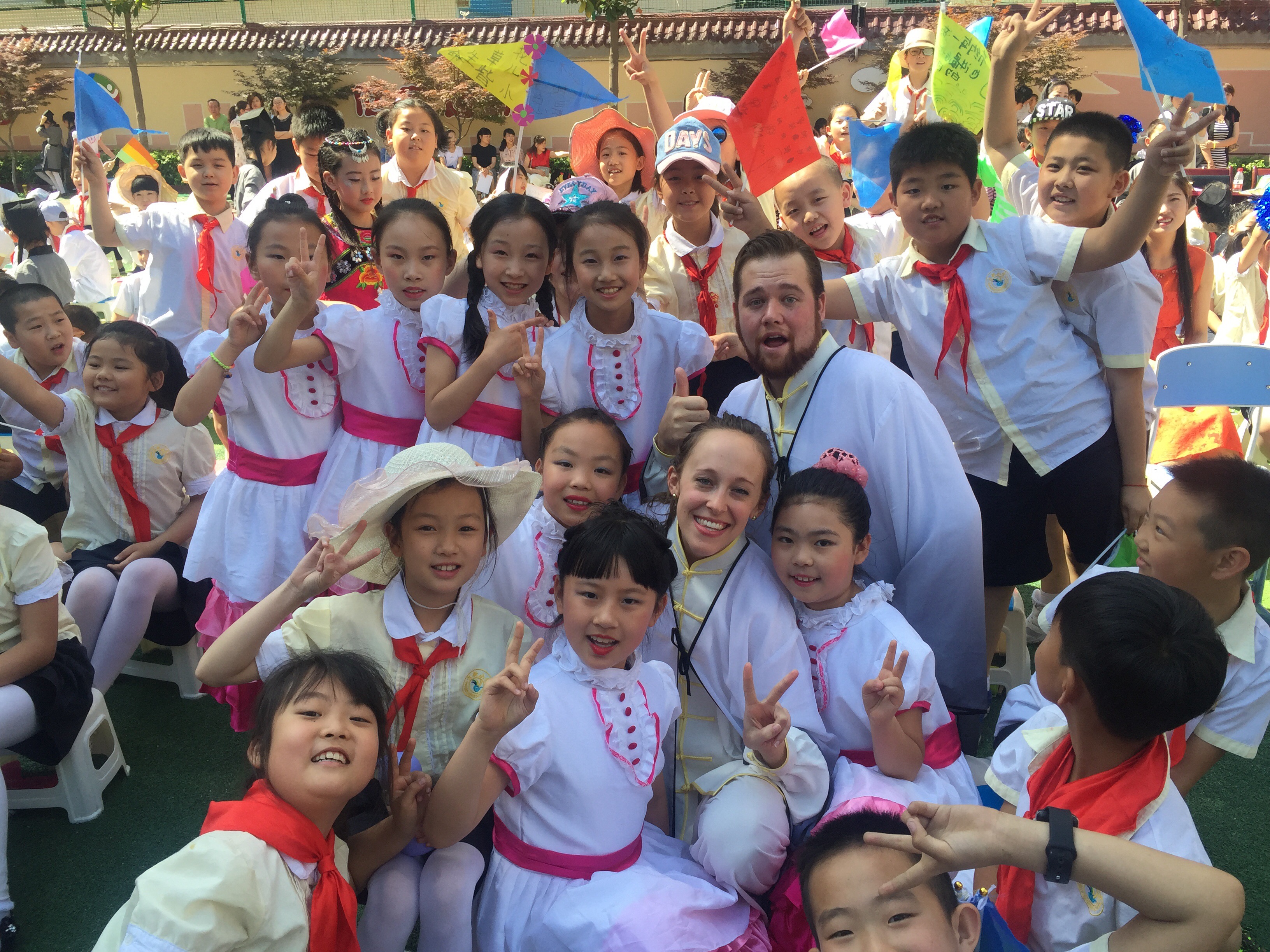 What a week of celebrations! On Friday, we were fortunate to celebrate Children's Day at our school, and Sunday to Tuesday we celebrated the Dragon Boat Festival— one of China's major holidays. Read on to learn all about the activities we experienced, the food we ate, and all the wonderful memories we made.
Children's Day is technically on June 1st, but in preparation for the holiday, our school celebrated it on Friday with the administration, teachers, parents, and entire student body.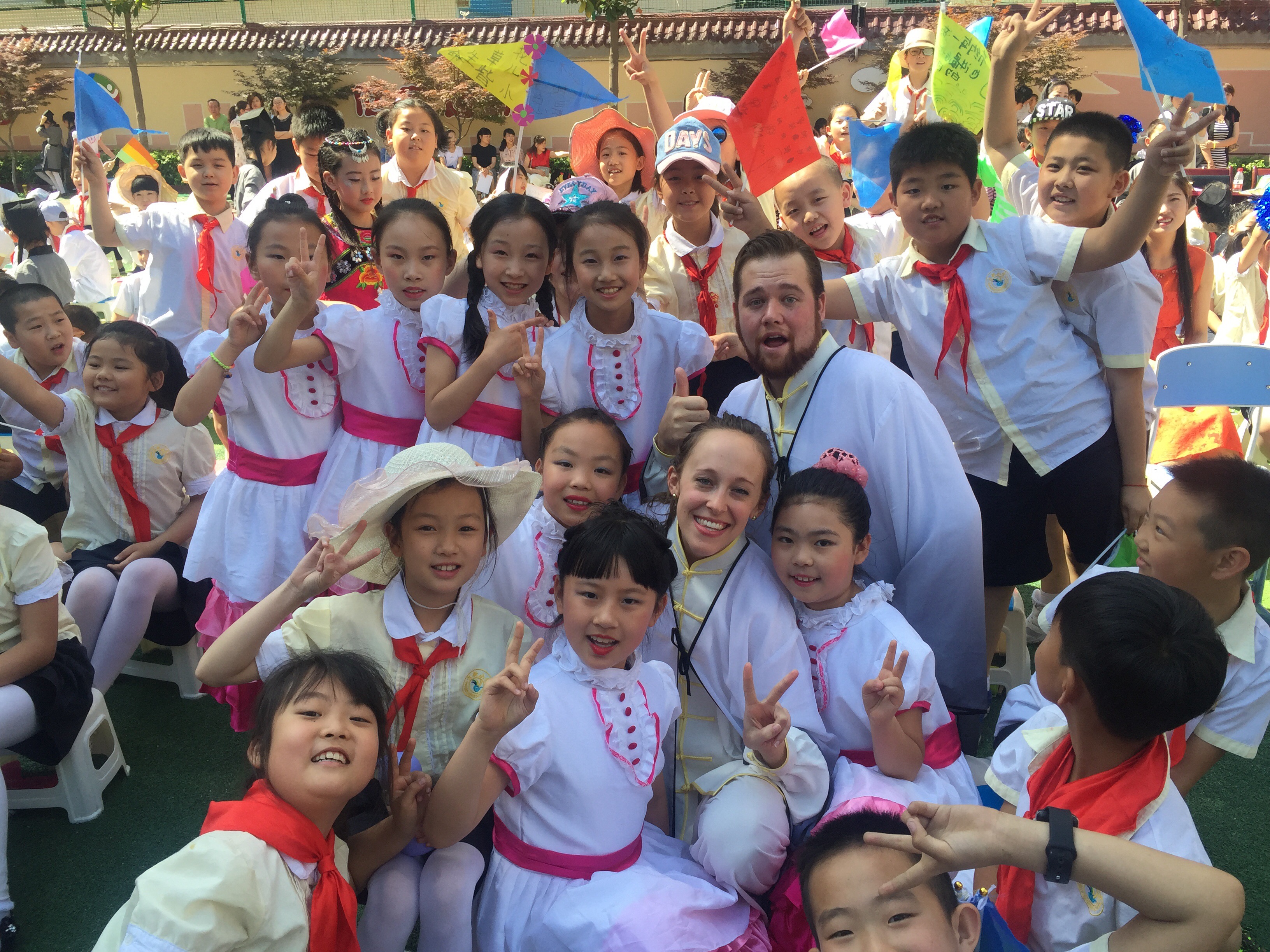 About Children's Day in China
A holiday established by the Chinese government in 1956, Children's Day is in place to recognize the health and happiness of the nation's children. In China, children are given a day off of school and homework— a rare occasion with their busy schedules.
They are usually granted free admission to movies and public cultural sites, and are encouraged to participate in fun activities, such as camping, drawing, playing, and performing. Most importantly, the day is intended for children and their families to spend time together.
Fangxin Primary School's Children's Day Celebrations
Last Friday, we suited up in our tai chi clothing and walked to our school. We were greeted by a beautiful castle door entrance, complete with Disney princesses and all. Some of our students were running around outside, helping one another with their costumes or meeting one of their parents at the school gate with a forgotten hat or costume item. You could sense the excitement in the air— not only because of the morning off from classes, but of the anticipation of performances, awards, and fun ahead.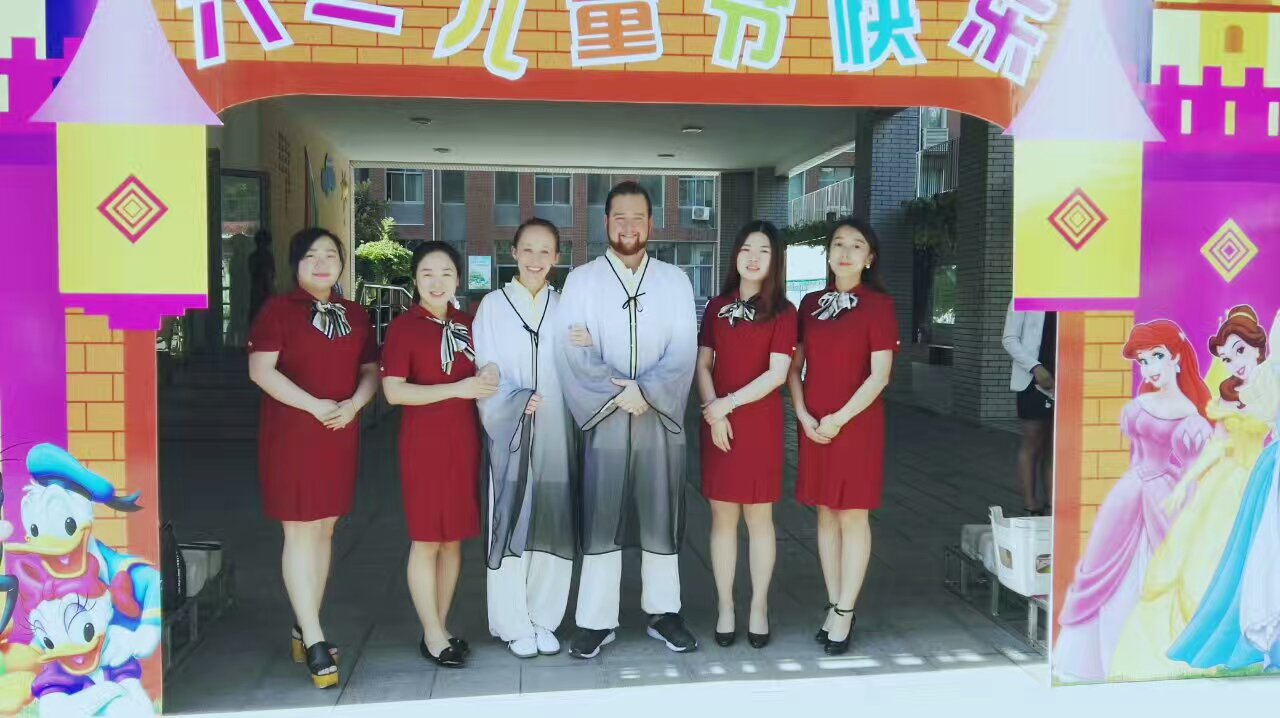 With their tiny stools, sunglasses, and handmade flags in hand, the students filtered outside to the sports fields. They set up row by row, class by class, in front of a large stage. Speakers were blasting Olympic-style music, a group of teachers were making final checks on their awards, and parents were taking their posts behind the crowd of students.
The MC's of the morning were gathered near the stage, reading over their scripts and making final touches to their costumes. The first MC, one of our school's leaders, looked absolutely stunning in a light blue "Cinderella-esque" gown. Her crew, a group of third graders (pictured), were decked out in colorful makeup and flashy outfits, too.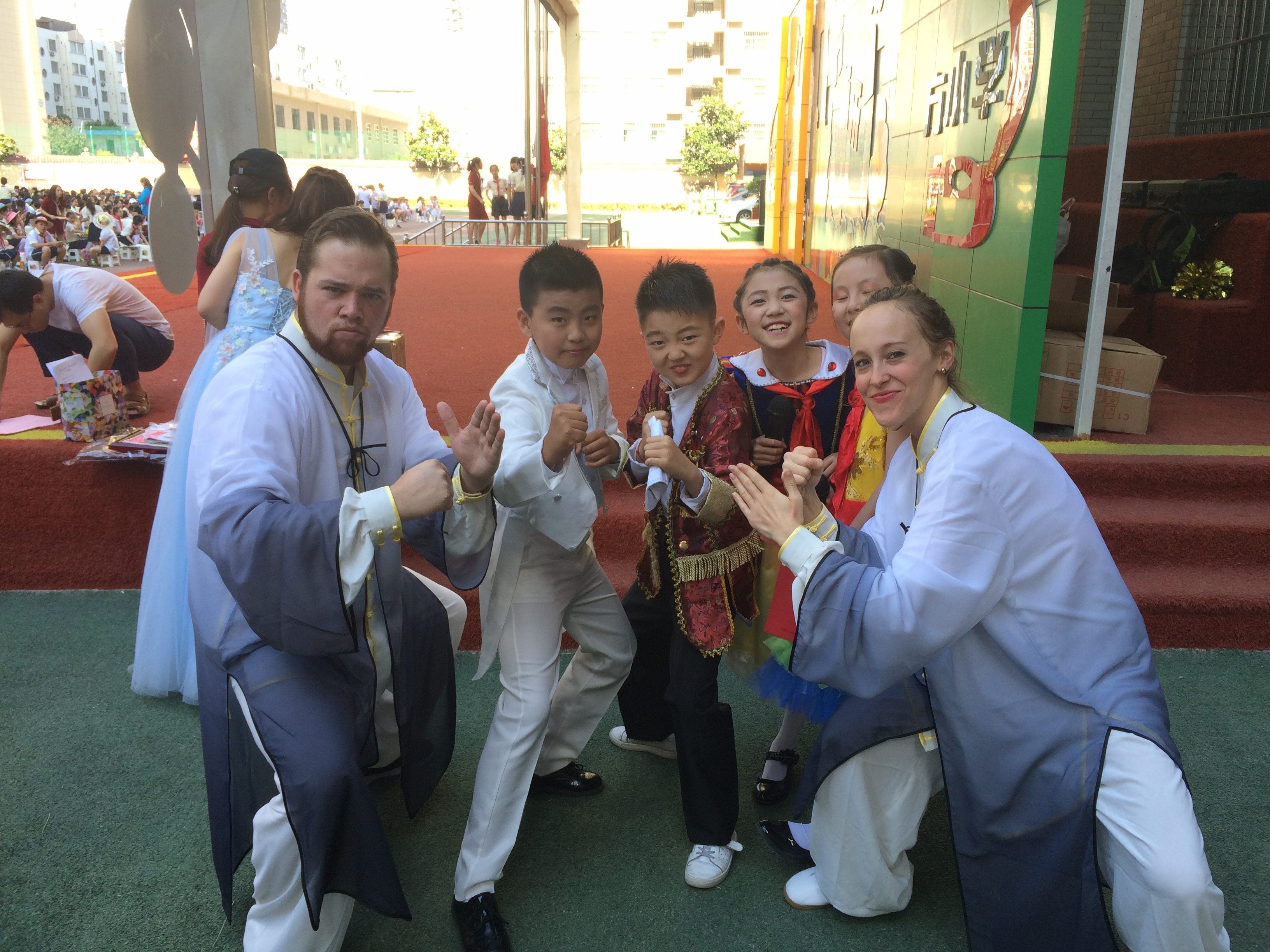 The ceremony began around 9:30 that morning. Once most of the students were seated, the MC's took to the stage to welcome everyone. The student band kicked off the performances of the morning, followed by a very patriotic flag-raising ceremony.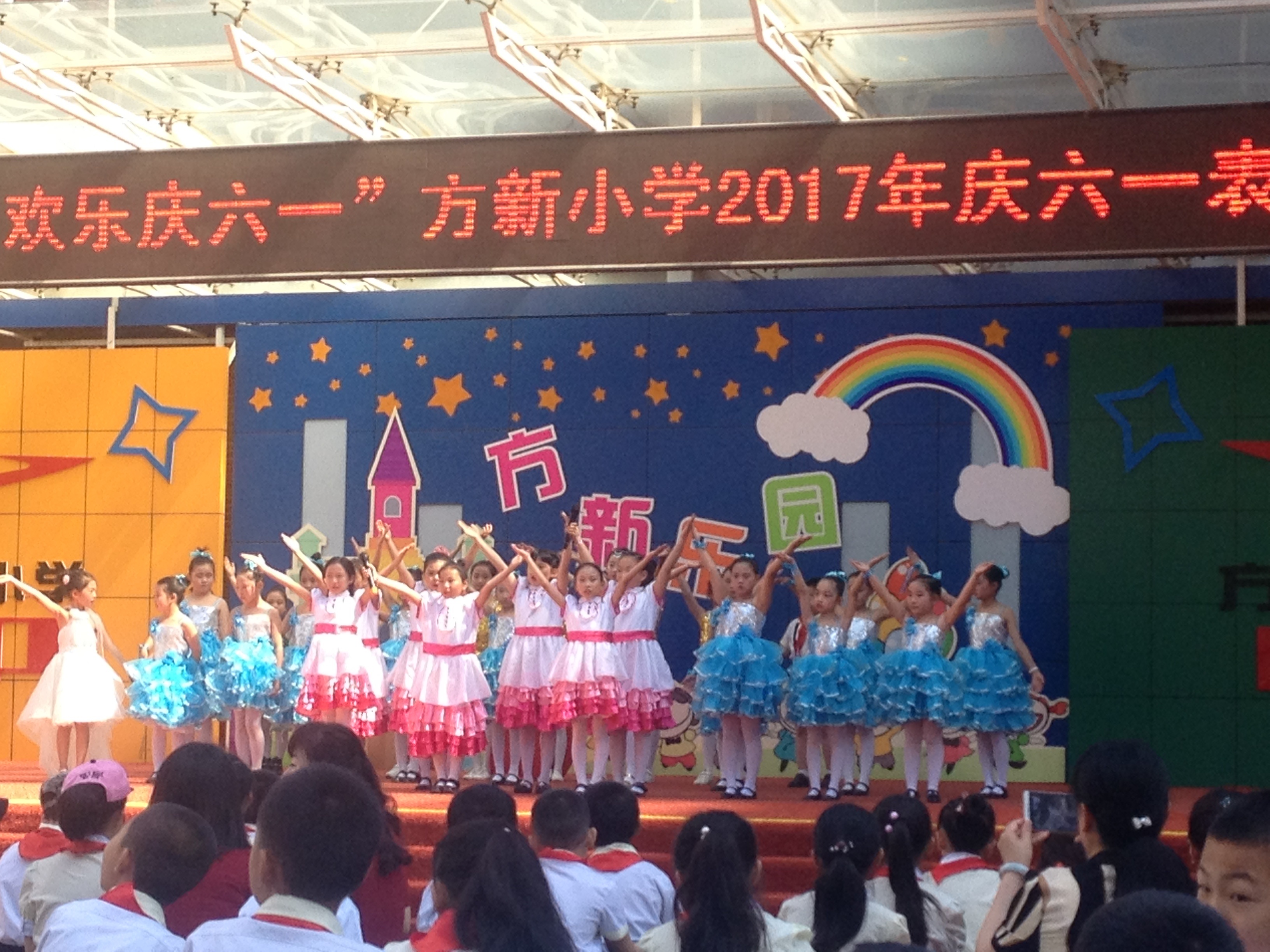 About nine different groups of students performed that morning. There were several dances, a chorus or two, a couple bands, and a traditional Chinese chant. We even got to perform our tai chi routine one last time (the students really loved that). In between each performance, the MC's would take the stage and give out awards— either to groups of teachers, students, or even parents.
I was honestly blown away by all the student work that was showcased that morning. Each and every student seemed so proud of their accomplishments (as they should be... they work incredibly hard!). I couldn't help but realize how fortunate I was to experience it all with them.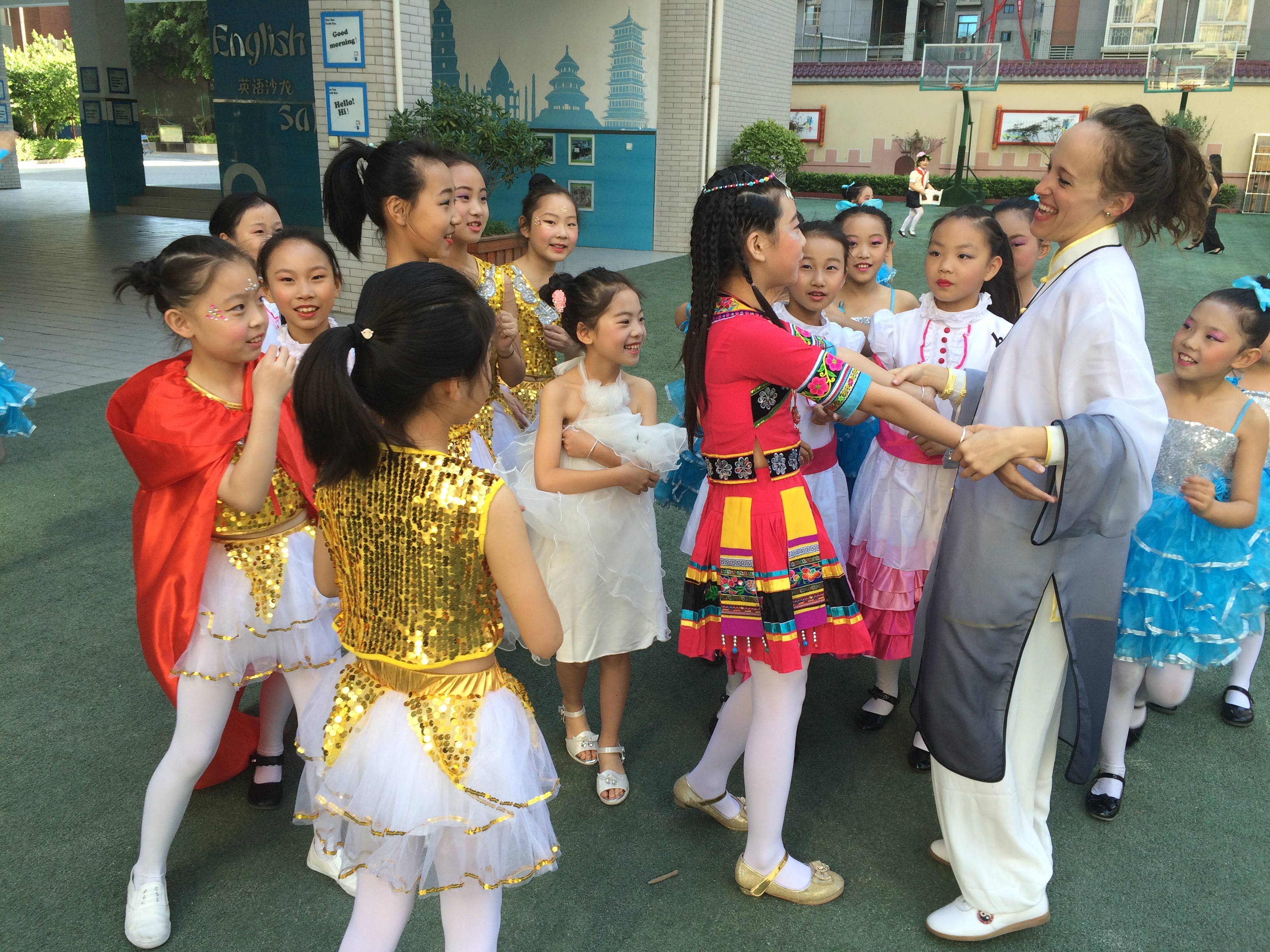 The performances and awards wrapped up before the high-noon sun hit the sports fields. We finished the day with our afternoon classes and got up the next morning to teach on Saturday. Despite our shrugs and sighs about teaching on the weekend, we were thankful to have a three-day holiday greeting us on the other side.
And so, the celebrations continued...
The Dragon Boat Festival
Aside from the Chinese New Year and the Mid-Autumn Festival, the Dragon Boat Festival is one of the biggest holidays in China. There are several legends about the history of the festival, but the most common one involves the commemoration of the patriotic poet, Qu Yuan, who drowned in the Miluo River more than 2,000 years ago during the Warring States period (475–221 BC).
As one of the greatest poets in Chinese history, Qu Yuan was known for his great devotion to his country. When he was exiled by the king, he chose to take his own life, rather than to see his country conquered by a foreign state. He died on the fifth day of the fifth lunar month, which marks the celebration every year on the Chinese lunar calendar.
Dragon Boat Festival Traditions
Zongzi
Throughout China, it's customary to eat zongzi, a pyramid-shaped rice dumpling wrapped in a bamboo leaf. In northern China (where we are), it's customary to stuff the dumpling with sweet jubjubs. In the south of China, zongzi is often made with meat, beans, or egg yolk.
You can buy pre-made zongzi in almost any supermarket, but some families still have the tradition of making it on their own. Either way, zongzi is super delicious!
Rice dumplings have a very symbolic meaning, too. It's thought that, when searching for the poet, Qu Yuan, locals would drop balls of rice into the river so the fish would eat the rice, rather than Qu Yuan's body.
Dagao
In addition to zongzi, eating dagao is another tasty tradition. Dagao is similar to a cake, but it's made from sticky rice and mugwort, then dipped in sugar or honey. A very sweet treat!
Tea Eggs
Boiling eggs in tea is an ancient tradition in China. For the Dragon Boat Festival, people will often boil and eat duck or goose eggs, which tend to be a bit saltier than chicken eggs.
Hanging the cooked eggs around young children's necks are thought to ward off bad luck and misfortune.
Perfume Pouches
Before the festival, parents will make or purchase perfume pouches for their children. They will sew together (typically red) cloth and stuff it with perfumes or herbal medicine.
Children will wear these pouches around their necks or hang them in their rooms. Doing so is thought to protect them from evil.
Near our apartment, we saw several men and women with racks and racks of these colorful pouches. About a week leading up to the festival, you could always find a small group of Chinese people combing through the pouches to find the perfect one for themselves, their child, or their family member. A beautiful tradition, in my opinion.
Dragon Boat Racing
Adequately named for the dragon shaped stern and bow, dragon boat races are popular across the world. The tradition of racing dragon boats in Chinese culture developed centuries ago as a way to appease the water gods during the hot summer months.
In China, you can visit nearby rivers and lakes to watch the dragon boat races. Typically, one team will race against another at one time. A team of people will work the oars of the boat in hopes of beating the other team to the finish line. One team member will sit at the back of the boat and bang on a drum. This is to keep the rhythm of the rowing in sync and to keep morale strong under the sweltering sun.
We were fortunate to experience the dragon boat races ourselves. We heard about the races from some of our foreign friends, so we decided to check them out. We packed a bag full of snacks and treats for ourselves and for Bjorn and hopped in a taxi for a short 10-minute ride to a nearby park.
The taxi driver dropped us off near one of the park's many entrances. We walked along the "lake" (more of a river, really) in search of the dragon boat races. The "lake" seemed oddly quiet for the festival. A few families were paddling along in small boats, but that was it. We were determined to find the races, though. We stopped along the way for a few photo ops by a massive Chinese warrior statue and a golden dragon bridge, all the while looking for some sort of signage pointing to the races.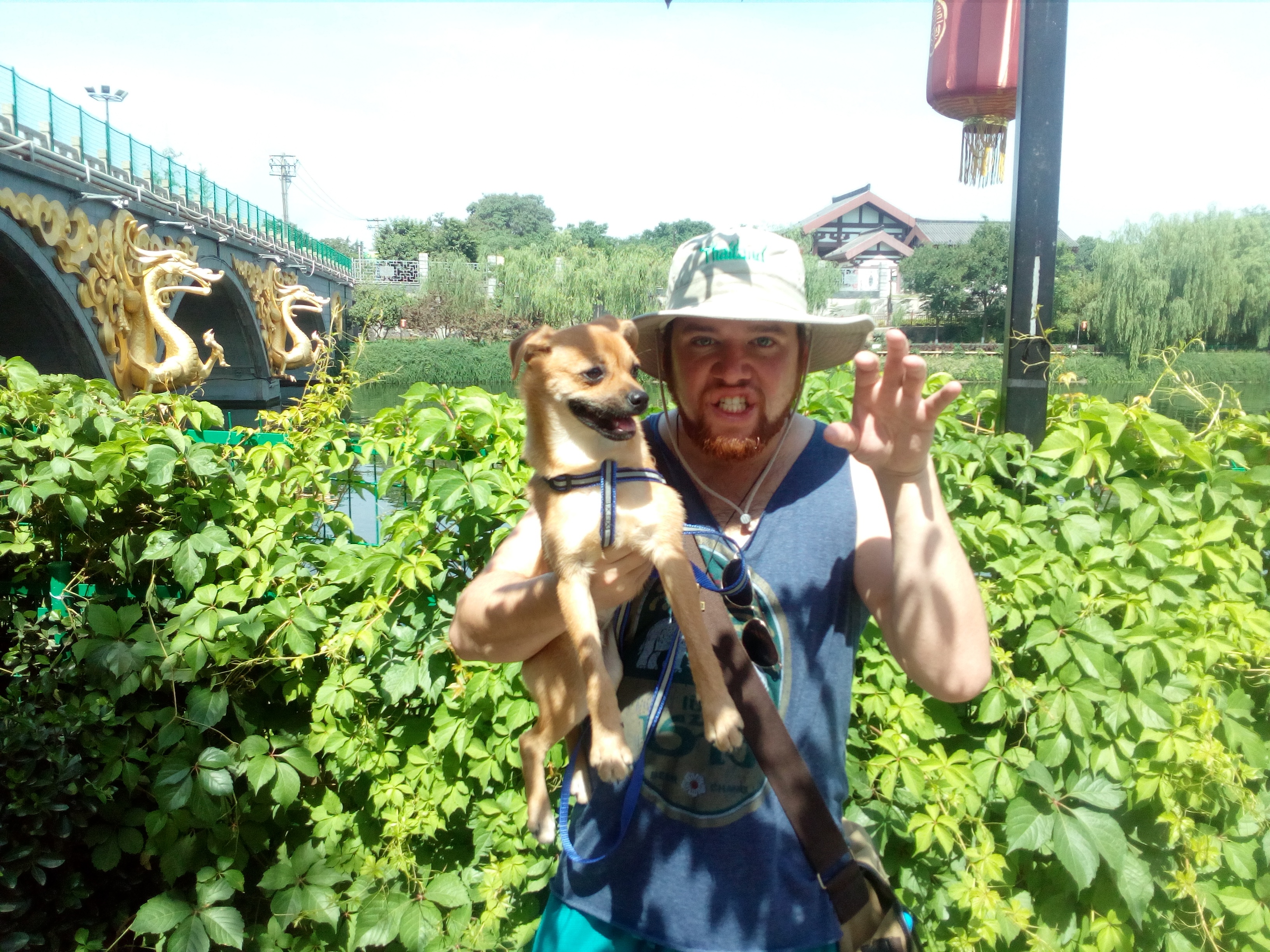 Luckily, we found a sign (completely in Chinese), with an arrow pointing north, along with "2,000 meters." We had quite the walk ahead of us.
Thankfully, the path to the races was mostly shaded. We had plenty of time to rest as we were stopped a handful of times by Chinese families who wanted to take photos with us and the pup. Foreigners and an adorable puppy? Double win.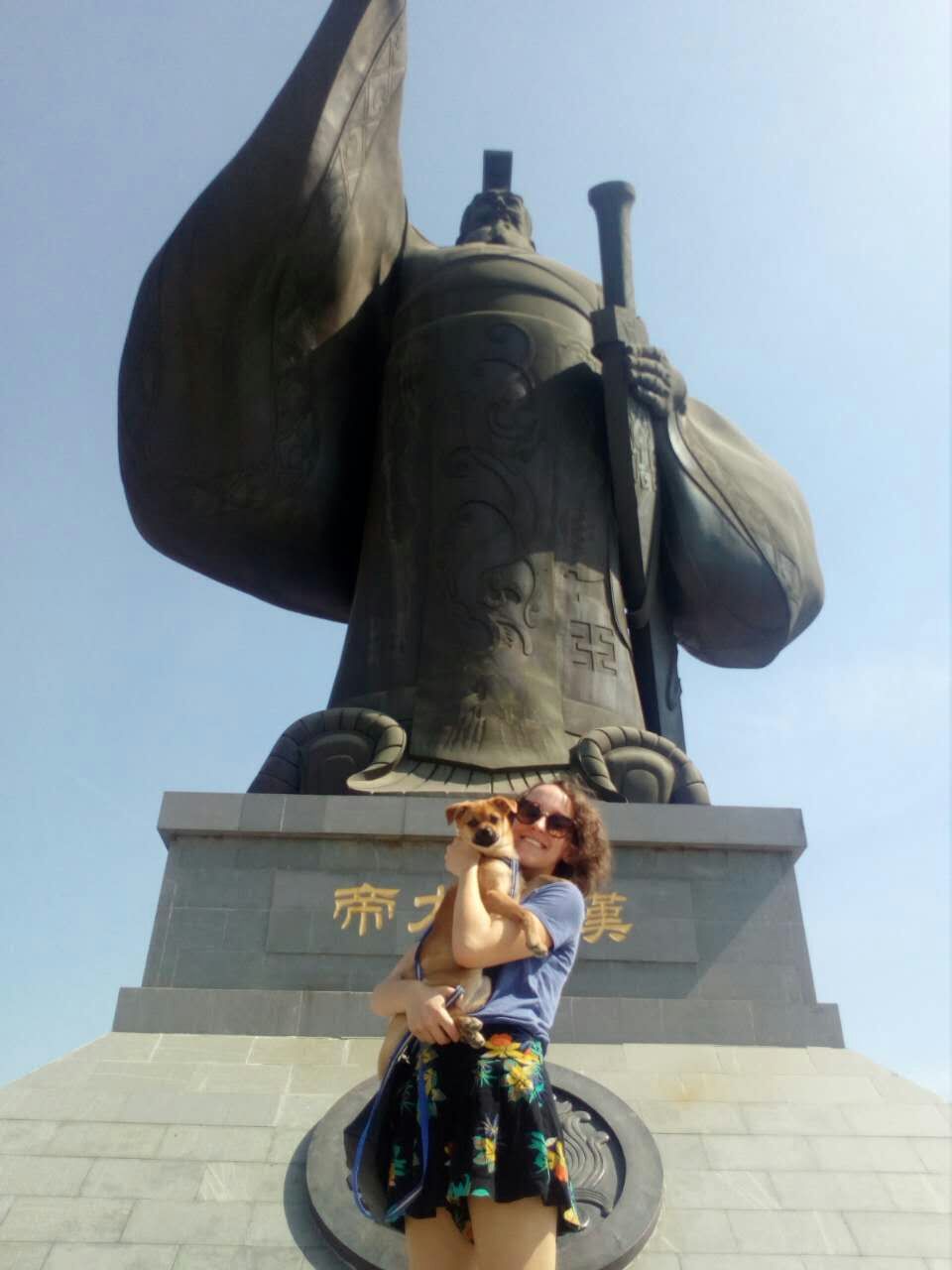 After what seemed like miles, we finally found our way to the dragon boat races. You really couldn't miss it— you heard loud bangs on the drum; you saw thousands of spectators holding umbrellas to shield them from the blistering sun; you felt the rowers' adrenaline in the air.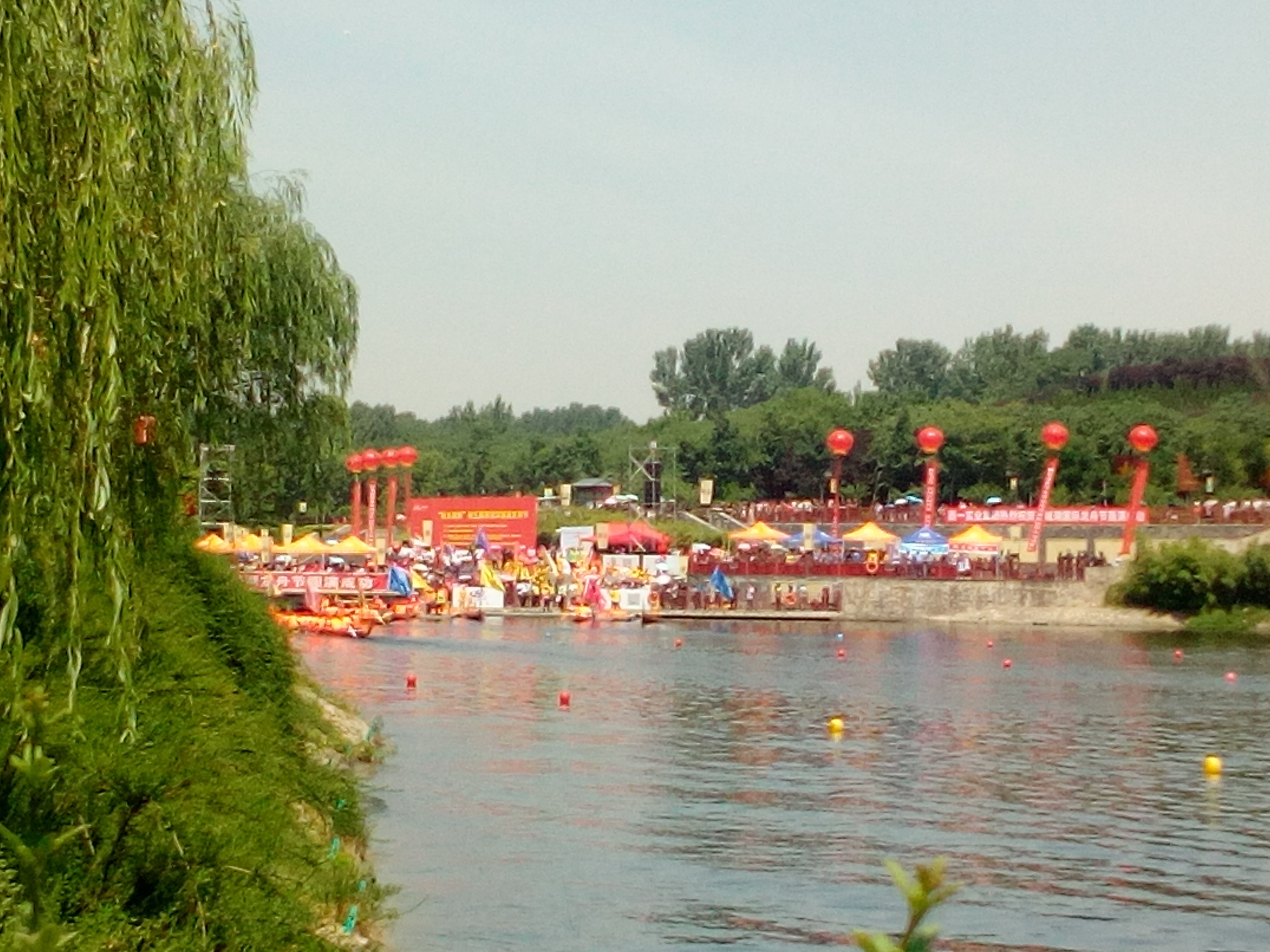 The few races we watched were exciting enough, but between the 90-degree sun and the crowds of people pushing and shoving you just to snap a quick photo, we didn't stay long. We did get a chance to see yet another dance routine performed to a mash-up of American pop hits. Maybe that bit wasn't so cultural...
Celebrate, We Did
After our celebrations, all we wanted was a serious nap and a massage... which we didn't hesitate to do. The remainder of our three-day holiday was spent relaxing, hanging out with a few of our foreign friends, and making some yummy meals.
Cheers to our last few weeks in China!