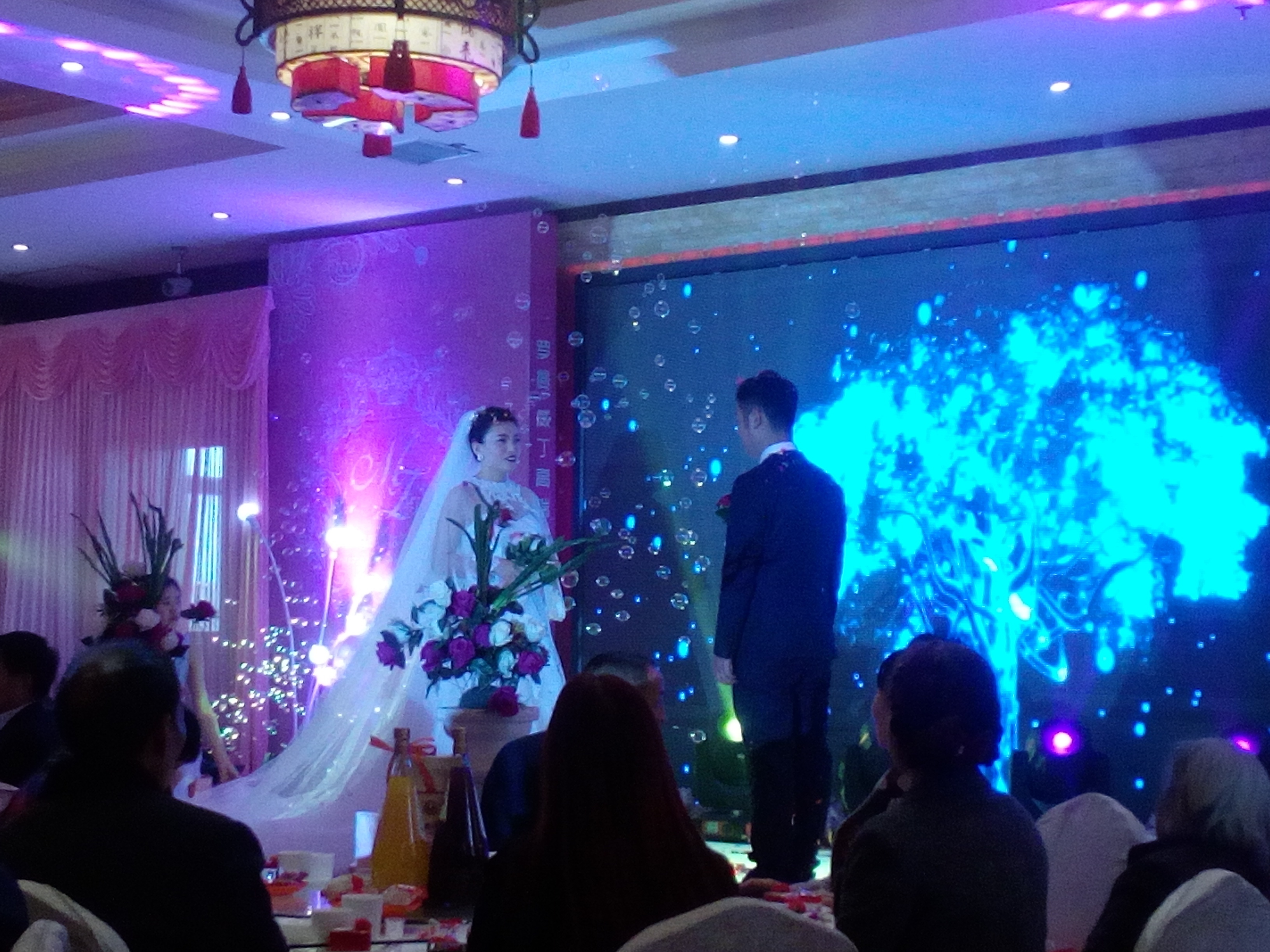 When we landed back from Thailand in our smoggy city, reality hit: it was back to teaching 2,400 students and dealing with Chinese city life. Luckily, spring time weather and clearer air greeted us and kept us sane during the first couple weeks in Xi'an.
Another surprise happened a few weeks ago. As we finished up our classes one Friday afternoon, our Foreign Affairs Officer, Apple, asked if we'd like to attend a wedding that upcoming Sunday. She told us a bit about the bride and groom, but we were soon confused as to who was even getting married and why they wanted us (random foreigners) there. Between Apple's mix up of "he" and "she" pronouns, along with the fact that we don't really know many other teachers outside the English department, we had no idea what we were getting ourselves into. We still agreed to go to the wedding, figuring, if anything, it would be an interesting experience.
As a brief aside, we spent our entire Saturday (the day before the wedding), helping one of our foreign teacher friends with his school's field trip to the Xi'an city wall. We thought it would just be a few hours of chatting with his students and listening to them give us a historical "tour" of the wall, but this was not the case. From nine in the morning to four in the afternoon, we were out in the blistering sun on an open city wall (cue little to no shade). Long story short, Justin paid for his day in the sun: he woke up the next morning with one of the worst sunburns he's ever had.
He decided to lay low and skip the wedding, so I went solo. I met our Foreign Affairs Officer at the school gate that morning, along with 20 or so other teachers who would be going to the wedding too. It was then when I learned the bride is a teacher at our school— she's just teaching at another school in the district this year, so I haven't had the chance to meet her. We grabbed our seats on the fancy coach-style bus the school hired for the day and drove about an hour outside the city to the bordering county, Fuping.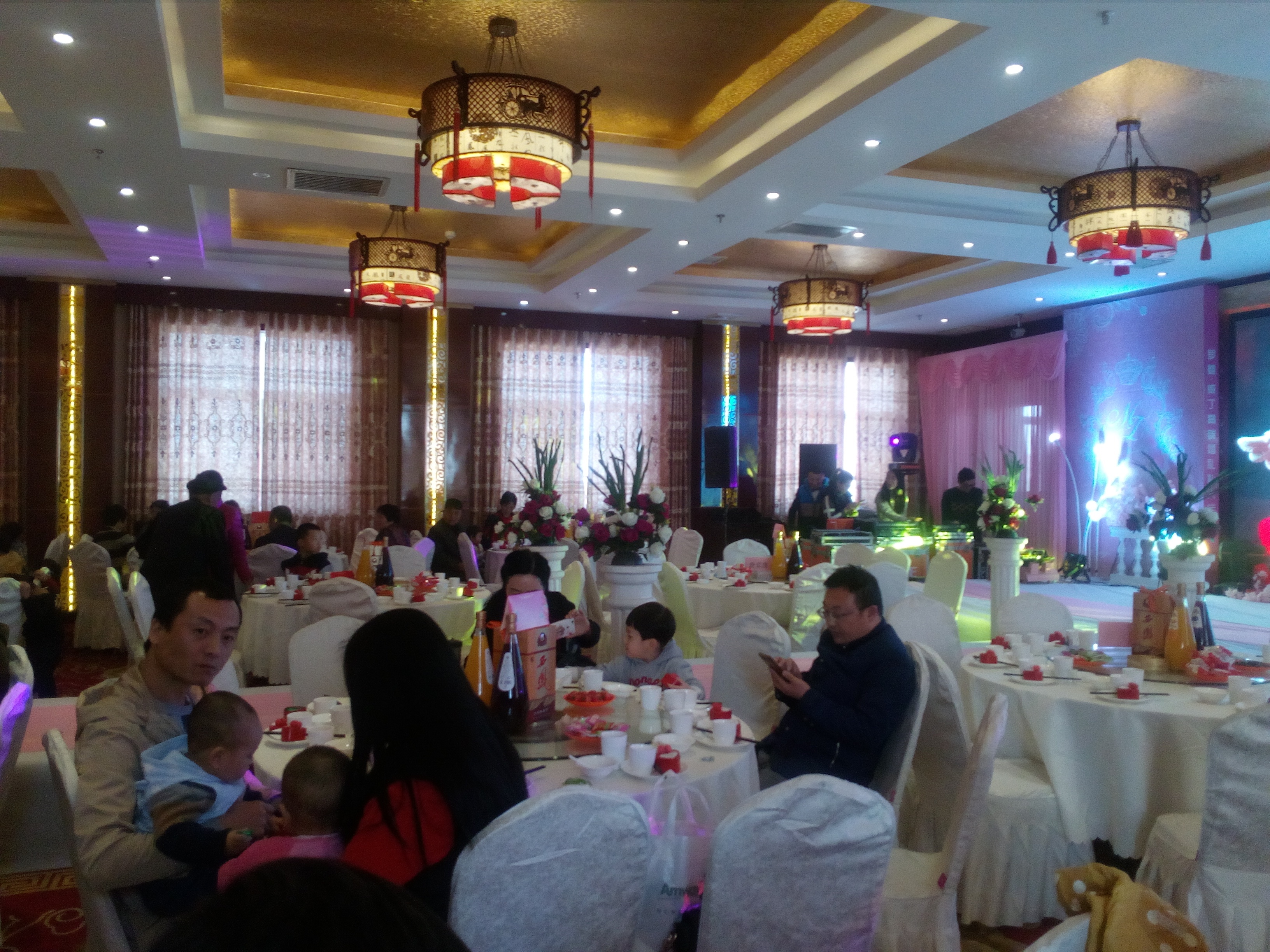 The wedding took place in a hotel's banquet room. It was lavishly decorated— white clothed tables and chairs filled the room, dimly illuminated with traditional Chinese lanterns and topped with expensive bottles of baiju (traditional Chinese liquor). The color red, a symbol of good luck and a prosperous future in China, was everywhere— red flowers, red ribbons, and red curtains filled the room.
A mix of pop Chinese music and slow Western hits (I even heard some Jack Johnson) played while guests filtered in the room to take their seats at the tables. There weren't any nametags or place settings; everyone sat where they wanted.
Down the center of the room was a "runway" platform, about four feet above the floor. It led to a stage at the front of the room where a big screen showed a slideshow of many professional photos of the couple. Some were in a typical engagement style with the bride and groom dressed casually in a beautiful setting, while others were of the bride in both her white (Western style) wedding dress and her traditional red (Chinese style) dress. I found this to be a major difference between weddings here and weddings in the States. Back in the States, no one sees a bride in her dress before the big day; here, it's customary to take photos in full wedding attire before the wedding even happens.
Once most of the guests had taken their seats, a man dressed in a navy suit walked on stage with a microphone. He spoke in a very exciting announcer voice (of what exactly? I'm not so sure... My Chinese is still terrible) as the lights dimmed and music began to play. This wasn't your typical piano ballad, though. It felt like the music was pulled straight out of an epic sword fighting scene. Everyone looked toward the entrance of the banquet hall, anxiously awaiting the bride and groom's arrival.
When they appeared, the soundtrack switched (as it did many, many times throughout the ceremony) to a more traditional piano number. As the couple walked down the "platform," family members and friends launched small canons with confetti, leaving them quite sparkly by the time they reached the stage. The bride was followed by her one maid of honor, while the groom was followed by his one best man.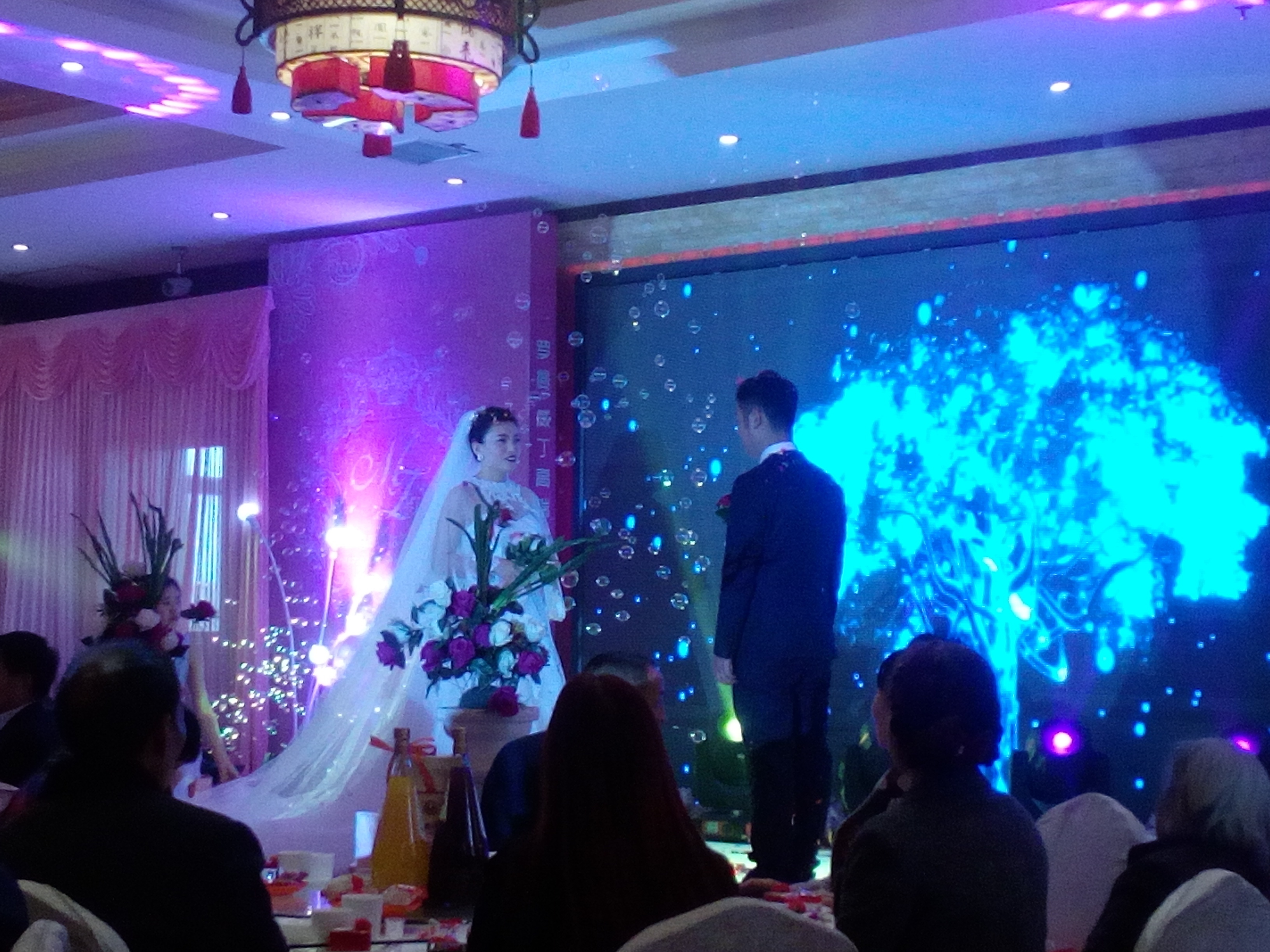 The "announcer" narrated the ceremony the entire time... I felt like I was an audience member at a game show. The couple exchanged vows and rings, and then invited their parents to the stage. I'm not exactly sure what happened next, but there seemed to be an exchange of tea and small gifts. In Chinese culture, parents play a large role in their child's wedding, and it seemed evident during this part of the ceremony.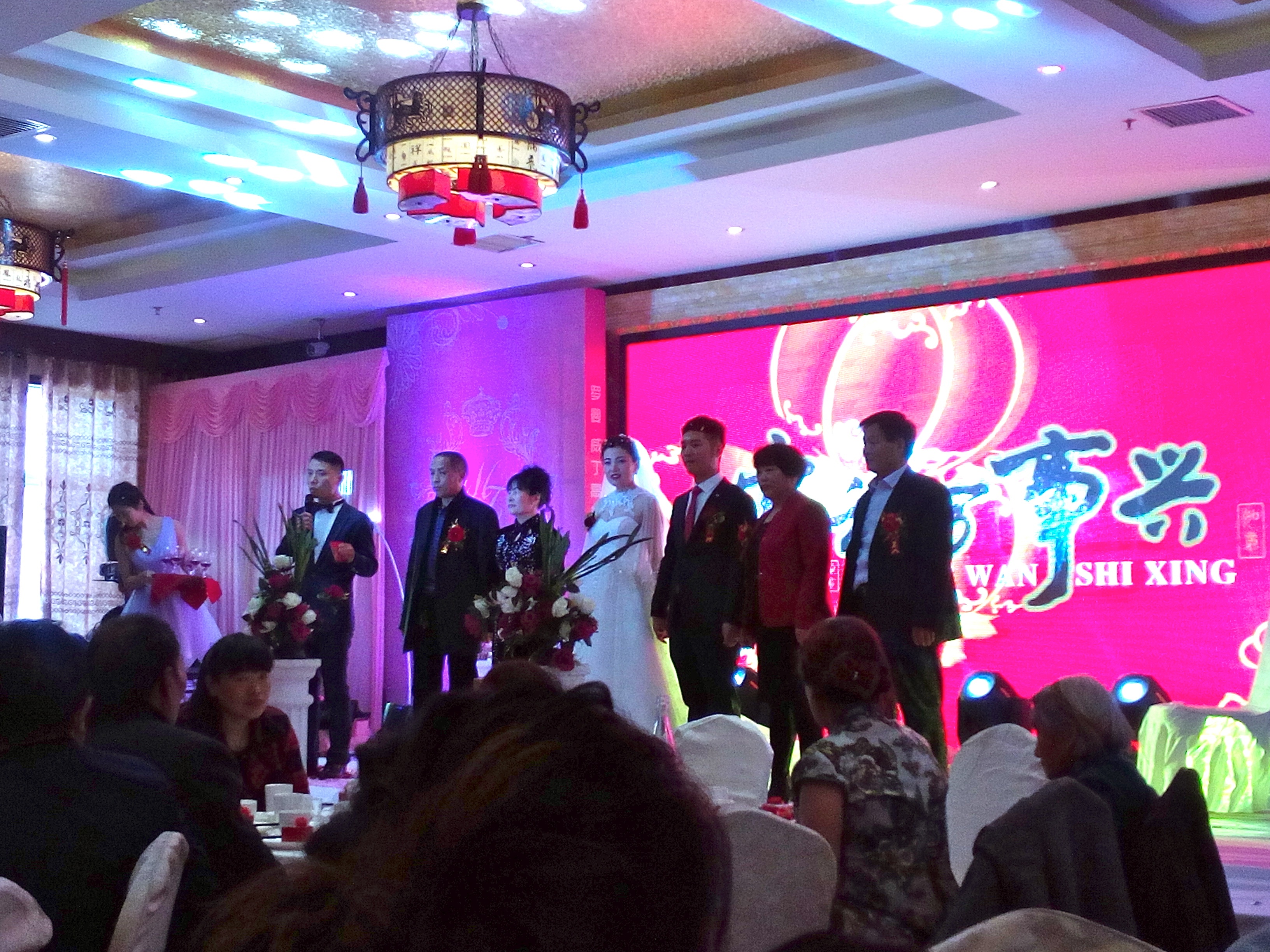 Following this, the waitstaff began serving several different plates of food... And didn't stop. I don't think anyone wanted them to, either. The food was absolutely delicious— some of the best I've had in China. In a typical Shaanxi province fashion, there were lots and lots of bread, noodles, soup, and fried meat. There were many vegetable dishes of lotus root, sauteed bok choy, and steamed mushrooms, too. I found out that each dish is representative of something important to the couple. For example, noodles ensure longevity, which is why they were served toward the end of our meal. Super cool.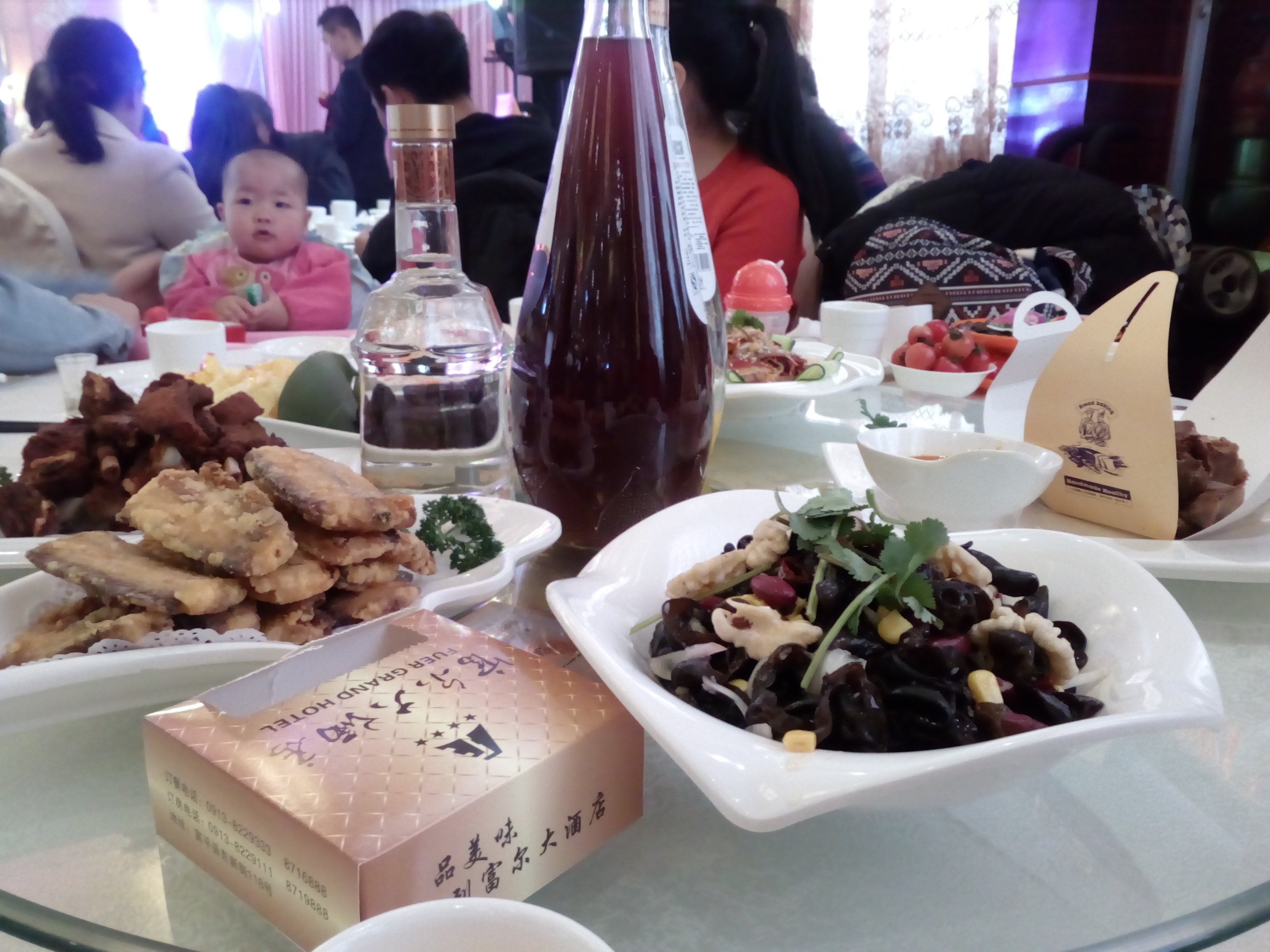 Everyone began digging into their first course while friends, family, and co-workers of the bride and groom took to the stage and gave their "toasts." I wasn't sure if it was the distraction of the food, or my lack of Chinese, but before I knew it, one final song played as the bride and groom walked down the aisle.
The feasting continued while the bride and groom came back on stage to take photos with close family and friends. During the photo-op, I noticed another cultural difference: the majority of the guests were wearing jeans, t-shirts, sweatshirts, and even sweatpants. I was shocked. Even at a casual wedding back in the States, a guest would never show up in sweatpants. I mean, I totally get not wanting to upstage the bride, but this seemed odd. I still don't know the reason for it.
After the photos, the bride changed into her traditional red dress and, along with the groom, walked around to each table, toasting and thanking everyone who came. I felt so awkward as the couple approached our table (after all, I didn't know them at all), but they both greeted me with such warmth and compassion that any weirdness drifted away as we drank our baiju together.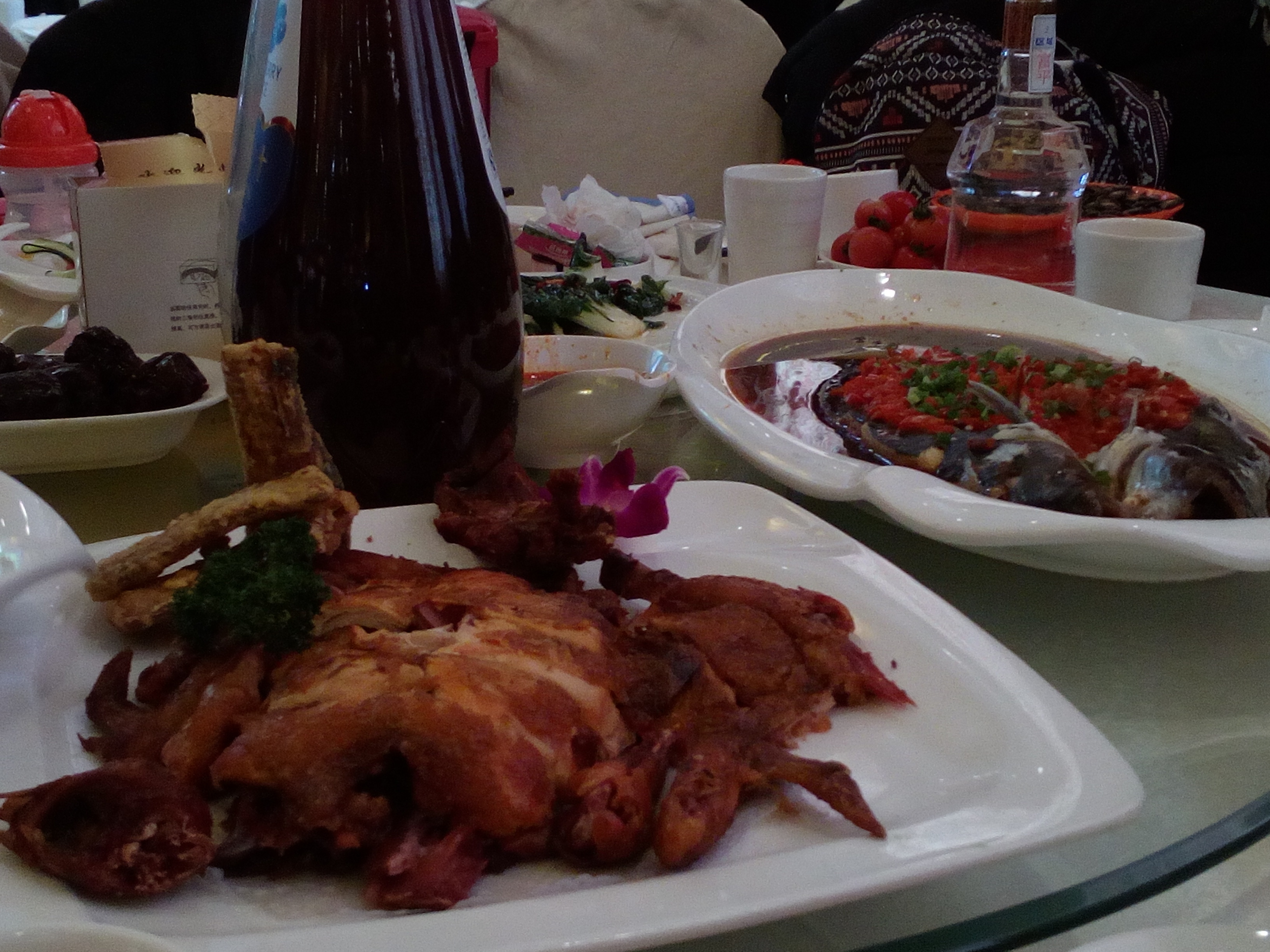 I spent another hour or so eating and chatting with my fellow teachers. Then, as if in one mass-exit, we all filtered out of the banquet hall. The bride and groom were outside as we left, but there didn't seem to be any formal receiving line like there is in most weddings in the States.
Throughout the day, I saw many guests presenting red envelopes with money (红包 - hóng bāo) to the newleyweds— another big tradition in Chinese culture. Instead of buying a gift for their new home together, guests will gift money in red envelopes to bring the couple luck for a happy and healthy marriage together.
Even more traditions happen before the wedding ceremony and reception. I learned:
The night before the wedding, the bride will have her hair washed and combed by someone she considers to be a "lucky" woman (usually someone who has children). The "lucky" woman will comb the bride's hair four times: the first is so that her marriage will last forever, the second represents harmony in the couple's union, the third is for fertility, and the fourth is for good health and fortune.
Similar to the States, the bride, her mother, her mother-in-law, and anyone in her bridal party will wake up early to get their hair and make-up done together. While they are getting ready, it's customary for the bride's mother-in-law to give her four golden jewelry items: a necklace, a pendant, a bangle, and earrings.
Once the bride has finished getting ready, she will wait for her groom, his family, and groomsmen at her home. When the groom arrives, he will be put to a series of "tests" to prove his love for his bride-to-be. These "tests" can be anything from finding a lost shoe to eating wasabi. Of course, after the groom passes the tests, he can see his bride.
Although it was quite different from what I'm used to, I felt so honored and grateful to have attended such a beautiful wedding ceremony. The language barrier didn't stop me from experiencing the rich culture, the interesting traditions, and the love between two people.