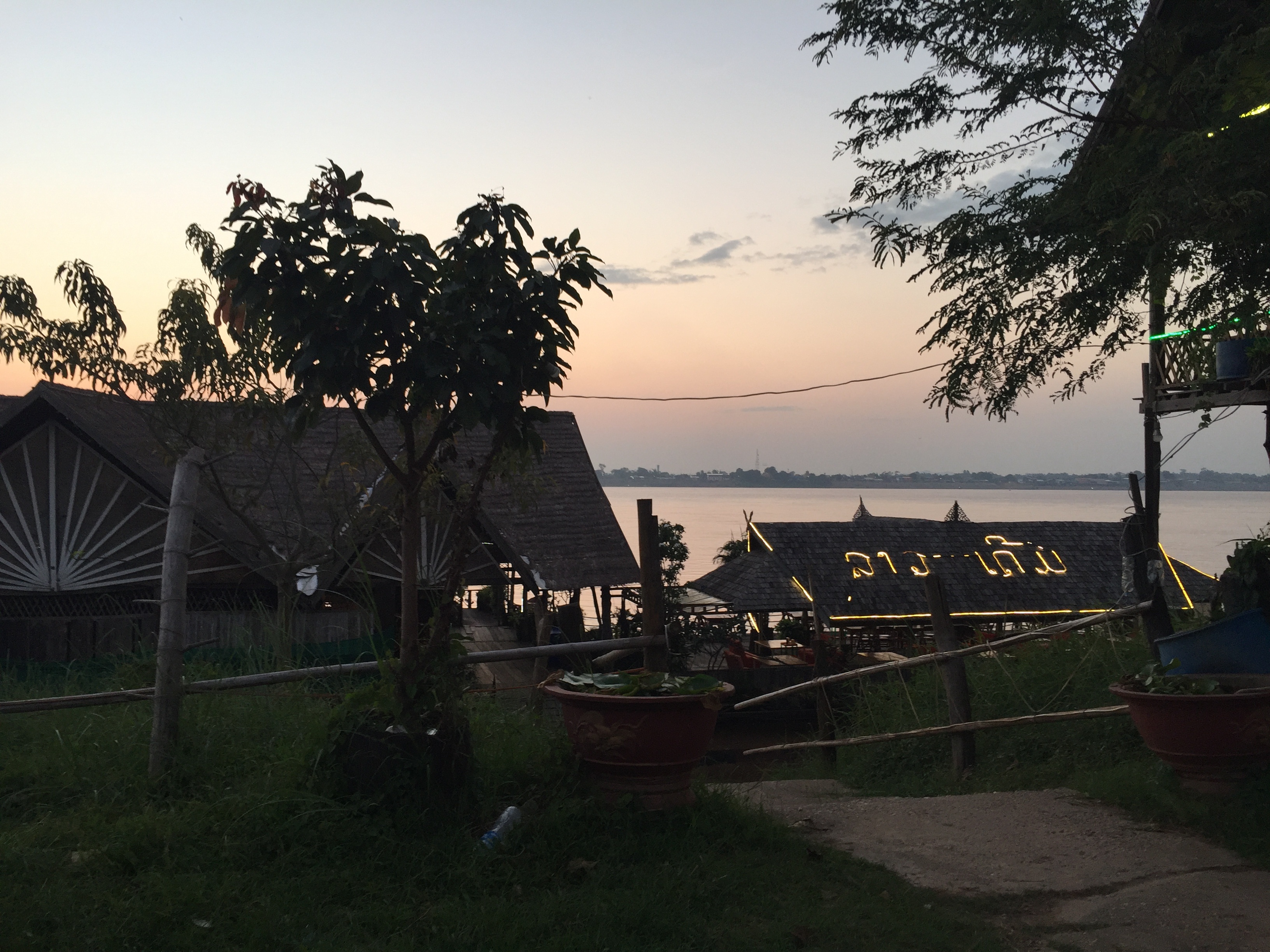 If you've traveled to any Southeastern Asian country, you're familiar with the border hopping process. For those who have no idea what I'm referring to, border hopping is a way to either "restart" your visa or get a new visa entirely.
After our first week and a half in Thailand, Justin and I traveled to Laos to complete our Thai work visas. Despite a few hiccups along the way, the trip turned out to be successful. Now, we have a Laos visa stamp and a Thai work visa in our passports... Bonus!
A Bus Snafu
The bus system in Thailand is the easiest and most cost-effective way to travel in-country or to nearby countries, so naturally, we opted for the bus. We tried to go to the bus station the night before we planned to leave for Laos to check the bus times, but between checking at the wrong bus station and navigating around the language barrier, we weren't totally sure we got the times right. We decided to arrive at the bus station the next day around 10:30 AM and just hope for the best.
The next day, we parked our motorbike in the lot and walked to the ticket kiosk that read "Mukdahan." This would be our final destination in Thailand before we needed to catch another bus to cross the "Friendship Bridge" into Laos.
We ended up missing the earlier bus by five minutes, so we had to wait for the next one, which was scheduled to come at 12:30. Oy vey, an hour and a half to kill...
Luckily, the Korat bus station had many places to relax and wait. We posted up in "Café Amazon," enjoying a coffee, a sweet treat, and the cool air-conditioning. A bit before noon, we decided we should grab a bite to eat in the bus terminal's food court. I know it seems like the food wouldn't be great in a bus terminal in Thailand, but it was surprisingly decent. Justin and I shared a simple dish of white rice, garlic chicken, and fresh cucumbers before grabbing a couple of large waters and hopping on the bus.
We had barely driven out of the city when Justin and I both fell asleep. I was in a sleepy haze when the bus attendant walked up and down the aisles, passing out small waters and bags of chips. It was late afternoon when I finally woke up, ready for my snack and water. I loved looking out the bus window, gazing at the endless green fields and watching the sun fade behind the clouds.
It was nearing 6:30 in the evening and we still hadn't reached our destination in Mukdahan. The bus continued dropping off passengers at random points— on the side of the road and in the middle of busy intersections. I wondered how the bus driver knew to drop these people off, or when they even knew to get off.
Finally, at 7:30 in the evening, Justin and I, along with another Thai couple were the last off the bus in Mukdahan. We ran up to the ticket booth and asked the attendant for two tickets to Savannakhet, Laos. She look at us, confused, and asked one of her colleagues who spoke a bit more English to help us. "No more ticket," said the woman in her broken English. "The last bus leave 10 minutes ago."
$@&#!
We missed the last bus... by ten minutes! Ten. Minutes. A few swear words and aggravated sighs were heard loud and clear in the Mukdahan bus terminal that evening. Oh, the joys of travel.
Thankfully, we were able to book a cheap, last minute hotel room a short 5-minute tuk-tuk ride from the bus station. As soon as we arrived, checked in, and settled into our room, we knew the only way to fix things was to order pizza. Pizza solves everything.
Off to Laos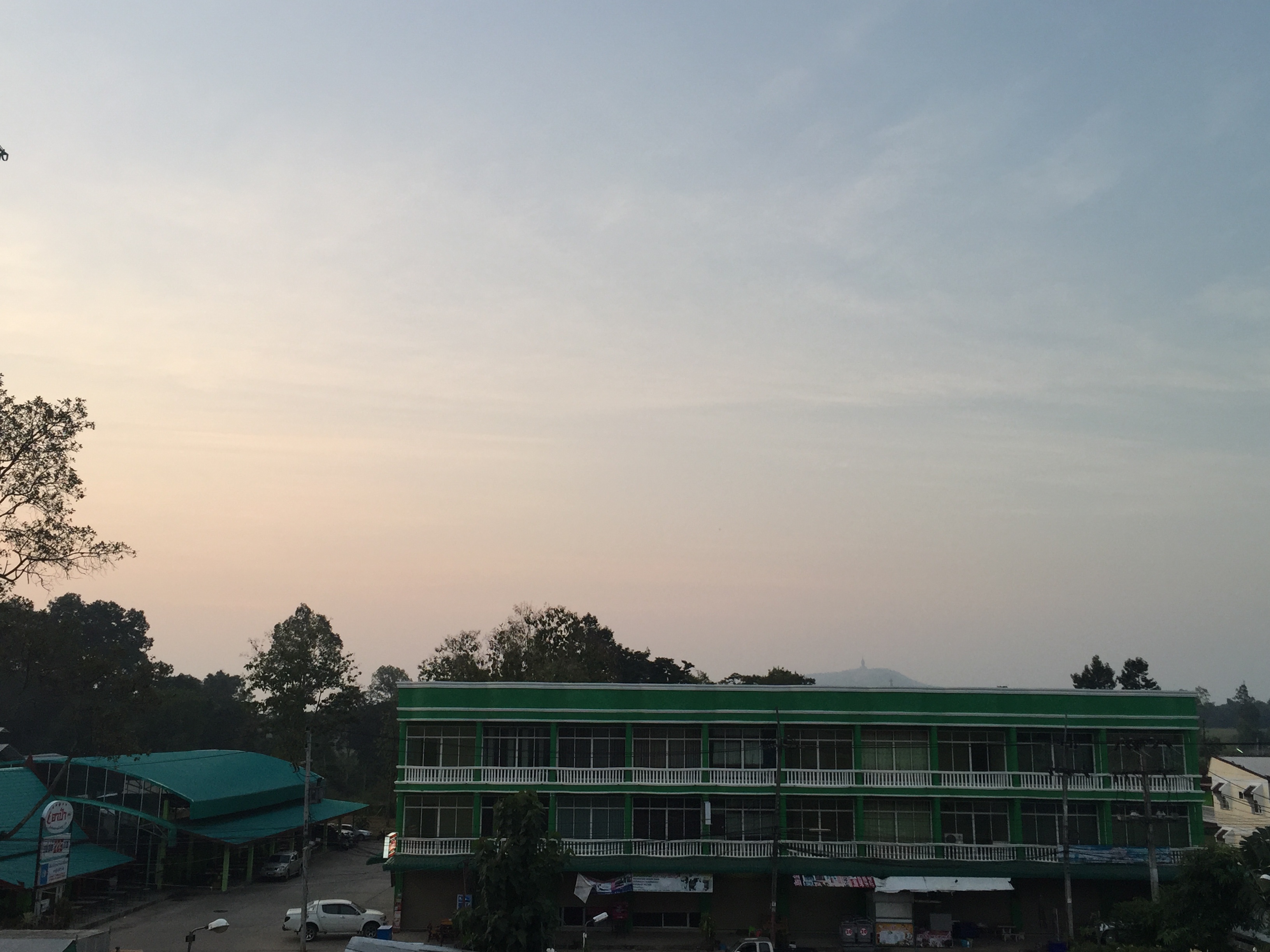 An early morning view from our hotel in Mukdahan, Thailand
The next morning, we woke up at 5 AM, packed up our bags, and took a taxi directly to the Thai side of the "Friendship Bridge." We didn't want to deal with the Mukdahan bus station, so we decided to go straight to where we needed to be.
We waited about 45 minutes for the ticket office to open, but once it did, we were the first ones in line. We purchased our 50 baht ($1.50 USD) ticket to ride a bus over the mile-long bridge into Laos. Despite the short ride, the views were breathtaking— it was worth a bit of a hiccup to watch the early morning sun rise over the Mekong River.
Once we were over the bridge into Laos, we had to fill out a tourist visa application form and pay 1,500 baht ($45 USD) to enter the country— a fairly easy process, all in all. With our Laos visas fresh in our passports, we hopped in a tuk-tuk to the Thai Consulate, which was a short 10-minute ride from the border.
At the consulate, we waited... The visa processing office didn't open until 9 AM, but we only had until 11 AM to pass our work visa application forms in, so we wanted to make sure we were some of the first people there. Our saving grace was a small shop across the street from the Thai Consulate where you could not only pick up snacks and drinks, you could also fill out visa applications and get passport photos taken. We ended up chatting with a Laoatian who helped all the farangs (foreigners) with their applications and found out he lived in Oklahoma for quite some time. I swear the world gets smaller and smaller the more you explore it.
Once the Thai Consulate opened, the work visa process was simple and seamless. We passed our paperwork in, the attendant scanned through everything briefly, and then handed us a receipt for pick-up the next day. Now, we had the rest of the afternoon and evening to relax in Savannakhet.
Sleepy Savannakhet
Savannakhet is more relaxed and laid-back compared to Laos' capital city of Vientianne. We immediately fell in love with the sleepy vibe. It reminded me of Thailand in many ways— tuk-tuks and motorbikes buzzed up and down the streets, while street vendors set up noodle carts on the sidewalk corners, all surrounded by a wonderfully lush, riverfront landscape.
Our colleagues who had done the border run before recommended staying in Avalon Residence, a clean, quiet hotel close to the Thai Consulate and a short drive to the downtown area of Savannakhet. We arrived at the hotel around 10 AM, an hour before check in time, so we walked to the cafe next door for a much-needed breakfast. It's amazing how a little coffee, eggs, and toasted baguette can refresh and rejuvinate you.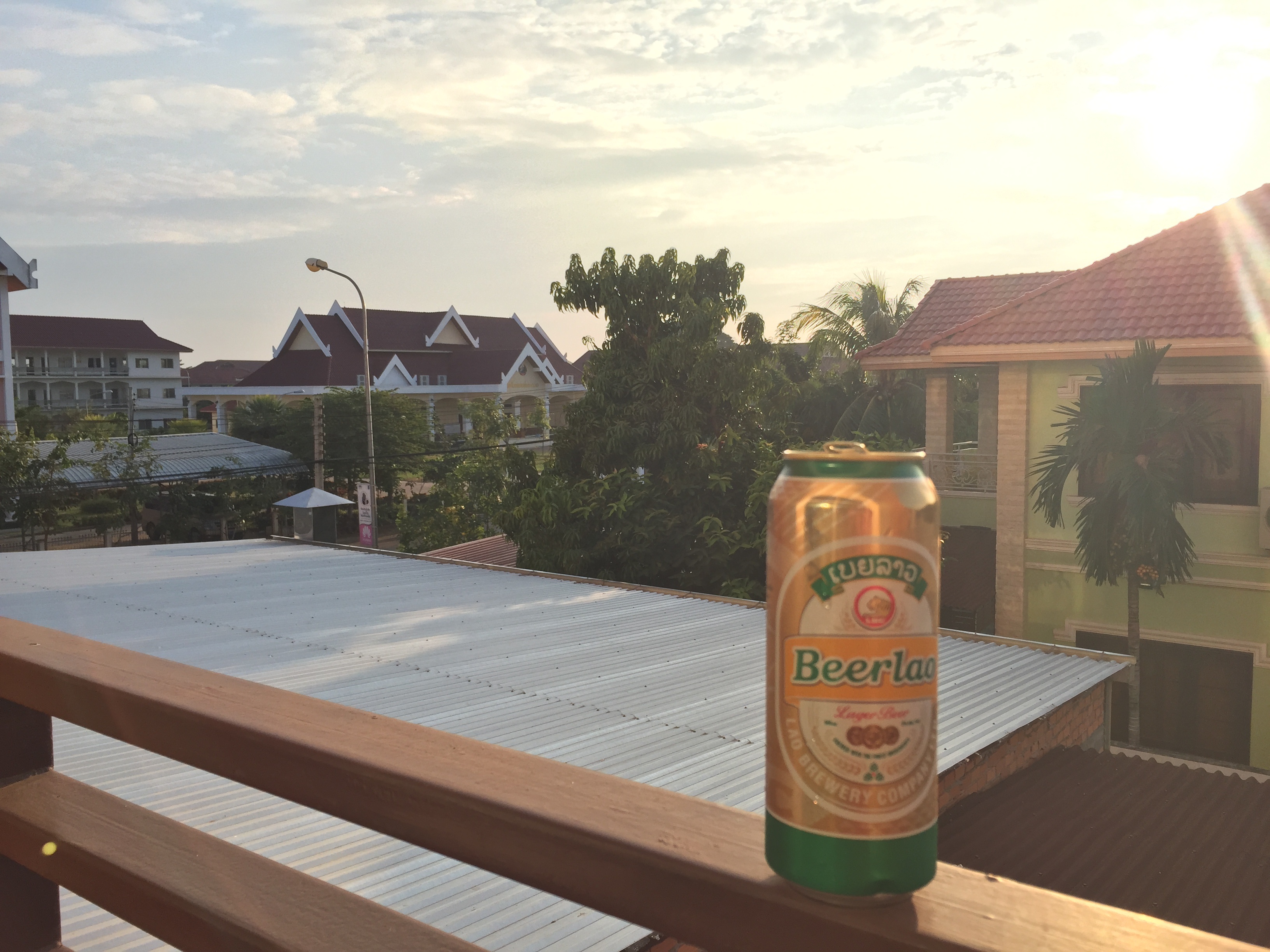 Once we finished our breakfast, we checked into our room. It was spacious, clean, and air-conditioned— perfect for a short stay in Laos. Our room also had a beautiful balcony overlooking a quaint neighborhood behind the hotel. Colorfully bright houses stretched for miles, while the sound of young children playing at a nearby school could be heard. We showered up, relaxed for a bit, and set off to grab a small lunch and see a bit of the downtown.
We opted to share a light lunch at Lin's Cafe, a small restaurant nestled on a street corner in downtown Savannakhet. We walked down the curved stone path and through the glass doors that opened to a lovely restaurant. A few couples sat at the small, iron-cast tables enjoying a cup of coffee and a tasty treat, while a woman sat on a comfortable couch in the back of the restaurant, sipping on a tea and reading a book.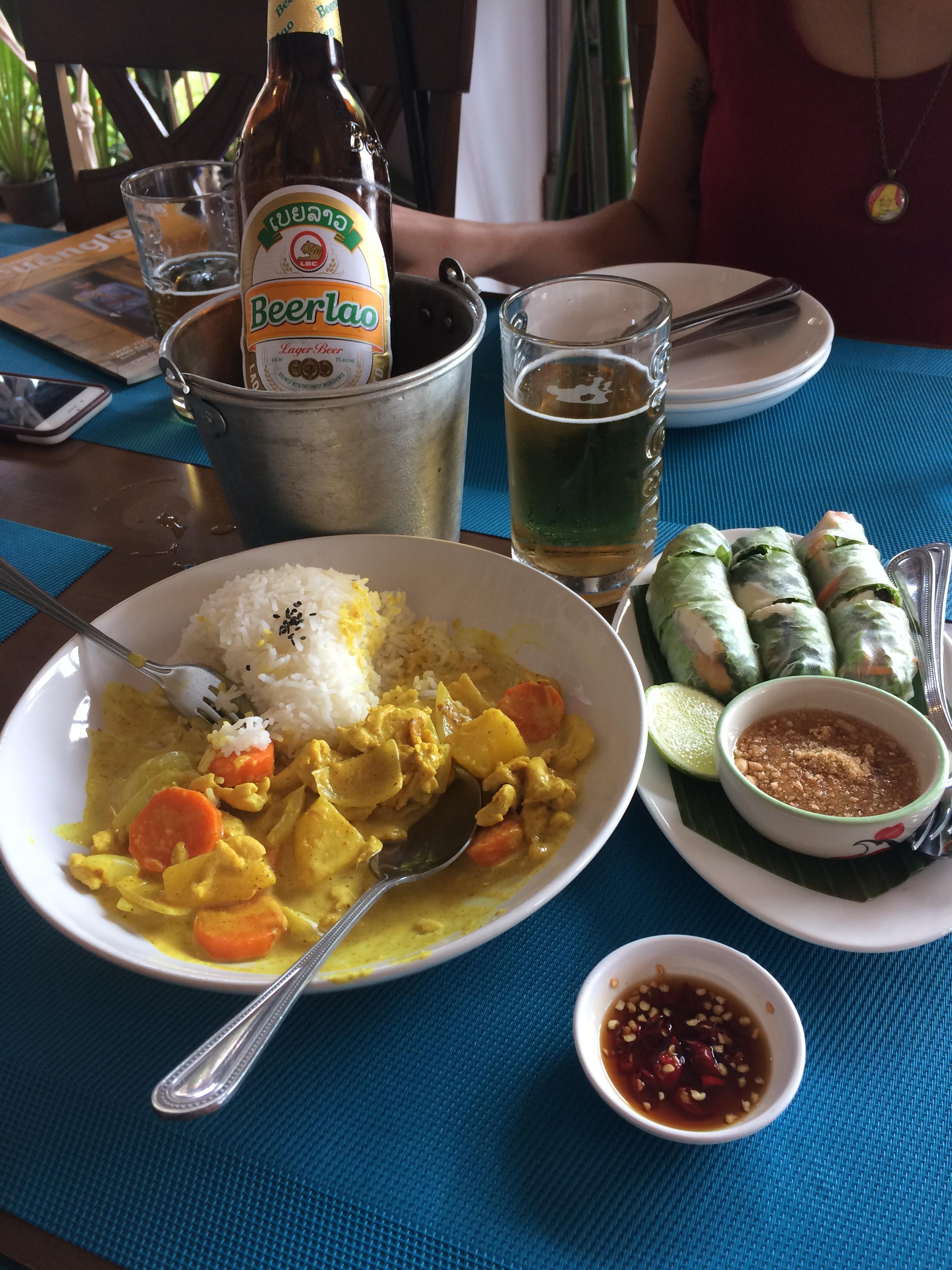 After looking through Lin's Cafe's lengthy and diverse menu, we decided to share a yellow chicken curry dish, a set of vegetable rolls, and a Lao beer. The food was fresh, the atmosphere was cozy, and the staff was friendly (they even gave us an informational brochure about the city to take with us!). We grabbed a tuk-tuk back to our hotel and spent the rest of the afternoon resting and relaxing.
Riverside Dining

When in Laos, visiting the Mekong River is a must. Why not enjoy a delicious riverside Laotian meal while you're at it? Well, that's exactly what we did.
After our restful afternoon, we were ready to explore a bit more of Savannakhet. We watched the sun begin to set from our balcony, while sipping on a refreshing Lao beer. We wanted to catch the full sunset by the river, so we grabbed a tuk-tuk and set out for Savan Lao Deam, one of the only floating restaurants in town.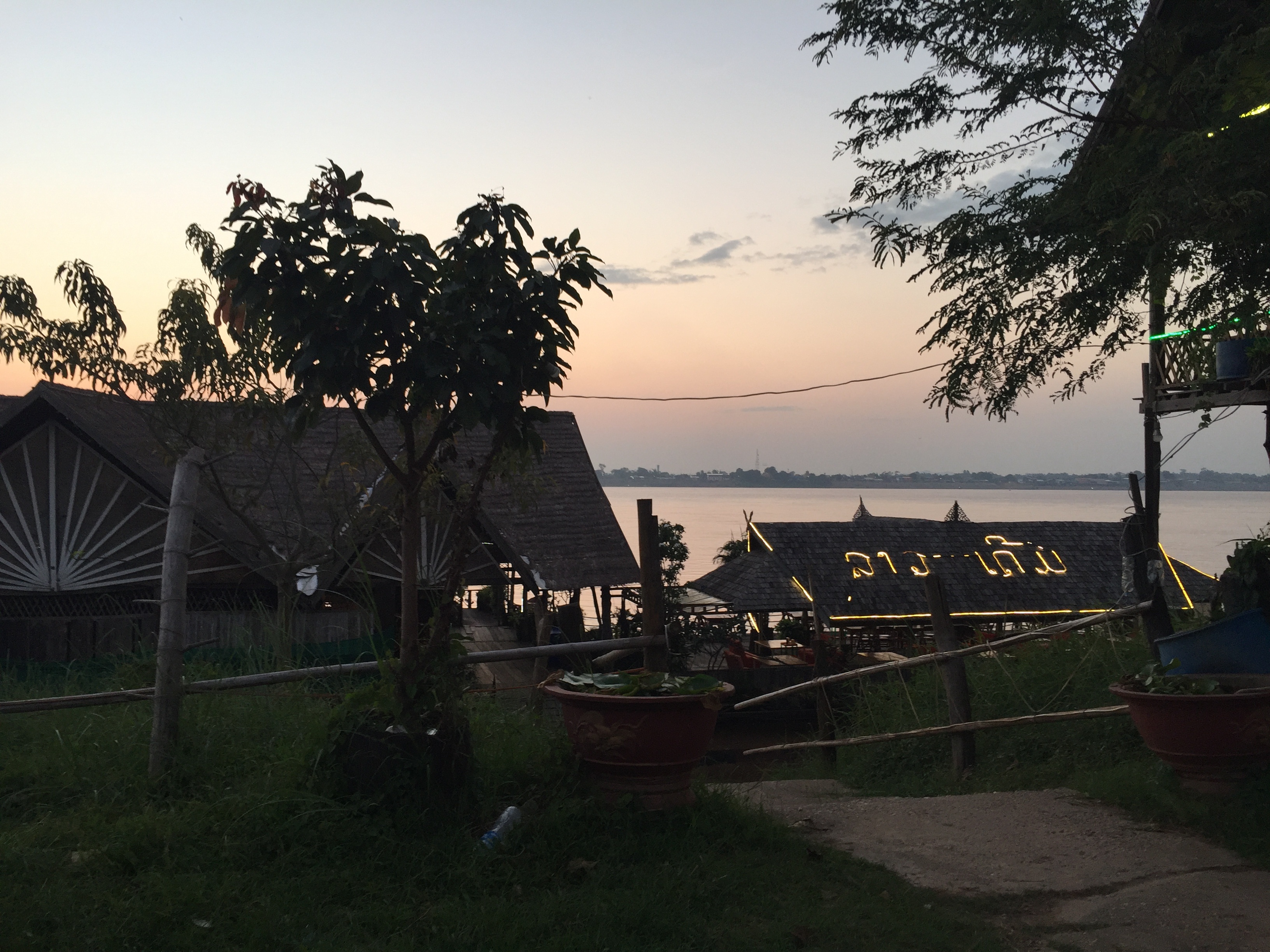 Savan Lao Deam is a beautiful wooden restaurant that sits directly on the Mekong River. We walked down the wooden steps to the restaurant and sat at the furthest tables from the shoreline. We relaxed for some time before ordering food, relishing in the river views and listening to the water lap below our feet. It was the perfect place to watch the sunset— the blue and purple skies matched the tranquil, peaceful atmosphere perfectly.
The menu was in broken English (unsure if we should try the "Red Chicken Cumy" soup...) and none of the waitstaff spoke much English, so ordering was a bit of a challenge. We had read on TripAdvisor that the seafood platter was a must-try, so we attempted to order the Lao style fish. We couldn't really tell what it came with, so we ordered a side of cooked vegetables and white rice.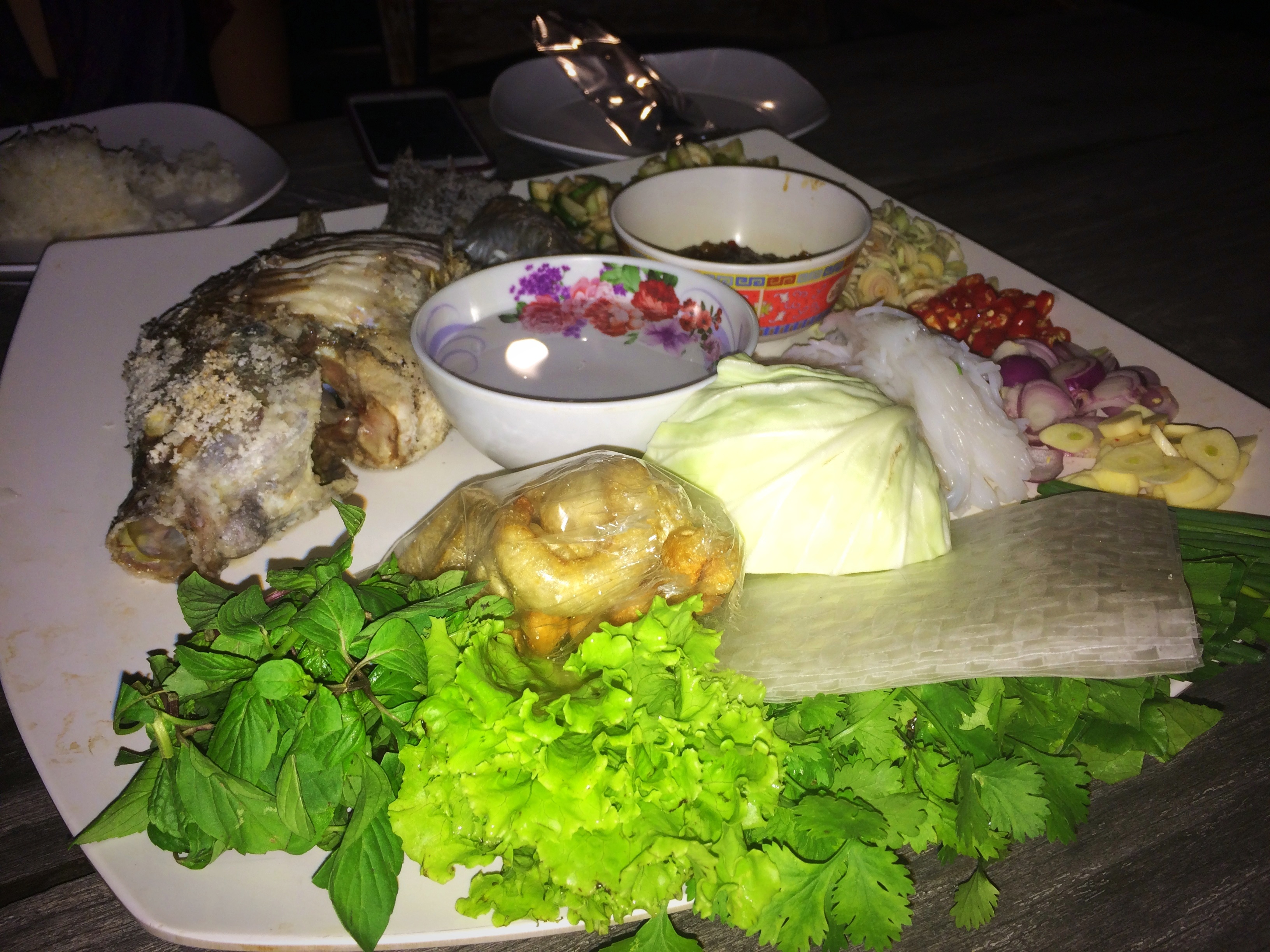 When the food did come, we wish we didn't order the extra side dishes. The fish was massive— it could have easily fed 4-6 people. It was moist, flavorful, stuffed with lemongrass and chilis, and cooked to perfection. Along with the fish, we were given a plate of fresh vegetables— cilantro, various leafy greens, onions, and garlic. We were also given rice paper and thin rice noodles to have with the fish. So much for the extra side dishes. We still ate as much as we could and even fed some to a few kitten friends who were roaming around the dock.
Happy and stuffed, we made our way back to our hotel and fell asleep to a lighthearted movie.
Back to Korat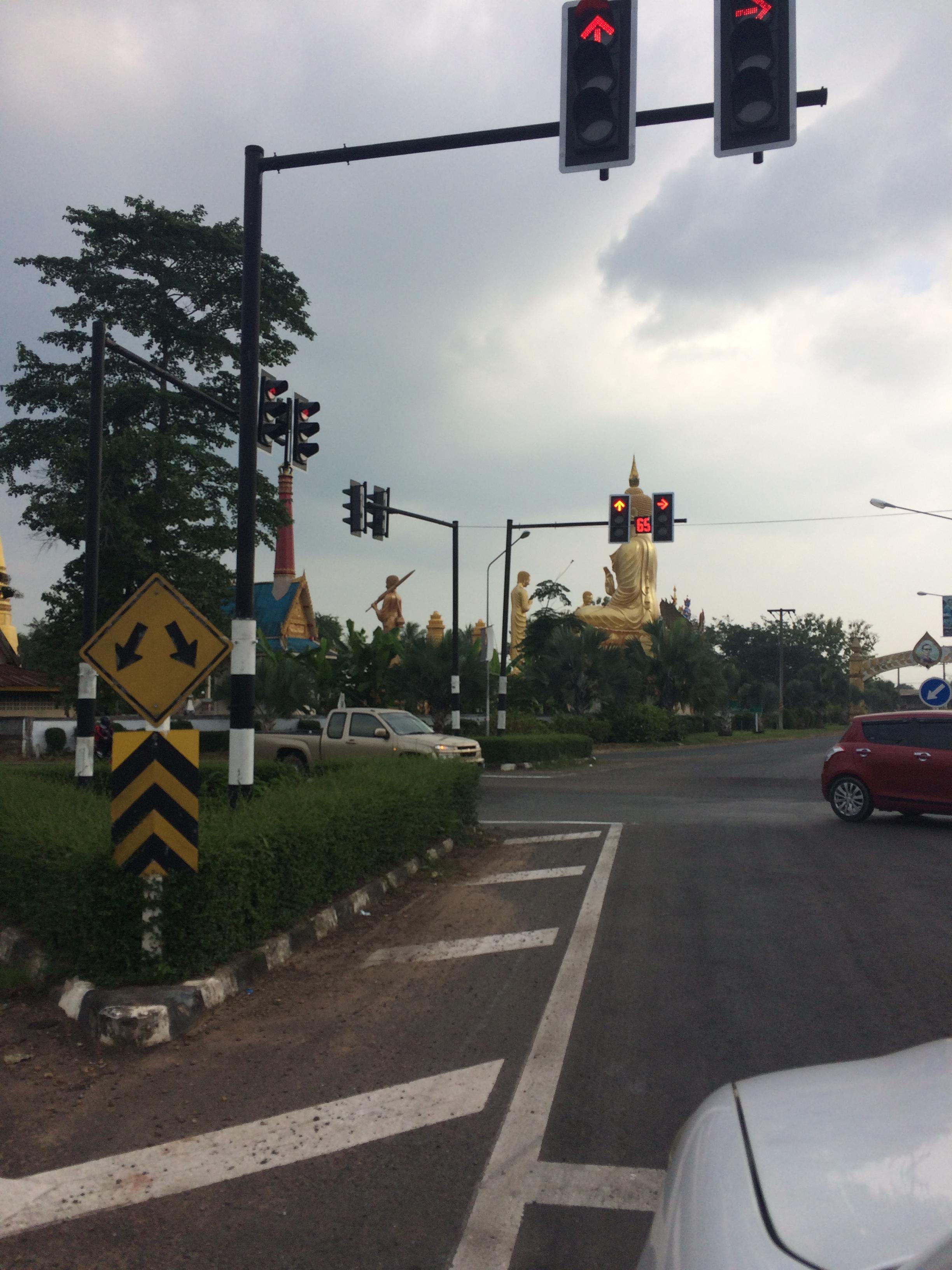 The next morning, we had a leisurely late breakfast, showered, and relaxed at our hotel. Around noon time, we took a tuk-tuk back to the Thai Consulate, where we spent (you guessed it...) more time waiting for the office to open. At 1 PM, we were one of the first in line to grab our passports with our freshly printed Thai work visas. Success!
The remainder of the day involved more boring travel: over the bridge into Thailand, through customs, and back to Korat. We were speaking with some other new teachers on the bus back over the bridge into Thailand when we mentioned we were working at Plookpanya School in Korat. It turned out that one of the parents of our students was on the same bus. He chatted with us for a bit, telling us he was from Italy and had four children attending our school. He even offered us a ride back to Korat, and we graciously accepted. We were thankful to have a smooth, easy ride to Korat and to be back in our apartments in nearly half the time it took us on the bus, and all for free!
What's even better is that the same parenthas invited us over for a homemade Italian dinner later this week. His generosity truly speaks to the closeknit community here at Plookpanya School and in Korat. We're happy to be here, and happy we get to experience so many different cultures. From Thai to Laotian to Italian, the world is truly a wonderful place.