Wearing an ice cream stained "Scoops" t-shirt and a huge grin, Maryann Barnsley, 49, is well-known around the town of Plymouth, New Hampshire as the ice cream lady. Her friendly demeanor and laid-back attitude appeals to adults and children alike, making her local ice cream shop, M 'n M Scoops, a must-visit on Main Street.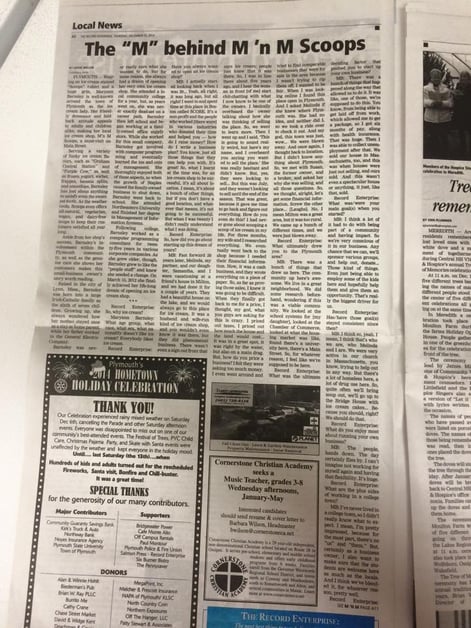 Serving a variety of funky ice cream flavors, such as "Graham Central Station" and "Purple Cow," as well as frozen yogurt, sorbet, frappes, banana splits, and smoothies, Barnsley has just about anything to satisfy even the sweetest tooth. As the weather begins to cool, Scoops even offers all-natural, vegetarian, vegan, and dairy-free soups to keep their customers satisfied all year long. Aside from her shop's success, Barnsley's involvement within the Plymouth community, as well as the genuine care she shows her customers makes this small-business owner's story worth reading.
Raised in the town of Lynn, Massachusetts, Barnsley was born into a large Irish-Catholic family as the sixth of seven children. Growing up, she always wondered how her mother stayed sane as a stay-at-home parent, while her father worked in the General Electric Company. Barnsley was never really sure what she wanted to do, but for some reason, she always had a dream of opening her very own ice cream shop.
She attended a local community college for one year, but, as time passed, she was never exactly dead-set on a career path. Barnsley soon left school and began working at a family-owned office supply store. While she worked for this small company, Barnsley got involved with computer programming and eventually learned the ins and outs of management. She thoroughly enjoyed both of these fields, so when the growth of Staples caused the family-owned business to shut down, Barnsley went back to school. She attended Northeastern University and finished her degree in Management of Information Systems.
Following college, Barnsley worked as a computer programming consultant for 25 years in various corporate companies. As she grew older, though, Barnsley grew to like the "people stuff" and knew she needed a change. On March 15, 2012 she finally achieved her life-long dream of opening an ice cream shop.
---
Record Enterprise: So, why ice cream?
Maryann Barnsley: What age group, what race, what sex, what nationality doesn't like ice cream? Everybody likes ice cream.
Record Enterprise: Have you always wanted to open an ice cream shop?
MB: I actually started looking back when I was twenty... Yeah, alright, it was long ago, but alright! I went to and spent time at this place in Boston called SCORE. It's a non-profit and the people who worked [there were] in various industries who donated their time and helped you— how do I raise money? How do I write a business plan? You know, just all those things that they can help you with. It's great! So, what I learnt at the time was, for an ice cream shop to be successful, it's all about location. I mean, it's about a bunch of other things, but if you don't have a good location, and whatever that means, it's not going to be successful. But when I was twenty I didn't really understand what I was doing.
Record Enterprise: So, how did you go about starting up this dream of yours?
MB: Fast forward 20 years later, Melinda, my partner, and our daughter, Samantha, and I were vacationing at a friend's house in Milton, NH, and we had done it for a couple of years. They had a beautiful house on the lake and we would always go to this place for ice cream. It was a husband and wife-run kind of ice cream shop, and you wouldn't even know it was there, but they did phenomenal business. There wasn't even a sign out front that says ice cream; people just knew that it was there. So, I was in line there about five years ago, and I hear the woman in front [of me] start chit-chatting with what I now know to be one of the owners. I basically overheard the owner talking about how she was thinking of selling the place. So, we went to learn more. Then I went up and I said, "This is going to sound really weird, but here's my name, and I overheard you saying you wanted to sell the place." She was really hesitant and didn't know. But, yes, they were looking to sell... But this was July, and they weren't looking to sell until the end of the season. That was great, because it gave me time to go back and figure out everything. How do you even do this? I had never gone about scooping a scoop of ice cream in my life. For three months, my wife and I researched everything. We eventually went back to the shop because I needed their financial information. Now, it was a cash business, and they wrote everything on a piece of paper. So, as far as proving those sales, I knew it was going to be difficult. When they finally got back to me for a price, I thought, my god, what you guys are asking for this is crazy. I priced out taxes, I priced out how much the house and the land would cost... It was in a great spot, it was right by the water, but also on a main drag. But, how do you price a business? I felt they were asking too much money. I even went around and tried to find comparable businesses that were for sale in the area because I wasn't trying to rip them off, I wanted to be fair. When I was looking online I found this place open in Plymouth, NH. And I asked Melinda if she knew where Plymouth was. She had no idea, and neither did I, so we took a ride over to check it out. And my god, this town was just, wow... We were blown away. And once again, I thought back to location. But I didn't know anything about Plymouth. So, we met with Susan, the former owner, and a broker, and asked her why she was selling, and all those questions. So, we thought, alright, let's get some financial information. Screw the other place... [Laughs]. No, I mean Milton was a great area, but it was too rural. We came up a bunch of different times, and we were just blown away [by Plymouth].
Record Enterprise: What ultimately drew you to the Plymouth area?
MB: There was a bunch of things that drew us here. The community up here's awesome. We live in a great neighborhood. We did some research beforehand, wondering if this was a viable community. We looked at the school systems for [my daughter], looked at the Chamber of Commerce, looked at what the housing market was like, found there's a university here, there's a Main Street. So, for whatever reason, I feel like we're supposed to be here.
Record Enterprise: What was the ultimate deciding factor that pushed you to start up your own business?
MB: There was a bunch of things that happened along the way that allowed us to do it. It was like, one of those, we're supposed to do this. You know, from being able to get laid off from work, which allowed me to get a package so I got six months of pay, along with health insurance. That was huge. Then I was able to collect unemployment after that. We sold our house in Massachusetts too, and this was when houses were just not selling, and ours sold. And this wasn't even a spectacular house or anything, it just, like that, sold.
Record Enterprise: Did anyone doubt you and tell you not to go through with this?
MB: You know, I'm not sure if anyone would have told me, and still, who knows... We've only been here three years. So, I don't think anyone ever said that. There were some people that were just like, "My god," while others were absolutely fascinated. They just loved the story.
Record Enterprise: What was/were your main goal(s) when you started?
MB: I think a lot of it had to do with being part of a community and having impact. So we're very conscious of it in our business. Any chance that we can, we'll sponsor various groups, and help out, donate... Those kind of things. Even just being able to employ some of the kids here and hopefully help them and give them an opportunity. That's really the biggest driver for us.
Record Enterprise: Has/have those goal(s) stayed consistent since then?
MB: I think so, yeah. I mean, I think that's who we are, who Melinda and I are. We were very active in our church in Massachusetts, you know, trying to help out in any way. But there's a lot of homeless here, a lot of drug use here. So, quite often we'll bring soup out, we'll go up to the Bridge House with ice cream cakes... Because you should, right? We should do that.
Record Enterprise: Could you describe your typical workday?
MB: Well, it's pretty random. I don't feel like my business is my life, though. Sometimes I feel like it should be... I mean, the first year it was. But I am a woman of routine. I'm in the shop usually around 10 or 10:30, but sometimes it depends on the day. Like, the winter time when it's slower and I can't afford much help, I'll spend more time in the shop, like the whole day... which can be very long. There's similarities each day, but also differences.
Record Enterprise: What do you enjoy most about running your own business?
MB: The people, hands down. The day certainly flies by. I can't imagine not working for myself again and having that flexibility. It's huge.
Record Enterprise: What are the challenges of running your own business?
MB: Oh yeah, there are huge downsides. Understanding health care is a major one. I was taking that for granted where I used to work, you know, because I was getting health care through them. Also knowing how most people up here live paycheck to paycheck... I never understood that until now. I mean, literally, we are those people. It's funny though, when you don't grow up like that, you don't have that mindset. That's what you do when you're trying to build a business. Now we worry about money way more than we ever did. Money is everything.
Record Enterprise: What are the plus sides of working in a college town?
MB: I've never lived in a college town, so I didn't really know what to expect. I mean, I'm pretty impressed, because for the most part, there's no "us" and "them." But, certainly as a business owner, I also want to make sure that the students are welcome here as much as the locals. And I think we've blended it, for whatever reason, pretty well.
Record Enterprise: And the downsides?
MB: We have neighbors right now who are having trouble with some of the students in the housing there. That neighbor is moving now because there are two houses across the street from them that are owned by an off-campus rental company. The students are so loud and obnoxious. And, I mean, these people have two small kids. And we're talking about problems with anything from drinking, to urinating, to fireworks through all hours of the night. They're just fed up. Even after calling the police and going to the board of selectmen, nothing's been done.
Record Enterprise: How important are loyal customers to you?
MB: I've met an amazing amount of people through this shop. Like, I'm gonna write a book and take notes on the various stories. Every day, people will come in and tell me their story... some sad, some amazingly happy, some really good friends we've met. And wow, to think you're part of all that? It's amazing. But who comes into the shop? From Eddie Money one day, to people I've grown up with, to a former boss of mine. It's amazing, once again, meeting all these various people. Someone wrote on our Facebook page: "The shop is like Plymouth's version of Cheers." You know, because it's got the bar atmosphere, and then people come in and you know their name. We're here for the people.
Record Enterprise: Since many small businesses close over time, what makes you think yours will survive?
MB: Well, I just went to this food convention, once again, looking for something to add to the place. But I'm not quite sure I found anything. You know, we're an ice cream shop, so we're not a sandwich shop, that's for Biederman's. And why would I want to compete with that? I don't want to compete with that. Do I go with more the dessert-type stuff? Maybe. But, I still don't know.
Record Enterprise: Where do you see M'n M Scoops going in 10 or more years?
MB: Oh my gosh, really? I see myself going to bed at 10:30 tonight. I can't see that far ahead.
Record Enterprise: If there's something you wish people would know that would make them more appreciative of the work you do, and arguably, many small-business owners do, what would that be?
MB: You know, I was always used to making a lot of money [in computer programming]. But doing this, we get by with the skin of our teeth. Every week we're like, alright, we have this much money. And before, you just took it for granted. I mean it takes a lot... Timing, money, everything. And maybe it was stupid for us, but we'll never know.
Record Enterprise: If you could do it all over again, would you do anything differently?
MB: I don't think so, but, you know, it's still new. I don't know what it will evolve into.
Record Enterprise: When you're not in the scoop shop, where would most people find you?
MB: My family would probably say Hannaford... I feel like I'm always grocery shopping. [Laughs]. But other than that, I'm usually at home, hanging with my kid.
Record Enterprise: What's your favorite ice cream flavor?
MB: Coffee Oreo, Graham Central Station, Chocolate Extreme... I like to mix it up.
---
Published in Plymouth, NH's local newspaper, The Record Enterprise