Let's Talk About Food, Baby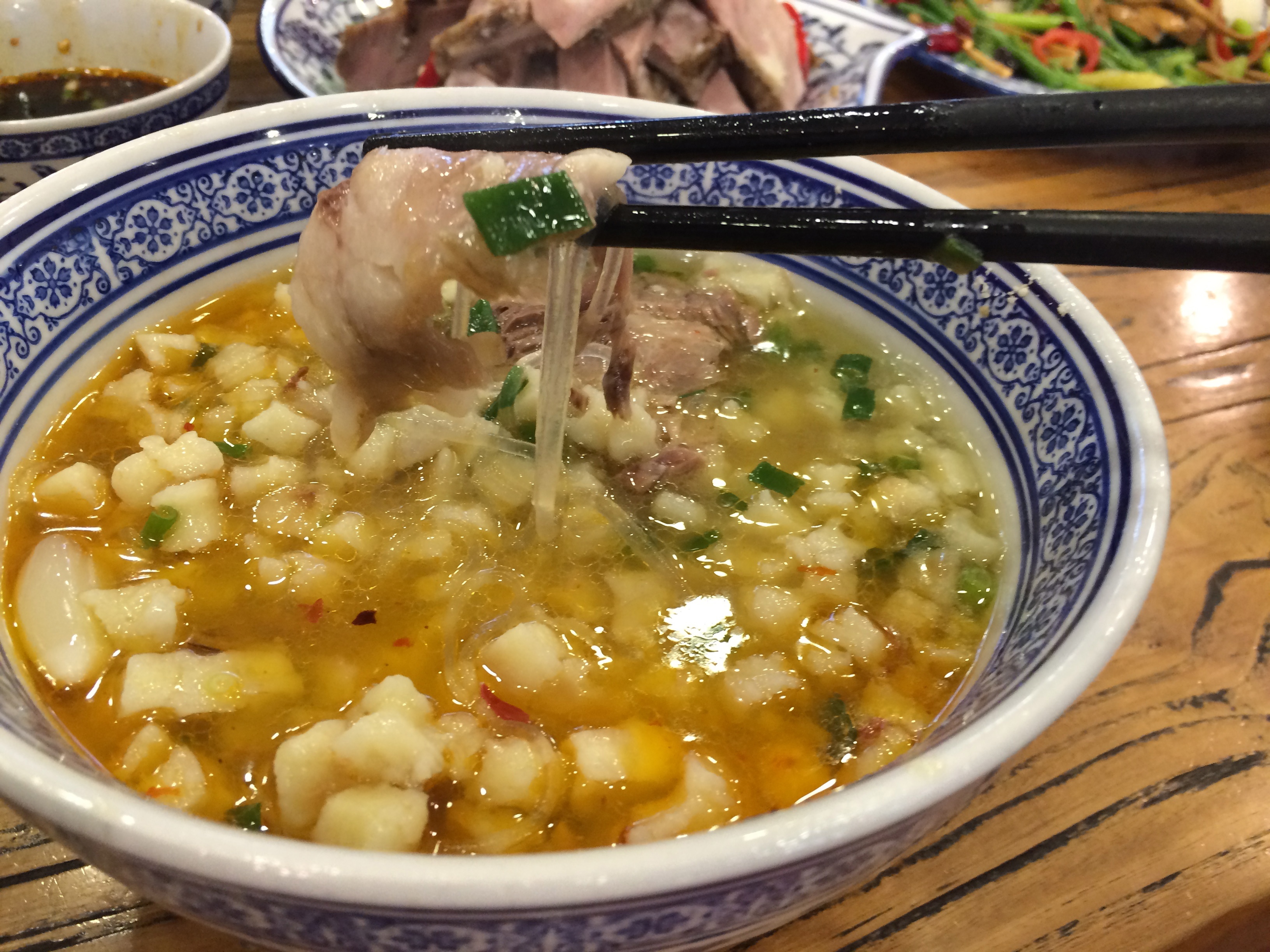 Food is the essence of culture. It defines a generation, it becomes a talking point after a trip somewhere new, it simply brings people together. The food in Xi'an is just this, and more. Xi'an's rich (and long) culinary history, paired with the influence of the Islamic culture make for an eclectic ride for your taste buds.
The toaster oven in our tiny kitchen makes cooking pretty limited. During the weeks, we'll stick to the basics: steamed rice and veggies, fried noodles, or sauteed chicken. When we're missing home, we'll toast a baguette, grill some chicken, and top it with fresh lettuce, tomato, onion, and a dash of mayo: sandwich time. When we're feeling super lazy, we'll grab a frozen pizza at the nearest grocery store.
Clearly we haven't been too adventurous in the kitchen, so the authentic Chinese food happens outside of our apartment. Read on to learn about some of my favorite eats in Xi'an.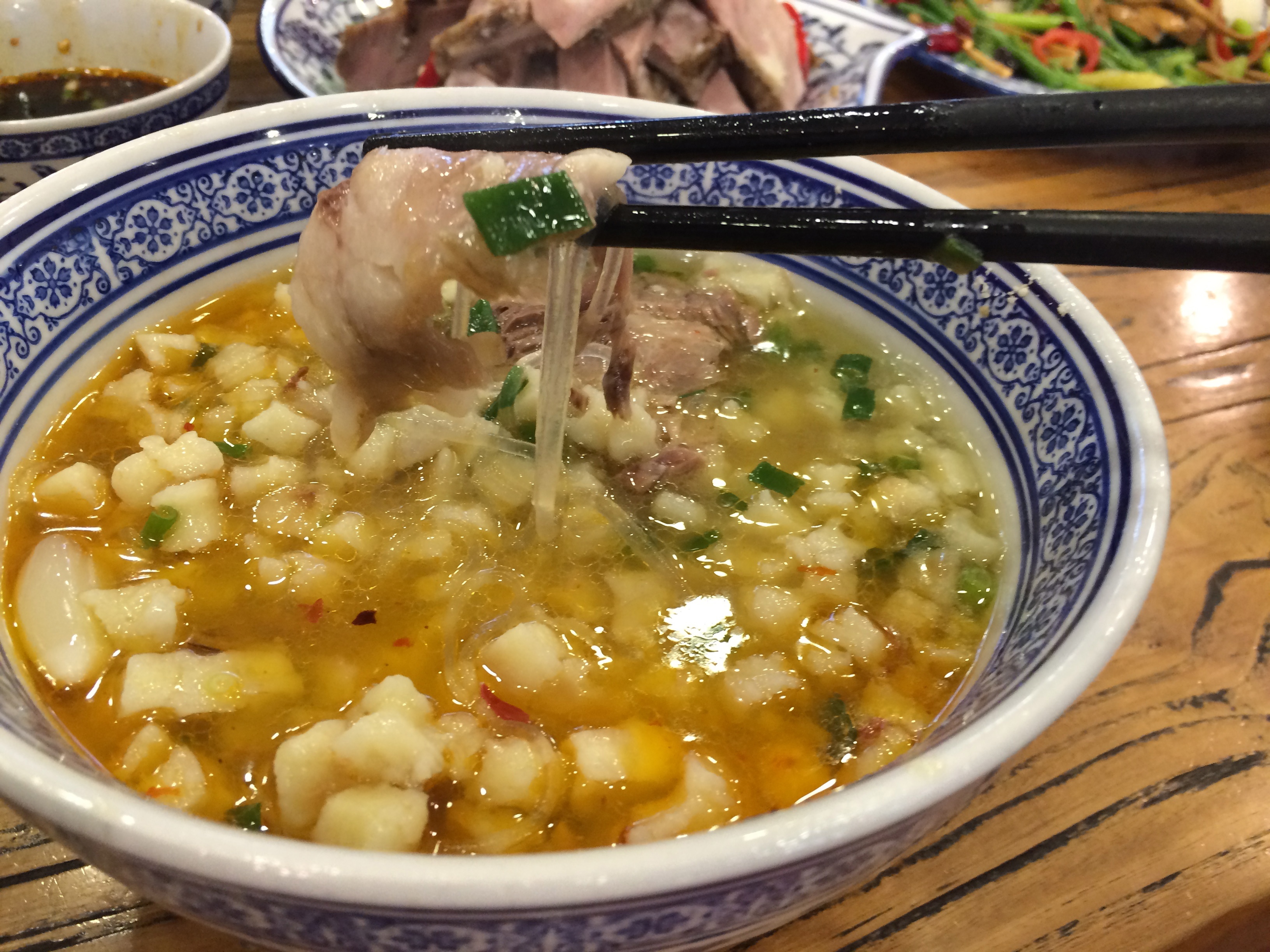 Yangrou Paomo - Bread and Mutton Stew
A must-have, and also one of my favorite dishes. You eat this two ways: one with the bread already placed in the soup, or one without. You'll know a restaurant serves the latter option when you see locals sitting outside, tearing pieces of flatbread-like bread into soup bowls. Once you've filled the bowl with the bits of bread, the waitstaff will take your bowl back inside, where they'll add thin rice noodles, sliced mutton, and freshly chopped green onions to the soup. Before you enjoy your paomo, it's customary to add pickled garlic and chili sauce into your bowl. Mmmm, Chinese comfort food at its finest.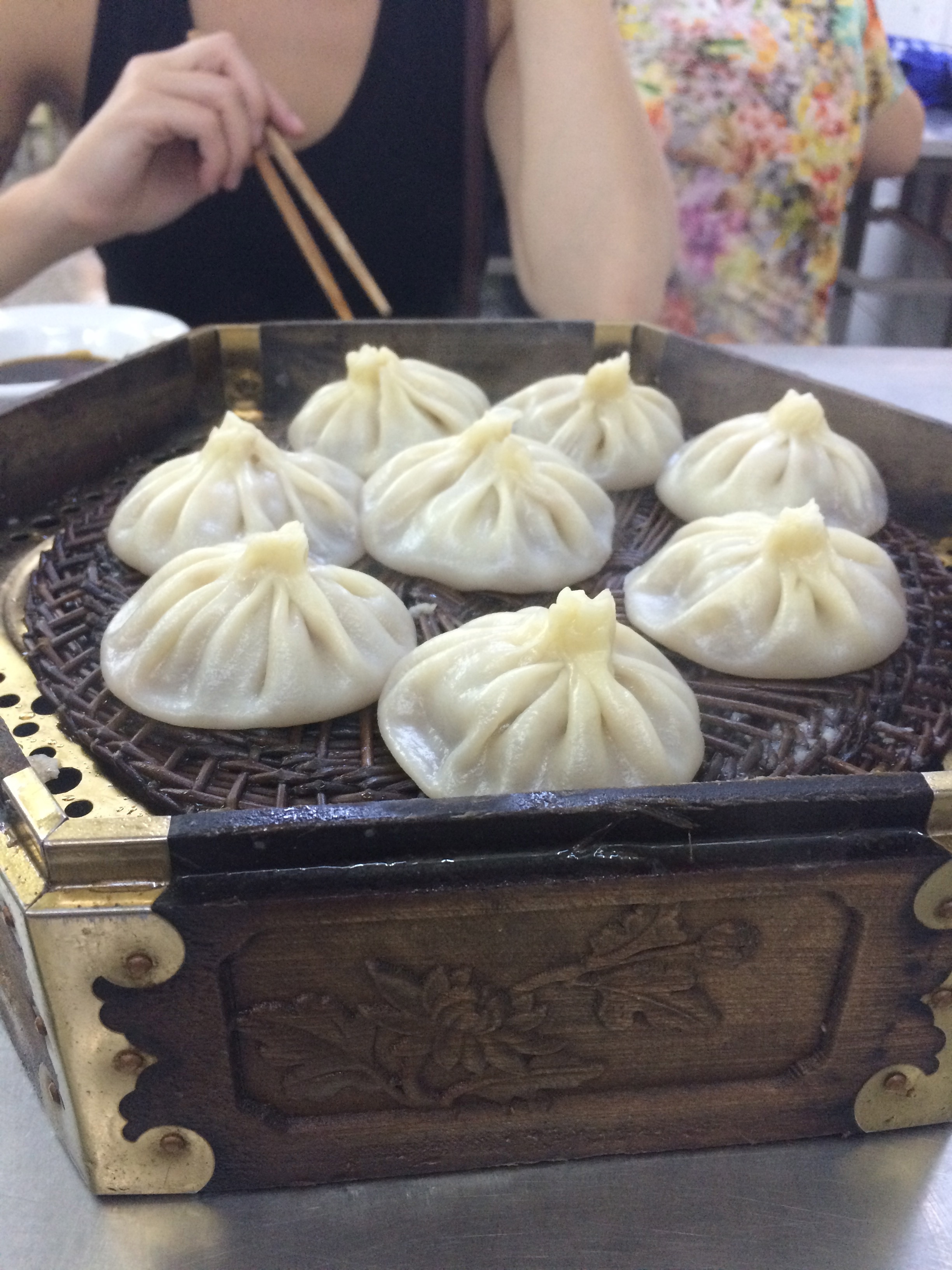 Tangbao - Soup Dumplings
Very popular throughout Xi'an. The soup dumplings are different from the usual steamed or fried dumplings. They're much plumper and, of course, they're filled with soup. When you eat them, you must carefully pick up a dumpling with your chopsticks. Then, you'll want to place it in your spoon, poke it with one of your chopsticks, and slurp the soup. Once you've sipped most of the soup, you can enjoy the rest of your deliciously moist dumpling. Most restaurants will have "special" vinegar and chili sauce to dip them in. Opt for the mutton or beef soup dumplings whenever you can— they will never disappoint.
Roujiamo - Chinese Hamburger
It's a close call, but this might be better than a good 'ol American hamburger. You'll find this Xi'an staple at a local restaurant or, even better, at a food cart. The best ones are made with something similar to pita bread. The bread is usually quickly fried and stuffed with slow roasted pork. The meat is tender, with flavors full of rich spice, along with a slight tang of sweetness— it will literally melt in your mouth. Once the hamburger is full of meat, it's then topped with any vegetables and spices you'd like— sprouts, cabbage, green onions, garlic, chili sauce... Yum! A tasty meal any time of day or night.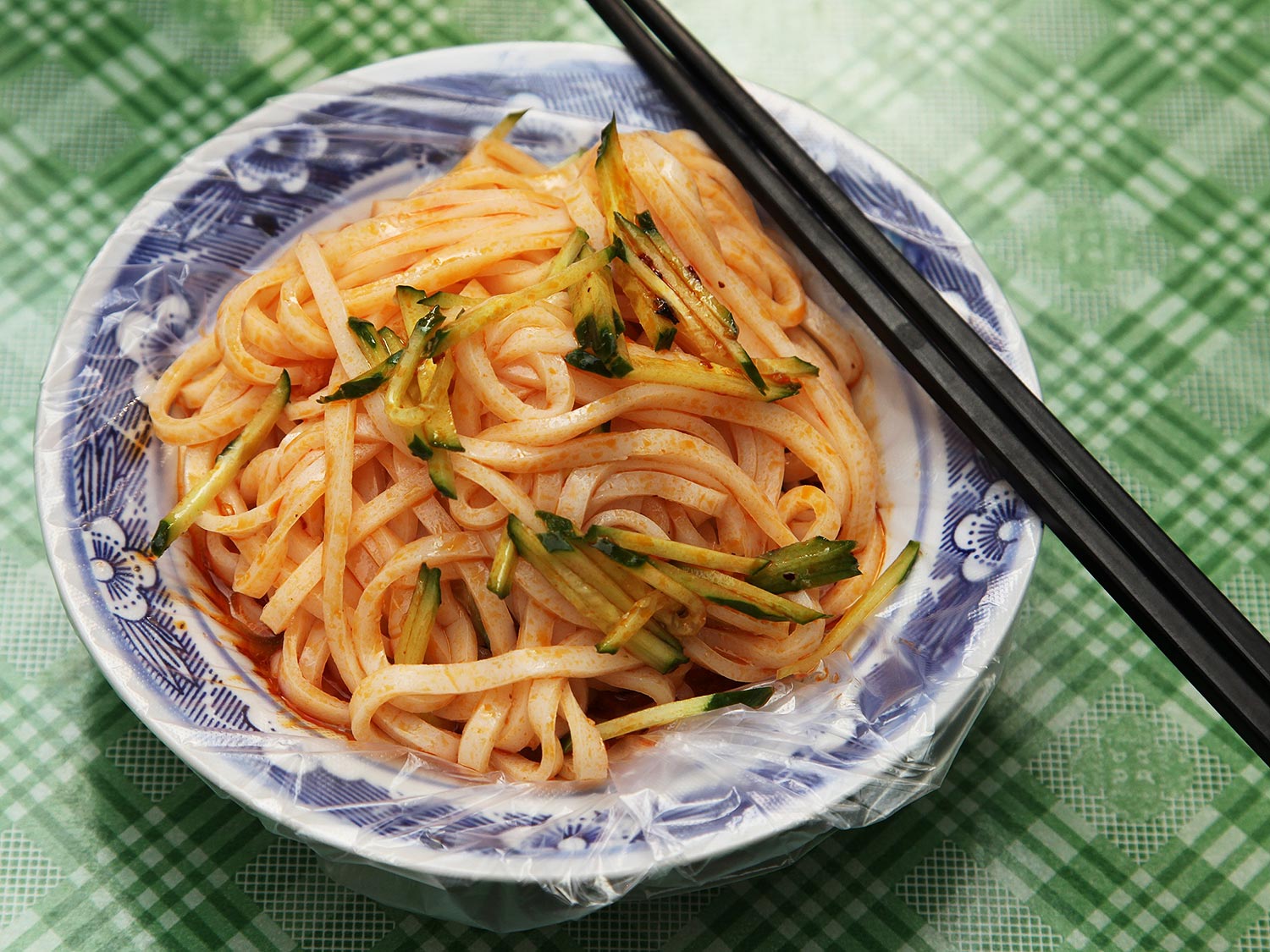 (Photo: Serious Eats)
Liangpi - Cold Noodles
Just as the name suggests, these noodles are made from cooked rice noodles. They are then left to cool, and are served that way. You'll find many different types of cold noodles throughout Xi'an (especially in the Muslim Quarter), but some of the most common ones are tossed with sesame oil, chili oil, or vinegar, and then topped with garlic, bean sprouts, and cucumber. So deliciously smooth and flavorful.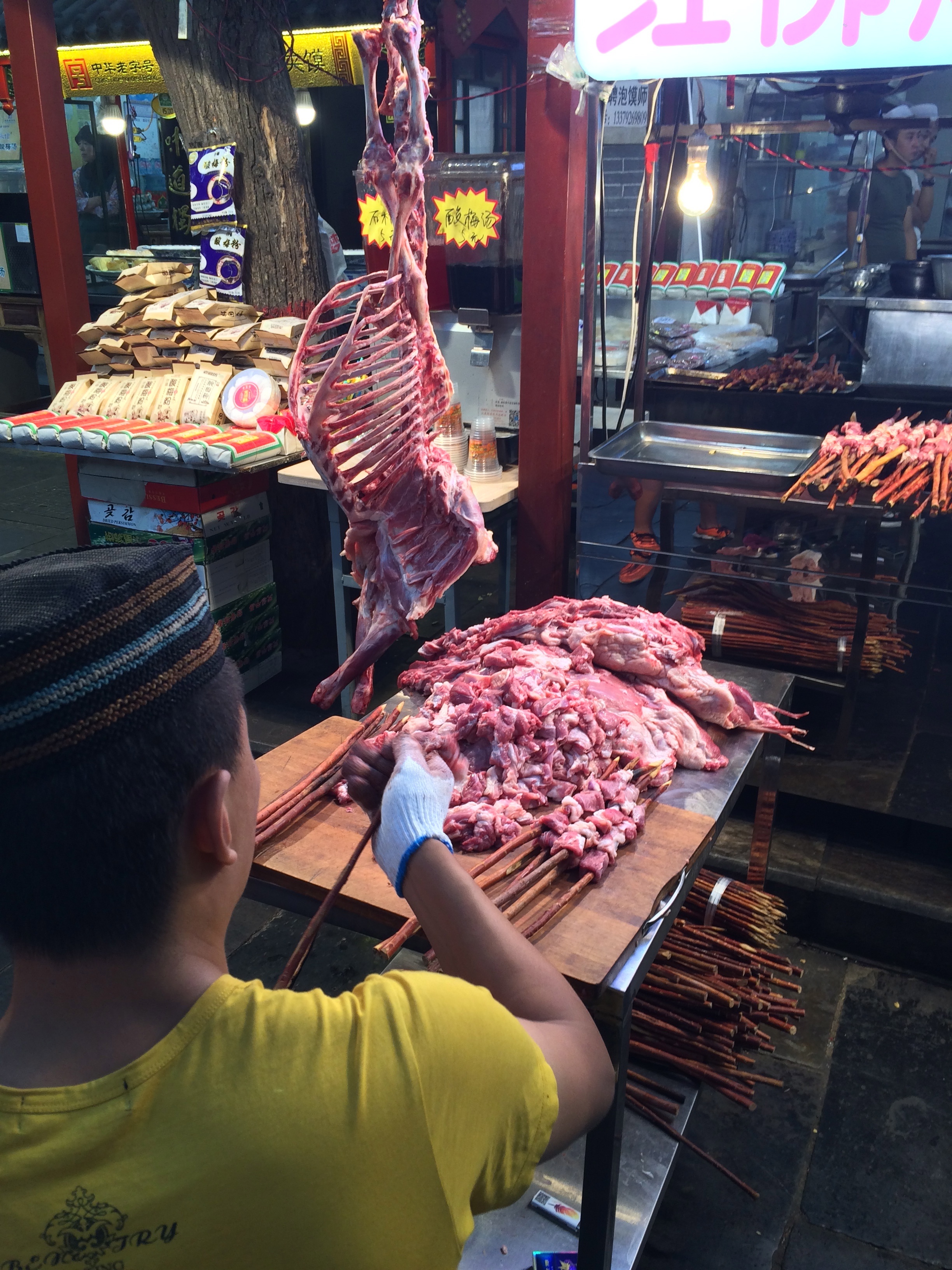 Chuan'er - Meat Kabob
These are most prevalent in the Muslim Quarter, but you can really find them all over Xi'an. In the Muslim Quarter, you'll see sheep carcasses hanging from a cart, while a butcher chops the fresh meat and slides it on to skewers as you wait. A cook will then set the skewers over an open grill and begin spicing them with chili pepper and cumin powder. They've got a bit of a kick in my opinion, but they're only 1 yuan (about $0.15 USD), so you can never go wrong.
Hungry yet?
This is only a small sampling of the array of authentic food you can find in Xi'an. As we explore more of the city and taste more Xi'an staples, I'll be sure to revisit this list with even more wonderful delicacies to recommend.