Koh Lanta: Love At First Sight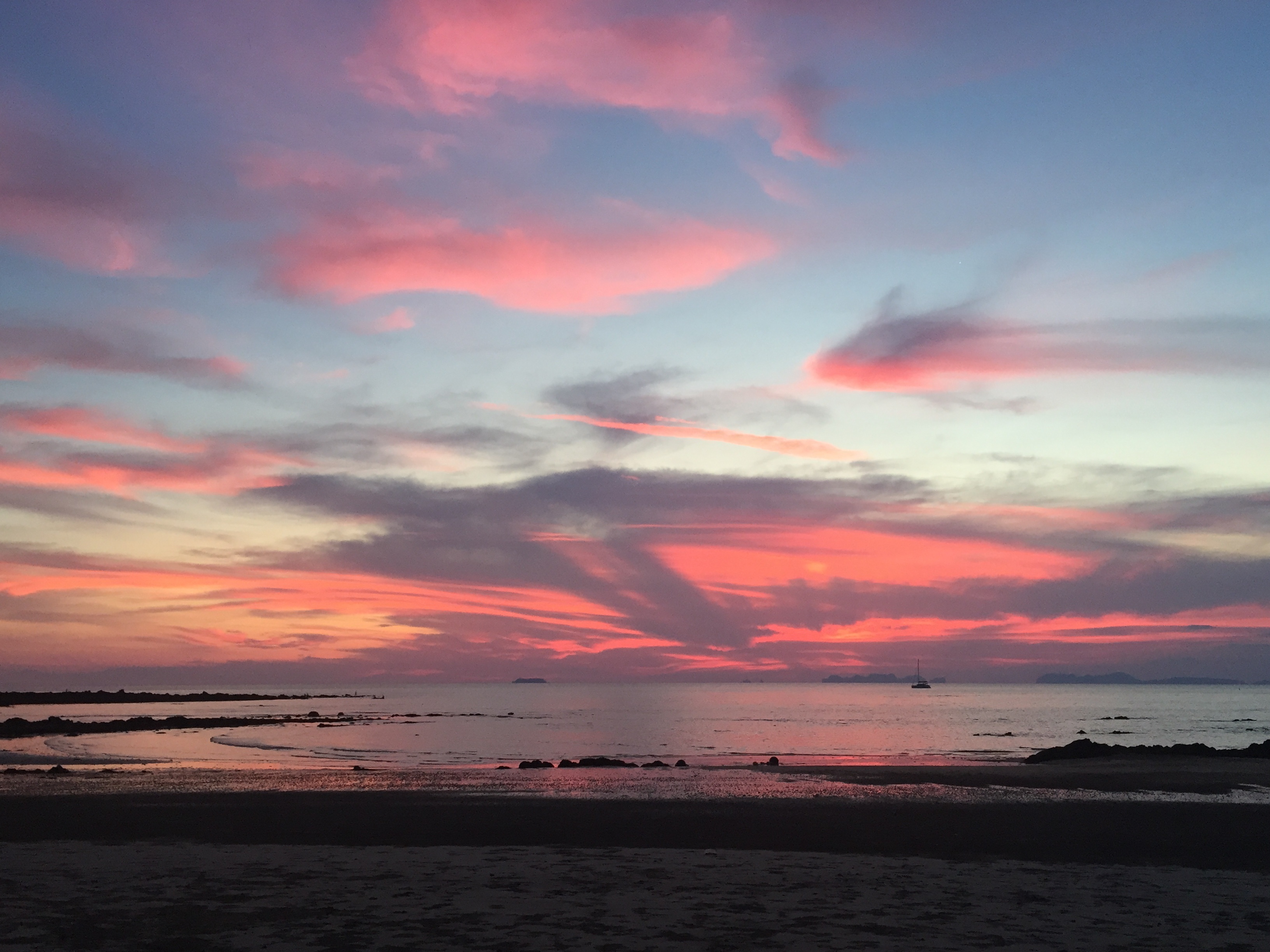 Ahhhh, Koh Lanta. THIS was our kind of island. Big enough to escape the crowds, yet small enough to experience the island culture and meet wonderful people. We'd return to Koh Lanta again in a heartbeat.
This 30 kilometer-long island is located in the Andaman Sea off the west coast of Thailand, between Koh Phi Phi and the mainland. What was once inhabited by sea gypsies long ago is now an eclectic mix of Muslims, Buddhists, and Thai-Chinese. There is no religious or cultural tensions here, though— everyone lives in peace and harmony along the white, sandy beaches and turquoise waters.
Aside from the cultural beauty, we genuinely enjoyed the variety this island had to offer. From sandy beaches to rocky ones, from budget bungalows to five-star resorts, from street food to gourmet restaurants— Koh Lanta has something for everyone. Want to relax on a secluded beach? Want to have an ice cold beer and listen to live jazz music? Want to spend a day snorkeling and exploring the surrounding islands? Yes, yes, and yes. Regardless of what your budget, tastes, or travel itineraries are, you can find your perfect paradise on Koh Lanta.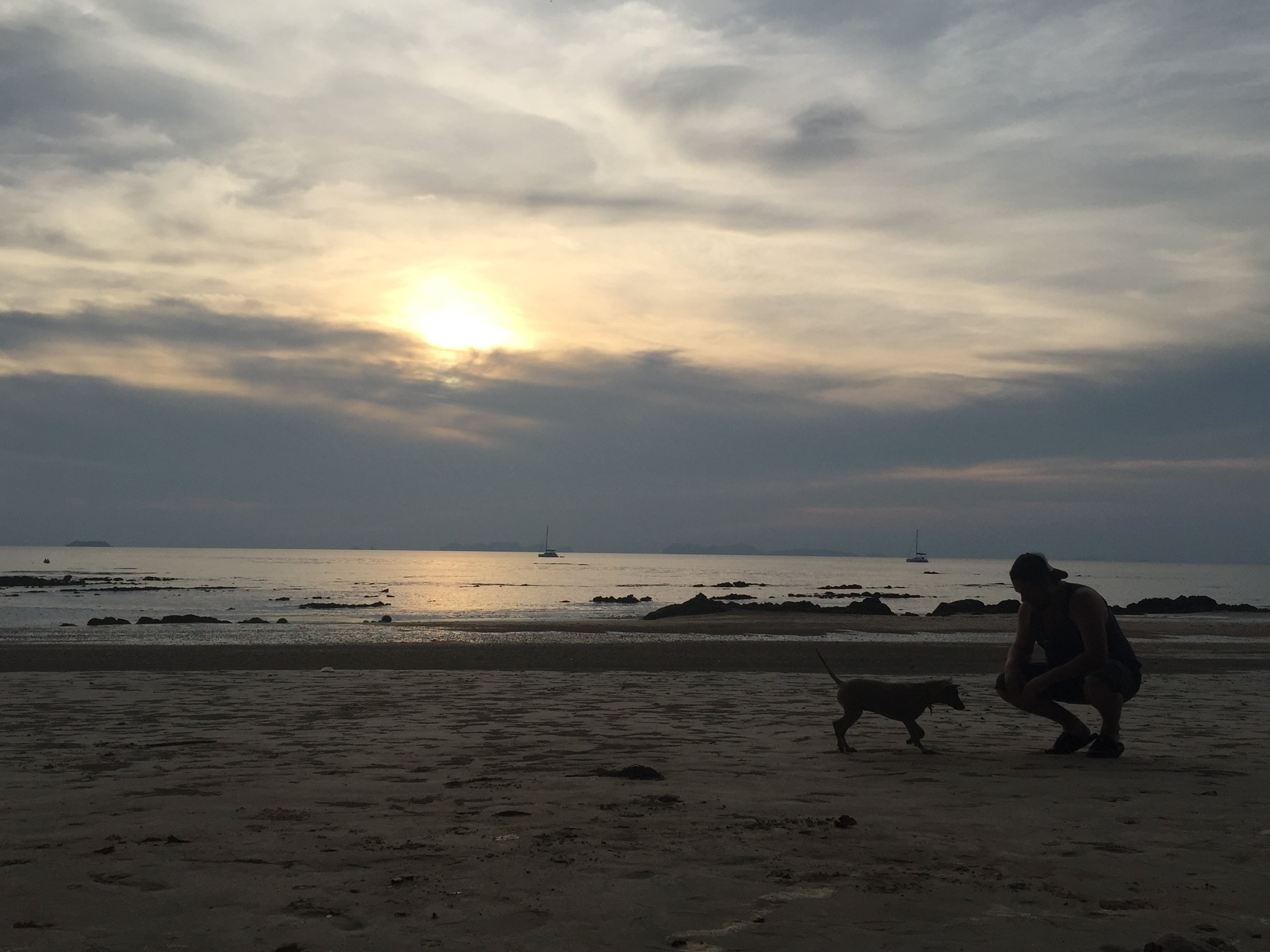 *WARNING: This post is long. If you're only interested in the abridged version, click on the links below:
We stayed on Koh Lanta for eight days, but we could have stayed for a month (or longer). Here's what we loved:
Stay:
Riviera Boutique House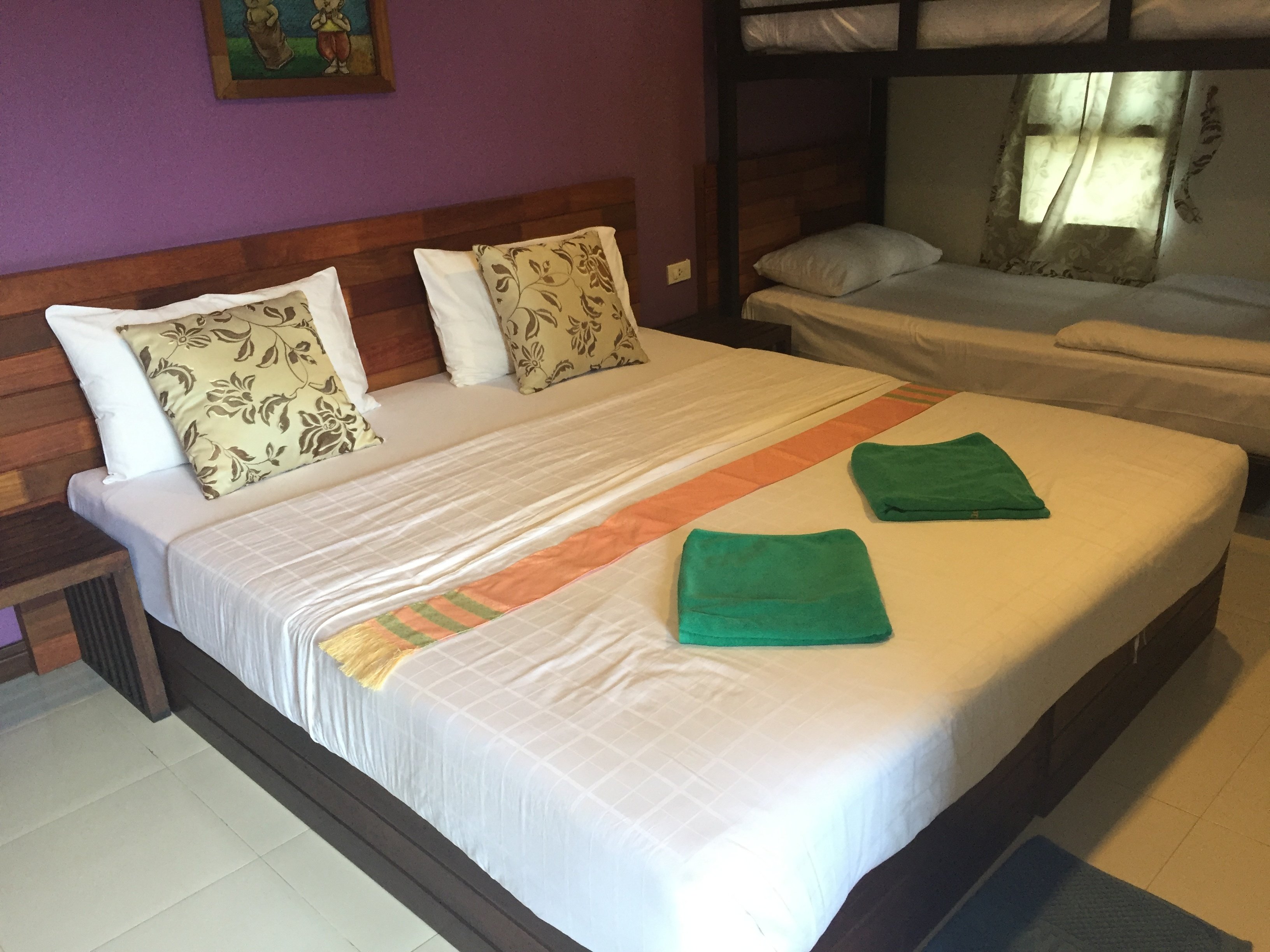 Hands down, Riviera Boutique House is one of the nicest places we've experienced in Thailand. The owner of the guesthouse, Mr. Tan, is a lovely Thai man who picked us up from the ferry pier when we arrived, and didn't stop helping us throughout our stay. He rented us a motorbike, extended our stay without a problem, and helped us coordinate transportation when we left the island. He runs a friendly, clean, and welcoming place— there's no wonder why he has a "Superb" rating on Booking's website...
We were lucky to get a second-floor corner room in the hotel, equipped with a private balcony, a huge, comfortable bed, a bunk bed, and a large bathroom. It had everything we needed, and more. What was even better? We had full access to the resort's pool right next door, and Klong Khong beach was just beyond the pool. You can't beat a one-minute walk to a pool, let alone a beautiful beach.
For just over 500 Baht a night ($15 USD), we lived like royalty without breaking the bank. If we make it back to Koh Lanta, we'll be sure to stay at Mr. Tan's wonderful guesthouse again.
Eat:
The amount of delicious food we had on Koh Lanta was endless. Here were a few of our favorites:
Peak Café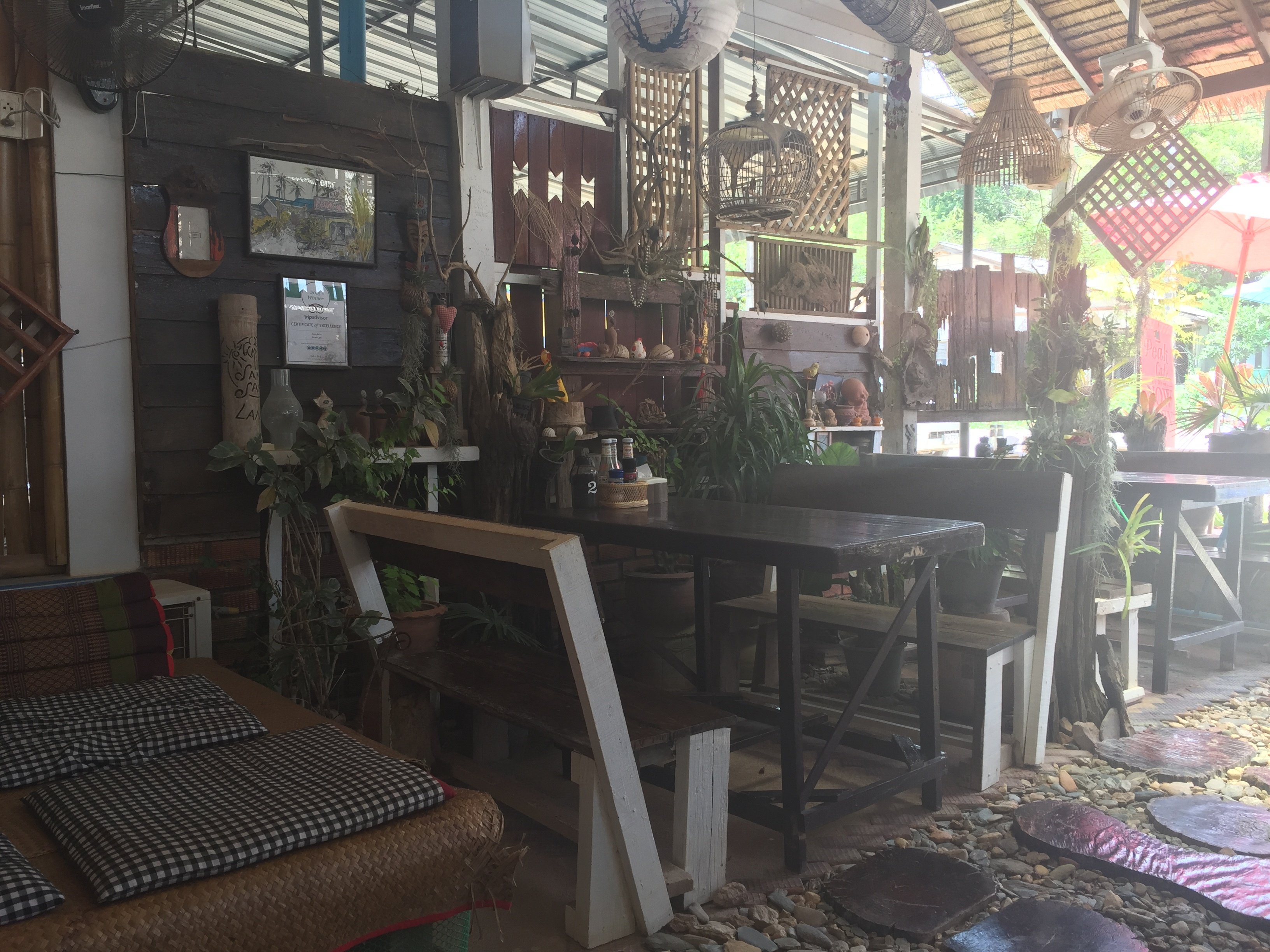 We stumbled upon Peak Café one morning after noticing a bunch of motorbikes parked outside. We soon learned why. The café doors were hidden by a jungle of plants, but we instantly felt welcome with the soft jazz playing on the speakers and the warm smile of the lovely Thai owner.
What did we love? The coffee, obviously— freshly prepared and so, so tasty. The bread was another favorite— homemade, healthy, and delicious. The sandwiches were to die for, too— we came back several days in a row to take a one back to our room for lunch. Peak Café hit the spot for breakfast, brunch, or lunch.
Yang Garden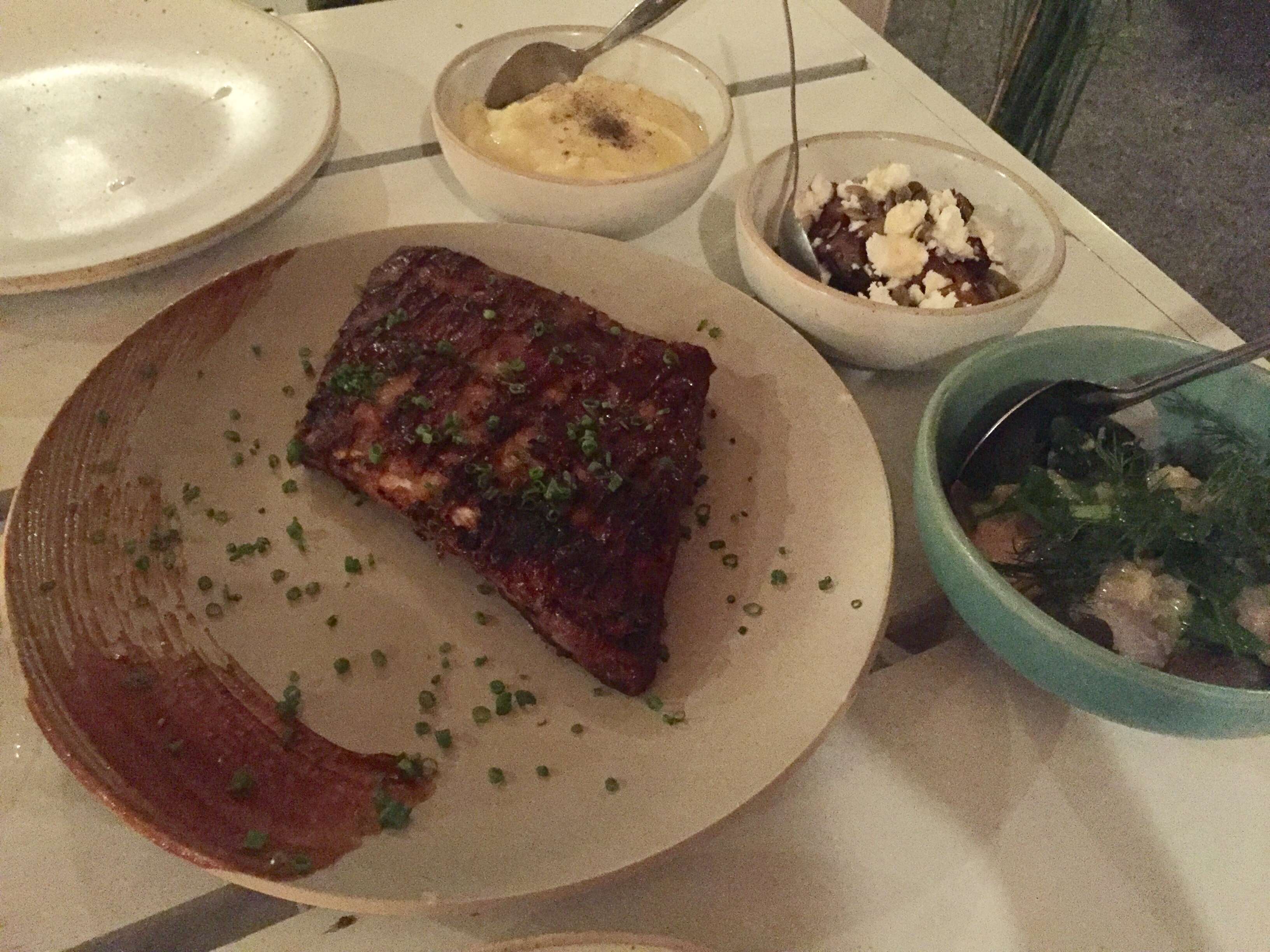 Voted the number one restaurant on TripAdvisor, Yang Garden surely did not disappoint. The quaint restaurant is located further south on Koh Lanta, nestled in a quaint garden surrounded by palm trees. The dim lighting and candle-lit tables made for a relaxing, warm atmosphere.
When we went, almost every table was full with couples, friends, and families enjoying delicious food together. The menu at Yang Garden is simple, but when everything sounded so good, it made our decision very difficult. After much debate, we opted to share the tamarind glazed pork ribs, as well as several side dishes— roasted pumpkin with feta, peas and asparagus, and a truffle and potato puree. All of the dishes were beautifully prepared and presented.
Yang Garden was a little expensive by Thai standards, but worth every penny. The freshness of the food and the quaint ambience of the restaurant made for a wonderful dining experience.
No-Name Thai Beach Restaurant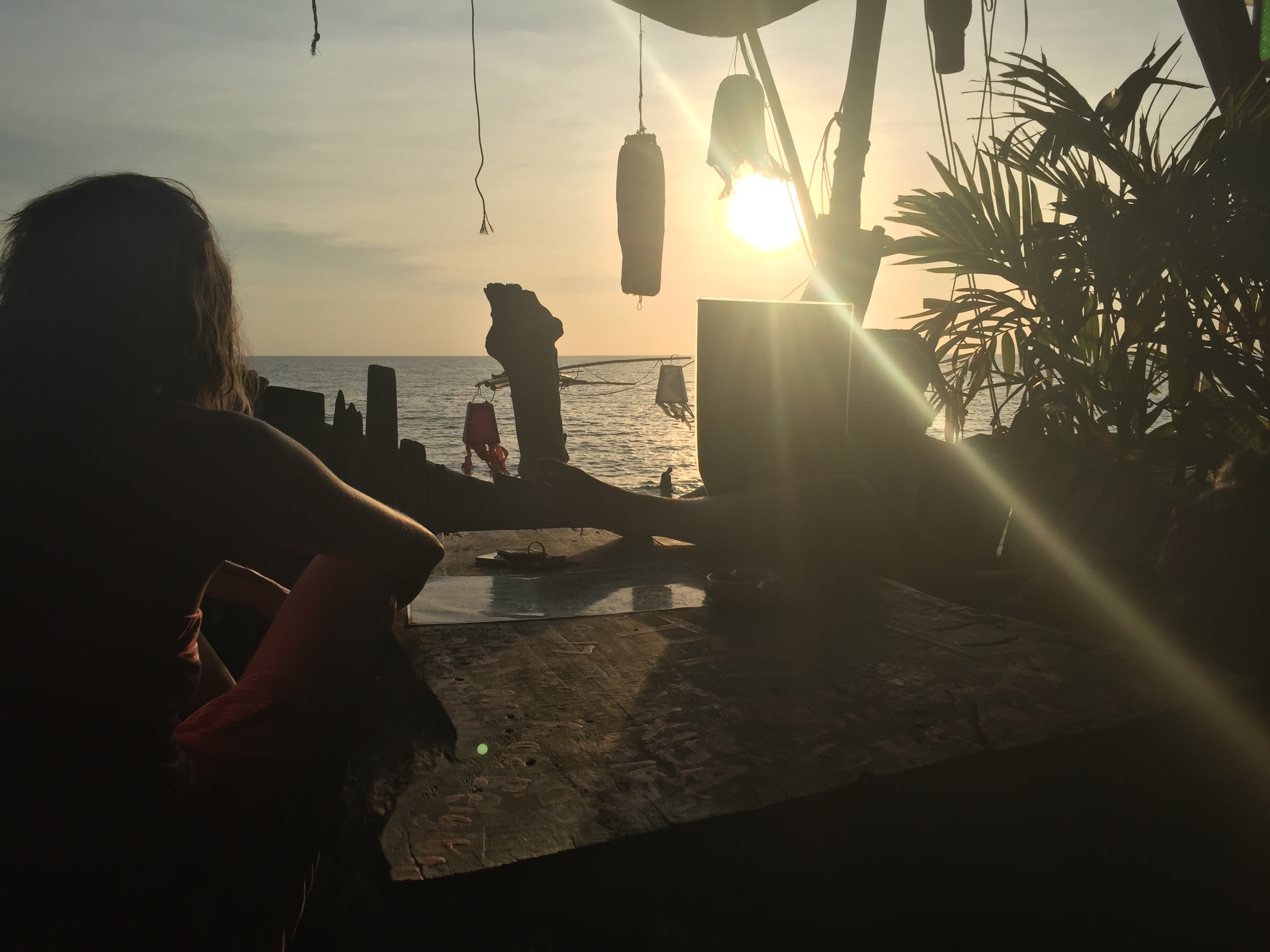 For Parker and Megan's last night on the island, we all wanted to sit on the beach and enjoy a fresh seafood meal together. We decided to stay close to our accommodations, so we just walked along Klong Khong beach until we found a restaurant that looked good.
There are no shortage of seafood barbecue restaurants in the islands, especially on Koh Lanta. I can't remember the name of the one we decided on, but I do remember the food was incredible— some of the best I've ever had in Thailand. Justin and I shared a barbecued red snapper, along with steamed vegetables and white rice. The fish was so fresh and flavorful, we didn't need to add any sauce or spice to it.
Enjoying our fresh seafood with our toes in the sand and the waves crashing around us was the perfect way to spend Parker and Megan's last night on Koh Lanta.
Drink:
Boogie Bar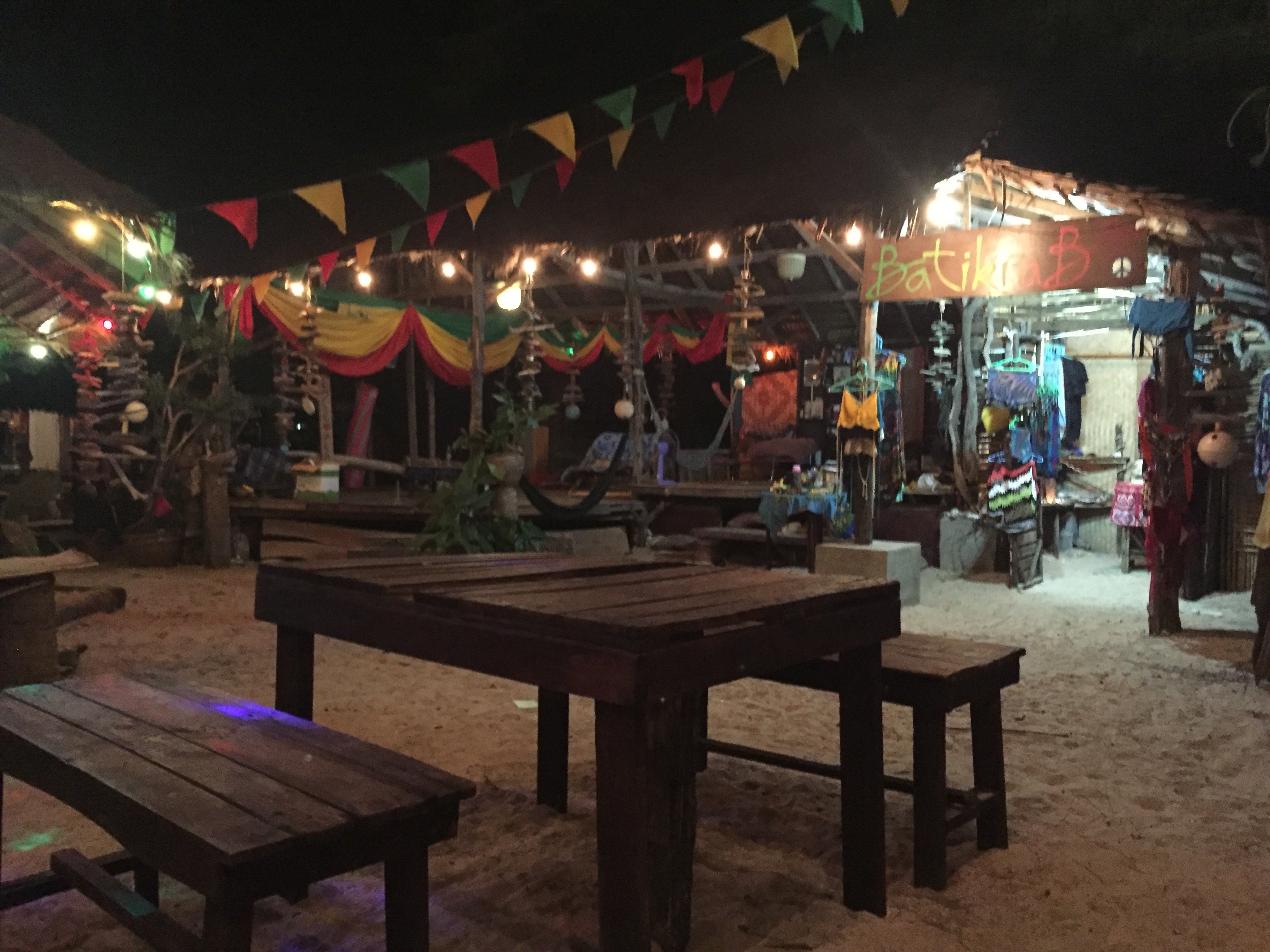 It was our first night on Koh Lanta with Justin's friends, Parker and Megan, and we weren't quite sure where to go. We were all feeling a bit tired after packing up and traveling from Koh Phi Phi to Koh Lanta, so we weren't looking for a "big" night out.
When I was researching a bit about Koh Lanta, I had read about Time For Lime, a restaurant, bar, cooking school, and bungalow resort that was well worth visiting. We decided to start there, and see where the night took us. Time For Lime is located in the Long Beach area of Koh Lanta, which was about a 7 kilometer drive from where we were staying. We hopped in a tuk tuk and cruised north.
A cooking class was underway when we arrived at Time For Lime, so we grabbed a row of seats facing the beach and ordered a round of their specialty cocktails. We were a little bummed to find out they only offered a set menu that night, but we still decided to order their mango salsa rolls and crispy spring rolls to share. Everything was fresh and perfectly spiced— we were so glad we decided to try some of their food while we were there.
When we finished our drinks and settled up, we decided to walk down the beach and find a place for dinner. We stumbled upon a Thai restaurant and ordered a few traditional dishes— Penang curry, garlic pepper chicken, and a steamed fish. The meal wasn't bad, but it wasn't noteworthy either.
The night was still fairly early when we finished dinner. Naturally, off we went down the beach in search of some live music. Like fate, there was a Thai man who looked like a reincarnated Bob Marley, inviting us into his bar to sit down for a drink. Soft reggae music played from the bar's speakers, while a small group of guys near the back of the bar were busy setting up microphones and instruments. We asked our Thai Bob Marley look-a-like, who we soon learned was named Tony, if there would be live music later that night. "Oh, yes! Yes! Soon, soon," he said.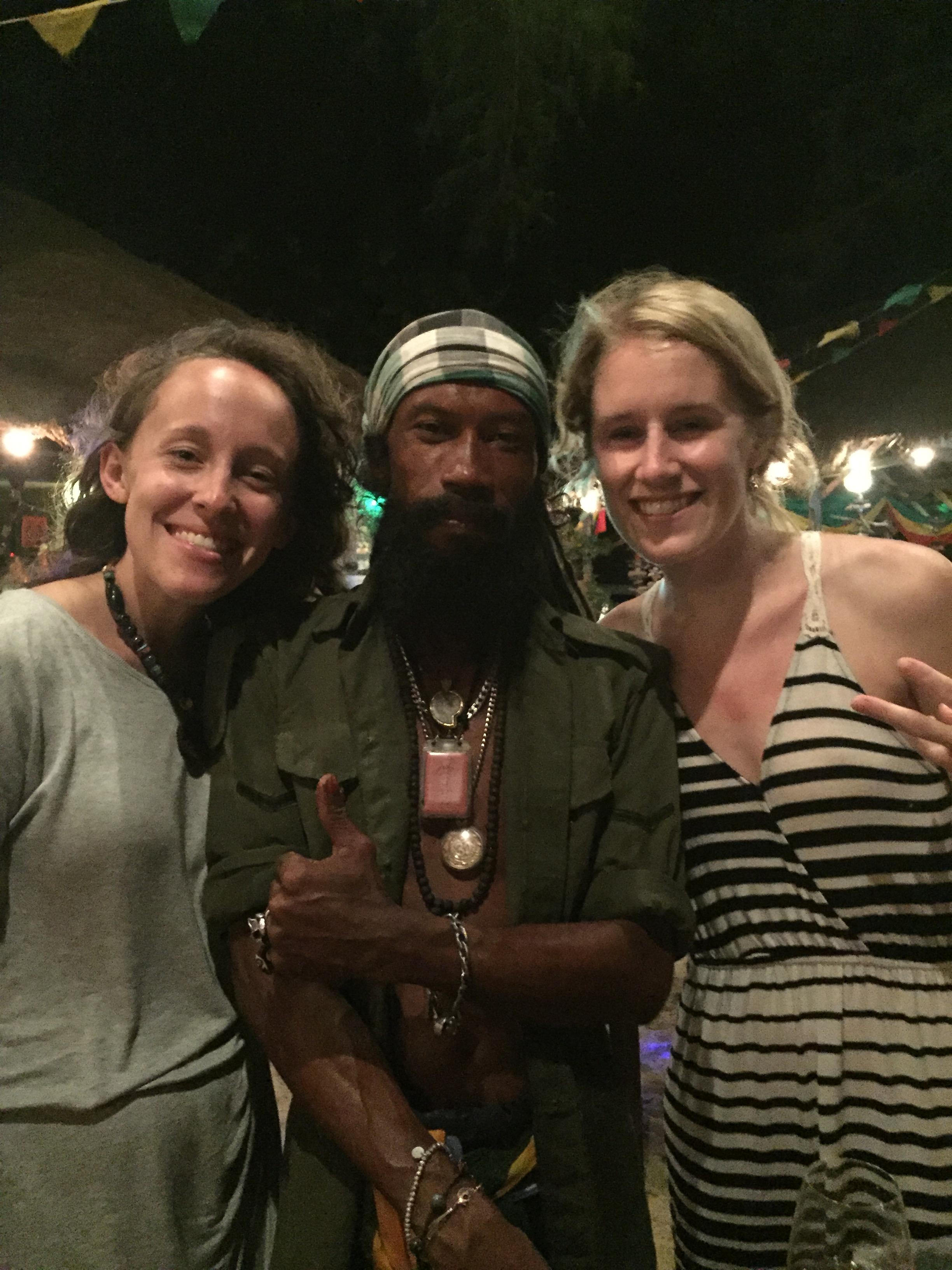 We ordered a round of Chang beer and waited for the live music to start. As if we were guests in his home, Tony began chatting with us, curious about where we were from and what our travel plans were. He then began bringing almost every entertaining object over to our table— a game of Jenga, a doodling notebook, a book in Thai about Obama, handmade scarves and jewelry, his dogs, instruments... the list went on. The live music started and we danced and sang and played the night away with our new island friend, Tony.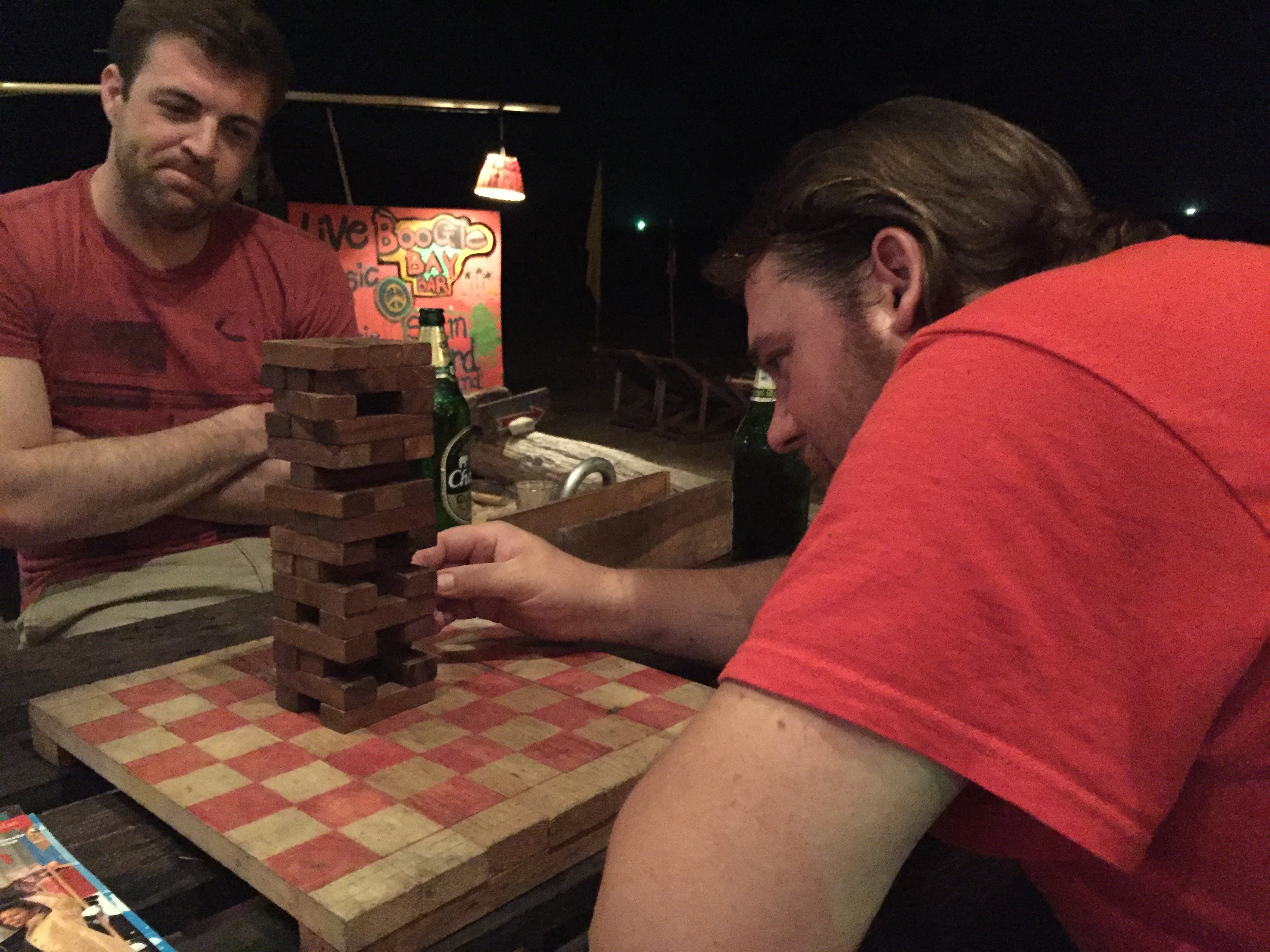 It was a wonderfully warm welcome to Koh Lanta.
Do:
Boat Trip to Koh Rok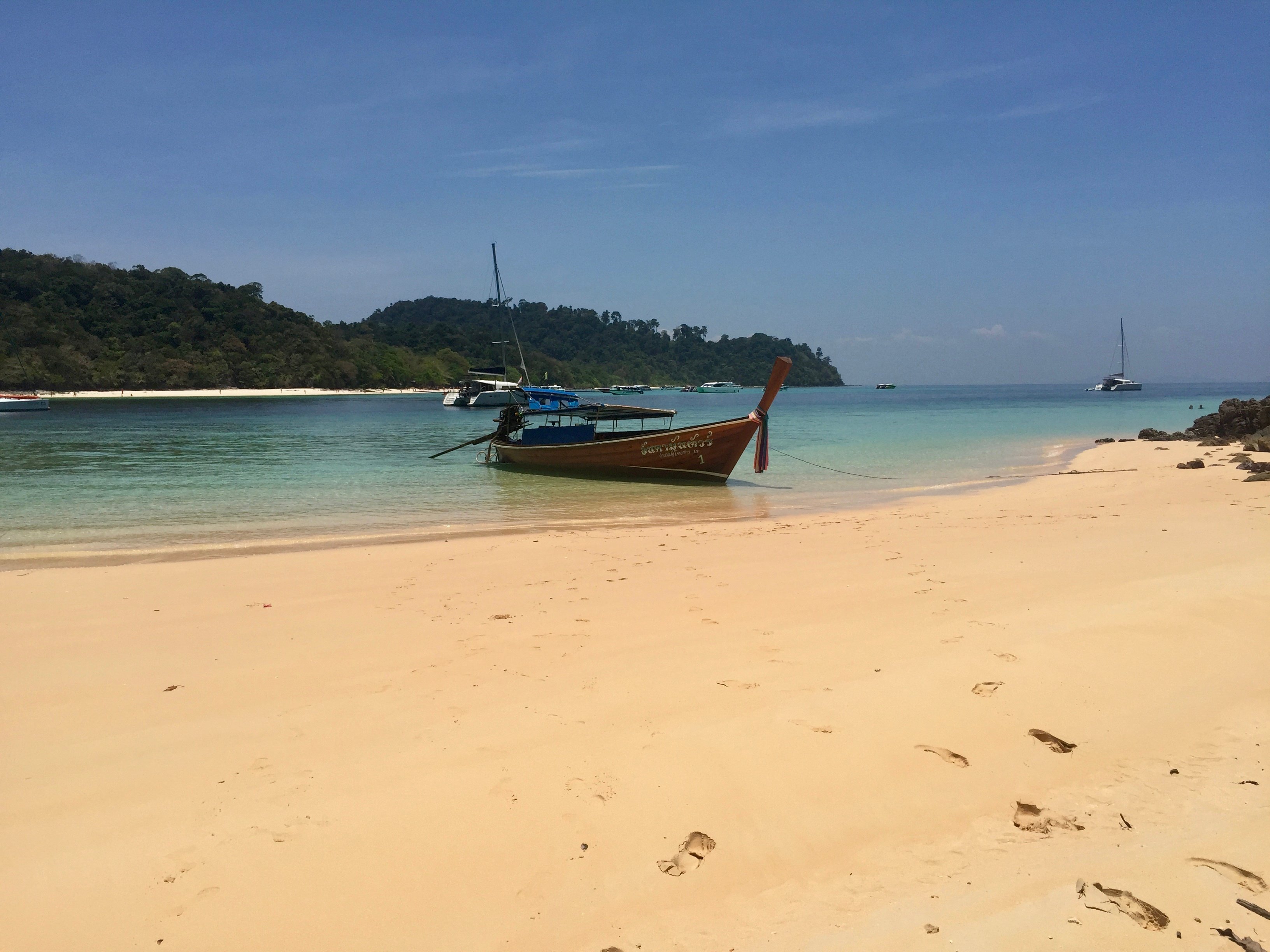 Like most major islands in Thailand, many tourists want to explore the surrounding smaller islands. Koh Lanta is particularly known for the stunning islands around it, as well as its amazing snorkeling spots.
Parker graciously organized a private boat trip for the four of us, and it ended up being one of our highlights of the entire trip. Thanks again, PK!
The morning of the boat trip, we got picked up and driven to the southern coast of Koh Lanta, where many of the old traditional fishing villages are. Then, we met our two boat drivers and guides for the day and hopped in their beautiful longtail boat.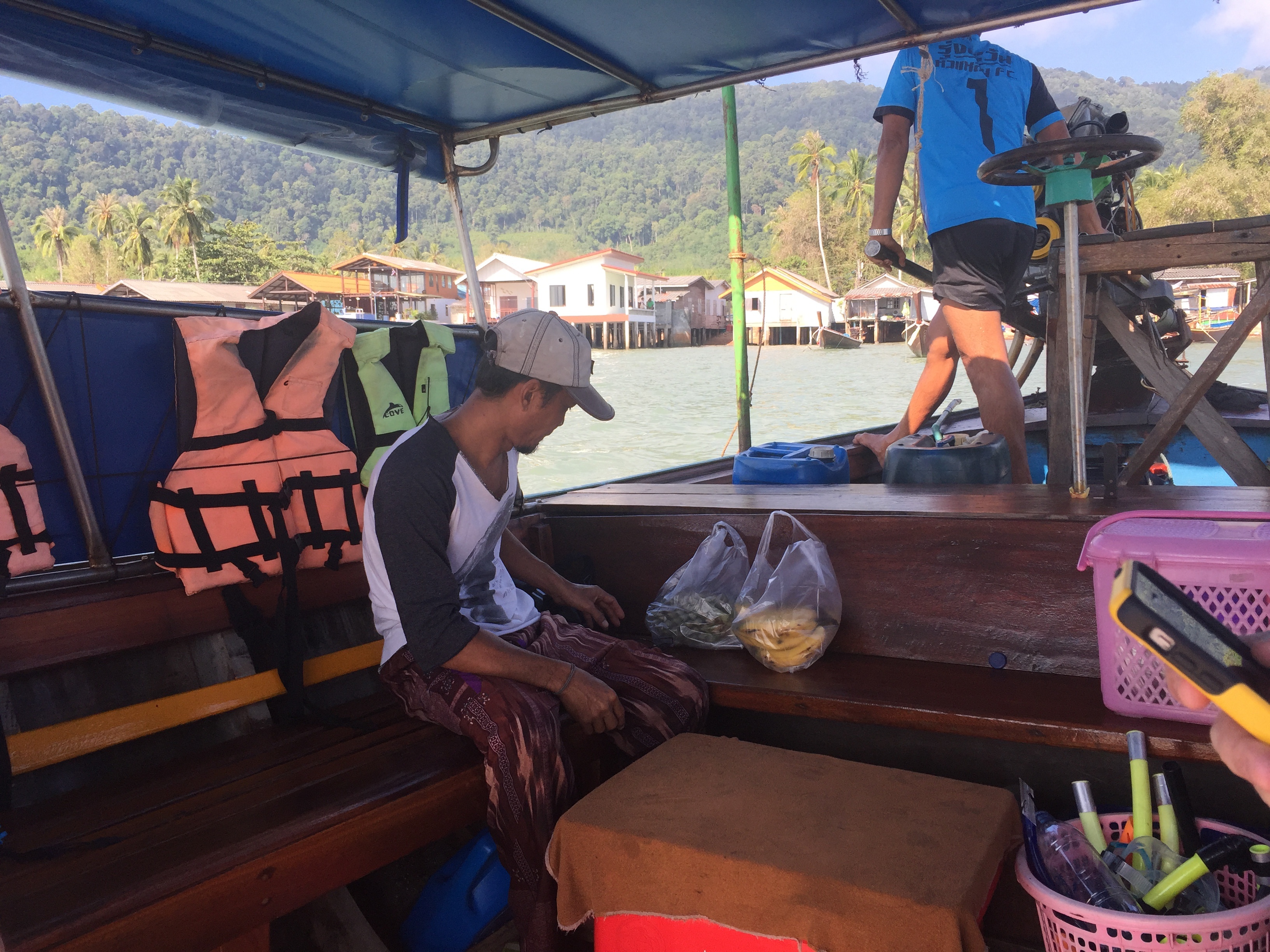 We cruised the crystal clear seas for about an hour until we stopped at a snorkeling spot. We hopped in the water with our masks and watched all the sea life in amazement. I had never seen so many varieties of fish, and so many colorful ones at that— vibrant blues, neon pinks, electric purples. We spent about 30 minutes in the first snorkeling spot, and then stopped at another for another 10-15 minutes before heading to our main destination: Koh Rok.
Koh Rok is about 30 kilometers south of Koh Lanta and is protected by Mu Koh Lanta National Park. The center of the island is covered in lush jungle, but the perimeter where we were lucky to relax for the afternoon is home to some of the softest, finest sand I've ever felt. We enjoyed a plate of delicious green chicken curry, rice, and fruit for lunch and spent an hour or so exploring the beach.
Before making our way back to Koh Lanta, we stopped at one more snorkeling spot and enjoyed some fresh pineapple aboard. By that time, we were all exhausted from being in the sun and water all day, we all stretched out on the wooden seats and slept the whole drive back to harbor.
Despite Parker's severe sunburn, we all enjoyed our time together exploring, snorkeling, and relaxing on the island of Koh Rok.
Koh Lanta National Park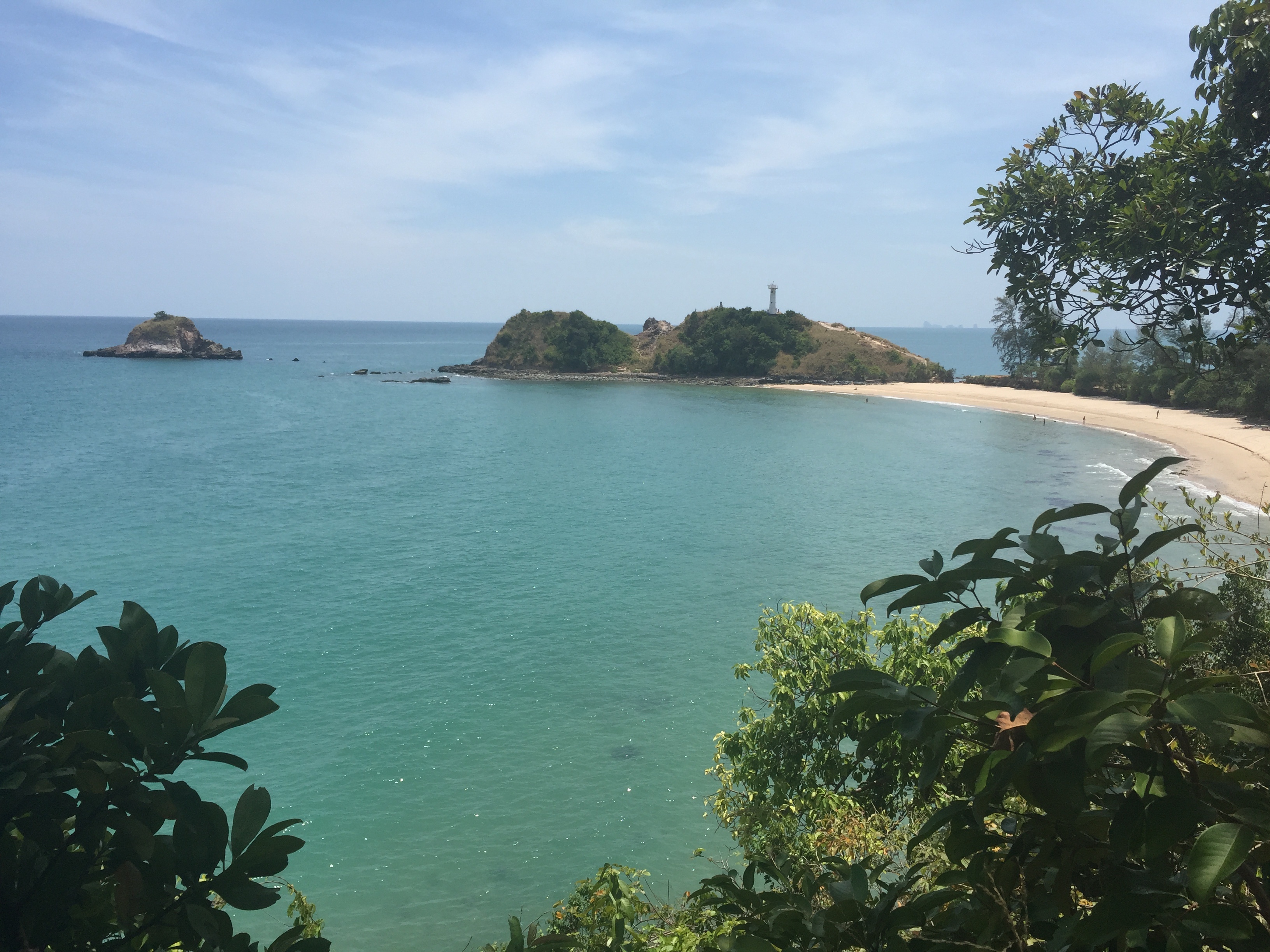 Koh Lanta National Park is yet another beautiful must-see while visiting Koh Lanta. The park is located on the southern tip of the island, but also extends over 134 kilometers to surrounding islands.
We opted to take our motorbikes one morning to check out the park. The drive started fairly flat, but the more south we went, the more the road curved, peaked, and fell. We took it slow and eventually reached the entrance to the national park. After paying our entrance fee and parking, we explored the main beach and even walked a bit of a trail to a beautiful viewpoint.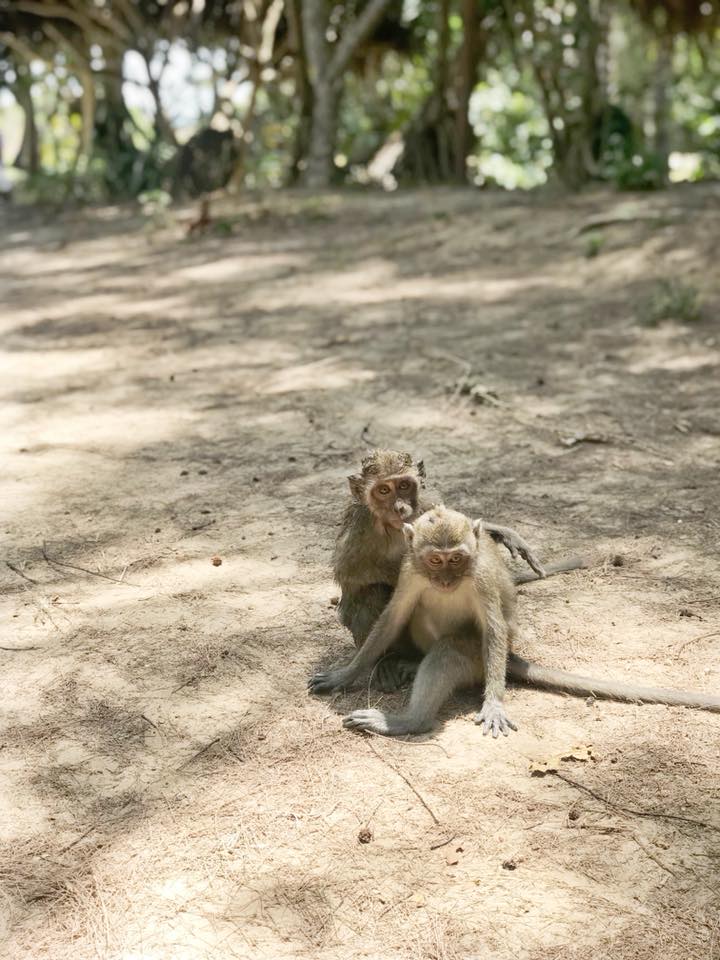 The highlight for Parker and Justin (Megan and I, not so much...) were the monkeys. Koh Lanta National Park is home to many wild monkeys. Despite them being used to visitors, they can get aggressive at times, especially if you provoke them or if you have food (*cough, cough Parker*). I kept my distance from the crazy monkeys, but the boys had a blast taking photos and videos of them.
Experiencing Songkran (Thai Traditional New Year)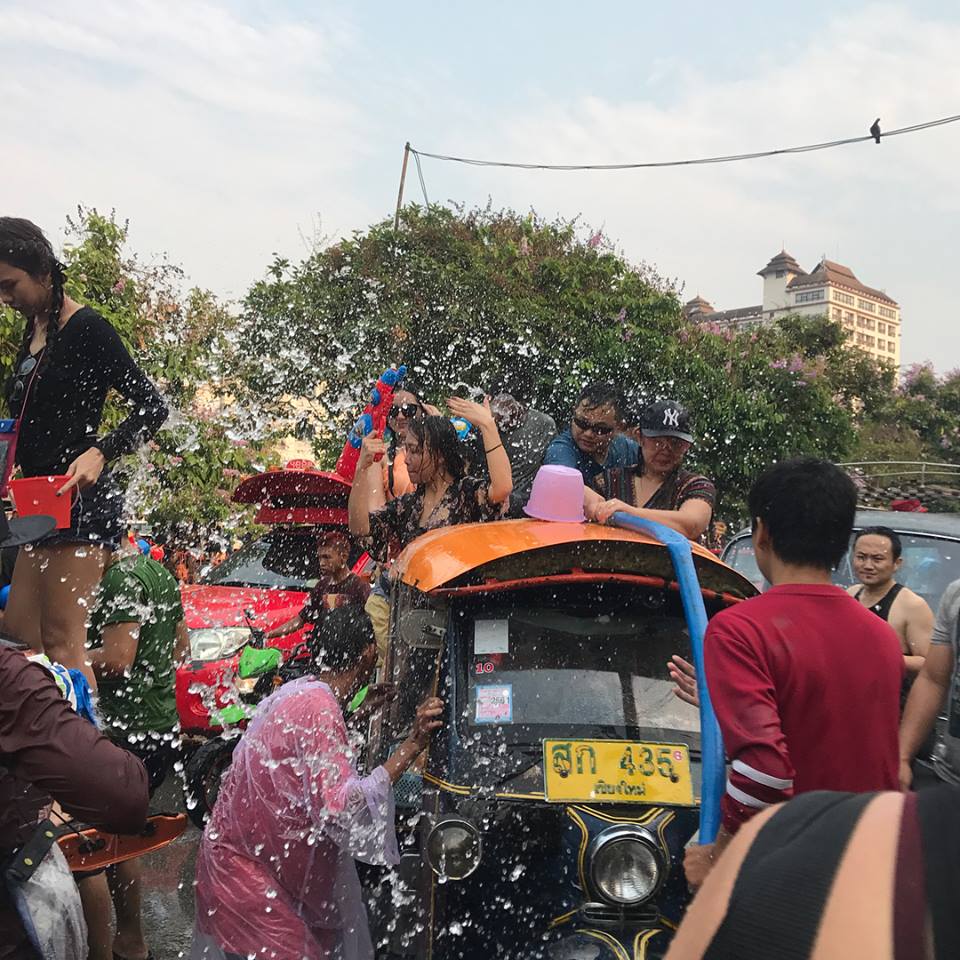 Every April, Thai people celebrate Songkran, their version of the new year. The word, "songkran" originates from Sanskrit and means to move or step forward. In order to "move or step forward," Thais celebrate in many different ways, all of which will involve water and/or cleaning. They will clean their houses or public places, bring offerings to monks, sprinkle water on Buddha statues or images, pour water on family and friends, and watch traditional folk performances. All of these practices symbolize the cleanliness and purity they hope the new year will bring.
Because Koh Lanta is mostly made up of Muslims (and Songkran is a Thai-Buddhist holiday), we weren't really expecting there to be much celebration. Boy, were we wrong...
On the morning of the first day of Songkran, April 13, Parker and Megan packed up their bags and made the journey back to the mainland before flying back to the States the next day. We spent the morning with them and decided to follow them on our motorbike to the ferry pier to send them off.
We hadn't even made it a kilometer down the road when we were stopped by a group of Thais and tourists standing outside a restaurant. The tourists dumped a small bucket of ice-cold water on our heads, while a grinning Thai lady rubbed baby powder on our faces. "Sawadee Pi Mai!" they all yelled, as they welcomed their next victims. We drove off with huge smiles on our faces. Happy New Year!
Another 50 or so feet down the road, we were met with even more buckets of water, water guns, and smiley people. This was going to be a fun, but long drive to the pier, we thought...
After the third water fight, we hurriedly pulled over to the side of the road and stuffed our phones and wallets into the seat of the motorbike. We knew there would be many more water stops, and we didn't want to risk anything getting ruined. Our next stop? The nearest convenience store for reinforcements. If we were going to drive the rest of the way to the pier, we needed a water gun to join in the fun.
For the rest of the late morning, we got absolutely soaked, but we weren't the slightest bit mad about it. Seeing the joy on everyone's faces— tourists and Thais alike— was so heartwarming and memorable. The experience was a highlight of our trip— an experience we'll remember forever.
Koh Lanta's Old Town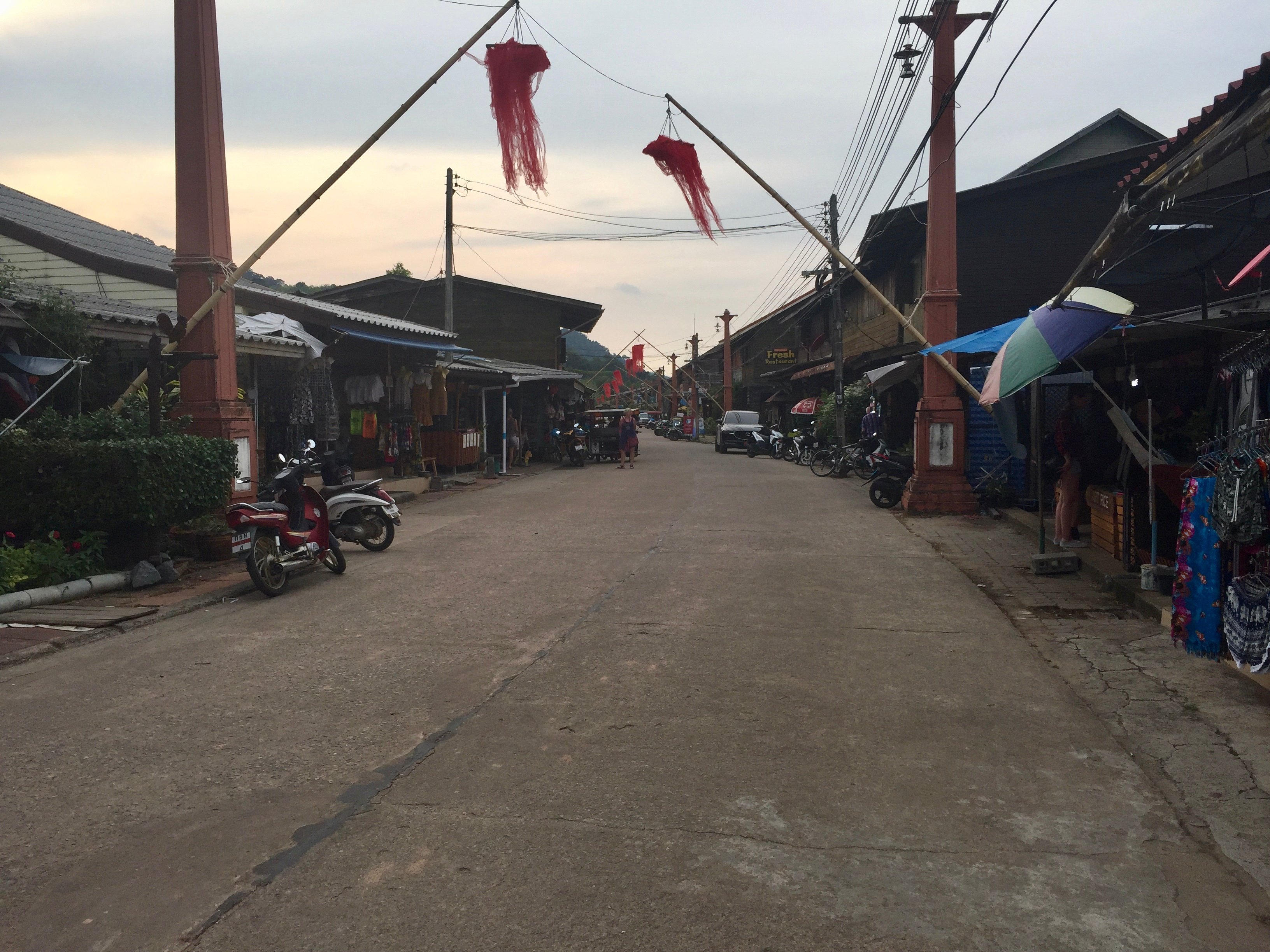 The Old Town is nestled in the Eastern part of the island and offers a unique glimpse into the fishing villages long ago. We enjoyed exploring the many shops and admiring the traditional seaside homes, all built on wooden stilts overlooking the ocean.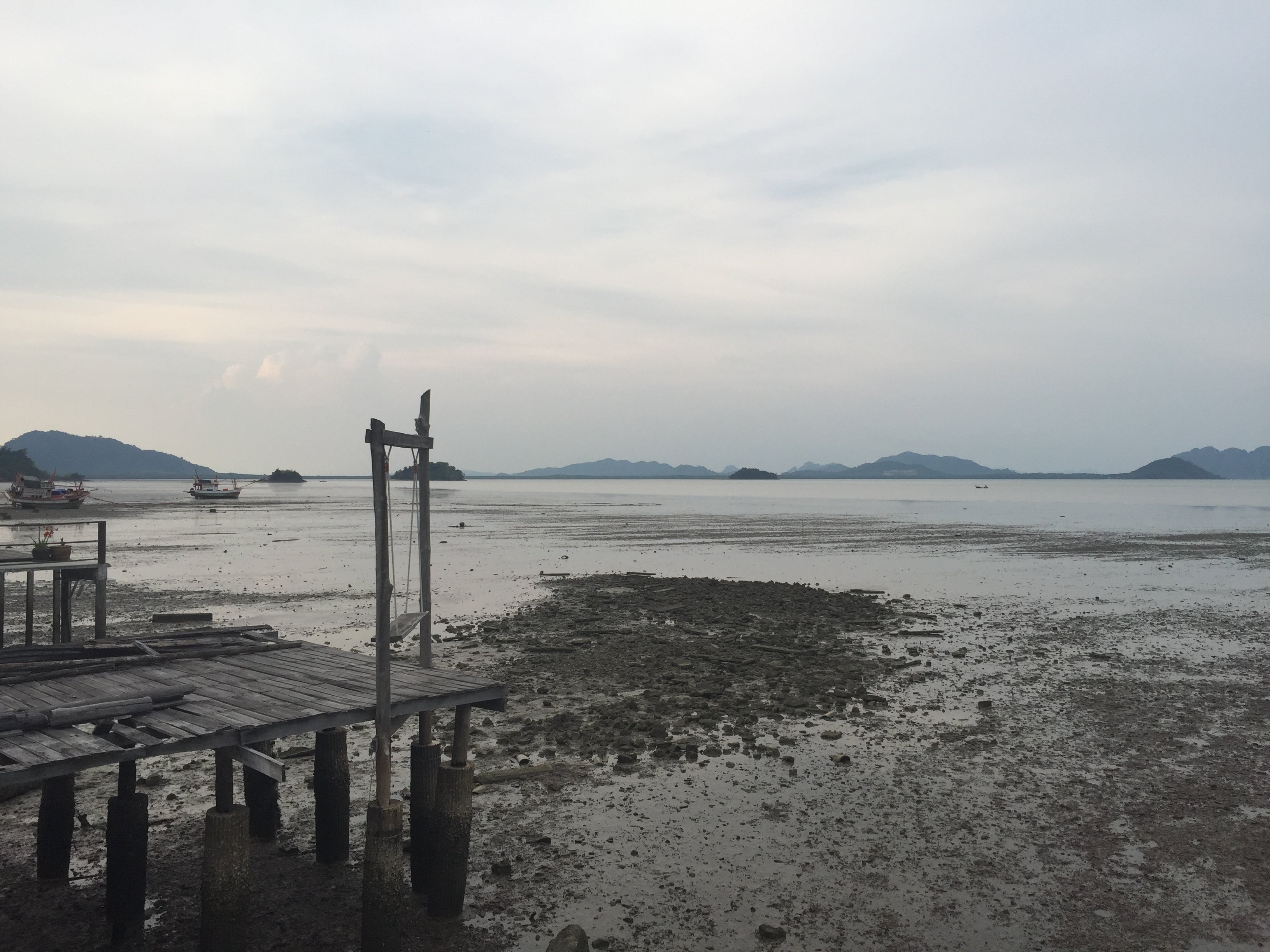 After browsing a few shops, we stopped at one of the restaurants for a happy hour cocktail. Sitting out on the old wooden fishing docks overlooking the ocean, it felt like stepping back in time— no tourists, just the sea and a few passing boats. Ahhh...
Lanta Animal Welfare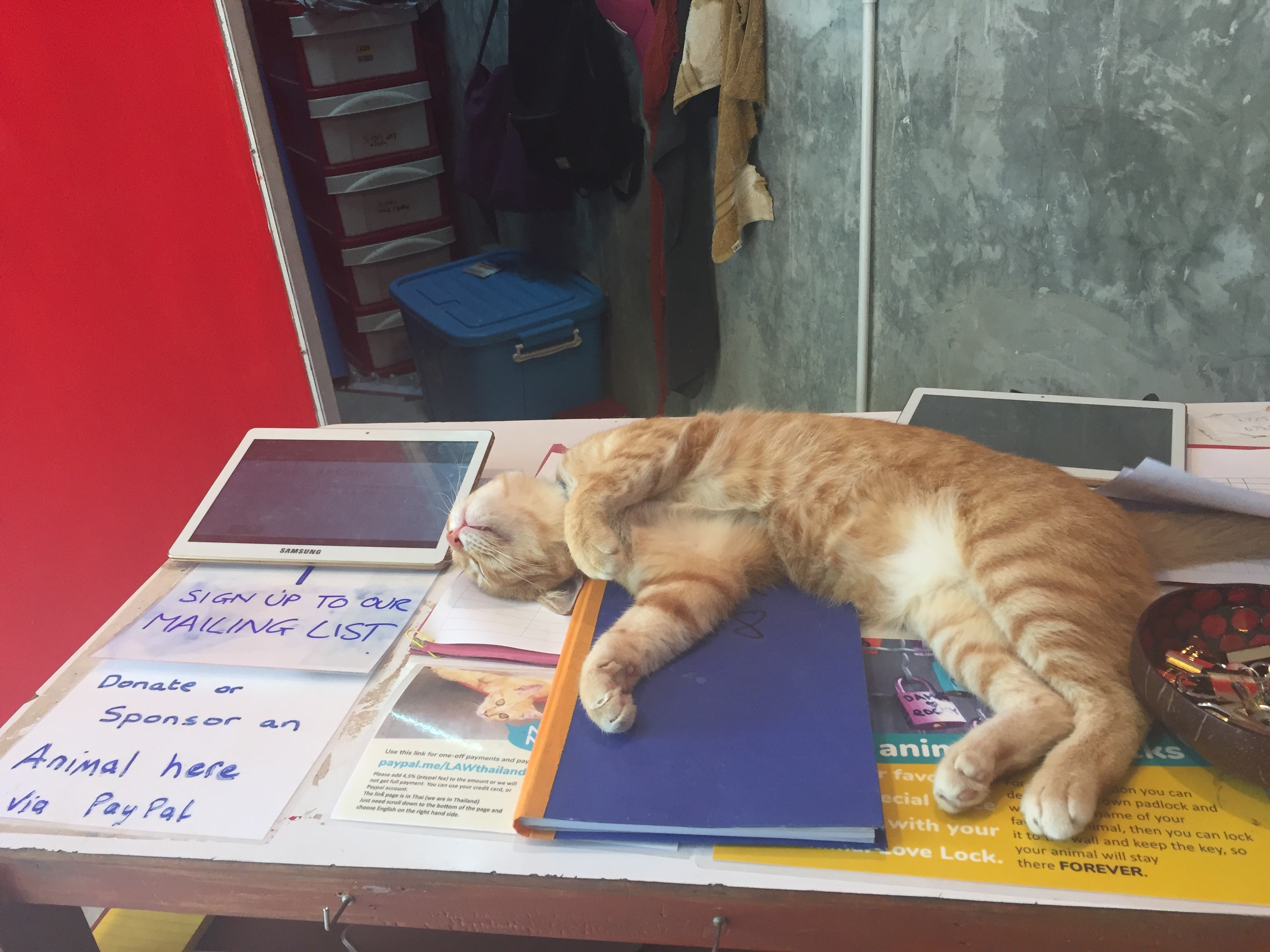 Obviously one of our favorite spots on Koh Lanta. This incredible non-profit was started by Julie Kovacs, a Western tourist, in 2005. When she first traveled to Thailand, she felt heartbroken seeing all the stray, sick, and hurt animals on Koh Lanta (and, frankly, everywhere in Thailand). She decided to do something about the problem, and since then, Lanta Animal Welfare has sterilized and treated over 15,000 animals. The welfare center also travels to school around Thailand, educating people about the importance of sterilizing animals and treating them properly.
Most importantly, Lanta Animal Welfare finds forever homes for animals who have nowhere else to go. They take care of everything, from the adoption papers to the flight home. It's truly remarkable how many lives Lanta Animal Welfare has saved.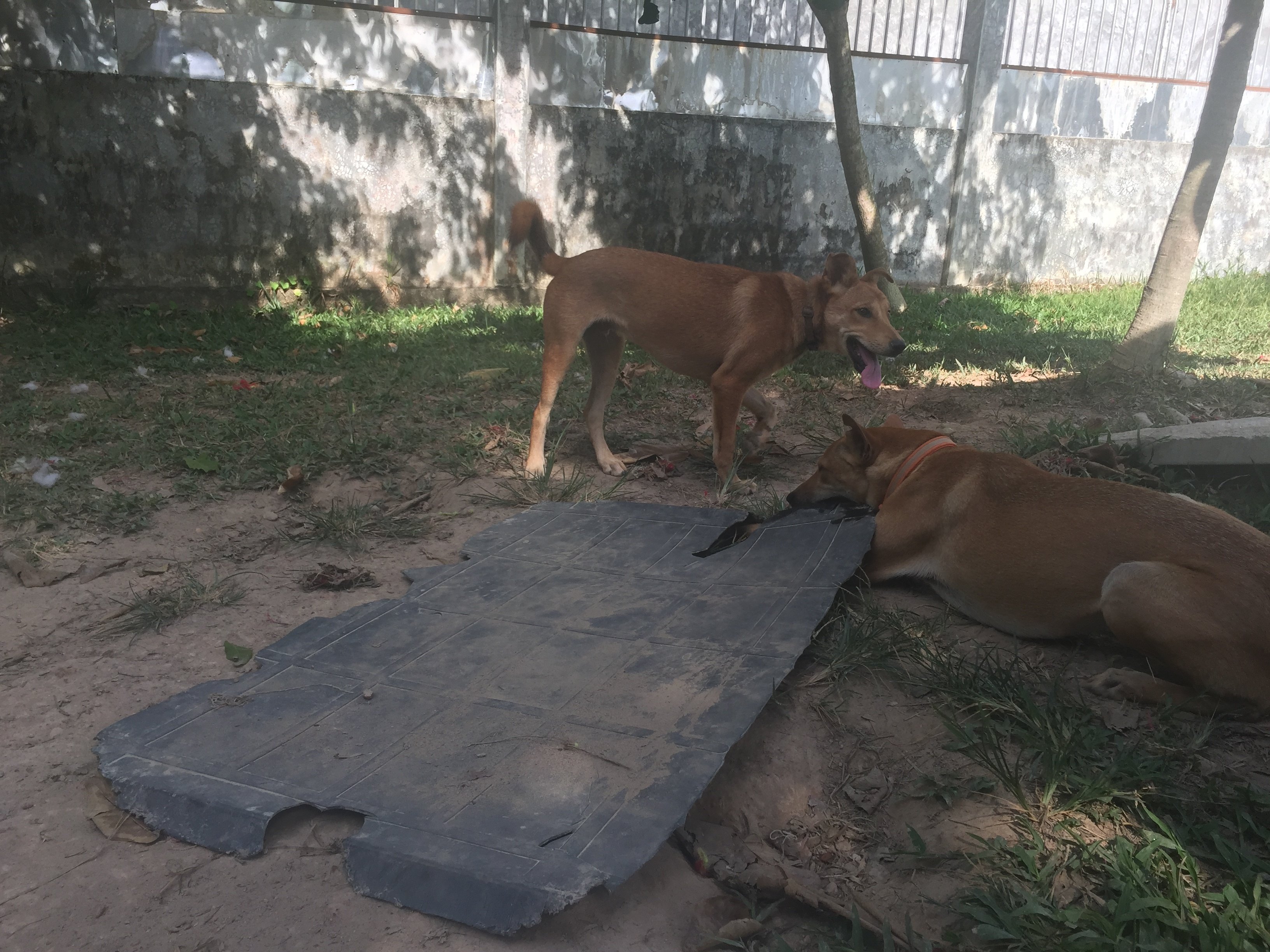 As a tourist, you can simply stop by the center and take a tour. You can even relax in the "Kitty City" with a fresh coconut water and give the adorable cats some love. What's more, you can volunteer to walk dogs in the morning or the evening. We did all of these things, and had a wonderful time. We wished we could have taken at least one kitten and puppy back with us, but we knew we couldn't go through that again...
Either way, visit their website when you have the time, share with all your friends, and spread the word! Lanta Animal Welfare relies solely on animal lovers to keep their organization going.
Over and Out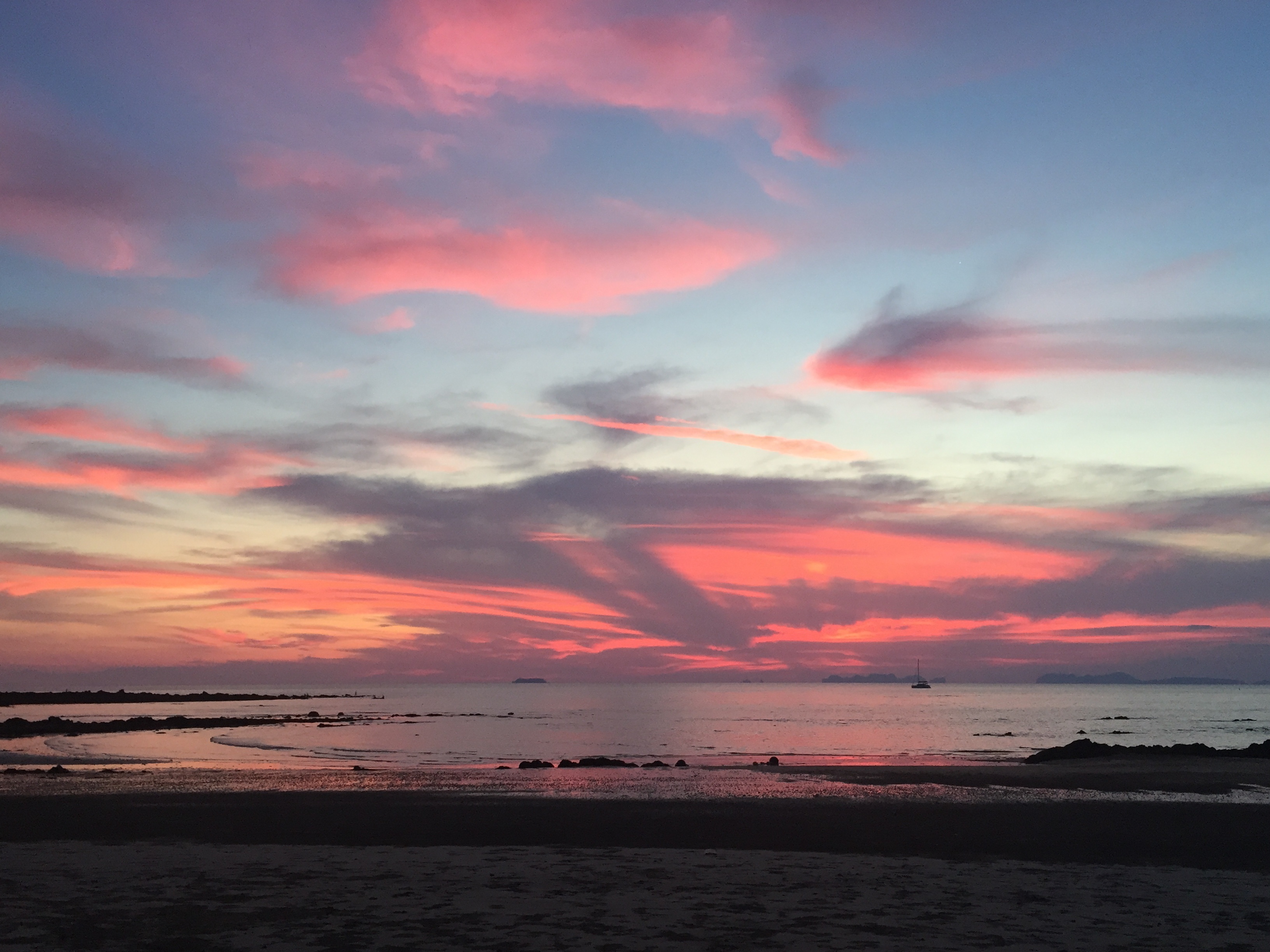 Now that you've read my short novel on Koh Lanta, my only hope is that you get to travel to there someday. Bask in the warm sun, enjoy delicious seafood, experience the unique island culture, and play with adorable pups...
What more could you ask for?